Last week 32 teams in the NFL realized the dreams of over 100 college football players. Some of them will be successes, but some will be dropped before the season even starts. British fans saw Menelik Watson get drafted (Oakland), and Lawrence Okoye and Tom Wort were both taken as undrafted free agents.
Alex Ferguson grades the draft from the point-of-view of all of their draft picks - and their undrafted free agent picks. Advance warning to the Buffalo Bills and Dallas Cowboys: he HATES your first round picks....
A
Minnesota Vikings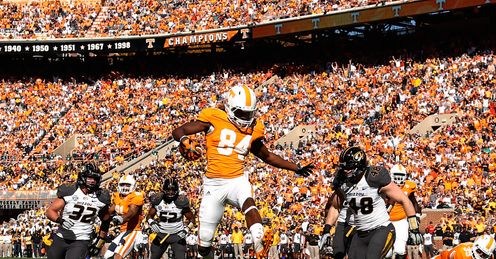 How did Shariff Floyd, once talked about as a Top 3 pick, fall to Vikings? We'll never know. But Thor was smiling on Minnesota, who went onto take Cordarrelle Patterson with the 29th pick in a trade deal with New England that saw four picks go the other. Patterson was rightly picked in the first round - the Vikes need a speedster replacement for Percy Harvin. The Xavier Rhodes (CB, Florida State) decision is seen by many as a good one - because of his speed and jumping ability to jump. We will see if he becomes a graveyard for QB throws. Oh, and their two Penn State picks (Linebackers Gerald Hodges and Michael Mauti) will be two of the picks of the round - they both are great tacklers!
Pittsburgh Steelers
On the grand scheme of things, the Pittsburgh Steelers had perhaps the best draft of the year. They replaced their best pass rusher James Harrison with the NEXT James Harrison, Jarvis Jones (if he can stay healthy). They replaced speedy wide receiver Mike Wallace with speedy WR Markus Wheaton out of Oregon State. They got a good back-up QB for Ben Roethlisberger (in case of injury and/or suspension) in Landry Jones, who started at Oklahoma. And they got a solid, punchy RB in LeVeon Bell, and a steady wide receiver in Justin Brown at the end. There wasn't a pick that I hated by the Steelers- and that's saying something! They then improved by getting UFAs Mike Golic (Notre Dame) and RB Curtis McNeal (USC). The latter would have played a lot more had it not been for Silas Redd.....and he still went for over 800 yards.
A -
New York Giants
The reason why the Giants are so high on this list is pretty simple. They STOLE DeMontre Moore (DE, Texas A&M), who was once a high first round pick in the third round. He's a great pass rusher. They also got protection for Eli Manning with Justin Pugh (Guard, Syracuse), who was one of the big reasons Ryan Nassib even got talked about as a possible NFL player. Oh, and Nassib's now going to be Eli Manning's back-up. Jonathan Hankins (DT, Ohio State) is also a more-than-reliable defensive tackle.
B+
New York Jets
For once, I didn't nearly lose a lung laughing at the New York Jets during the NFL Draft. I normally get to do that during the regular season. Dee Milliner was a shut-down corner at Alabama, but the amount of surgeries he's had is definitely something that worries me. The pick of defensive tackle Sheldon Richardson out of Missouri was a good one, and getting Geno Smith as yet another QB was simply brilliant - he'll take Sanchez' place by the end of the season. One thing, though, could they not have gotten a wide receiver or tight end to help the QBs? Love the UFA help of Zach Rogers, a wide receiver from Tennessee. He was pretty good last year for the Vols.
St Louis Rams
If you want a team that drafted speed, it's the St Louis Rams. Both Tavon Austin and Stedman Bailey (both wide receivers out of West Virginia), can FLY. They took a chance on Alec Ogletree, the linebacker out of Georgia who is very talented but prone to landing himself in trouble, but I also like the pick of safety TJ McDonald, too. Alabama centre Barrett Jones is very bright, will have to quicken up if he's going to have a future in the NFL. Watch out for fifth-round running back Zac Stacy - he could be the steal of the draft. And Philip Lutzenkirchen (TE, Auburn), could be steal of the undrafted free agents if he keeps away from injury!
Arizona Cardinals
Talk about drafting talent. The Cardinals got a STEAL in Texas A&M WR Ryan Swope is a sixth-round pick (he's got first round hands, folks!), and the running back duo of Stepfan Taylor (Stanford) and Andre Ellington (Clemson) both had 1,000+ yard season for their respective schools. Kevin Minter could have had found himself in the first round with a bit of luck, while Alex Okafor could have been a first rounder if he hadn't been part of an horrific Texas defense in 2012. And Tyrann Mathieu was certainly one of the best safeties in the country when he was at LSU, but he's had so many personal problems that this might be one of the biggest risk/reward play in the draft. Still....
Baltimore Ravens
One of the best picks in the first round - in our opinion was Baltimore getting Matt Elam. He's hard-hitting, will tackle a tiger, and frankly, he's a better safety than Kenny Vaccaro, who was picked by the Saints. Love him. Baltimore's decision to move up and get Arthur Brown (LB, Kansas State), was a good one for a player that was a big reason for KSU's success this year. Our big issue with the Ravens is that they didn't add to their receiving corps -and they badly need another tight end and wide receiver. Oh, and they drafted a guy from Harvard (Kyle Juszczyk, FB), which some critics love. We'll have to see.
Green Bay Packers
We love Green Bay's two running back picks in Eddie Lacy (Alabama) and Jonathan Franklin (UCLA), both of whom I was convinced would come out earlier. Both put up seasons of well over 1,000 yards each. They've got speed, durability, and suddenly the Packers as good at that position as they have in years. First round pick Datone Jones (DE, UCLA), is a good pass-rusher, and had 58 tackles for the Bruins last season. He's going to cause Ds some problems - especially if they've got to look after Mssrs Matthews and Raji, too! Getting TE Jake Stoneburner as an undrafted free agent could be a steal too - he was a great blocker and catcher for Braxton Miller at Ohio State.
B
Jacksonville Jaguars
Although I hate Jacksonville for not getting a QB (Are they waiting to have another terrible year so they can get the pick of the 2014 QBs?), you have to applaud them for some solid picking. Luke Joeckel (OT, Texas A&M) was a big reason why Johnny Manziel won a Heisman last season. Ace Sanders and Denard Robinson will give defences fits on special teams and on plays (if Blaine Gabbert can pass it properly!). Speaking of defences, adding Josh Evans - who played for a brilliant Florida 'D' last year, was a great move, too. The Jags went nuts on back-up quarterbacks, signing up UFAs Jordan Rodgers (Vanderbilt - brother of Aaron), and Matt Scott (Arizona). Both started at their respective schools last year.
Cincinnati Bengals
We love the pick of Notre Dame tight end Tyler Eifert, who has exceptional hands. He'll be a nice partner of Jermaine Gresham, who's receiving stats (in terms of yards), keep going up and up. Speaking of receivers, the late round pick of Cobi Hamilton (WR, Arkansas), could be a screamer of a pick, especially if Hamilton keeps up the brilliance he showed last season in the face of huge upheavals in Little Rock. The new running back duo of Gio Bernard (North Carolina) and Rex Burkhead (Nebraska) that's been brought in really is 'Lightning and Thunder', although we'll see how much time Burkhead gets, if any. We like their picks on the other side of the ball, too. Loved the Stripers also getting Ray Roundtree (WR, Michigan), who had over 2,000 yards receiving and is a great possession receiver, and Onterio McCalebb (RB, Auburn), who can also fly.
San Francisco 49ers
LOVED the pick of Florida State DE Tank Carrardine, Mr Harbaugh. Not so keen on picking Eric Reid, the LSU free safety who was disappointing last year at LSU - despite by prodigiously talented. But their brilliance came later in the draft, as they picked up excellent Auburn receiver Quinton Patten, who was a great receiver on an awful team last year. No great complaints about getting Lawrence Okoye as an undrafted free agent, either!San Diego Chargers
Wow. It's a NFL Draft where I'm not rude about San Diego's drafting. They got DJ Fluker, a monster tackle from Alabama, which Philip Rivers will love, and they got a steal in Cal wide receiver Keenan Allen, who some had tabbed as a first rounder. The kid's got wheels. The biggest risk for them is going to be linebacker Manti Te'o, who was run over by the best opponent Notre Dame faced all year (Alabama), but was otherwise excellent at college football. They also got a 2-for-1 with Te'o, too, because he brings with him his non-existent dead girlfriend.
Denver Broncos
The Broncos don't need a whole lot, but getting Sylvester Williams (DT, North Carolina) is going to shore up the defense. We love the Montee Ball drafting a lot too - he was a brilliant running back at Wisconsin, and in our opinion, he was the best running back of the draft. Nice one, Elway. Oh, and speaking of Elway, the addition of Tavarres King from Georgia as another wide receiving weapon for Peyton is a good call, too.
Houston Texans
Houston took advantage of the distinct lack of love for LSU DE Sam Montgomery (he admitted reducing his efforts for LSU when they played a poorer opponent (something that the NFL GMs don't like to hear) to get a fantastic player, who'll partner JJ Watt and cause opponents' offensive lines some damage. They also listened to Andre Johnson by getting him a speedy partner: WR DeAndre Hopkins out of Clemson, who had 3,000 yards receiving during his 3 years at the school (including 1,400 last year in a break-out year). After Montgomery, they took five players who will be relative unknowns to the NFL ranks, and we like the guts on that. Getting UFA RB Cierre Wood (Notre Dame) could have a great deal of upside - he had over 700 yards last year for the Irish last year.
Philadelphia Eagles
Well done Philly! Drafting Matt Barkley in the fourth round was a masterstroke. He was the starting QB at USC and once an outside bet for the first round (frankly, I don't blame his mechanics as much as I blame the incompetence of his coach, Lane Kiffin), but fell to the fourth. Barkley's a leader, and he'll be fine in Chip Kelly's offense. Getting a quick offensive tackle to help out Michael Vick was very much needed, and Lane Johnson (Oklahoma) is just that. I also like the pick of TE Zach Ertz (Stanford). I wouldn't have complained if Kelly had decided to draft one of those super-speedy wide receivers, either, which made him millions at Oregon. And getting punter Brad Wing as an UFA was a pretty good deal too - if he can reduce his Aussie attitude that saw him in trouble at LSU.
Kansas City Chiefs
Not a huge amount of complaints here. They got help on the offensive line for Alex Smith, who arrived from the Niners in a trade for a second round pick, in Eric Fisher, who was the first player taken in the draft. We love Knile Davis (Arkansas) as a back-up running back to Jamaal Charles - he showed prodigious skills in college (the kid can fly - he had over 1,400 yards in 2010 before he got injured (and 377 in 2012, but a lot of times, Arkansas was chasing the game, we might add). Nico Johnson's also a tremendous lineback, as he showed at Alabama. Sanders Commings played all four years at Georgia, and can come up with an interception when needed. Nice, one, Chiefs.
Tampa Bay Buccaneers
Johnthan Banks was as close as college football had to a shutdown corner last year at Mississippi State, and as he'll now partner Darrelle Revis in the backfield, Tampa could have one of the best secondaries in the business. Some people don't like the second pick of Mike Glennon (NC State), but I'm sure he'll push Josh Freeman in the summer (especially if Freeman gets injured). William Gholston brings with him a great season at Michigan State, where he had 60 tackles and 4½ tackles. That's disruptive. And speaking of disruptive, DJ Monroe (WR, Texas) is very, very quick, and will give the Buccaneers options from a returning standpoint.
Detroit
They needed a defensive end, and got two in Ghanaian powerhouse Ezekiel Ansah (BYU) and Devin Taylor (South Carolina). Both will interrupt offensive lines for years to come. Calvin Johnson gets a wide receiving partner in Corey Fuller, who averaged 18.95 yards per reception at Virginia Tech. That's pretty useful for Matt Stafford.
B-
Buffalo Bills
I don't think I can tell you how much I hated Buffalo's drafting of Florida State QB EJ Manuel. Geno Smith's a better QB. But they also drafted speed (Marquise Goodwin, who was on the US track and field team), and catching excellence (Robert Woods and Chris Gragg). I also like the drafting of kicker Dustin Hopkins (FSU), who's got a monster leg. Getting Da'Rick Rogers from the UFA wire will be a pretty good move, too, we think.
Atlanta Falcons
The Falcons gave up a third round pick to snag Desmond Trufaut (Washington), who was one of college football elite corners last year. They needed help at that position that badly. They also built for the future with tight end Levine Toilolo (Stanford), who averaged 16.38 yards per reception (he had 24 receptions last year for the Cardinal). I'm not sure about getting Malliciah Goodman (DE, Clemson) in the fourth, who was part of an awful defence last year.
Tennessee Titans
They needed help on the offensive line, and Chance Warmack will give them that. He was a rock for Alabama last year. Justin Hunter's going to give the team a lot of options (although if he drops the ball in important situations like he did at Tennessee, he could be out of a job). And the pick of Lavar Edwards (DE, LSU) was a great move by the Titans staff. He had 4½ sacks, had seven tackles-for-loss, one interception and a 20-odd tackles for the Tigers last season. The problem for Edwards is that he was always a back-up - so it'll be interesting to see how he copes with the pressure if he gets parachuted in immediately.
Indianapolis Colts
Grabbing Florida State's German tackling sensation Bjoern Werner, one of the country's best defensive ends was a great move for the Colts, who desperately need help on 'D'. Andrew Luck got a receiver in Kerwynn Williams, who's short, relatively light, and very, very quick. Getting him in the seventh round could prove to be a great decision. And getting tight end Justice Cunningham as the NFL's last pick ('Mr Irrelevant') will add a guy who's durable, and can catch. Which is going to help Luck as a possession receiver, even if he's not as explosive as a lot of players like him.
Chicago Bears
There were some writers unhappy about the Bears picking tackle Kyle Long (Oregon) instead of Eifert, but Jay Cutler, who was sacked 38 times last year, needs protection. Long will provide this. Also, I love the picks of linebackers Jon Bostic and Khaseem Greene, who were tackling machines at Florida and Rutgers particularly. I'm not holding my breath about Marquess Wilson (WR, Washington State), who left the school early after falling out with coach Mike Leach. I also really liked the UFA gets of Michael Ford (LSU). He'll get yards in space, folks.
New Orleans Saints
Kenny Vaccaro should fit in the Saints organisation fine - he's really aggressive, but he's not a great open-field tackler. But his speed should make him a playmaker in the secondary - something that the Saints really need. However, I would have preferred Matt Elam to be taken instead. He's a better all-round safety. Anyway, I loved the Saints pick of DT John Jenkins, who starred at Georgia. And don't count out WR Kenny Stills, who was excellent in his years for Oklahoma. He'll be quite a weapon for Drew Brees. But I'm still struggling with Vaccaro, folks.
C
Oakland Raiders
Getting Menelik Watson in round two was a heck of a get for the Raiders, but the decision to get DJ Hayden (CB, Houston) after he nearly died on the field could prove costly to the silver and black. I really, really like the pick of QB Tyler Wilson (Arkansas) in the fourth round. I'm convinced that had his coach not got fired in the off-season of 2012 for having an affair with a graduate student, he would have gone higher. Oh, and TE Mychal Rivera (Tennessee) is a good get, too. He was one of the few players in Orange who did well last year.
Seattle Seahawks
I've got a dual personality when I think of the Seahawks. Some people think that Christine Michael (RB out of Texas A&M) may be Marshawn Lynch's replacement, but I think it's too much of a reach for a guy who had a pretty poor 2012. Defensive tackle Jordan Hill was a leader for Penn State in the school's astounding season in 2012, and Tharold Simon would probably have been picked a lot higher had he not been arrested for pronouncing himself 'King Of The World' and generally acting like a tool. A lot of people like Jesse Williams, defensive tackle out of Alabama, but for me, he's got too many injury questions.
Miami Dolphins
A lot of people like Miami's first pick of Dion Jordan, but we would have preferred Sharrif Floyd out of Florida, who was great at the SEC. Jordan, whose tall frame and long arms were reasons why he was called the 'Praying Mantis' by Oregon fans. Let's hope he bulks up at Miami. I also like the pick of Florida's Jelani Jenkins. This could be a good 'D' this year. The Fins made up for their lack of WRs drafting by signing FIVE undrafted free agents to college wide receivers. We think Chad Bumphis (Mississippi State) is the pick. We also like Cameron Marshall (RB, Arizona State), as another UFA pick, who can run but also receive. On the other side of the ball, don't be surprised if Alonzo Highsmith (LB, Arkansas) gets a job.
Carolina Panthers
The Panthers didn't exactly cover us with picks, but I really like the picks of Star Lotulelei and Kawann Short, who's going to be great against the run for the Panthers. Bearing in mind they face both Adrian Peterson and Marshawn Lynch in the first five weeks of the season, we'll see if 'Star' is a 'star'. We also LOVE the speed that Kenjon Barner's going to provide the team - he showed at Oregon that he definitely can move at speed. He's just a bit small for a lot of scouts' liking.
New England Patriots
A lot of people are going to give Bill Belichick the benefit of the doubt because he the hooded one always drafted so well, but this really wasn't that much of a special draft. Aaron Dobson made one of the best catches in college football in 2012 at Marshall, but otherwise, the top pick of linebacker Jamie Collins when there were better ones available is a head-scratcher. Now, watch then prove me wrong. Getting TJ Moe (WR, Mizzou) off the undrafted wire, could prove a masterstroke from Belichick - he's a great catcher of the ball.
C-
Washington Redskins
Because of the Robert Griffin III deal in 2012, the 'Skins didn't get a first round pick, and we're hardly crying with joy about the picks. Jordan Reed from Florida is a solid tight end but nothing more, while Chris Thompson only put up 687 rushing yards in a conference not exactly well-known for its defence. But on the other hand, getting Bacarri Rambo, who not only has one of the best names in the draft but is also a very good, aggressive safety too, and if Brandon Jenkins, who spent all year out with a broken foot, comes good, then the 'Skins will have drafted well. If not, then, erm....
D+
Dallas Cowboys
I'm sorry, but the Cowboys could have had Wisconsin centre Travis Frederick in the second or third round. Why did they pick him so high? Was the blocking for Montee Ball that brilliant that they HAD to get him? Or is Phil Costa that bad? Anyway, we don't get it. Equally, we don't get the pick of Gavin Escobar, because there were more effective tight ends at collegiate level than him. Having said that, Jerry Jones did have a couple of saving graces: Terrance Williams, who played for local school Baylor, is going to be a fantastic wide receiver - if Romo can hit him, and we liked the pick of Joseph Randle, who's a speed merchant out of Oklahoma State.
Cleveland Browns
The Browns decision to get Barkevious Mingo from LSU was a good one- if Mingo can revert to the sort of production that he had in 2011. In 2012 the linebacking sensation wasn't as effective (the numbers went from 46 tackles to just 38), but that didn't hurt his draft place. He's a great edge rusher who should be fantastic for the Browns- if he can fit into their system.We're not sure if we liked the decision to get Miami WR Devone Bess in a deal that saw them swap trade their fourth and fifth round picks to the 'Fins for Miami's fourth-round pick and a seventh rounder - there was a still some good wide receiving talent on the board at that stage. There was a lot of love for the athletic ability of Leon McFadden by the critics, but really, it wasn't a great draft for the Browns.