The Bank Holiday weekend's over, and we're already in the NBA Conference semi-finals.
Chicago stunned Miami by winning Game 1 on Monday night, while in the other Eastern Conference semi-final, the New York Knicks tied up their series with the Indiana Pacers at Madison Square Garden on Monday at 1-1.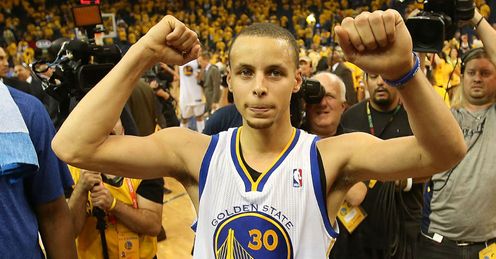 In the Western Conference, Memphis overcame the heartbreak of Kevin Durant's wonderful game-winning three-point in Game 1 against Oklahoma City to take Game 2, tying the series 1-1, while San Antonio and Golden State duked out a 256 point, two-overtime scorefest on Monday in their Game 1 game which the Spurs eventually won 129-127.
Miami are going to be immensely hard to beat in a seven-game series, as much as we'd love Great Britain's Luol Deng to win out
Alex Ferguson
Quotes of the week
NBA LIVE ON SKY SPORTS
SS 4 HD, 8.30-11pm: Conference semi-finals
Alex Ferguson previews the rest of the Eastern and Western Conference semi-finals - and you can see all the Sunday action live on Sky Sports 4 HD.....
EASTERN CONFERENCE
MIAMI vs CHICAGO (Chicago leads 1-0)
The Chicago Bulls rolled in after a Game 7 victory over Brooklyn with no-one but the most ardent Bulls fans giving them a speck of hope against the Miami Heat, but came away from Game 1 of the Eastern Conference semi-final with a shock 93-86 victory.
They limited LeBron James to 24 points and Dwayne Wade to just 14, while Nate Robinson (27 points) and relative unknown Jimmy Butler led the way (21) for the Bulls. Butler was brilliant for the Bulls, grabbing 14 rebounds, alongside Frenchman Joakim Noah, who had 11.
But can this continue? Miami looked rusty in Game 1 after waltzing past the Milwaukee Bucks and seemed to be in third gear while Chicago spent a lot of its own time in top-gear. Miami - despite being in third gear - had a lead mid-way through the fourth quarter, before a salvo of points from the Bulls quietened them.
The thing about Miami is that when the team clicks, they are going to immensely hard to beat in a seven-game series, as much as I'd love Great Britain's Luol Deng to win out.
PREDICTION: Miami overcomes Game 1 rust, and wins the Series 4-2
NEW YORK VS INDIANA (Series tied 1-1)
The Knicks looked like two different teams over the course of Games 1 and 2 of their Eastern Conference semi-final with the Indiana Pacers. In Game 1 they looked lethargic, and were handily beaten by a defensively dominant team.
In Game 2, the Knicks worked fantastically together, shooting the ball well, and dominating the Pacers on the boards - and this was despite a poor shooting performance from J.R. Smith, who is struggling with an injured elbow. They blew the Pacers out 105-79.
Now the series shifts back to Indianapolis, things aren't going to be easy for the Knicks, who split the regular season series with the Pacers 2-2. Paul George, Roy Hibbert and company are going to give Carmelo Anthony and the Knicks are they can handle.
PREDICTION: Knicks win in 7 in a classic series
WESTERN CONFERENCE
Oklahoma City vs Memphis (Series tied 1-1)
Kevin Durant might have stunned the Grizzlies with a jumper with 11.1 seconds left in the fourth quarter of Game 1, but it was Memphis who come out with the most heart in Game 2, winning to tie up their semi-final at 1-1.
Despite Durant, the Thunder is really going to struggle against a spirited Memphis team, and he's not got Russell Westbrook to support him after the player was cynically fouled in the last series against Houston - a move which tore his meniscus and put him out for the play-offs.
The Thunder is really going to struggle against a Memphis team, who have the firepower to score from anywhere and with anyone. This is going to be hard work.
PREDICTION: Thunder in 7
San Antonio vs Golden State (San Antonio wins 1-0)
Golden State's Steph Curry is the next coming of Basketball Jesus. I just want to put it out there.
22 points in the third quarter of Game 1 alone (he scored 44 in total), added to the numerous incredible performances he put in over the regular season, led the Warriors (along with Jarret Jack) to a seemingly improbable victory over the Spurs in Game 1 in their semi-finals series.......until San Antonio's defence and some sparkle from Tony Parker and Manu Ginobili ensured that the game went to overtime.
Ginobili won the game in double-overtime with a three-pointer with just 1.2 seconds left, after the Warriors 'D' went missing for the shot. Can the Warriors rebound after such a deflating loss?
Well, with Curry on the field hitting three-pointers as well as he does, anything can happen. Expect San Antonio to be double-teaming Curry for the rest of the series. The Warriors will need to deal with the Spurs incredible strength-in-depth.
If Tim Duncan's not performing (he had just 19 in a mediocre performance by his standards), then Tony Parker, Danny Green or Ginobili can take up the mantle. Heck Kawhi Leonard put up 41 minutes and 18 points of his own, and had 9 rebounds. I just can't see 'SuperSteph' taking the Warriors all the way to a series win.
PREDICTION: I'm going with the favourite again - The Spurs in 5