In just a space of a few years, Tim Tebow has gone from college football god to NFL unemployment.
But now there is another college football god on the scene and his name is Johnny Manziel. He plays quarterback for Texas A&M, and he won the Heisman Trophy for being college football's best player. Could he follow Tebow's same career trajectory?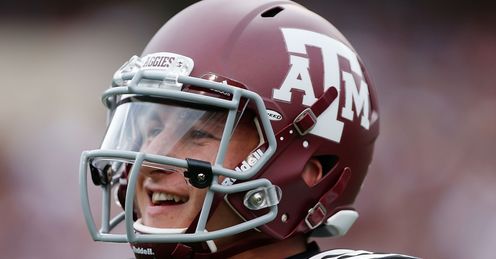 Alex Ferguson looks at Tebow, Manziel, and asks: could Johnny Manziel follow the same career collapse as Tebow?
There have been no two players in college football more talked about than Tebow and Johnny Manziel.
The College Football Years
As soon as Tebow burst onto the scene in 2006, the tongues were wagging. The kid was a human bulldozer, hammering opposition's lines on 4th and 1. He actually made the Florida Gators' quarterback position look good again, after years of it not looking good under the tutelage of Ron Zook. Urban Meyer, the Gators new coach, put Tebow in in short yardage situation, and all the kid did was score touchdowns. He finished his first season with 469 yards rushing and 8 TDs, and he was a key member of Florida's 12-1, National Championship-winning season.
While Tim Tebow lies in the NFL mire, looking for a NFL camp to be part of, Johnny Manziel lies in the heavenly glory of the College Football love-fest.
Alex Ferguson
Quotes of the week
The next season, Tebowmania absolutely exploded onto the scene, taking home every award under the sun (helped by a coach who liked to run the score up on teams) after throwing for over 3,286 yards and 32 touchdowns and rushing for 895 yards and 23 touchdowns. And despite some mediocre performances from the team that denied them a National Championship, Tebow was quickly 'god' in the eyes of the Florida faithful and the US media, and a Heisman Trophy followed.
In 2012, Johnny Manziel burst on the scene with Texas A&M. Helped by a coach in Kevin Sumlin who had a reputation for jacking up the points with the University of Houston, and a great offensive co-ordinator in Kliff Kingsbury, Johnny Manziel was brilliant, making plays that were quite simply jaw-dropping. Some of the best defensive minds in the business were stuck on: "How do you defend Johnny Manziel?", and the answer usually came back: "It's difficult".
Although Manziel did lose a couple of home games against Florida and LSU, he was quickly becoming the stuff of legend as he jumped, juked and slid his way to 1,410 yards RUSHING (and 21 TDs) and 3,706 yards PASSING and 26 TDs. This included one of the most incredible performances that this writer has ever seen on a college football field, when he quite simply dominated Nick Saban and Alabama, throwing for 250 yards and a pair of TDs and running for 90. Most teams don't run well against Alabama. Manziel managed it. Sure enough, Manziel won the Heisman Trophy. Oh, and he was given the moniker "Johnny Football", which ensured instantaneous legendary status - as well as a laughable YouTube song that must be seen to be believed.In 2008, Florida lost 31-30 to Ole Miss at home, and Tim Tebow made this speech at a press conference: "To the fans and everybody in Gator Nation, I'm sorry. I'm extremely sorry. We were hoping for an undefeated season. That was my goal, something Florida has never done here. I promise you one thing, a lot of good will come out of this. You will never see any player in the entire country play as hard as I will play the rest of the season. You will never see someone push the rest of the team as hard as I will push everybody the rest of the season. You will never see a team play harder than we will the rest of the season." The speech was immortalized, put on a plaque, and called 'The Promise'. Florida won the National Championship that year, and again Tebow's numbers were gaudy.
Because of Tebow's decision to return in 2009 for another run at a National Championship, Florida was voted pre-season No.1. They fell at the final hurdle, losing to Alabama in the SEC Championship Game. The game was most famous not actually for Alabama's win, but because of the picture of Tebow crying on the sideline as his Gators lost .
Johnny Manziel has not played a second season as quarterback for Texas A&M yet, but the school may be as high as third on the pre-season rankings - such is the love for the quarterback from Tyler, Texas.
Off-the-field
Off-the-field, there is no better story than Tim Tebow for your average Christian American. Tebow wasn't born in the States, he was born in Manila, the capital of the Phillipines, to American Baptist missionary parents.
He didn't actually go to high school - he was homeschooled by his parents (something that a lot of Christian families do because of their dislike for the State education system and what it teaches) - but because of a rule in 1996 that said that homeschooled players could play in their school districts, he got to play ball. He did.
Tim Tebow was a great story in Florida because there was no story. He didn't party, he didn't have 10,000 girlfriends, and he was a regular speaker at Christian events. This writer went to the Florida Keys one year, and a kid who was a bartender in Gainseville said: "He was completely normal. Apart from the fact he would have nothing stronger than a water." In fact, he was abnormal as football players go, because the only field he played was the football one.
Johnny Manziel's off-the-field activities have been anything but quiet. Before he even played a minute for the Aggies, Manziel was arrested for disorderly conduct and using a fake driver's license.
There was the frat party that he showed up in wearing a Scooby-Doo costume, to serial photos on Twitter of him with smoking-hot Texas A&M blondes, to him with various coloured drinks in his hand (despite the fact that he's only 20), to showing a bunch of bills after a casino trip, to partying with beautiful ladies on Spring Break in Cabo. Oh, and he's played golf at Pebble Beach with his father. Oh, and he's a got a pretty sweet ride, too - a Mercedes-Benz (which is a little unusual for college). Oh, and in terms of college courses, he switched from the classroom to online courses last year because his Godlike status was making it hard for him to get to class. We're surprised he couldn't have just been given preferential treatment in the parking lots.... but there we go.
Both of them are winners in their own right. We know which life we'd rather have.
The NFL
Tim Tebow was drafted No.25 in 2010 Draft by the Denver Broncos. Johnny Manziel is expected to go in the first round of the 2014 Draft.
Tim Tebow's career with Denver wasn't long enough to deem whether it was a success or not. In 2010 he started 3 games and appeared in 9. He threw and passed for under 1,000 total yards, threw for five TDs and ran for six more. He had 3 interceptions and a fumble. In 2011, he was much more successful. After an horrific start by Kyle Orton, he came in with the Broncos struggling and took them to the promised land, going 7-4 and taking them to an 8-8 record and their first play-off spot in years. Tebow's leadership stood out during the game, throwing for 316 games and 2 TDs, and his 80-yard bomb to Demaryius Thomas at the start of overtime won the game against the Steelers.
But John Elway didn't trust in Tebow - and he replaced him with Peyton Manning, who had just come back from injury. Tebow was traded to the New York Jets - although many people think he should have gone to Jacksonville, instead, where he would have been hero-worshipped because of the fact that he's from the local area - and he would have been a lot better than most of the QBs the Jaguars had to offer. The Jags would have filled their seats, too - which hardly ever happens unless Georgia and Florida are playing the 'World's Largest Outdoor Cocktail Party' in the last week of October/first week of November.
Tebow didn't get much of a chance in the 2012 season behind Mark Sanchez. It's funny, because you would have thought he would have given more bearing in mind the highlight of Sanchez' season was running into the behind of one of his offensive linesmen.
But instead of being given another chance, Tebow was cut by the Jets. No team has picked him up since. In fact, the best offer god's football player has been given are from the Lingerie League, and the Arena Football League. Even Canadian Football League teams don't think he's accurate enough.
And what now?
While Tim Tebow lies in the NFL mire, looking for an NFL camp to be part of, Johnny Manziel lies in the heavenly glory of the College Football love-fest. Johnny Football - for right now at least - is God. This season, it would not be surprising if Johnny Manziel leads Texas A&M to the 2014 National Championship Game, although my feeling is that he'll lose to one of Alabama and LSU (and very possibly both), and finish in a top-tier bowl game.
Manziel will leave in the 2014 NFL Draft, where he'll be one of the most celebrated picks. If a coach like Jim Harbaugh can accommodate a better version of Colin Kaepernick (and Manziel's got a much better arm that Kaepernick), then the NFL's got something really exciting on its hands. But if Manziel doesn't grow up, NFL teams might find him hard to take.
It's funny, because right now, Tebow - a guy with more drive than Johnny Manziel's Mercedes-Benz ever had - is sitting on the sidelines, waiting for a ride.
Comments (3)
Sam Frost says...
Kap has definitely got a bigger arm, he got drafted as a piticher by the cubs! Kap throws 30 yard laser shots, whereas Manziel loops his throws a lot more. Other than that, the article is totally spot on. Manziel has similar traits to Tebow, notably improvisational scrambles. The main challenge will be for teams to shackle him to the read option, and stop him from taking monster hits from Patrick Willis, Bernard Polard and other heavy hitters.
Posted 14:47 17th May 2013
Rich Lloyd says...
this is the killer line: "No team has picked him up since (he was cut by the Jets)". He would not have improved the Jags, certainly not at QB, he might have filled a hole left by MJDs injury. Alex, you also know better than to perpetuate the tickets myth, no black outs since 2009, ticket sales are much much better in Jacksonville than many other cities, I was at a barely half full Oakland last season for example. If TT wants to continue in the NFL he probably could as a TE or H back, he really should take that more seriously or he'll disappear to Canada or beyond when he has at least the chance to make a career in the NFL. It might not be at the position he wants but the road is littered with college QBs who didn't make it however great they were seen as being coming out of school (Ryan Leaf anyone?)
Posted 07:02 17th May 2013
Matt Smith says...
a better arm than keep? are you kidding? manziel has a decent arm and decent accuracy but colin has an absolute cannon, that thing comes out like a missile. there is no way johnnys arm can compete with the strength of the top 5 in the league, which kaepernick definitely has
Posted 00:14 16th May 2013