Andrew Luck seems to be shocked that the last interview of this rainy Friday afternoon at the Landmark Hotel is not with someone more important.
"Gosh, when I heard that I was going to be interviewed by Sir Alex Ferguson, I thought: "Why in the heck does the manager of Manchester United want to do an interview with me?""
So the real Alex Ferguson interviews Andrew Luck, quarterback of the Indianapolis Colts, who's here to on a NFL goodwill mission to London - place where he was schooled at the American School in St John's Wood - and to meet Indianapolis Colts fans on a Friday night.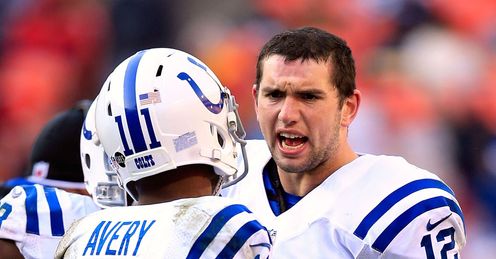 After giving him way too much credit for a horrible interception he threw in Stanford's home loss to Oregon in 2011 (I was happy that he didn't walk out of the interview there and then because of my cheek!), I then gave him the credit for one of college football's biggest upsets - the Jim Harbaugh-coached comeback at Southern California....a game that he did not play in. ("That was Tavita Pritchard - that was the year before me!" he says, smiling).
I think Peyton is obviously phenomenal and arguably one of the best ever, but I didn't view it as replacing him. I viewed it as: \
Andrew Luck
Quotes of the week
So after confusing myself with the depths of Stanford Football 101, I decide to leave it to you fans for the rest of the questions:
What quarterbacks did you most look up to? (Stuart Maclean)
My dad backed Peyton up in Houston for a year, so I always felt that we knew the Manning family well and we watched them, so Peyton was a big football hero of mine.
Peyton - like you - attended college for all four years - would you recommend staying for the whole four years, bearing in how Matt Barkley dropped down the NFL pecking order?
I think it's different in every situation. You can't prescribe one plan to everybody. In my situation I'm so happy that I went back for my senior year, but I can't speak for everyone else.
You've had experiences of both former (and now San Francisco 49ers coach) Jim Harbaugh, and current coach David Shaw. What do they both bring to the party in terms of coaching?
They are both incredibly competitive in different ways. Coach Harbaugh is more out-going, exuberant and excitable, while Coach Shaw is more cool, calm and collected.
What was the toughest environment you ever played in?
Autzen (at the University of Oregon) is very tough, and underrated is the University of Washington. It's got a low roof and the noise bounces. You can't hear what the fans say - it's just really noisy.
Will Stanford ever get to another Rose Bowl?
Oh, absolutely. I hope this year that we go to the National Championship, which I think this year is in Pasadena (home to the Rose Bowl). I think Coach Shaw has done a phenomenal job of keeping the team going in the right direction.
So what's your prediction for the 2013-4 season?
For Stanford? 13-0 and winning a National Championship! And I hope your buddy who asked that knows that it's only a prediction!
And after catching up on college football, we move onto NFL. In his first year as Peyton Manning's heir at the Colts, he took them team to a 8-8 record and into the play-offs. His offensive co-ordinator, Bruce Arians, did not stay - he left for the head coaching job at Arizona in the off-season.
How much are you going to miss Bruce Arians? (Darren Byrne)
As a person, he was great, and a football coach he was as well. But it's the nature of the business that coaches come and go, so as much I was sad that he left, I was more happy for him to get a coaching opportunity.
So after being in Britain and spending some of your life growing up here, what would you think about returning to Britain for a game? (ZÄC)
I think it would be wonderful. I think it would be a logistical challenge, but teams can handle it, so I think it would be fine.
What do you think of the improvements to the offensive line? (Alex Gayton)
I think the guys are doing really well in OTAs. I think the two guys we drafted- Hugh Thornton and Khaled Holmes - are doing a wonderful job, and Donald Thomas and the rest of the guys are doing great, too. They are mixing in really well with the guys we have right now.
Do you think the Colts are equipped to handle the new changes in offense under the new offensive co-ordinator? (UK Colts Fans)
I think that we'll do whatever it takes to win. If that means running the ball a bit, then sure - and throwing it as well.
The guys responsible for drafts at the Colts didn't ask you who you wanted to draft?
No, that's the General Manager's job! It's above my pay grade!
You went into Indianapolis as the 'heir to Peyton Manning'. How did you cope with the pressure of replacing 'God'?
I think Peyton is obviously phenomenal and arguably one of the best ever, but I didn't view it as replacing him. I viewed it as: "Well, you've got the chance to play in the NFL. Go have fun with it". So I didn't really worry about having to do everything like Peyton.
So how much are you looking forward to playing the Broncos, with all the media hype that there will be around the game? (Greg Smart)
Honestly, we play them Week 7 or 8 [In fact, it's Week 7]. When we play them, I'll look forward to it! Right now, I'm just looking forward to playing the [Opening Day game against the] Oakland Raiders!
Who's the best pass-rusher that you've played against in the NFL? (Conorr White)
I'm lucky I don't have to block guys, but with Dwight Freeney and Robert Mathis on your team, those two guys are pretty fierce! Outside of the Colts, I'd go with Jarred Allen (DE, Minnesota Vikings) - he's a phenomenal player. And in college, it would have to be one of the USC guys - probably Nick Perry (now of the Green Bay Packers).
And who's the hardest defensive back you've played against in the NFL? (Conorr White)
Ed Reed (Baltimore Ravens) is an incredible player. As is Charles Woodson (Packers). You get over the feeling of: "Wow, I've grown up watching these guys!" when you walk into the locker room and see Reggie Wayne.
On the offensive side, if you could throw to any wide receiver in football every Sunday, who would it be? (Greg Kaveh)
It would be Reggie Wayne. There are tons of great receivers out there, but I'm fortunate enough to be throwing to Reggie, T.Y. Hilton and Darius Heyward-Bey, and LaVon Brazil and a bunch of guys..