It's been a pretty incredible first three-and-a-half months of the MLB season.
We've had a new sensation in Los Angeles while two sensations are not lighting up the Los Angeles suburbs, and, in New York, there are two teams that aren't going to make the play-offs.
Boston are - beyond all predictions - leading their division and while one side in the San Francisco area is leading its division, the other is bottom. It's peculiar.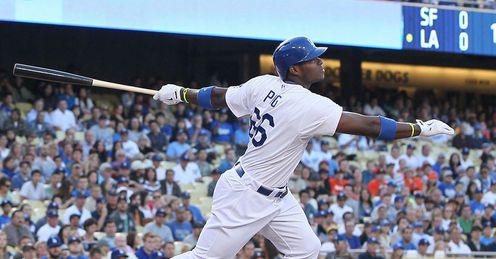 Oh, and by the All-Star break, the Pittsburgh Pirates will have won over half their games - something that hasn't happened in decades.
Here are some of my thoughts on what's been happening over the first part of the season...
Puiging-out
His name's Yasiel Puig, and he's only been in the major leagues for five weeks. During that time, the Cuban's batting .394 with 56 hits, eight doubles, eight home runs, five stolen bases and 19 RBIs, and helped to revitalise a Dodger ballclub going nowhere since his arrival. The Dodgers could now be three Arizona losses (and three LA wins) away from first place. Puig's start was sensational, hitting four home runs in his first five games. Lately, he's only had two games in July where he hasn't had a hit. Okay, so it might have been a bit of a bummer (for all of us) not to see the most exciting player in baseball not play the 2013 All-Star Game, but there we go.
City of Angels? Not in Anaheim!
No they haven't. The Los Angeles Angels were almost consensus winners of the American League West, but right now they own a losing record (44-46) and are third in the division - nine games behind leaders Oakland and Texas. That's a lot. The big hitters of Albert Pujols and Josh Hamilton - Hamilton particularly - haven't clicked at all. Both players aren't batting anywhere near .300, and although they've got 29 home runs between them, they haven't lived up to the hype. On the good side, Mike Trout is still playing brilliantly. But on the bad side, the pitching has been dreadful, ranking 25th in ERA. Joe Blanton's 2-11 record with a 5.40 ERA stands out as being awful - and he's given up 22 home runs this season. Jason Vargas and CJ Wilson haven't been much better. Jered Weaver, who spent most of April and May on the disabled list, is back, but it's hardly been glorious. Oh, and the Angels have made 68 fielding errors, too, which leads all of Major League Baseball.
I don't want to be a part of it... (New York, New York)
The Yankees are broken. Mark Teixeira, Alex Rodriguez, Curtis Granderson, Derek Jeter, pitcher David Phelps and new signing Kevin Youkilis - are all injured. It would shock us if Teixeira returned. Granderson hasn't hit yet. Alex Rodriguez is currently in a rehab stint in the minor leagues - but he could have much bigger things on his plate than baseball. Jeter came back on Thursday against Kansas City - and pulled out with quad tightness. The only good news has been the sparkling play of Robinson Cano and the normal excellence of future Hall of Fame closer Mariano Rivera. Having said this, the Yankees are the Yankees. They've got a 50-42 record, but it would stun us if they make the play-offs. With or without A-Rod. Oh, and the Mets? They are 40-48, and one of the worst batting teams in the league. This is a very young team - and they'll be hoping David Wright continues to lead the team...and the owners add some new players.
Shipping out to Boston
Start of the season, no-one gave the Boston Red Sox a prayer. The Sox were going to be as terrible as last year. Fenway was a tourist destination, not a baseball destination. But now, the fans can't get enough of their Sox, who have a 57-37 record - and the best record in baseball. They top the leagues in almost all the major batting categories, which makes up for their mediocre pitching form. David Ortiz is still the leader of the team, with a .327 average, 19 homers and 65 RBIs. Dustin Pedroia and Jacoby Ellsbury have almost been as good. The Red Sox have also been happy juggling their bench with hitters and replacements -and it's been working. If this team keeps playing hard, they are going to be tough to beat come play-off time.
Steeltown!
You thought Pittsburgh was just about the Steelers? Well, they could be going to be a place where the Steelers didn't go last season: The play-offs. Yep, that's right. The new PNC Park (apparently one of the more beautiful parks in the nation), have been immense. Sure, they haven't exactly set the country alight batting-wise (apart from Andrew McCutchen and Starling Marte, who have both got over 100 hits before the All-Star break), but pitching-wise, Francisco Liriano, Jeff Locke, Wandy Rodriguez and Justin Wilson have all been terrific (the first two have 2.00 and 2.15 ERAs respectively), which helped to cover up for the horrors of AJ Burnett, who lost six out of his last eight games. Imagine how good they would be if Burnett can find some form. They're second in the NL Central behind one of the most complete teams in baseball (the World Series-winning St Louis Cardinals), but they also have a winning record. Could they make the play-offs? We hope so!
Frightening in 'Frisco
The best story coming out of the San Francisco/Oakland area wasn't about Oakland winning the American League East (they were at the time of writing), nor the performance of Buster Posey and Marco Scutaro still not being enough to get the Giants off the floor of the National League West. It's Oakland's stadium - the Oakland Coliseum - which saw the Oakland As retreat from their own locker room after the sewage system backfired, causing quite the stench. Despite that (or thanks to it), Oakland has blown up a storm, with Josh Donaldson and Jed Lowrie leading the way batting-wise, and a reborn Bartolo Colon second in the league with 12 wins. That's impressive. On the other side of the bay, San Francisco has been ordinary both hitting and pitching, and that mediocrity has got people talking about dismantling the team.
Miguel, we still love you
The best player in baseball? That's pretty easy. His name's Miguel Cabrera, and he's been on incredible form. He's batting .366 with 30 HRs and 94 RBIs with 130 hits - 20 of them doubles. What would happen to the Detroit Tigers if he was to get injured? We dread to think. He leads all of baseball in hits, RBIs and runs, is second to Chris Davis of the Baltimore Orioles in home runs (Davis has 34 and is creating a lot of noise), and he's third in the league in walks - a lot of them - we'd guess - were intentional but not labeled that way.
Big love to the A-T-L
Despite their great form this season, the Atlanta Braves hasn't exactly been packed full of household names, like the great Braves sides of the 1990s who had future Hall of Famers that ruled the fields. We miss you, Greg Maddux, Tom Glavine and John Smoltz. Although the starting pitching has been pretty ordinary, the Braves' bullpen has been excellent, with Luis Avilan and Eric O'Flaherty both brilliant and holding leads for their starting pitchers. Craig Kimbrel has been a shut-down closer, too. Added to this, Atlanta have only lost 13 games at home (it must be the 'Tomahawk Chop' that gets to opponents), which more than makes up for poor road form.
He's got 99 problems, and agency ain't one!
We've heard good reports about Jay-Z's new album 'Magna Carta Holy Grail', and Beyoncé's husband has certainly been making tracks by signing Yankees sensation Robinson Cano as one of his clients (He's also trying to sign Puig, and has Kevin Durant, Geno Smith, Skylar Diggins and Victor Cruz too). Can't wait until he starts signing some Premier League footballers!
Baseball has a number of problems, and the steroids is one...
Earlier on in the season, a report emerged that MLB was pursuing drug suspensions for a number of players - headlined by Alex Rodriguez and Ryan Braun, after allegations that they are connected to the Biogenesis anti-ageing clinic, which collapsed in June last year. They are the main guys on Bud Selig's list and could face 100-game bans, while Toronto's Melky Cabrera, Texas' Nelson Cruz, Oakland's Bartolo Colon, Seattle's Jesus Montero, Detroit's Jhonny Peralta, and San Diego's Everth Cabrera could also face 50-game bans.