On Monday Major League Baseball made it official: Alex Rodriguez and 12 other players would be suspended over their links with Florida anti-aging clinic Biogenesis.
skyports.com's US sports blogger Alex Ferguson has a look at the ramifications of the suspension for the teams - and the game in general...
It was ironic that on the day that Major League Baseball announced that it would be banning Alex Rodriguez for the rest of the 2013 season as well as the 2014 season, he played his first game of the year for the New York Yankees!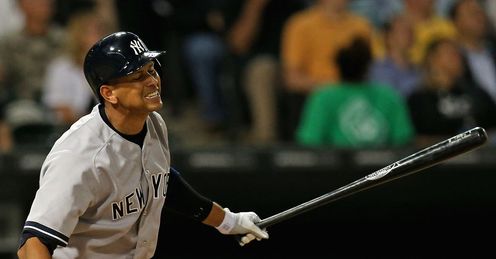 And while the 12 others are living out their 50-game suspensions, which could well cost their clubs and fans play-off places and October hope, A-Rod has made the decision to fight baseball's ban - which will see him lose around $34 million in lost pay if he's banned until the end of 2014 - tooth and nail. Baseball has a loophole which allows players who are appealing suspensions to play on, you see.
The Yankees have gone all season long without Rodriguez, and they are almost certainly going to miss the play-offs. Their cause has been hurt so badly by injuries to key players this year - Rodriguez being one of them - that they might as well give up and go home now. It seems as though the fans did so a while ago.
Alex Ferguson
Quotes of the week
For the record, Rodriguez had one hit in four at-bats as the Yankees fell to their latest loss - an 8-1 drubbing in front of a murderous Chicago White Sox crowd.
It's funny, because a suspension for A-Rod in the near future wouldn't hurt his team as badly as other players' 50-game losses will hit their teams. The reason?
The Yankees have gone all season long without Rodriguez, and they are almost certainly going to miss the play-offs. Their cause has been hurt so badly by injuries to key players this year - Rodriguez being one of them - that they might as well give up and go home now. It seems as though the fans did so a while ago.
Anyway, I have reflected on the suspensions for the respective players who are banned, although we'd like to note that a number of these bans have been doled out to Minor League players - meaning that the loss to their Major League team isn't likely to be great.
The fact that back-up Yankees catcher Francisco Cervelli is also on the disabled list won't hurt the Yanks too much either, and it must also be noted that Fautino De Los Santos and Jordan Norberto haven't played in 2013 and are currently free agents, while Houston Astros reliever Sergio Escalona hasn't played since 2011.
As for the rest...
NELSON CRUZ (Texas Rangers)
Cruz was on fire before he was suspended, hitting three home runs in the last five games. And while his .296 batting average wasn't exactly lighting the world up, the 27 home runs and 76 RBIs certainly helped the Texas Rangers to battle the Oakland A's at the top of American League West race. If the Rangers make it, he could be back for the postseason, which Texas' general manager Jon Daniels said the team was "open minded" about, according to ESPN. But during the regular season, the Rangers are going to badly miss Cruz' power - before he was suspended he was fourth in total home runs in the league and fifth in RBIs. David Murphy and Leonys Martin won't pick up the slack, and Adrian Beltre can't keep on with his superhuman standards. Can he?
JHONNY PERALTA (Detroit Tigers)
What do the Tigers lose? First of all, they lose a dependable shortstop who one of the best in baseball in fielding percentage (he only made four errors in 104 games). Secondly, they lose a guy who's on one hell of a hitting run - he was only hitless once in the last 10 games. He's batting .305 for the season with 11 homers and 54 RBIs, and he gives the Tigers options. And while Peralta's loss isn't massive from a hitting point-of-view on a team that's got Miguel Cabrera (if he can stay healthy), Prince Fielder and a born-again Torii Hunter, Peralta's dependability with the glove will certainly hurt.
EVERTH CABRERA (San Diego Padres)
Yes, the San Diego Padres might be 10 ½ games down in the National League West at the moment, but they're won of the NL's form teams, winning seven out of their last 10 games. Cabrera had been a big part of it, hitting .429 (6 hits in 14 at-bats) in August. His average for the season is a healthy .283, one of the best among starting players, and his 108 hits easily leads the team. The Padres are really going to miss his speed - he swiped 37 bases this year. Without him, the Padres will be even worse off than they already are down the stretch.
ANTONIO BASTARDO (Philadelphia Phillies)
First of all, I'd like to point out that the Philadelphia Phillies are awful this year, so anything to make them even more awful certainly won't make the fans happy. Bastardo's actually had a pretty good year so far - he's under his career earned run average by some margin (2.32 so far this year vs career ERA of 3.65), he's given up three hits and one earned run in his last 10 innings of work, and now, he's suspended for the season. The Phillies are going to keep chugging along until this season's over, but Bastardo will be missed at the time when the Phils actually need a good reliever to keep 'em in a game.
JORDANY VALDESPIN (New York Mets)
Valdespin seemed to be having a poor time of it in the majors. He was sent down in July with a .188 average, he criticised his minor league manager, was involved in a brawl last week, and his most memorable moment of 2013 was when 'JV1' was hit in the private parts by a Justin Verlander baseball during Spring Training. As bad as A-Rod? No, but at least Valdespin was a gift that kept on giving.
JESUS MONTERO (Seattle Mariners)
The big loss for the Mariners will be two things: One is face. Montero consistently denied he had anything to do with Biogenesis. Two is possibilities. Montero might do really well later on in his career, but we would be stunned if he's kept on by Seattle in the off-season. If he'd stayed clean and stayed in form, Seattle could have got some good assets for him in a trade deal. Montero was once one of the most talked-about Yankees system players in New York, but a trade saw him go to Seattle... where his awesome potential failed to materialise. Following an awful start to the 2013 season, Montero was sent down to the minors earlier this year after not-performing, and has been even poorer there. Ouch. The loss of face for Seattle must be unbelievable, though. So no great loss, then.
FERNANDO MARTINEZ (New York Yankees)
Although the amount of Yankees who have been suspended in this investigation might look bad, the Yanks can definitely say about this one: "We had nothing to do with this". Martinez was a former top prospect for the Houston Astros, who was traded to the Yankees in mid-June this year. Again, the Yankees were probably hoping to 'fatten up' the centrefielder and follow Curtis Granderson in the centrefield spot in the future, but this has thrown a spanner into the works.
CESAR PUELLO (New York Mets)
The New York Mets blog "Amazin' Avenue" said this: "Puello is losing 25+ games of development time in the minors. For a player that was starting to show signs of an improving approach, it is unfortunate he won't get another month to consolidate those gains. And really approach is the only thing holding him back on offense, though it's certainly no small thing." The bloggers added that Puello could have gone into the Mets squad in September when the rosters expand. Sadly, that won't happen either.