skysports.com writer Alex Ferguson set off on another US trip recently, this time to Georgia.
His aim? To do the 'Georgia Grand Slam', which meant seeing college football teams Georgia Tech and Georgia on Thursday and Saturday, and the Atlanta Braves (baseball) and the Atlanta Falcons (NFL) on the Sunday.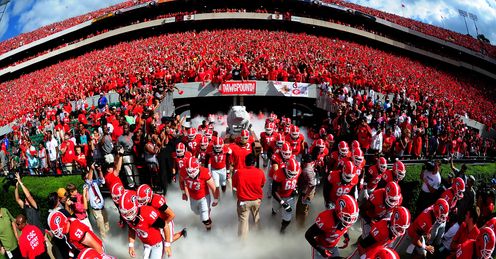 Getting four teams back-to-back-to-back-to-back is a rarity in this Southern town, he was told. But he managed it. Here's his account of his visit...
His aim? To do the 'Georgia Grand Slam', which meant seeing college football teams Georgia Tech and Georgia on Thursday and Saturday, and the Atlanta Braves (baseball) and the Atlanta Falcons (NFL) on the Sunday.
THE HOUSE OF BOBBY DODD
When Georgia Tech was the giant that ruled the college football earth back in the pre-1930s, The House of Bobby Dodd (or "Bobby Dodd Stadium", as it's known in these parts) was a happy place to be.
Drinks are offered and accepted, although we're a little annoyed that someone hasn't hired in their own cocktail barman and set up shop.
Alex Ferguson
Quotes of the week
In recent years, the House was home to one of the NFL's greatest players in Calvin Johnson, who decided to forgo the glory at Georgia to play at Georgia Tech - because he could get a better education. You see, Georgia Tech's fan-base is one of the more intelligent in the land, because Georgia Tech is almost the South's version of MIT. In other words, it's full of bright kids.
When we go down to the House, we're half-expecting to see the cast of 'Glee' hanging out, singing songs and doing equations. We're not expecting to see everyone wearing white in honour of the 'White Out' that's been proclaimed by the university for this Thursday night of football.
We certainly don't expect to see guys in white shirts and light yellow khakis strolling arm in arm with beautiful ladies in white dresses and yes, cowboy boots. We thought that look was reserved for Texas (not that we're complaining). Drinks are offered and accepted, although we're a little annoyed that someone hasn't hired in their own cocktail barman and set up shop.
The House of Bobby Dodd is in downtown Atlanta, and on this beautiful evening, Atlanta looks at its most bright and beautiful. What's strange about the House of Bobby Dodd is that the residents inside are very polite. They don't swear much. That doesn't mean that they aren't passionate - but they don't swear.
In front of us in our very nice seats are two gentlemen who haven't missed a game since God Was A Boy, and they smell of a good afternoon's drinking. They are both very passionate about Tech. And if players screw up during the game, they like to tell the coaches where they are going wrong (not that coach Paul Johnson pays the blindest bit of attention).
What's also strange about the House of Bobby Dodd is that the crowd likes to get the measure of you. Instead of talking football, a number of the crowd ask questions like "What do you do?" and "Where did you go to school?", and are keen to tell you that they've travelled the world. It seems that Georgia Tech's a big networking facility as well as a game.
It wasn't just one or two people who asked us our occupation, it was in almost every conversation. And they like to remind you about what a Georgia Tech education will get you in the future, and that those terrible people at the University of Georgia down the road in Athens will end up mowing their lawns.
As the game rolls on and Tech find ways to annoy their fan-base by penalties, missed catches, badly thrown balls, 3-and-outs, the two gentlemen in front of us (they own a sweet shop, apparently) spit bullets. Later in the game, one player pushes a player during a punt return, and he's singled out by Sweet Shop Gentlemen, who tells him he ruined the game. He's kicked out after dropping an 'F' bomb. Sam Ponder, the ESPN sideline reporter, looks shocked. We're sure she's heard worse.
Funnily enough the masses of students manage to keep their cool during the three hours, and their constant encouragement is lovely to see. As we leave, the House of Bobby Dodd sighs, as though they've experienced heartbreak before. And as we walk up to Atlanta's tube system, a Ferrari overtakes us blaring terrible house music. The driver's in Georgia Tech kit. He likes to remind people how well a Georgia Tech education served him.
THE HOUSE OF CHOP
Sometimes you get a gift horse, and you'd be stupid not to accept it. Well, our tickets to the House of Chop (or 'Ted Turner Field', as it's known in these parts) were in the best seats of the house. We're right at the front, just to the right of the away player's dugout. If we're clever, we can make a Philadelphia Phillies player laugh.
The problem for the Phillies is that they've had a season which has been about as amusing as the Premier League season Queens Park Rangers fans have experienced. If they could have been relegated, they would have been. But this is baseball, and the strong and weak co-habit happily.
On the other hand in the House of Chop, the Atlanta Braves fans are really quite happy. It's the last Friday of the season, and they've already clinched a spot in the postseason. Our friend Chris is happy to inform us that it should be a pretty quick game tonight, with the Phillies pitcher being former National League Cy Young winner (the award for the best pitcher in baseball) Cliff Lee, and Braves pitcher Kris Medlen.
They combine for one of the quickest games of baseball we've ever seen, throwing for just five hits total. Braves player Chris Johnson hits the only score of the game. It's in the eighth inning, and it's an absolute bomb. The arms in the crowd at the House of Chop motion in a 'chopping sensation'. You should Fear The Chop, after all....if you believe the Braves marketing people.
Players swing at air, look frustrated, and leave the plate. Dan Uggla, one of the Braves most expensive signings, has had a horrible time this year, and argues a little with the one of the umpires. The Braves fans plead with the umpire to throw Uggla out of the game. Not nice, but quite funny. Even from the Best Seats We've Ever Sat In (which comes with free booze and food), we can see Uggla's not having a good time...even if the rest of us are.
The House of Chop finishes quickly, and we sit back, sing a few country songs, and then admire the Friday fireworks in a gorgeous display that tells us that really, we've lucked out.
THE HOUSE OF BULLDOG
The House of Bulldog (Or "Sanford Stadium, as it's known in these parts) has been told to wear red for the Georgia vs LSU game, and 90-odd thousand people oblige. In fact, we've even made an effort by wearing a nice shirt/jeans/cowboy boots combo, and our British accent is not going unnoticed. It's important for everyone to get to the cocktail party BEFORE the House of Bulldog opens for its 3.30pm kick-off at around 9am, so things are pretty packed when we arrive.
We've made a special effort to get to things early, because College Gameday, the country's biggest college football pre-game show is in town (it's big news), and we want to experience. Even at 9am, when the crowd should be a little tired from their excursions the night before, they are loud and proud. There's a bald guy there with a Bulldog painted on the top of his head, and others are dressed in stuff that makes them look like WWE wrestlers.
I chat to Sam Ponder - she of Georgia Tech sideline fame - about That Guy at Georgia Tech ("He was an idiot") and a bunch of other Gameday stars. The excitement comes in the House of College Gameday when the pickers are introduced - former Masters Champion (and Georgia graduate) Bubba Watson, and TV star (and LSU fan) Uncle Willy from TV program Duck Dynasty, which is one of the most popular reality shows in the USA.
Watson smashes Willy's Duck Dynasty Christmas CD after listening to one of his picks. Watson picks UGA to win. Willy picks LSU to win. And Lee Corso - the most famous picker of the lot because he always dons a team mascot's headgear to proclaim his prediction - puts up a sign where he's BEGGED not to pick Georgia (they always lose when he picks 'em). He puts on the LSU Tiger's mascot's head...and the crowd are overjoyed. So are the parking lots who are watching the games on TV, too.
When you walk into the House of Bulldog, the tension is palatable. The crowd is lubricated with whiskey and beer (the ladies, who are generally wearing red and black sundresses and, er, cowboy boots, stick to wine and beer, I'm told), they are loud, and they are ready for what promises to be an instant classic between these two SEC warriors. Georgia takes an early lead, and the crowd goes crazy. Thoughts of National Championships and state-wide celebrations fill minds and mouths.
The next drive, LSU, driven by their QB Zach Mettenberger and two NFL-ready wide receivers Odell Beckham and Jarvis Landry- comes back to make it 7-7. Suddenly the thoughts of misery and sadness fill their minds. "There's no fan-base that's been at throwing a pity party for ourselves than Georgia fans", our neighbour tells us. "We can never seem to stay loud for four quarters".
To be fair, it's difficult to stay loud for four quarters, because really, both sides are hitting each other so hard in this boxing match, that it's difficult to see who will recover. No side leads by more than seven points. Georgia - led by QB Aaron Murray and an assortment of receivers and strong running game (despite the injury to excellent youngster Todd Gurley early on) - helps the Dawgs the lead on multiple occasions, only to see his defence lose it to Mettenberger et al.
LSU grabs the lead with four minutes left. The thousands of LSU fans who have made the journey - and certainly did their bit for the pregame party - celebrate. Georgia fans start getting dreams of heartbreak again. In the back of our mind, we're reminded of our Georgia jinx. We've seen the Bulldogs play in four games. Three of them classics.
The Bulldogs lost all three classics. Not again, God, not again. We wonder if the drunk LSU fan who we saw wearing snakeskin boots, purple and gold camouflage trousers and a light yellow top actually made it into the game. If he did, we wonder if he's survived the three hours.
When Aaron Murray hits Justin Scott-Wesley in the corner with a minute to go, Sanford dissolves into a massed-red puddle. We high-five everybody. We can feel the monkey coming off our back. The House of Bulldog finds its bark again, matching the tinnitus-causing atmosphere that we've heard at Penn State and at LSU's home at Death Valley.
Mettenberger can't pull off the heroics again. The House of Bulldog exhales, and high-fives. I hug everybody. I can't help myself. I'm told my jinx is over. I'm also told that the game I went to was 'legendary', and the TV replay that I watch back in London backs that up.
THE HOUSE OF RISE
For years, Atlanta Falcons fans had a reputation of being the country's worst NFL fans. They would arrive late, never get into the game, and leave early. Well, the Falcons advertising department employed an ad firm, and in 2010, 'Rise Up' came to be born. And the crowd have been yelling that mantra ever since.
The "House of Rise" (Or The Georgia Dome, as it's known in these parts) is rocking when we arrive for the visit of the New England Patriots just about in time for kick-off. It's a night game on a Sunday, which isn't exactly everyone's cup of tea (particularly those who have got to go to work on Monday morning), but the Falcons crowd is very loud indeed. There aren't any pom-poms like there are in Sanford Stadium. There isn't a student section. The crowd hasn't been implored to wear red, or black. They just do anyway.
The House of Rise also reflects the multi-culture of Atlanta far better than the three other places that we've been to. The crowd is more diverse than any Premier League stadium you'll ever see, and that's a pleasure to see. We agree with the crowd around us that yes, Tom Brady's not the most unfortunate man in the world ("He loses a game. So what? He goes home to Gisele!"). Nor's Matt Ryan, the Falcons QB, who signed a big fat contract at the end of last season.
We're told to 'Rise Up' on many an occasion, and roar on Atlanta. They've even employed guys to try and get the crowd on their feet and stay enthusiastic. It's not difficult to be enthusiastic for the Falcons, even if they aren't our team.
Despite all of our rising up and screaming, it's obvious who the better quarterback is, and who the better team is. The Patriots dominate proceedings, striding out to a 30-13 lead by early in the fourth quarter. A lot of the crowd - including us - 'Rise Up' literally, and walk out of the building.
It was a pity, because we missed the best part of the game. After we'd gone, the Falcons mounted a furious comeback. We knew about it, because The Rised were all on their mobiles, giving a running commentary. The tube on the way back got louder and louder as the fans anticipated a Georgia-like comeback... but it was not to be, as Matty Ice had his pass ice-broken in the end-zone on what would have been a game-tying drive.
"Heck of a game", though, I said to myself, slightly angry that I hadn't stayed on. But then again, I'd been to four houses in four days, and I was just a little bit tired.