For decades around World Series time, you usually wanted to give a Boston Red Sox fan a sympathy hug because of the knack his team had of not only breaking his heart, but then stamping on it repeatedly. And then punching him in the face.
Well, the millennium has changed things.
The Red Sox have won more World Series (2) than the Yankees (1) since the calendar turned to '2000', and they are probably a mild favourite when things kick off at Fenway against St Louis on Wednesday night.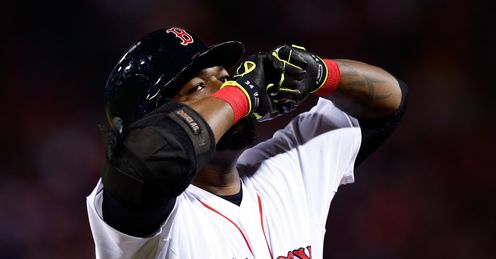 Here's the lowdown on why both teams should win:
WHY THE RED SOX SHOULD WIN
Who Boston have beaten: Tampa Bay (in 4), Detroit (in 6)
People may look at the World Series and think: 'Boston probably shouldn't be there', and they'd be right. If Detroit's bullpen hadn't given up two match-turning, punch-a-Tigers-fan-where-it-hurts grand slams, then we would be welcoming a World Series in downtrodden Detroit rather than Boston, where the fanbase is so fanatical that they would fit in nicely with Old Firm football fans given the chance.
But actually, Boston are going to win the World Series because the last two games are at Fenway Park, where special things happen during play-off games. The place has an aura like nothing else. Seriously folks, if you haven't been to one of baseball's cathedrals, then go. And DON'T wear a Yankees hat.
But not only that. Boston are going to win because this team works pitchers to death. According to legendary sportswriter Peter Gammons - who's forgotten more about baseball than most of us could ever learn - Boston saw 25,665 pitches in the regular season (642 more than the second-placed Twins), and showed patience early in the pitch count and aggressiveness late on (38 walks in the postseason).
Oh, and they've also some timely hitting. Mike Napoli, David Ortiz, Shane Victorino and Jacoby Ellsbury can all frighten the heck out of a pitching staff. As a team, they smash doubles (20 in the postseason), hit timely home runs (6), and steal on you like nothing else (11). They've also ground into just six double plays all postseason.
Click here to check out Sky Bet's World Series odds
And speaking of pitching staff, John Lester, John Lackey and Clay Bucholtz are a strong top-three starting line-up, and the deeper you go in a game, they've got the best bullpen in baseball. It's lights-out after seven innings, it seems. So don't give 'em the lead, folks.
And one other thing: this team seems to play for each other. They all decided to sport beards and it's made them look like members of 'Deliverance'. Boston Red Sox fans will be hoping their team can deliver them a third World Series title.
WHY ST LOUIS WILL WIN
Who St Louis have beaten: Pittsburgh (in 5), LA Dodgers (in 6)
St Louis will win the World Series because they are battle-tested. They had to cope with losing 1-0 and 2-1 series leads against Pittsburgh before finally prevailing against the plucky Pirates, while against the Dodgers, they proved how they capitalise on a team's miscues by providing Magic Johnson with some magic of their own by winning Game Six 9-0 - baseball's equivalent of the Lakers beating the Clippers 110-36. It wasn't really that close, either.
St Louis will win because they've got recent history behind them, having won it more recently than either the Sox OR the Yankees (2011), despite losing Albert Pujols (he went to Anaheim, where he's performed dreadfully), one of the best hitters in the team's history.
They'll win it because their team might be made up of relative no-names hitting-wise (apart from Carlos Beltran), and they haven't got a great batting average (.210 this postseason), but give 'em a chance, and they are likely to swipe it.
Like the Red Sox, they aren't afraid to work the pitch count (35 walks in total), they are opportunistic at base stealing (3), and they were second in the National League postseason in extra-base hits (23) - but where it's at are the pitchers.
The team ERA during the postseason has been a filthy-nasty 2.34, the bullpen - like the Red Sox's - shuts down teams, in football terms, like the 1990/91 Arsenal football team that gave up just 13 goals all season. Starter Michael Wacha is 3-0 and has just given up one run, while Adam Wainwright has been nearly as brilliant. This team's good, people.
PREDICTION (DEEP BREATH): Boston in 7 in one of the best World Series you'll ever see. Why? The Fenway effect, stupid!