As the college football season rumbles on, all the talk has been about Alabama, Oregon and Florida State battling it out for a place in the National Championship.
Tonight (Thursday, November 7), Oregon faces one of their biggest tests on the road to Stanford, while fellow unbeaten Baylor plays host to Oklahoma.
Alex Ferguson looks at a massive controversy brewing in college football, and asks: what can be done about it?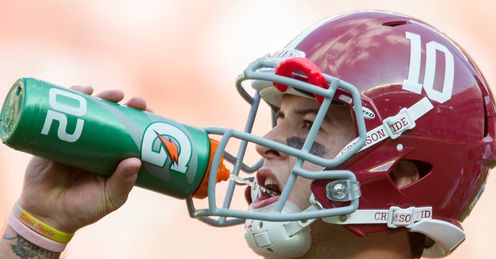 There is no doubt that tonight is a massive, massive game for college football. At the moment, Alabama, Oregon, Florida State, Ohio State, Baylor and Fresno State are the country's unbeaten teams.
Oregon rolls into Stanford tonight in a game that WOULD have been a match-up of the unbeatens.....if Stanford hadn't played so awfully at Utah (they still had a chance to take the game to overtime in their final drive), and Baylor - the pretender to the throne of the major Big XII superpowers with their lightning-quick offense - plays Oklahoma.
LSU's defense has been flat-out awful at times this season and their quarterback Mettenberger is suddenly losing his head in the first half of games.
Alex Ferguson
Quotes of the week
Oklahoma, you may remember, ruined a lot of people's accumulators by getting crushed by Texas in the Red River Showdown a few Saturdays ago.
The oddsmakers seem to think that both Oregon and Baylor will come through their games unscathed, leaving college football with STILL six unbeaten teams.
The next unbeaten team that could be in danger is Alabama, who are facing a LSU side on Saturday who's got nothing to fight for but pride. If the Tigers lose this one to their hated rivals, there's no hope of going to Atlanta to play the SEC Championship Game. Their National Championship hopes went down to Georgia in a stunning game that yours truly attended in Athens at the end of September.
Alabama has got a secondary that can be tested by LSU's two incredible wide receivers, Odell Beckham and Jarvis Landry. You'll be hearing both players' names on Sky Sports' NFL coverage next year. But will they?
LSU's defense has been flat-out awful at times this season, their quarterback Mettenberger is suddenly losing his head in the first half of games and throwing interception after interception, and a defense headed up by a guy called Ego Ferguson (no relation!) has been humbled this season... a lot. The bookies make 'Bama a 12-1/2 point favourite.
In other games, Ohio State's not playing anybody (instead of the games when they've been scheduled to play No-One Good all season long), Florida State - fresh from eviscerating Miami (in the second half) and on the road at No.3 Clemson (all game long) - is going to destroy Wake Forest on Saturday, and Fresno State's schedule doesn't even warrant it consideration in the National Championship conversation. And the way it's playing at the moment, it could be the first of the unbeaten losers.
If these teams were NFL teams, then there would be no problem. All of the teams head their respective divisions, so they would all get into the play-offs (the computers work out who gets in and who doesn't), and it all gets sorted out in the wash.
Because of the controversy surrounding entrants into the National Championship and all-consuming Bowl Championship Series bowl games (another headache that I won't bore you with details about, but save to say that a bunch of conferences ensured that their conference winner would play a big-time bowl in either Atlanta, Pasadena, Fiesta or Miami), College Football ensured that there would be a four-team play-off to decide who's going to win the National Championship....for the 2014-5 season.
Guys, we need the play-offs a year early. Although the oddsmakers in Vegas think that the chance of six teams remaining unbeaten this year is still far-out, we'll argue that it's much more realistic that all six remain unbeaten.
Here's why:
1) After LSU, Alabama plays no-one for the rest of the season up to the SEC Championship Game, where they will be favoured to manhandle whoever comes out of the SEC East division by a mile.
2) Florida State plays no-one for the rest of the year, and their God Save Them All match-up at Florida has been changed to God Save All The Gators now that Florida have lost half of its team to injury, can't play offense, and is out of contention for anything apart from maybe squeezing out a (crappy) bowl appearance. Oregon goes to Stanford tonight, and then THEIR conference is pretty clear, bar a rivalry game with hated Oregon State, that's always tasty.
3) And the biggest fallen tree on route to seeing the Ohio State Buckeyes play in a National Championship is not only that the other teams have played better opponents, thanks to the fact that their conference, the Big Ten, is fast-becoming a national joke (Having said that, the Big Ten title game between the Buckeyes and-if-they-don't-collapse Michigan State could be something).
4) Of the nastiest schedules to come up, Baylor's still got Texas Tech, Oklahoma State and Texas to play. Texas Tech recently gave up 50 at home to Oklahoma State, and OSU hasn't exactly been the model of scoring consistency. And while Texas has gone through a revolution defensively, they beat Oklahoma but otherwise haven't exactly played the crème-de-la-crème of the Big XII.
5) Two out of three of Fresno State's next three games are against testing, but not great opponents. But as we said, it's only by a miracle (and not even that) that the Bulldogs get a sniff of a National Championship Game. They'll be thrilled with a big-time bowl.
The problem with the all of these teams being unbeaten and not in the same conference is that when we get to the selection for the National Championship Game, it's all going to depend on computers. That's a joke that we should let a National Championship be decided on a computer. Whoever misses out (and we think it's going to be Florida State because of their weak non-conference schedule) will say: "We could have beaten Alabama or Oregon in Pasadena!"
And while you can't solve it ALL by a play-off (watch the controversy surrounding the 4th and 5th teams next year), they could have sorted this out much earlier.
Here's how:
First of all, the NCAA, college football's governing body, should have punished schools for the strength of their non-conference schedules. A lot of schools schedule games for five, six, seven, eight years in the future, and then seen a game cancelled in favour of a worse opponent.
The NCAA should have mandated that all non-conference games are scheduled only up to seasons before, and any school cancelling their game (ie Alabama cancelled a home-and-home match-up with Michigan State in 2016 due to 'uncertainty in the SEC schedule (currently the league is thinking about whether to have nine in-conference games instead of the traditional eight)) would be heavily fined. And if a school picks up an easier game than the game they cancelled, or instead plays a neutral site game (the current fad in college football), that will count against them in the standings.
Secondly, the NCAA should have done away with 'neutral site' games. I - and a lot of college football fans - became sick and tired of seeing teams like Alabama and LSU (and one of the reasons I probably won't be going to Croke Park in Ireland to watch Penn State play Central Florida next September (that and the fear of seeing my team lose) play games in Texas or Atlanta, essentially taking away anyone's chance of seeing how they would perform on the road.
And yes, we get the main motivator for playing a neutral site game is money and 'national exposure', but it's a joke. Either do away with neutral site games, NCAA, or mandate that teams should be punished for playing them.
Thirdly, the NCAA should have made strength-of-non-schedule a MAJOR component of computer rankings years ago, therefore forcing schools' hands. They didn't.
But despite my moaning, this could all be sorted out by Stanford beating Oregon tonight (Thursday) and Oklahoma doing the same to Baylor, leaving Florida State and Alabama as the de facto National Championship contenders. And as we know, anything could happen in college football.
Alex's article was written before Oregon lost to Stanford on Thursday evening. So it seems some teams aren't perfect after all...