It's been quite a year for college football.
We have a team that wasn't expected to play in the National Championship Game (Auburn) and a team that was expected to play itself OUT of National Championship Game by messing up somewhere along the way, but proved indomitable (Florida State).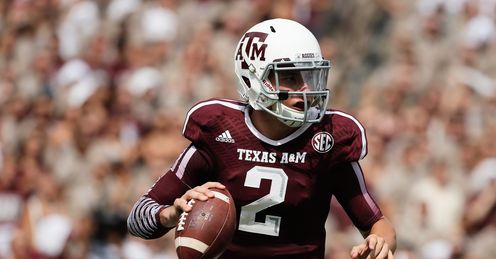 We've had shocks, sackings during the season (USC), and some of the great finishes in football games you'll ever wish to see as well.
Our resident college football expert Alex Ferguson is going to give you his Top 10... and some other Top Fives, too.
So without further ado...
TOP 10 PLAYERS
1) Johnny Manziel (Texas A&M)
Sure, he wasn't great in his last two games against LSU or Missouri, but we've got one question: Where would Texas A&M - with a goddawful defense - have been this year without him? And he was certainly the most entertaining QB in college football, too.
2) Jameis Winston (Florida State)
Sure, he may have had the keys to a Porsche, but he did his job almost perfectly. Threw for over 3,800 yards, 38 TDs and 10 INTs. And he's only a freshman. Gulp.
3) Andre Williams (Boston College)
The guy runs for 2,100 yards, averaging 6 yards a carry, and he's a relative unknown this year. REALLY? 'Andre 2000' put 149 on Florida State, for crying out loud (and 339 on NC State)
4) Ka'Deem Cary (Arizona)
Spectacular numbers from the Arizona running back. He had no games this year with under 119 yards rushing, and he bounced in 17 TDs - including four in 'Zona's monstrous upset of Oregon.
5) Bryce Petty (Baylor)
Petty starred in Baylor's first Big XII victory in its history. The Bears were in the hunt to go to the National Championship Game, too. He threw for 3,844 yards, 30 TDs and only 2 INTs. And he had 11 rushing TDs on an offense that was mostly glorious to watch this year.
6) AJ McCarron (Alabama)
Note Jameis Winston-Porsche remark, and add it perfect girlfriend, too. And a good running back. The ultimate game manager this year. Why No.4? Because it's expected at Alabama.
7) Jordan Lynch (Northern Illinois)
Money almost all year long for the little MAC school that could. He's going to New York this year for the Heisman vote. Great out of the pocket, too - he had 1,881 rushing yards.
8) Tre Mason (Auburn)
Didn't have better rushing yards numbers than some of the running backs in the nation, but he was clutch from the point of view of putting ball to end zone. His 164 yards against Alabama and 304 yards against Missouri in the SEC Championship Game probably helped him. And FUN FACT: Dad's PA Pasemaster Mase in De La Soul. Bet you didn't know that.
9) Allen Robinson (Penn State)
If you want a receiver who consistently put a school on his shoulders and has done throughout his career, look no further than Allen Robinson, who's circus-style catches have been something to behold this year. He had 1,432 yards receiving...and only 97 receptions. Talk about a deep threat, folks!
10) Odell Beckham Jr/Jarvis Landry (LSU)
Impossible to split up, since their circus-style catches led them to catch 1,100 yards each. Landry's catch against Arkansas was jaw-dropping. Beckham's ability to catch a kick-off WITH ONE HAND was pretty spell-binding, too.
TOP FIVE DISAPPOINTMENTS
1) Texas
They were pretty awful when I saw them on the first game of the season. It got worse, then they recovered, then it was inconsistent. And there were rumours swirling throughout the season that they'd fire Mack Brown. Probably started by Texas fans. That's not cool, Texas.
2) Jadeveon Clowney
Note to self: Never call a player 'The Second Coming of Football Jesus' again. Especially when a) Opposing offensive co-ordinators don't play in his direction, therefore wiping out his stats b) He gets injured (ribs, bone spurs, ego) and c) He gets in arguments with South Carolina coaching staff.
3) Florida
Upset by Miami, Vanderbilt and Georgia Southern this year. Yes, we know there were injuries, but the Gators were awful to watch. You felt sorry for their fans at times (those who came along by the end).
4) Clemson
In a first, Clemson didn't lose to teams they shouldn't have. But in their three massive games against Georgia, Florida State and South Carolina, they were 1-2 and lost two of them (FSU and USC) in pretty embarrassing fashion.
5) SEC defenses
I love the SEC. It might well be my favourite conference in all of American Football. They have the players, the pageantry, the passion....but this year, no defences. It seemed every game was a story of inept tackling, huge holes, badly timed interception-efforts. Made for great games, though!
TOP FIVE GAMES
1) Auburn 34, Alabama 28
Alabama goes for a 56-yard field goal with one seconds left and the scores tied at 28. Chris Davis picks up said ball and runs it back to the house. Best. Finish. Ever.
2) Georgia 44, LSU 41
A back-and-forth game that probably wasn't a defensive man's wet dream, but was still high on drama and crowd noise. Oh, and I was there.
3) Penn State 43, Michigan 40
Gets there because it was a game decided in FOUR overtimes. Penn State tied the game up with 27 seconds left (what is it about 27 seconds this season??). Michigan then misses a field goal to win with 13 seconds left to force overtime. Then both kickers miss a field goal (1 OT), hit a field goal (2 OT), Penn State fumbles, and Michigan miss a field goal (3 OT), Michigan scores FG but Penn State wins with a touchdown (4 OT). The stadium was in white and extremely noisy. Craziness.
4) Oregon 36, Oregon State 35
Oregon wins 'The Civil War' against its hated neighbour on a touchdown with 29 seconds left in a game which never let up. Or let down, mind you!
5) Ohio State 42, Michigan 41
Michigan scores in the final seconds. Coach Brady Hoke decides to go for all the marbles with a two-point conversion while trailing by a point. He fails, but excuse while I stand up and applaud you, Mr Hoke.
TOP FIVE STORIES
1) Southern California
After firing head coach Lane Kiffin mid-season (English) at the airport (we're serious) after a pair of horrible losses to Washington State and Arizona State, then they appoint Ed Orgeron, where they go unbeaten until the loss to local rivals UCLA at the end of the season. USC then doesn't give the much-loved Orgeron the head-coaching job, and gives it to Washington's Steve Sarkisian instead.
2) Texas
Everything's bigger in Texas. You know, apart from the gift of tackling. The lack of tackling kicked off continued conversation about whether head coach Mack Brown would stay in his job after yet another un-fulfilling season.
3) The run for the National Championship
Before the season started, we thought it would be Alabama and Ohio State, or even Alabama and Oregon. But Oregon lost. Then Ohio State lost. Then Alabama lost. Florida State took the No.1 crown, and previously scorned Auburn - who couldn't win a conference game last year - took the No.2 spot.
4) Auburn
Auburn coach Gus Malzahn deal with His Satanic Majesty must have gone like this: "Hey Lucifer? Can I have a deal? I want to get away with a blatant horsecollar against Texas A&M, to beat Georgia because two secondary players can't punch a ball to ground, and to beat Alabama in the craziest way possible. I'll give you my right arm in two years time. Thanks, buddy". Deal done. Auburn goes to National Championship Game despite a horrible defense.
5) Duke
A fantastic story where unfancied Duke managed to keep on going and win their first ever ACC division title. Coach David Cutcliffe deserves the nods... and should have been awarded Coach Of The Year ahead of Malzahn.