It's been a crazy year in sports for British fans.
We've had an England team both winning and losing the Ashes in a calendar year, an Irish golfing king who was so far below expectations he hit hell (and then came back and won a tournament), England in a semi-final (which they lost), and England NOT fluffing their lines and qualifying for the World Cup without needing nerve-wracking play-off.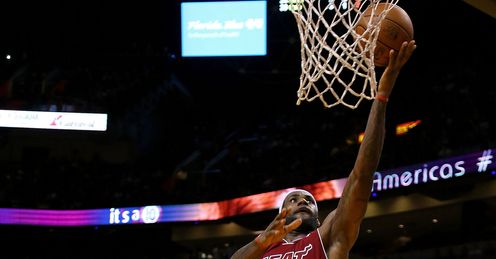 Oh, and a Scottish/British Wimbledon champion.
But on the other side of the Atlantic, you could argue it's been crazier; from tight Super Bowl victories to a Game 6 last-gasp three-pointer in Miami to a Grand Slam in Boston that shook the core of a nation to THAT 'Kick-Six' in Auburn, Alabama.
The games themselves have been crazy - and then there have been the soap operas, too.
US sports expert Alex Ferguson gives his Top Five players, games, storylines, teams, and disappointing teams and individuals of the 2013 US sporting year.
Enjoy, and Happy New Year!
SPORTSMEN OF THE YEAR
1. LeBron James (Miami Heat)
LeBron James might be the new Michael Jordan, but I'll actually say this: When all is said and done, he's just 'LeBron'. If that's not happening already. After a great regular season, LeBron averaged 25.9 points per game during Miami's successful run, and averaged 1.6 offensive rebounds and 6.8 defensive rebounds per game. And when he wasn't in sync early, nor were the Heat. But in the win-or-go-home Games 6 and 7, he averaged 32 and 37 points. This season (the 2013-14 season), James is third in the league in scoring with 25.3 ppg, and Miami's got an 18-6 record to start the year off. That's not bad.
2. Peyton Manning (Denver Broncos)
We 'ummed' and 'aahed' about putting Peyton Manning in at No.1, but LeBron James was a World Champion - Manning was not. Manning's only play-off game in 2013 ended with the loss and a three-touchdown, two-interception finish. This year, Manning has been incredible, having thrown for 5,200 yards, 51 TDs and 10 INTs (at the time of writing). His completion percentage at 67.4%, and he's led the Broncos to two fourth-quarter comebacks already. And he isn't finished yet (in fact, at the last post, he broke the single season regular season touchdown record)! Broncos fans will be praying this form lasts to the postseason!
3. David Ortiz (Boston Red Sox)
As much as it pains for me to say this as a New York Yankees fan, 'Big Papi' was incredible for the Boston Red Sox in their World Series victory, batting .668, including 11 hits in 16 at-bats and two home runs and 16 RBIs. You know, as well as hitting 3 HRs and 7 RBIs in the two postseason series leading up to the World Series, and a tidy 30 HRs and 103 RBIs (and .309 Batting Average) in the regular season.
4. Patrick Kane (Chicago Blackhawks)
Three goals in the Blackhawks' Stanley Cup final series win over the Boston Bruins as part of a play-off scoring run that included nine goals and 10 assists cemented Kane's name into Blackhawks lore. We thought we'd give him our applause, too.
5. Johnny Manziel (Texas A&M)
The Heisman Trophy winner started the 2013 College Football year with an exceptional performance in 2013 Cotton Bowl against Oklahoma, and continued it. Why we've got 'Johnny Football' ahead of 2013 Heisman victor Jameis Winston or second-place AJ McCarron (who actually beat him in the A&M/Alabama game in September) is this: Both Winston and McCarron had the keys to a Porsche. Texas A&M may have had a great offence, but its defence was hopeless, meaning that Manziel had to play at the peak of his powers all game, every game. And he did pretty well.
GAMES OF THE YEAR
1) 'The Harbowl'/'Black Out Bowl/ Super Bowl XLVII
San Francisco vs Baltimore. Jim Harbaugh vs John Harbaugh. As it transpired, it was one crazy game in one crazy town, lit up by a power outage in the third quarter with Baltimore comfortably in front 28-6. And after the outage, San Francisco came back, scoring 17 unanswered in the third and trailed 34-29 late in the fourth. They made it to Baltimore's seven-yard line....but turned it over on downs. Baltimore took a safety to give the game a three-point margin of 34-31, but the safety encapsulated the game (and the play-offs that year) in general: Craziness.
2) Sweet Jesus Shuttleworth! (NBA Finals Game 6)
This had already been a momentous five-and-a-bit games, and if we're honest, San Antonio was bettering LeBron James and the superstars of Miami. So much so, that we were talking about the greatness of Tim Duncan, Tony Parker and talking trash about how LeBron and Dwayne Wade were great, but Chris Bosh just wasn't picking up the slack. Well, late in the game with Bosh starting to dominate the defensive zone, James hit a career-defining three-pointer with seven seconds left on the clock... and he missed. Bosh came through, grabbed the rebound, put the ball out to Ray "Jesus Shuttleworth" Allen, who fired in a three with the Smoothest Action On God's Green Earth to tie the game, and send it to overtime. That Ray Allen got game, folks.
3) Kick-Six (Alabama vs Auburn, 2013)
In a terrific local Alabama derby known as the 'Iron Bowl', Alabama leads Auburn 28-21 with 39 seconds left, with the winner going to the SEC Championship Game. Nick Marshall, the Auburn QB, dinks right and just before he gets to the line of scrimmage, he fires a pass to open wide receiver Sammy Coates, who scampers in for the tying score. Alabama then drives down the field, and with one second on the clock, Alabama coach Nick Saban decides he's going for the 56-yard field goal. It falls short and into the arms of Auburn punt returner Chris Davis, who runs it back for the TD. The finish was so crazy that the NFL announcers were talking about it the next day.
4) Hail To The Victorino (Boston vs Detroit, ALCS Game 6 2013)
On a cold night in Boston, Detroit's leading Boston 2-1 in the seventh inning, and the series is looking as though it's going to Game 7. Up comes Shane Victorino. One swish of the bat later, and Fenway Park turns into a mosh-pit as Boston takes a 5-2 lead. The TV shot that made it all was Detroit outfielder diving headlong into the Boston bullpen in an effort to catch the ball, and a Boston cop guarding the celebration going as nuts at the celebrating in the background. The cop's name's Steve Horgan, by the way. And he's now immortal.
5) How 'Bout Dem Dawgs? (Georgia vs LSU, September 2013)
We're putting this one in because we were there, and because the atmosphere was out-of-this-world in Athens this year. Back-and-forth from the start, no team led by more than seven points all game long in one of the greatest encounters of the year. Also, we got to see two future NFL quarterbacks in Aaron Murray (Georgia) and Zach Mettenberger (LSU), and nearly 950 yards of offense. And they BOTH played brilliantly. It was sad that there was a loser.
TEAMS OF THE YEAR
1) Florida Gulf Coast University
This tiny school from Fort Myers, Fl. was THE story of March Madness, America's biggest college basketball tournament. 'Dunk City', a team that prided itself on high-flying dunks and entertaining basketball, trumped No.2 Georgetown and San Diego State before succumbing to Florida in Sweet 16. Sure, they didn't win it all, but 'Dunk City' was the talk of the biggest tournament in America, and must-see viewing.
2) Boston Red Sox
After an awful 2012 season where the Red Sox finished bottom of the AL East and were a bit of a laughing stock, no-one expected this turnaround in fortunes. You know, maybe apart from the bearded wonders themselves!
3) Auburn University
Last year this college football team couldn't get a win together in conference play, but this year - with new coach Gus Malzahn and new quarterback Nick Marshall - they win two games in heart-attack fashion, win the SEC Championship Title and are will now play for a National Championship in early January. That's pretty good going.
4) Miami Heat
The best team in the NBA showed its mettle by battling back in the face of adversity. Sure, it helps in the battle when you've got LeBron, Dwayne, Chris and Ray, but still, this was one hell of a team.
5) Denver Broncos
Peyton Manning has made Denver's offence explosive. Or is 'explosive' an understatement for this juggernaut, who's a Super Bowl favourite? And because the Broncos can play in a shoot-out, it means that their games are pretty fun to watch, too.
STORIES OF THE YEAR
1) 'A-Rod Gate'
Alex Rodriguez, the New York Yankees superstar, and Major League Baseball have been going toe-to-toe over whether Rodriguez took performance-enhancing drugs. The story is getting murkier and murkier, and has continued almost all year long. The last chapter was A-Rod storming out of the MLB hearing saying 'This is bull". As for the Yankees? They are waiting in the wings, probably hoping that all this carry-on nullifies A-Rod's gigantic contract. Coronation Street has got nothing on this soap opera, folks!
2) 'The Dwight Show'
If you want a real lecture on how someone can be really cancerous to your team's progress, look no further than Dwight Howard and his behaviour at the 2012-3 Los Angeles Lakers. Feuding with just about everybody, Howard helped to take the once-favoured Lakers to a 45-37 record, and the first round of the play-offs. Where they were swept 4-0 by a team who could actually get along with each other - the San Antonio Spurs. It didn't help that Kobe Bryant couldn't play for the second half of the season or the play-offs either, with a torn Achilles tendon. He didn't have to worry. Howard proved to be the team's Achilles heel.
3) 'Concussion Gate'
The NFL and its former players had been gearing up to take the NFL to court over its apparent cover-up over concussions, but it was finally dealt with with a $765m settlement. Sorted? Er, not quite. Since the settlement, according to Forbes, numerous new settlements have been fired at the NFL, and there's still a danger of the NFL being forced to disclose new information.
4) Richie Not-So-Incognito
In November a huge debate blew up over allegations that Miami Dolphins player Richie Incognito had subjected team-mate Jonathan Martin to a ton of abuse, as well as taking his teammate of $15,000 for a trip he didn't take. Incognito was suspended with pay for the rest of the season, but suddenly the subject of bullying hit national focus. And every kid who had been bullied at school suddenly found a voice. The good news? An elementary school football team in the Boston area stuck up for a special needs pupil (also their waterboy), and made local news and then the Ellen Show. And then Tom Brady gave the captain of the team and the waterboy tickets to the Patriots-Bills game.
5) 'Autograph Gate'
Johnny Manziel (yes, him again!) was paid to sign some autographs for an autograph broker in early January. Suddenly the sports world erupted as to whether the country's best player would be booted out of college football. As it goes, Manziel was suspended for one half of one game, but for a while, it was the conversation on America's lips.
DISAPPOINTING TEAMS/ INDIVIDUALS OF THE YEAR
1) New York Yankees
With Mark Teixeira, Derek Jeter, Curtis Granderson and Alex Rodriguez all injured early-on, the Yankees struggled. And even when the talent returned (Jeter returned and was promptly out injured again, while 'Tex' missed the whole season), they put together an 85-77 record and finished second-last in the AL East. And to make matters worse, their hated rivals, the Red Sox, won it all.
2) Eli Manning
When he won his two Super Bowl rings, the fans said that the 'always knew Eli had it in him'. Well, did they also know that Eli Manning could throw TWENTY-FIVE interceptions in a season?
3) LA Lakers
With the arrival of Dwight Howard, everyone thought the Lakers would return to glory, battling it out against the Miami Heat for the NBA Title. Not so much. Kobe was injured, Dwight spent the season mouthing off to his teammates, and the Lakers were blown out in the play-offs.
4) Atlanta Falcons
With the return of Tony Gonzalez and Matt Ryan signing a hefty five-year contract extension that guaranteed him a stunning $59m (and $100m when all's said and done), the Atlanta Falcons looked as though they'd battle it out for another NFC South title and maybe go all the way this time (they were heartbroken against San Francisco in the AFC Championship Game). But after weeks of poor defensive work, the only place Falcons fans should be looking forward to is Top Five in the Draft.
5) Robert Griffin III
After an electrifying rookie year, Robert Griffin was injured in his team's loss to Seattle in the play-offs, and despite coming back on the first week of the 2013-4 season, he hasn't been the same. Suddenly all the excitement about RGIII has faded - so much so that he's been dropped as Washington's starting QB. What's going to fade next, his Subway contract?