The latest chapter in the Alex Rodriguez drugs saga continued last week when the New York Yankees third baseman was banned for the entire 2014 season by Major League Baseball for using performance-enhancing drugs... and then he turned around and sued the league.
skysports.com's resident US sport expert Alex Ferguson looks at the saga and asks: who loses - the baseball fan, the New York Yankees, or Alex Rodriguez?
"Baseball is my blood, but unfortunately money is part of it. It kind of takes the fun out of it, to tell the truth" - Alex Rodriguez, July 28, 1993 (USA Today)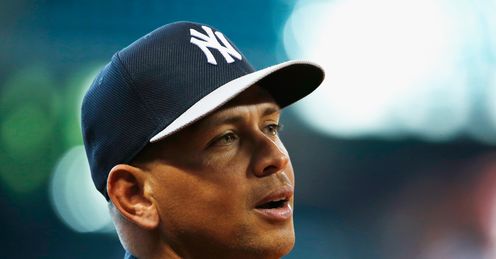 'A-Rod' exploded on the baseball scene in 1996 as a 20-year-old, leading the league in batting average (.358), doubles (54) and runs. In 1998 he had 213 hits, 42 home runs, 124 RBIs and 46 stolen bases, batting at a clip of .310. He also had 123 runs, too. His numbers that year were stunning.
And they were so stunning that his accomplishments out east put one Derek Jeter, who at the time was dating Mariah Carey, into the dark - even though Jeter's Yankees were practically unbeatable that season and he wasn't battling Mark McGwire and Sammy Sosa for Roger Maris' home run record of 61.
Suddenly the Hall of Fame doesn't seem so interesting anymore, because EVERYONE is untrustworthy.
Alex Ferguson
Quotes of the week
And in terms of fielding, he was excellent if not perfect. My cousin used to tell me that Jeter wasn't the best at his position in Major Leagues at that time. I think he was talking about Omar Vizquel (Cleveland Indians) and Nomar Garciaparra (Boston Red Sox) when he was talking about better players. But I think he thought Rodriguez made fewer errors than Jeter.
Anyway, back to Rodriguez. It seemed that Superman had no Kryptonite. From 1999 to 2001, he was cementing himself as a future Hall of Famer, smashing three straight seasons for 40+ home run seasons, and over 110-RBI. It was monumental.
And then in 2001 he decided he'd move to Texas, because he was a free agent. And although he liked the water of Seattle, he liked the green of Texas better. So he moved to Texas, in a deal that cost his new club $252m over 10 years.
He didn't disappoint, being an ever-present in two out of three of his seasons, and clouting 52, 57 and 47 home runs at his time in an A-Rod-friendly Ballpark at Arlington. Over the course of those years, he also had 135, 142, and 118 RBIs, and took home three straight MVP crowns.
But then Texas started to worry about the money, and shipped him off to the only side that was rich enough to take on a contract like that... the New York Yankees. They agreed to pay the Yanks 37 per cent of his remaining $179m salary to get him off the books, but it was a bit of a sour taste.
Especially as outfielder Alfonso Soriano - who was well-liked by Yankee fans - was going the other way.
"In between the moon and you, the angels had a better view of the crumbling difference between wrong and right" - Counting Crows, 'Round Here'
Tests
And while the money, beautiful weather, home runs and adulation was filling Alex Rodriguez's body, it seemed that something else was filling A-Rod's body: Steroids. In 2009 in a ground-breaking story by US sports bible Sports Illustrated, journalists discovered that Rodriguez had failed anabolic steroid tests in 2003.
There were no penalties at that time in baseball for testing positive for drugs, despite Major League Baseball expressly disallowing steroids unless prescribed since 1991, the report adds. A-Rod's reply? "You'll have to talk to the union".
And despite lying on National TV, Rodriguez finally came clean in February 2009 in an interview with ESPN, where he admitted to taking drugs during his high (performance) times in Texas:
"When I arrived in Texas in 2001, I felt an enormous amount of pressure. I felt like I had all the weight of the world on top of me and I needed to perform, and perform at a high level every day...
"Back then, [baseball] was a different culture. It was very loose. I was young. I was stupid. I was naive. And I wanted to prove to everyone that I was worth being one of the greatest players of all time....I did take a banned substance. And for that, I am very sorry and deeply regretful."
And coming clean seemed to have done Rodriguez well - he had another 30 HR, 100 RBI season in 2009, and won his first World Series title (despite having a horror-show of a series, where he struck out eight times).
But the cloud continued. Suddenly the talk of 'Hall of Fame' was abating, because, quite frankly, no-one really knew what to believe about him. We heard the words 'A-Fraud' used often in terms of Rodriguez. Because in America, no-one falls faster than the fraudulent sports hero or owner.
And if 2009 was a cloud for Camp Rodriguez, then 2013 was a hurricane.
In 2013, Rodriguez and a number of other baseball players were accused of taking human growth hormone by Anthony Bosch, the boss of the now-bust Biogenesis of America Clinic, which provided steroids to a number of major leaguers.
During the 2013 season, 13 players were suspended by Major League Baseball for a third of the season, including the 2011 National League MVP and super slugger Ryan Braun, who incidentally played for MLB Commissioner Bud Selig's Millwaukee Brewers.
Murky
Rodriguez would have been suspended as well, but he complained vociferously, and under the rules, he was allowed to play on even under suspension.
After his suspension hearing, arbitrator Frederic Horowitz decided that Rodriguez should be suspended for the whole of the 2014 season including play-offs, instead of 211 games.
But the discussion is still murky. Rodriguez - through his lawyers - is suing Major League Baseball over the decision. Bosch told CBS News that he had been supplying Rodriguez for years, and actually instructed Rodriguez when to use testosterone to help him avoid getting found positive.
Bosch was paid $12,000 a month by the player to keep him on a - according to US Anti-Doping CEO Travis Tygart in an interview with the Associated Press - "potent cocktail sophisticated PEDs stacked together to deliver power, aid recovery, avoid detection and create a home run champion."
Rodriguez is furious, saying that he was never given the chance to see the so-called correspondence between himself and Bosch, which was done over a Blackberry. Baseball also accused Rodriguez of trying to cover up his crimes by purchasing and destroying 'Bosch's original composition notebooks'.
But there's also the fact that Rodriguez didn't fail a drug test during the scandal. But was it more because of A-Rod taking Bosch's directions on when to take the testosterone, or because A-Rod was innocent of all charges? We simply don't know.
The only peek we've heard from the Rodriguez camp is saying how unfair the whole situation is. We haven't heard a straight-up denial, at least for his involvement with Biogenesis.
We know that he probably won't be believed by the judge who's overseeing his lawsuit, or the New York Yankees, or, probably, the corporate supporters and fans.
In fact, it would be a shock if the New York Yankees - who owe him $3m today and $2.9m during the season in salary payments (according to the New York Daily News) - didn't try and null and void the rest of A-Rod's contract.
"I'm a loser, baby, so why don't you kill me?" - Beck, 'Loser'
Controversy
Here's the biggest thing about this investigation: There are no winners.
Major League Baseball does not win. It did not win when it turned out that 104 players tested positive in 2003 - and it could not suspend them.
Neither did it win when it turned out that Mark McGwire and Sammy Sosa may well have been 'juicing' during 'The Season That Rescued Baseball' in 1998, when both players (and Ken Griffey Jr and Greg Vaughn) made a run at Roger Maris' 61 home run title.
It did not win when Barry Bonds - who looked completely dissimilar to his earlier days in baseball - broke McGwire's record in 2001 while Commissioner Bud Selig did not win, because this controversy happened on his watch, and a lot of people believe that he could do a hell of a lot better in the situation.
The New York Yankees do not win. I'm sure that they'd rather the Alex Rodriguez who came to them from Texas was as clean as they could have hoped for. But they traded - and took on the contract - for a racehorse that was souped-up to the eyeballs at his second stable.
The Alex Rodriguez the Yankees inherited was a mess of a man in Texas. Why? Because he wanted immortality, not normality. Of course, no-one's feeling sorry for the Yankees, because they are the biggest team in baseball by a mile, even though they are a relic in terms of success.
Ordinary baseball fans certainly don't win.
Our world has been broken apart by steroid allegation after steroid allegation and we ask: 'Were ALL our heroes taking steroids?", suddenly shaming ourselves for getting so excited for spending so much time and effort worrying about who would break Roger Maris' record in 1998.
Suddenly the Hall of Fame doesn't seem so interesting anymore, because EVERYONE is untrustworthy. Suddenly you throw out records for the past 30 years and start again, which equates to a childhood, a time at college, and meeting your girlfriend-come-wife. Why? Because at a time when everyone was doing it, everyone was guilty.
And Alex Rodriguez - despite still making money in 2014 via his contract - certainly doesn't win. After all, no-one likes a cheat. Even if he's found innocent.