On February 12th, 2014, New York Yankees captain Derek Jeter - two days before Valentine's Day - announced that New York City's love affair with him will end at the end of the 2014 baseball season.
Our US sports expert - and New York Yankees and Derek Jeter worshipper - Alex Ferguson reacts to the news...
My beautiful, late wife, Suzy, went to heaven knowing that I loved three people in my life: her, Heidi Klum, and Derek Jeter. I told her that I would leave when Heidi Klum came calling ("never going to happen in a million years"), and I campaigned to have a 'Jeter' table at our wedding ("Nope"). I went 0-2. And even when I was mugged by some kids in West London - in a Derek Jeter No.2 jersey - she asked me: "Were you more angry that they couldn't pronounce 'Jeter' properly or used your head as a football?"(Probably the first). She used to joke with friends: "Alex loves me, but he really loves Derek Jeter". 0-3.
In American sports, people love the player, not necessarily the team or even the game. Peyton is the God of the NFL. Some people used to support Indianapolis and now root for Denver, simply because of No.18. In basketball, LeBron James is the closest you'll get to the icon of icons: Michael Jordan.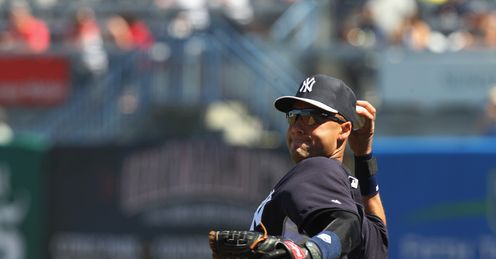 In the NHL, it was Gretzky, and now it's Sidney (Crosby). Golf? Some guy called Tiger. NASCAR? Junior's taken over the mantle from his old man, the late, great Dale Earnhardt Sr. And in baseball, my icon's name is Derek Jeter.
Jeter, with his great plays, compact swing, and superb speed, was the leader of a team that couldn't stop winning and a model of consistency. Over 19 years, he's had 3,316 career hits, 256 home runs, and 1,261 Runs Batted In.
Yankees owner George Steinbrenner does not like coming second. He's fired managers and traded players for doing that, but Derek shone bright for George.
Alex Ferguson
Quotes of the week
At a batting average of .312. And in the postseason, he's flourished, breaking records in almost every category. And thanks to modern technology and an obsessive nature, I've been celebrating with him every step of the way.
The big incident I didn't see live (Baseball didn't come to the UK TV stations until 1997) was the eighth inning of Game 1 of the 1996 American League Championship Series, when Jeter struck a fly ball that went to centrefield.
A young spectator, Jeffrey Maier, reached down over the fence and pulled the ball out of the outreached glove of Baltimore Orioles player Tony Tarasco.
Tarasco was enraged. The umpire, Rich Garcia, gave it a home run. A mass media controversy was spawned. Since then, Maier's had some jobs around the world of baseball, while Derek Jeter's became Mr. Baseball. The Yankees won the World Series that year. You could say the results of the home run worked out well for both.
After being restricted to celebrating the Yankees win it all a day late on Ceefax and lose it all live in 1997, I finally got to see the Yankees and Derek Jeter on April 30th, 1998 at Yankee Stadium.
That night, Jeter didn't have the most beautiful swing. That belonged to Seattle's Ken Griffey, another icon who hit two homers that night. He didn't have the most powerful swing. That was Darryl Strawberry, who hit a bomb to the famous 'Black' in centrefield.
Jeter probably wasn't the most skilled shortstop on offer, either. That was Alex Rodriguez, who was playing with Seattle at the time. Jeter didn't do anything memorable or special.
He went 1-4 with a walk. But God, he OWNED his space. All the eyes of the stadium were on him when he was fielding, even if he was doing nothing. Many conversations that night were about Derek Jeter and his future captaincy of America's Most Successful Franchise.
God
"The Yankees have twenty-five heroes"- Derek Jeter
The Yanks went on to win the Series that year and two more straight wins in 1999 and 2000. Jeter was "Captain Clutch" for his postseason prowess. Me? I was quite happy calling him with "God".
Despite his four rings, Jeter wasn't the best player in that position in that heyday. Alex Rodriguez (Seattle) and Nomar Garciapparra (Boston) were better hitters. Omar Vizquel (Cleveland) and Rodriguez were better with the gloves.
But Jeter had the rings. The other guys didn't. And in the postseason, he flourished ("Mr November" leads postseason records in games played, at-bats, plate appearances, hits, runs, singles, doubles, triples and total bases - and strikeouts, too!).
Remember this: New York Yankees owner George Steinbrenner did not like coming second. He's fired managers and traded players for doing that. But Derek Jeter shone bright to George. Steinbrenner made him the first Yankees captain since another God, Don Mattingly (or 'Donnie Baseball'), hung up his bat, glove and pinstripes in 1995.
Not bad for a guy from Kalamazoo, Michigan, who was primarily a singles hitter in a pinstriped world where the Home Run was king (Oh, and speaking of Steinbrenner, the Yankees success had a lot to do with his money and the purchase of great talent).
Derek Jeter's light also shines bright to baseball fans, too, who have voted him an All-Star 13 times in his career. It's like: "We hate the Yankees, but that Jeter guy? He's OK."
Reactions
"If you're going to play at all, you're out to win. Baseball, board games, playing Jeopardy, I hate to lose." - Derek Jeter
And while they love his clutch hitting, the thing that Yankees fans really love about Derek Jeter (and opposition fans find so frustrating), is that he'll do anything to win.
He'll dive into dugouts to catch a foul ball. His jump throw that bullets out runners going into first base is almost patented. His reactions are exceptional. Oh, and when he makes the play, it's usually brilliant.
Heck, America's still talking about his 2001 effort, when he grabbed a terrible throw from the outfield, flipped a backhanded throw to his catcher, who somehow managed to tag Oakland's Jason Giambi. The Yankees kept their lead, and went to the World Series (where they lost).
At the Super Bowl in Dallas in 2010, I told Yankees player Nick Johnson that I cried when he won the World Series the year earlier. He replied: "I did too!" I wanted to ask him all about that year, and in particular Jeter's astonishing year, where he hit .334, had over 200 hits and 18 homers. But I didn't.
And although the newspaper critics were quite happy to criticise Jeter's poor form in 2010, they were the first to celebrate his rebound in 2011- especially on July 29th, when Jeter finally reached 3,000 hits.
While No.2 struggled with an ankle injury in 2013, Mike Trout and Yaisel Puig flourished in LA and his rivals in Boston won a World Series.
But if "Mr November" caps off a tremendous career by winning this year's World Series, then nothing in baseball would be sweeter for Derek Jeter - or for fans like me!