This week hope sprang anew for millions of baseball fans as the 2014 Major League Baseball season started.
Our US sportswriter - and baseball nut - Alex Ferguson has a couple of thoughts on the 'Dos' and 'Don'ts' of the season...
"2014 will be our year. This will be our team. We will win it all for the first time in 1 year/ 2 years/ 30 years/ 100 years. Our stadiums will be rocking every day and every night. Our pitchers will be perfect. Our batters will be brilliant. We'll steal bases like the best-ever. We'll never make a mistake in the field. We'll never boo if there is a mistake or our team has a bad day, because we're the faithful. And we never give up, and never will give up. We believe." - Baseball fans before the season starts.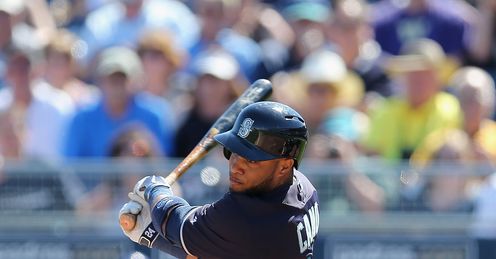 Before the season starts there's a confidence in baseball fans like there is in no other team. No other team's got an advantage. There are no preseason rankings. Every team's 0-0, and everyone's in the play-offs, and every team's got a shot at perfection. Every batter looks like the second coming of hitting legend Ted Williams, and every pitcher the second Cy Young.
Baltimore, Boston, Tampa Bay and New York will battle it out for the AL East. In the AL Central it'll be all about Detroit (and maybe Kansas City).
Alex Ferguson
Quotes of the week
By Wednesday - and every team had played at least one game - only 10 teams were unbeaten. Nine teams didn't have a win (some had only played one game). Eleven of the others had made their fans miserable and happy in equal measure. This number will fall to zero teams unbeaten by mid-April. And by mid-April, every team will have won at least a game. Most players will have a hit or a walk. Every starting pitcher will have given up a walk, a hit, and unless they were great, a run.
The baseball season isn't about a quick-fix, it's a slow-burn. The season goes on for 162 games, and if you think New York Yankees starter CC Sabathia's the worst pitcher in the world because he got burned for six runs by the Houston Astros on Wednesday, or Robinson Cano's not worth the money at Seattle because he hasn't hit a home run or batted in another player in TWO GAMES, then you probably need to get off Twitter. Or at least think: "It's a 162-game season".
But in the longevity of the season, that's not to say that baseball's going to be anti-competitive, with the same big teams of 2013 ruling the roost. Sure, we expect Detroit, St Louis and Boston to continue being competitive. But we also expect Seattle - who paid $240m over 10 years for the services of Robinson Cano - to menace. We expect Atlanta (who went to National League Championship Series) to drop of a little because of the sheer amount of injuries they've had in the off-season to their pitching.
Hitters-wise, we expect Mike Trout (Los Angeles Angels) and Miguel Cabrera (Detroit Tigers) to be one of the best. We expect Cabrera's former battery-mate Prince Fielder to flourish in Texas after a trade. We expect that the Yankees hitters won't be as awful as last year. And we can't wait for LA Dodgers Cuban sensation Yaisel Puig to do something either stupid or completely out-of-the-ordinary (And a home run really doesn't count).
Pitching-wise, we expect the doctors to identify what's wrong with LA Dodgers ace Clayton Kershaw (the most expensive pitcher in baseball). We can't wait for the return of the Rangers' Japanese pitcher Yu Darvish, who's been out with a neck injury. And Yankee fans can't wait to see what Masahiro Tanaka's made of. Their team paid $155m over seven years for him, after all.
Excitement
And amongst all of this, we say goodbye to Derek Jeter. Everyone's going to sad to say goodbye to him. In a word, he's class.
But for baseball to continue the wind of joy, change and excitement, the fans have got to fill the seats. From Fenway to San Francisco to Colorado to Kansas City to Texas and yes, even you Miami, we hope that the fans continue to support their team. We hate seeing stadiums partially full. We ask ourselves: "Where are you, loyal fans?"
Because if a team's suddenly competitive or if there's a player gunning for history in one way or another, you know that the stars and fans will be immediately jumping on the bandwagon as 'life-time fans', while the loyal will ask: "Where in the hell have they been?" (see Marlins, Miami for details).
Teams-wise, we expect it to be as competitive as ever before. Baltimore, Boston, Tampa Bay and New York will battle it out for the AL East. In the AL Central it'll be all about Detroit (and maybe Kansas City). The AL West will be a five-way stand-off between Texas, Oakland, Seattle and the LA Angeles.
In the National League, we expect Washington and Atlanta to battle for the East. In the Central, it would be great to see Pittsburgh back in the play-offs. But really, the smart money's on a St Louis and Cincinnati race (sorry, Chicago...not this year!). And out West, the Dodgers will get a battle in San Francisco.
As for our play-off and World Series predictions: That's a little early, isn't it?