Every year there's a rookie in the NFL that many outsiders didn't see coming. You'll hear the conversation a lot when you watch Sky's NFL coverage, starting in September.
So skysports.com's college football expert Alex Ferguson has come up with his Top 10 most underrated players in this year's draft...
1. Jarvis Landry (Wide Receiver, LSU)
We've seen Landry play a lot over his college football career at LSU, and he's been pretty great. The stats would back us up: he had 573 yards receiving and five TDs in his first (proper) season in 2012, and backed up by 1,193 and 10 TDs in his second year in 2013. And THAT was bearing in mind his co-receiver was Odell Beckham, and LSU had an excellent running back stable. He's going to be excellent as a slot receiver. Sure, his combine running time was pretty awful, but he was never going to be the speedy lead receiver-type. But if teams need a receiver who doesn't drop the ball and makes spectacular catches, Landry should be high on your list.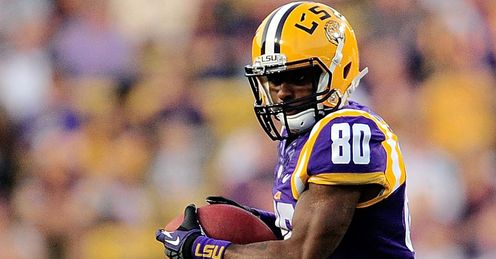 2. KA'Deem Carey (Running Back, Arizona)
Carey had back-to-back monster years for Arizona, putting up nearly 2,000 yards rushing in 2012 and another 1,885 in 2013. He also had over 40 touchdowns. The last time he ran for less than 100 yards was Game 9 of 2012. That's pretty impressive. Fast enough to cause defences problems and small enough to fit in the holes, we like Carey despite people talking down his size. He's better than Montee Ball, who's currently playing for Denver. And as opposition defences learned last season (and the one before)- he's difficult to stop when he gets going.
If teams need a receiver who doesn't drop the ball and makes spectacular catches, Landry should be high on your list.
Alex Ferguson
Quotes of the week
3. Will Sutton (Defensive Tackle, Arizona State)
A lot of people complained about Sutton in 2012, complaining that he was too light to be a high pick in the NFL....and then when he put the weight on in 2013, he was too heavy and wasn't the difference-maker. Which was strange, because Sutton had 13 sacks, 41 solo tackles (63 total) and three fumbles in '12, and 48 tackles total in '13 with three sacks and defensive co-ordinators got wise (and he lost Vontaze Buflict to the NFL). But let's get this clear. Sutton is a difference-maker. He's explosive, he's aggressive, and he can ruin offensive lines - especially when he's not double-teamed as he was during ASU's 2013 season.
4. T. Tuipulotu (Defensive Tackle, Utah)
After doing very little in his first years at Utah, Tuipulotu came alive in 2013, racking up over tackles, 1.5 sacks, one fumble caused and four defended passes for a defence that was 73rd in the country in points given up. We love Tuipulotu's energy and his fight, and we expect that even if he's taken in the final rounds, he'll be a great pick.
5. Steven Clark (Punter, Auburn)
You probably think me pretty damned strange to put a punter in my Top 10, but give me a minute! Clark has played for great offences at Auburn, and he's played for terrible ones. Still, he's managed to average around 40 yards per kick each season for the last three years that he's been on the plains (40.8 in 2011, 39.8 in 2012, and 42.6 in 2013), and we've lost count of the times when Clark's kicks landed inside the 10 and stayed there.
6.Jackson Jeffcoat (DE/LB, Texas)
If there's one player who actually stood out in Texas' horrific defence in 2013 (and believe us, we don't use the word 'horrific' lightly....but when it comes to Texas' 'D', it seems on point), it was Jeffcoat. He led the team in tackles (82), tackles for loss (19, with 95 tackles for loss), and sacks, and was one player on that defence who didn't seem to give up on a play. We know that people are saying that he's not going to set the world alight at DE or Linebacker, but we'd argue that if he's given a spot, he'll be extremely productive.
7. Arthur Lynch (Tight End, Georgia)
A lot of people aren't talking about Lynch, but he was a fantastic blocker for Aaron Murray, one of Georgia's best-ever quarterbacks. He was a great receiver to the Bulldogs, too, going for 459 yards with five TDs (on 30 receptions) and 431 yards and 3 in 2012 (on 24 receptions). He'll do a job for you, and sometimes with teams, that's all they ask.
8. Jordan Matthews (WR, Vanderbilt)
A lot of teams don't have him that high on their list, but like Landry, we can't understand why. He has consistently been one of the best receivers in his conference throughout his four-year career, pulling in back-to-back 1,300-plus seasons and 15 total TDs in 2012 and 2013. Matthews is quick, intelligent and runs his routes properly. In short, we love him. And he's a long shot for "under-the-radar" since some teams are thinking about getting him the second day, but we say this: He's good enough to be first round talent. He's that good at catching the ball.
9. Shayne Skov (LB, Stanford)
There wasn't a bigger leader in college football that Skov last season, who starred in an excellent Cardinal defence. Skov's numbers were unreal, had 109 tackles and 51/2 sacks in 2013. The guy's a leader, can tackle, and will be good for any defence. Avoid him at your peril, GMs.
10. Keith Smith (Linebacker, San Jose State)
We find it difficult to understand how scouts ignore a guy had three out of four years in college with over 100 tackles (the other year he 'only' had 97), including a 2013 where he led all of college football in tackles (with 159, blowing away the competition by 11). Sure, we get the fact that teams don't like his ability in pass coverage. But sure his playmaking abilities, his super-aggression and the fact that he keeps going like The Energizer Bunny. That should make him quite the asset.