The Oakland Athletics, the team of 'Moneyball' fame in the world of Major League Baseball, have been making their fans' dreams come true lately by putting together a magical run during the first half of the baseball season and becoming favourites to lift the World Series crown.
Our US sports expert Alex Ferguson wonders not only if it can continue, but if Premier League clubs could follow Oakland's example…..
There is something magical about Oakland's excellence in recent baseball memory.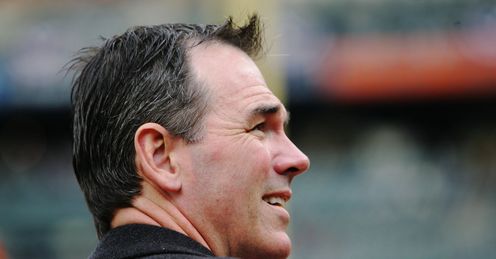 At the time of writing, the Athletics are 58-41 and have the best record in baseball, leading the Los Angeles Angels – their divisional rivals - by four games in that department.
The Angels have the fifth-biggest payroll in baseball with $155.6m devoted to players' salaries at the start of the season, absolutely dwarfing Oakland's payroll of $83.4m.
Of course, both sides don't compare to LA Dodgers, who have a staggering $235.2m payroll – more than $30m ahead of the second-placed team, the New York Yankees.
The Athletics' highest-paid player, Yoenis Cespedes, commands $10m per season. That would make him the fifth-highest player on the Angels' line-up and the 10th on the Dodgers.
Produces
The Dodgers currently have the fourth-best record in baseball. The Yankees, comically, are decidedly mediocre in that department.
Billy Beane, Oakland's general manager, prides himself on being able to find great, underrated players.
The hitters – none of whom would appear in anyone's 'superstar list' – lead the league in runs, are third in the league in getting on base, and ninth in slugging percentage (the total number of bases divided by the number of at-bats a player takes). In other words, the line-up produces, produces, produces.
But what's frightening is how good Oakland have been at stopping other team from scoring. Beane's use of sabermetrics (a more scientific way to show how productive a pitcher is) has come true, with his pitchers second in WHIP (Walks/Hits per innings pitched – a way of working out how many batters a pitcher puts on base - the logic follows that the fewer players a pitcher puts on base, the more wins he will get) and second in opposition's batting average.
And 58 times this season, his pitchers have completed six or more innings and given up less than three earned runs. They are second in the league in earned run average, seventh in walks given up, fourth in hits, and to put this into perspective, Scott Kazmir – a former Major League cast-off – is second in the league in wins.
Building his team on this model, Beane's Oakland has won its American League West division three times in the last three years and looks prepped to make the run four straight.
Now, the Angels have a hitting machine in Mike Trout, who only commands $1m a season (he was a discovery from their minor league system), although after this season is over, he will start earning some serious dollars on an extension that will command $144m over six years.
Add in Pujols and a host of other stars, including power superstar Josh Hamilton, who has recently been struggling with an injured thumb, it is highly probable that the Angels will compete for the AL West title with Oakland, and quite possibly win it.
Smarter
But Beane is not going to go without a fight. In fact, he made a move to show that by signing Cubs' starters Jeff Samardzija and Jason Hammel, adding some firepower to the teamsheet. And because he's developed a young and deep talent base, he was able to give up a few players to the Cubs but not seriously damage the future.
Now, as Beane has told us often enough, if he had the money of a Los Angeles team or a New York team, he would spend it, but with Oakland, he simply can't do that, so he's had to be smarter.
For us, we wish that football clubs in the Premier League would be the same, too.
Too often fans complain about teams making 'big name' signings – often when a player is past their prime, and more injured and slower than his previous history. This writer's team, Queens Park Rangers, who were relegated from the 2012-3 Premier League before returning last season in dramatic fashion, were one of the such-like teams.
And although the adage that 'money can't always buy success' certainly hasn't applied to Manchester City (highest wagebill over the last three years and have two titles in three years), the $187m Manchester United dropped on players returned not even a Europa League place last season.
How many managers use the Billy Beane 'scientific' approach to buying players? How many managers go into detail when buying players on such stats as fouls committed, tackles completed/missed, passing accuracy and things like total meters covered?
With strikers, assists and goals should be a factor (obviously) but also chance creation. Defenders should be ranked on headers won/lost? And if so, when will the fans get to see such stats on players. Goalkeepers more than just saves and shots stopped, but also punches vs catches at corners, penalty-save percentage, and I would also like to see catches/deflections per save.
Implode
That's not to say that the information's not readily available. In the ever-increasing popular world of fantasy sports, an increasing wealth of information becomes available at Premier League clubs' fingertips... and then there becomes a lot less of an excuse for managers not to succeed with their player picks.
And this might also start a trend in owners signing players on shorter contracts, aware that consistent underperformance would implode not only the value of the player, but also the team in general.
On a player basis, it's hardly surprising, then, that Luis Suarez has become hot property to the likes of Barcelona. Not only did he lead the league in goals, but was second in assists, topped the league in shots per game, and gave the ball away the second-least.
That will do for a team that struggled in that department with a frankly poor Neymar and a Lionel Messi who wasn't up to his usual god-like standards in the 2013-4 season and quite frankly needed a better foil. If you see Suarez' numbers, imagine how much better they COULD have been if he hadn't have had to serve a suspension for biting a Chelsea player the previous season.
And there's an argument in Major League Baseball that stats push players to succeed, as well as ownership.
Although in football there's an argument that the only real stats are the win/loss/draw column and whether a team reaches a Champions League spot or survives relegation, wouldn't clubs go for players who have the sort of stats that ensure that a team has a better chance of either playing Bayern Munich the season after, or to avoid a trip to Blackpool?
Post to your View!
Be the first to post a comment on this story