Andrew Flintoff's early return from the IPL with yet another injury is everyone's worst nightmare. I warned against his involvement in the competition before the auction in February, and thought it madness that he was still considering it after his hip injury in the West Indies.
I take no satisfaction for being proved right; like every England fan I desperately want our talismanic all-rounder fit and firing. But as Ricky Ponting and several of his high profile Australian colleagues were making themselves unavailable for the IPL, our leading duo, Flintoff and Kevin Pietersen were having their heads turned by US dollars.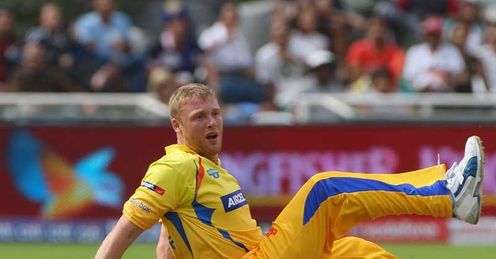 Perhaps it's unfair to ask someone to turn down nearly £200,000 a week. But had Flintoff done what so many England fans wanted him to do and pulled out of the IPL to fully focus on the build up to the Ashes, his status as our most loved sports hero would have been cemented forever thus guaranteeing future commercial earnings. Instead, having picked up another injury, he's in danger of jeopardising the iconic reputation he built in 2005.
Had Flintoff done what so many England fans wanted him to do and pulled out of the IPL to focus on the build up to the Ashes, his status as our most loved sports hero would have been cemented forever.
GRAND SLAM SUMMER
Get ready for a Grand Slam Summer on Sky Sports as we bring you exclusively live coverage of an amazing line-up including:
+ The Ashes Series
+ ICC World Twenty20
For more details, go to
www.skysports.com/summer
When Australia lost the Ashes in 2005 it hurt their players deeply, especially their captain. They went back to the drawing board and resolved to come back stronger. Ponting's men were hell-bent on revenge. From 'boot camps' to fitness sessions to net practices, their focus on the Ashes never wavered. The 5-0 result was as much about passion, hunger and desire as it was about a gulf in class.
Humiliation
One could be forgiven for thinking that England's players and captain ought to have been similarly chastened after the humiliation of 2006-07. I'm sure many of them were. Unwavering focus and preparation for 2009 must surely have been the order of the day. The ECB commissioned the Schofied Report in contrast to the Australian team, who had taken it upon themselves to re-set their course. Change is more a more powerful force when it comes from within a group than when it is imposed from above.
I accept that the Ashes is not the only series of significance that the England team plays. I accept, too that there is a need to embrace one-day cricket more fully and that exposure to competitions like the IPL could help our top players. But we must recognise the repercussions of what happened in 2005. The fact participation in grass roots cricket has risen steeply since that glorious summer and continues to rise is due in no small part to the passion that cricket's oldest contest ignites.
KP and Freddie could have waited a year for the IPL. To lose the Ashes because our key players got their preparation wrong would be unforgiveable.
Comments (4)
David Neale says...
I tend to agree with the majority of the comments on our favourite cricket son. Freddie came of age in 2005 and filled his bowling potential (I don't think he'll ever fullfill more than the odd cameo with the bat), he was voted sports personality as a result of his ashes heroics, we love him because of the ashes 2005 , why on earth did he want to risk ashes 2009 by playing in the IPL. He can play against the world's best cricketers from June onwards ....... in the Ashes. Beefy has shown you can become immortal with consistant Aussie bashing
Posted 20:05 30th April 2009
Charlie Hill says...
I would hope that Freddie and his choice to play in the IPL was not just a money grabbing excercise, I hope it was to prove himself on another stage as top all rounder. I dont blame him personally even if it was for the money as Cricket is not Football, even if he is paid well in Cricket terms he is not earning 100,000 a week. Also you have to look at the possible positves coming out of his participation in the event, with the World 20/20 coming this summer the experience he could of gained would and should be useful to Englands chance of doing well. We have to get out of the Ashes being the only competition worth winning, yes beating the Aussie's is high on the list but I would quite gladly swap it for a more consistent team against all nations home and away!
Posted 22:04 28th April 2009
Paul Tyerman says...
To be fair, I don't really blame any of the England players for going to the IPL. Not just for money, but also to play with and against most of the worlds best players. If England lose the Ashes, it will not just be down to the preperation of KP & Freddie. They are only 2 players (granted, our 2 best). It will largely be down to the team as a whole not being good enough. The management and whole set up is a joke, you only have to look at the Moores situation to see that. There seems to be this assumption that cos we are England we are above others, when in fact, England are not that good a team and the set up is wrong. We need to take a few lessons from what the Ausies did after 2005 in readiness for the return. We have not done that, and that is why we will not win the Ashes this time round.
Posted 16:22 28th April 2009
Mark Edwards says...
Freddie has let himself and his country down. He's already a very rich man so why he had to go chasing a few dollars more and putting his health at risk is incredible. We need to find a couple more top all-rounders who threaten his place in the England team and then he may give such ill-fated ventures a bit more thought.
Posted 14:43 28th April 2009