He's back. But not as we know him.
It's not that he's completely reinvented himself, that he's finally hung up the gloves or that he's no longer capable of receiving a 10-game ban at any minute, but there is something noticeably different about Brad Voth this season.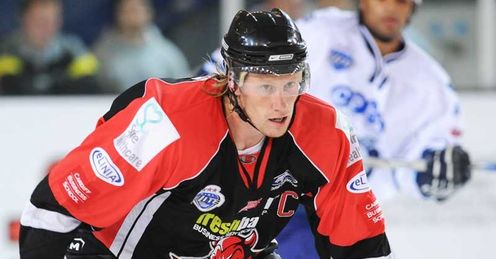 It's not the physique, still about 6'5" and 240lbs. It's not his appearance, still looks like he's taken one step off a Viking longboat.
The difference in Brad Voth is far more subtle. He's still one of the bad guys. Still the bad guy. He's still the most cheered in Cardiff Bay and the most jeered everywhere else. This year though, he's evolved.
Where once stood a Canadian warrior, now stands a cerebral assassin. He'll still take your head off, but only after meticulously planning his escape route.
Neil Chiplen
Quotes of the week
Instead of being the enforcer or a character along the lines of a James Bond villain's right hand man, Voth is now the criminal mastermind. Where once stood a Canadian warrior, now stands a cerebral assassin. He'll still take your head off, but only after meticulously planning his escape route. Brad Voth is Keyser Söze, convincing you that he doesn't exist, but underneath it all maybe more ruthless than ever.
Power
Since he first entered the UK, Voth has been one of the defining hockey players of the Elite League era. He's been known foremost for his brutality, but enforcers generally don't stay for seven seasons in the same place unless they bring something else to the table beyond strength alone.
Voth's longevity in the Elite League has been because of his all-round power-forward playing style, not just his ability to enforce and intimidate. He can hit the corner, charge the crease, skate in transition and score his share of goals.
As a fighter, he's taken on all comers. Until now, everyone who heard the rep and fancied themselves has been met head on. Payette - Check. Cornish - Check. McMorrow - Check. Clouthier - Check. Shmyr - Check. He's won some and lost some. He's done his share of the dirty work and has remained in the league while those around him have come and gone. He was made for the Devils and the Devils were made for him.
For Voth, there is nothing left to prove. Maybe he's tired of the real rough stuff.
As a fighter, Voth has never been at his best in the pantomime. In the pre-arranged and marketed fights Voth has struggled. He couldn't quite match Clouthier or McMorrow the second after the opening face-off and he knew it, either taking a beating or often avoiding the weight of the hype to concentrate on his first shift. But in the spur of the moment in mid-game, with boiling blood and a guttural roar, Voth could go head-to-head with anyone in the Elite League and do himself justice.
Unable to turn it on and off like the top echelon heavyweights, the descent of the red mist has been Voth's source of power. Once he loses it, he's gone, pending appeal of course. But when Voth has been in control of his game and in control of his emotions, he has been a nightmare to deal with.
He's deserved many of the suspensions he's received. Some have been unfair, as the outcome of Voth barrelling into a player who had his head down has overshadowed the actual timing of the hit. The legality of the incident has often been replaced by the emotion of the response, or the careful manipulation of the Elite League. Voth's rep on the EIHL streets became too great and he paid the consequences. His judgement by the EIHL's magistrates' court has sometimes been influenced as the blinkered jury give their one-eyed verdict.
While Voth's been unjustly pursued on some occasions, there's also no doubt that he's been a cheap-shot artist, a diver, a complete scoundrel. Let's face it: Brad Voth on the ice often resembles an out-and-out rule-breaking scumbag. But just because he was in the wrong sometimes, it doesn't mean that the blame should always be shovelled at his feet every time.
The thug inside Brad Voth is still there, itching to come out, but so far this season we've seen a new version. Voth 2.0.
Where he once would drop the gloves at the drop of a hat, Voth is now reluctant to go. He's being choosy. Dance partners come calling, but his standards are higher. You could say he was a chicken, as Belfast's Adam Keefe, did on Saturday night, but Voth has a fight card that suggests otherwise. He'll still go, but only on his terms, when it's to his benefit. After all, Voth has fought harder men. To his credit though, Keefe looks to be the real deal. He's a mixture of muscle and determination that can turn a game; quite like Voth and unlike some of the previous hard men in Belfast.
Mocked
The Voth of 2011/12 is a sneaky, cold-blooded wind-up merchant. He'll still take a run at the opposition's best defenceman, but by Voth's logic, what's the point of following that up by agreeing to a scrap with the opposition's enforcer, who is eager to prove himself in the new league and more importantly prove to his team-mates that he has their back?
He could have fought Guy Lepine, but to Voth 2.0, what's to gain from a pointless bout in a one-sided defeat or a pointless bout in a one-sided win?
If he gets cross-checked in the back while he's on the floor, he'll embellish it, eventually getting to his feet to remind the guilty party who he is. Voth 1.0 would have jumped straight up and gone bananas. If he gets held and mocked and face-washed, he won't bite. Voth 2.0 is in control.
His approach is calculated and devious. He's a ruthless businessman, only trading if the red numbers on the scoreboard are trending in his favour.
Brad Voth is a giant version of Vezio Sacratini. He's under your skin and he's in your head.
For now, at least...This time next week he might be banned 20 games for fighting in the stands.
Comments (2)
Glynne Dummett says...
I pure loves Voth, Lord mayor of Cardiff, Y'all well jel we have hime!
Posted 11:30 20th September 2011
Tony Mccloskey says...
Quality as always Neil, great stuff! Tony
Posted 19:24 19th September 2011