The Cardiff Devils have had it rough lately, losing Mark Smith for the season and having Gerad Adams on the wrong side of the boards. At times the Devils have been carrying only seven imports. Or eight, if you include Jeff Pierce's ghost.
You know, the scrawny apparition that drifts around the Cardiff Bay Arena, carefully avoiding contact with any other objects. He's white as a sheet and clean as a whistle.
Remember that scene in the movie "Ghost" when Patrick Swayze's character is trying to come to terms with his ghostly powers and can't quite master the art of moving objects? That's the stage Jeff Pierce is at. Or when you find out at the end of "The Sixth Sense" that Bruce Willis' character was actually dead all along? Well, I don't want to spoil anything for you Devils fans, but wait til April...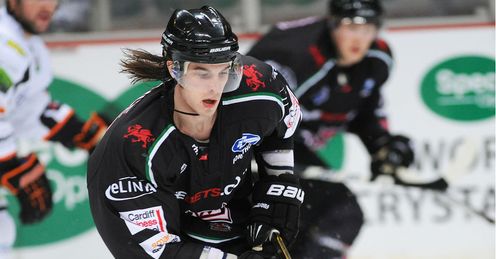 Jeff Pierce is Casper the Friendly Ghost, gleefully floating around the rink, blissfully unaware of what's going on all around him and totally incapable of making physical contact with anything.
... Besides a puck.
Fantastic
I had the pleasure of watching Pierce play on Sunday as Cardiff lost another one to Doug Christiansen and the G-men, who completed a rare sweep of the Devils in their home arena thanks to some savvy coaching in the third period and more outstanding glove work from Stephen Murphy. It was a fantastic game of hockey, complete with another standout performance from the Elite League's biggest superstar "Broadway" Tom Darnell.
For most of the game, Pierce was a non entity. Without the puck on his stick, he was completely ineffective. It wasn't just me who noticed. There was a collective groan at the rink on almost his every shift.
Playing under a coach such as Adams and alongside a bunch of intense grinders like Scott Matzka, Phil Hill and Stuart MacRae, Pierce doesn't seem to belong at all. He's a luxury player on a team that can't afford luxury. He's everything that the Devils aren't. He's a triangle in a round hole. He's a lazy, careless fly by night who avoids going into the corner for the puck and taking the body at all costs. He's the anti-Tylor Michel.
But boy, can he play.
With the puck at his feet and bursting into the offensive zone, Pierce is something to behold. He's got the ability to go from 0-60mph in the blink of an eye and a repertoire of moves that are too good for Elite League D-men. His stickhandling is sublime, his agility is rapid and one-on-one he's a nightmare.
After he scored the Devils' second goal on Sunday, the Giants had to take the next shift to put their clothes back on. While Pierce was firing the puck past Murphy, it looked like Jeff Mason had gone to buy a hot dog. They got shocked out of their skates.
There were other times when you could see the talent - a quick turn here, a soft pass there, but Pierce's contribution seemed to be overshadowed by his laissez faire casualness. At approximately 7:27pm on Sunday December 4th 2011, Pierce touched the plexi-glass for what must have been the first time this season. Maybe his career. He's been covered in a rash ever since.
Recently, Pierce was demoted from the Devils first line, where he was paired with playmaker Scott Matzka to play with the young Brits lower down the pecking order. Some players might feel slighted by the perceived kick up the backside and be determined to prove to their coach that they're top line players in this league and nothing else. Some players might show their frustration and complain or at least give you enough to see that they were unhappy about it. Pierce is neither. He hasn't felt humiliated by being chucked on the third line because he still doesn't know it.
Pierce is completely away with the fairies and oblivious to his surroundings, until he gets the puck on his stick and then he's Steven Stamkos. If you asked Jeff Pierce if the glass was half full or half empty, he'd answer: "What glass?" He probably couldn't even name you both linemates, forget a D-man. Pierce is the kind of player that doesn't get nervous. It could be a Wednesday night in Fife or the playoff final in Nottingham and he's equally capable of scoring a hat trick or fading to oblivion. Some would say that you need a player like him. But you damn sure can't have two.
Untouchable
If you tried to change him, to make him hit, to make him work, to make him hunt the puck it just wouldn't work. He's got the surfer-dude mentality and the haircut to match; cool as the other side of the pillow.
He's like a child who is out of breath on the sports field, but when they have the ball they are completely energised and reinvigorated, capable of taking on the entire team and scoring. But without the ball, they're just walking around and pretending to be tired.
All the while, through the frustrating periods of ineffectiveness, you know what Pierce is capable of. You know he has an extra gear that few players in this league can match. You know he has an arsenal of moves that are untouchable. You know he has a quick release to fool any goalie in this league. And that's what makes him so amazing to watch. It's the knowledge that while he may appear useless, there is something lurking within him that is truly exceptional. Just like there was on Sunday night when he made two Giants crash into each other and beat Murphy like he was flicking the puck into an empty net in warm-up.
Jeff Pierce is a skinny Jade Galbraith. He's got the kind of talent that can't be taught and the kind of work ethic that needs teaching.
For 59 minutes and 59 seconds you'll wonder. For one second you'll know.