In the heat of the moment, two of the Elite League's most respected coaches got caught out.
Doug Christiansen and Paul Thompson went off the rails on live TV. And once again, like in most EIHL games it seems these days it was because of an official. Only, it shouldn't have been.
It wasn't Broadway Tom Darnell this time, but instead it was Andy Carson's officiating crew on the end of the coaches' scorn. Most of it was coming straight down the barrel, getting nearer and nearer with every step. The rest was flowing from the rafters, where colour-commentator Thommo was in the Crow's Nest throwing up all over the rink.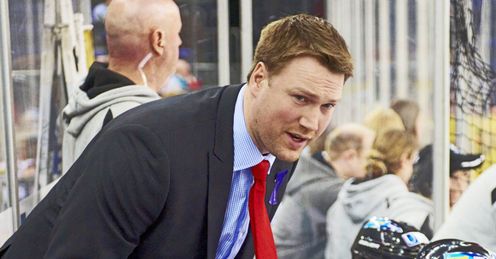 Belfast's 1-0 lead rapidly became Sheffield's 2-1 win, causing both coaches to lose their marbles. Disgusted by the excruciating cruelty of a supposed missed-offside call on Sheffield's winner, Thompson went off on the linesman. One hundred feet below, Big Doug obviously wasn't getting enough exercise remonstrating on the bench so he left the umpire's chair to get shirty with the stripeys.
Hard done by
Christiansen's evening stroll toward the trio of zebras oozed enough bitterness to fill an entire series of My Super Sweet 16. Hope you had more success lip reading him than I did.
Whether it was from behind the Belfast bench, from Thompson's lofty perch or the view from my sofa as I stretched out with my legs on a fluffy white bean bag, sipped green tea and popped the occasional biscuit it was plainly obvious that the Giants were hard done by. But not quite as much as it seemed first time around.
It was the winning goal that instantly looked off-side to anyone and everyone - except the linesman. It appeared to be a blatant missed call. The way Legue jumped into the zone it didn't look possible that he could have done it legally.
Legue was like a 100m sprinter who started so well out of the blocks everyone thought that he must have jumped the gun. The offside furore overshadowed what was an awesome move by Legue to leave Stephen Murphy clutching at thin air.
When the TV cameras were rewound and slowed down to give us a better look, Thompson's "3 or 4 feet offside" quickly narrowed to inches, if that. Even when the puck crosses the blueline, Legue's skate is hovering over the stripe, maybe touching it. The call the linesman made was much closer than we all thought. To the naked eye, at home or in the building, it looked and felt like he was an acre offside, but when you slow the replay down there's only one frame in it either way.
One twenty fifths of a second - that's the difference between right and wrong. That's the difference between the officials being competent and idiotic. A little slow, a little late. It was a bang-bang play and the official made the call on the spot. He shouldn't be vilified because of a play that was so tight we have to sync up multiple camera angles to figure it out precisely. The worse call was the hand pass that went unpunished leading up to Sheffield's equaliser.
Ashley Tait's game tying goal in the closing moments of regulation was the event that got Christiansen's blood boiling. On commentary, Thompson pre-empted the goal by wondering out loud if there was indeed a hand pass behind Murphy's cage that led to Ryan Finnerty receiving the puck from Jonathan Phillips. This goal was a lot more suspicious than the winner.
No matter how bad the officiating was perceived to be, no matter the impact of Belfast losing a point and handing Sheffield two, it doesn't excuse Christiansen leaving the bench. You can empathise with him though, understanding how the second call pushed him over the edge when he was already seething about the game going into overtime and a lopsided powerplay count of 8 vs 3.
Christiansen was caught up, his adrenaline flowing faster than his judgement. He knew that the shift in the scoreline could be the difference between his first league title and another season missing by centimetres.
Hand pass or no hand pass, the Giants should have taken care of business. In the heat of a title race, Christiansen lost his composure and when he woke up after two hours sleep on Saturday morning he was surely lamenting the tactical decisions he didn't make in the third period even more so.
Up in the clouds meanwhile, Thompson jumped off the deep end when he should have been more considered. He went all Francois Pienaar on us and hammered the officials when it wasn't necessary. Diabolical? Not quite Thommo. Marginal? Indeed.
Thompson had been in Christiansen's shoes many times, so he knew it was a bitter pill to swallow and this swayed his emotion. To his credit though, most of the time Thommo gives us the: "I'll have to see the replay" before he gives us his opinion. It's hard to watch a game and not learn something from him, as I'll get into later. All that time stuck upstairs alone with Mr Speak-First-Think-Later must have rubbed off on him.
The ending to the game at least injected some life into what seemed to be a meeting that didn't feel like the clash of the titans it was billed to be. Speaking of which, has everyone written off Nottingham's chances of winning the league, because it sure felt that way during the opening of the programme?
Belfast are a far more entertaining team to watch on a small rink where Adam Keefe and Darryl Lloyd can have a greater impact. Maybe I'm not giving it enough credit, but after watching the enigmatic Jeff Pierce last week in Cardiff it sure did feel like a step down on Friday night. A couple more observations if you will though...
Hurt
Mike Blaisdell Junior, sorry I mean Ryan Finnerty, is the fox in the henhouse. You won't find it in the box score, but Finnerty must regularly lead the league in number of penalties caused. He is a game changer without even touching the puck. He's the master of tricking opponents into making contact with him - either by body position or by winding them up.
Take the boarding penalty that he invited Lloyd into, for example. With the Belfast forward bearing down on him, Finnerty looked to play the puck around the boards but instead of swivelling his head to prepare for the hit or even to see where the puck went he was just bracing himself. He was looking at Lloyd in the corner of his right eye awaiting the contact and with his body position directly facing the boards he knew he could get a penalty. He was prepared to take the hit and figured there was enough distance that he wouldn't be hurt. Perhaps I'm completely off-base here.
Maybe Lloyd just slammed into Finnerty and he crumpled. I've seen him play enough to think otherwise though.
Computer technology in analysing sports is often all show and no go. Usually it's just a new means of conveying how wingers move - generally along the wing. You don't need bells and whistles to explain something so easy. But the situations in hockey can be a little more technical because of the way the game is played.
Belfast's first goal, scored by Jon Pelle, was a great example of this. With his touch-screen filled with yellow circles and red arrows, Thompson broke down how Pelle was able to get open because Jason Hewitt had taken the wrong defensive assignment, not necessarily because of the retreating D-men. Pelle pounced on Craig Peacock's pass and everyone was left wondering whose fault it was.
Thompson explained it perfectly.
The detail of the umbrella powerplay system, simple as it is, on the wipe away board was also logical because that's how coaches coach from pee wee to the NHL. It's a good mixture of how to use technology well and how to keep it simple when that's all it needs. Whether you're a newbie or a veteran, it's hard not to finish the show without a higher hockey IQ, and at least a better understanding of the offside rule.
Follow Neil on twitter @neilchiplen