It was a swing that would make Albert Pujols proud.
Two handed, straight through the hitting zone and hammering its intended target with brute force. It was Aaron Clarke's home run at the end of the Sheffield vs Belfast game on Friday night.
As Jeff Legue scampered past him to celebrate, Clarke unleashed Thor's Hammer against the boards in Sheffield, sending enough vibrations along the plexi to bounce Doug Christiansen off the bench and onto the ice. It was an action typical of the frustrations of a player who perceived he was the victim of a Dick Turpin daylight robbery.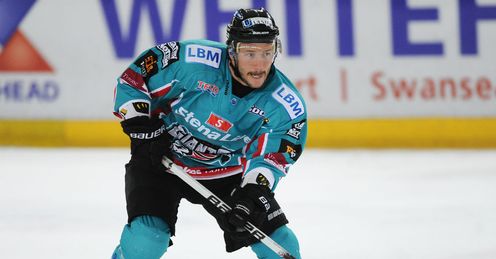 There was no such crime, but Stephen Murphy did get conned something rotten by Legue.
Crushing
Clarke's swordsmanship was a replica of the same disgusted response from his team mate Craig Peacock. Helpless to do anything about Sheffield's OT winner, Peacock skated past the net and smashed his stick into the boards with the same trajectory and ferocity as Clarke. It was a swing seen at many a hockey game when the feelings of a crushing defeat manifest themselves in a shape of a broken twig.
Clarke and Peacock followed the actions of hockey players the world over; usually nobody says a word.
This time though, there was a slight problem with what Aaron Clarke did: He almost took referee Andy Carson's head off.
What were his motives? Was he that upset with Carson that he wanted to decapitate him, only to hold himself back at the very last second? Or was he just releasing the frustration of watching a good road win circle the drain? Had he convinced himself that the jail time was worth it? Or was he trapped in tunnel vision mode, oblivious to Carson standing right in front of him?
Just like the phantom offside, the initial reaction is quick to find guilt and administer blame. Aaron Clarke is compared to Andrew Sharp, he's banned for life and looked on as a near-miss Marty McSorley. Let's throw away the key on his hockey career, right?
Think back to November and the game between Braehead and Belfast that featured a huge hit from Giants forward Benoit Doucet on the Clan's Sam Zajac. The first reaction at the footage, seeing Zajac's neck step back, was that Doucet was going to be banned. The Elite League investigated and, in a weirdly compelling argument from a governing body known to consult a magic 8-ball to determine the length of a suspension, actually cleared Doucet. It is decidedly so.
Doucet's karma came by other means, in the shape of a linesman falling awkwardly on top of him, damaging his knee ligaments as he scrapped weeks later with - guess who - Zajac.
Clarke's match penalty was instantaneous but his final verdict will have to wait. When investigating the Doucet hit, the league took statements from both sides of the fence and also had the match night DVD to consider. This time they've got multiple camera angles from Sky Sports to digest. Much of this depends on what Carson has to say. He had the best view in the house. Did he feel like his life was in danger? Or is he willing to let it slide?
Justice
Clarke might have been thinking about taking Carson's head off, but name me a player that hasn't. His swing at the plexi swerved around the referee at the last second. Clarke's problem is not his malice, but his losing combination of stupidity and recklessness that could have caused serious injury on Friday night or any other.
And if players like Clarke and Peacock were more careful, the Elite League wouldn't have to waste so much money importing new twigs.
In many respects a hefty ban from the league would be the right move. Had Clarke properly connected with Carson - whatever his intention - it would be too late. The league could fire a pre-emptive strike and come down hard on Clarke for what could have been, not for what actually was.
Only the scales of justice don't tilt that way.
The reality is that the Belfast legal team should be able to come forward with a strong enough case to vindicate their man or maybe settle out of court.
Christiansen and Clarke need to apologise to Carson and as a token of goodwill Todd Kelman should buy him another season ticket for the Steelers.
Follow Neil on twitter @neilchiplen