It would be awfully easy, and awfully naive, to point the finger at the Belfast Giants league championship and claim it was all about the money. Cash rules everything around me, right? Just put the G-Men's success down to deep pockets and the best imports that money can buy, right?
Wrong. It's not that simple.
The entrance fee that Todd Kelman paid allowed the Giants admission to the dance. But once inside, they still had to get the job done and go home with the prom queen. There may have been only two other teams competing for the same affection, but these Romeos had similar resources and similar talent. When it mattered, they just didn't have the game.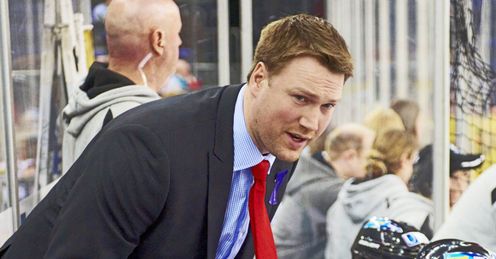 While Gerad Adams and Paul Thompson lined up on the outside, banging on the door but without meeting the formal criteria for entry, the Panthers, Steelers and Giants went at it for the top prize. It was a three horse race from day one. If that.
But Belfast's victory this year was not merely a product of pocket depth. It was due to the deep rooted organisational culture that Todd Kelman has created and Doug Christiansen has fostered. It was a product of the attitudes and abilities of the men off the ice, as much as the men on it.
The Giants are now the Elite organisation in the Elite League. The Steelers are up there, they're very close, but everyone else is lagging. The G-Men are all business like Jonathan Toews. There's no spin. No BS. They're just ruthless winners who approach you wearing suits so sharp they could slice bread, smiling and shaking your hand with warmth and then as soon as the trading floor is open for business they will cut your heart out and eat it in front of you.
Competitive
Kelman doesn't waste time jock sniffing outside his team's locker room, interviewing the players he pays when the sun's shining. He doesn't make excuses when it rains. There's no hype in Belfast. There's no biggest game in Europe. #allbusiness.
When Todd Kelman brought the Boston Bruins to Northern Ireland in October 2010, it was a thank you gift to the fans of Belfast and the Elite League over. He gave us a great opportunity to take part in a hugely memorable event. But somewhere beneath the bridges that Kelman built, his competitive streak was hidden. It took somebody who loved competing to do that. It was him who got Zdeno Chara over here. It was Kelman who padded his CV in a way that no GM in the history of the Elite League has been able to. Regardless of the finances involved, whichever way they went, it took a winner to do that.
Somebody willing to sacrifice to achieve a goal. That's hockey, isn't it? The Boston game became another recruitment tool, another piece to the puzzle, another competitive advantage.
It was Kelman who plucked Doug Christiansen from Edinburgh at the first opportunity. Could have picked somebody else. But he picked right. And so did Christiansen.
Under Kelman's watch, Christiansen built the championship-winning roster, starting at the most important position. The Giants didn't have to keep faith in a British goalie. But they did, challenging Stephen Murphy to become the league's number one. They could have signed a former AHLer with impressive numbers, but they stuck with the Team GB man who has grown progressively and now reigns as the most valuable player. Forget what they say publicly, every GM and coach in the league would take Murphy first overall if they could build a team from scratch tomorrow with current players.
People will back their own team's netminders. But put on a shirt and jacket with a season's worth of attendances on the line and look me in the eye and tell me that the difference between any import goalie in the league and Murphy is more valuable than having an extra import skater.
In front of Murphy, Christiansen utilised the respect commonly shared for the Giants organisation throughout North America and Europe to sign the level and calibre of players that he has. In mid-season, after one departure after another, the Giants replaced like-for-like and maybe like-for-better with proven talent who knew what they were getting in Belfast.
The culture that the Giants have created provided the returnees with a comfort factor that they couldn't get elsewhere. With equivalent money on the table, the knowledge of how a team operates makes the difference. Kelman has made it an easy decision for potential signees to sign. A decision that just got a whole lot easier. Under his watch, the Giants have won every trophy there is to win. His CV grows and grows with every game.
Leadership
On his most important day of the year, before a puck was even dropped, Kelman gave the Giants a huge advantage. In the meetings that set out the EIHL schedule for the coming season, Kelman outfoxed everyone else in the room and on the phone. He was able to deliver one of Belfast's best travel schedules in years by minimising the overnight travel between games. When the Giants did have to fly straight from game-to-game, Jeremy Rebek and company picked up the slack.
Christiansen shaped a roster that brought everything to the table. Skill for when they needed skill, sandpaper for when they needed sandpaper and leadership when they needed leadership. Have Rob Dowd and Craig Peacock just become great players because of their line-mates, were they going to become who they are now anyway, or has Doug Christiansen coached them into better players? Or is it because of all three?
Christiansen's a networker. He's all Wall Street. Constantly on the phone, constantly angling for something, constantly looking for that edge. He comes across as a humble and likeable chap in interviews, but we saw who he really was in the televised game against Sheffield. Like Kelman, he's a competitor at heart, a win at all costs guy.
He's channelled the game he had as a player into his new position as a coach and the fuel that burns his desire stems from the knee injury that practically ended his career. Don't forget about that. He's young enough to be playing still with ease, but once he called time on his playing days, Christiansen switched gears and went head on into coaching. Remind you of anyone?
It's not about the money you spend on talent, it's about the choices you make and how you put it all together. It's easy to squander millions. Kelman and Christiansen have futures in the game that will go far and wide beyond Belfast. They are the real rising stars of the Elite League.
Imagine Todd Kelman and Doug Christiansen in charge at the Nottingham Panthers. It wouldn't take so long now, would it?