"Over my dead body are we going to let this thing slip away. We're going to fight it all the way." Those were the words of Paul Thompson midway through last season as he set about the challenge of bringing his organisation out of financial peril.
The most successful hockey team of the past decade had been reduced to sending out heartfelt requests for help that bordered on panhandling. It was a situation regularly seen in British hockey, but never expected in Coventry.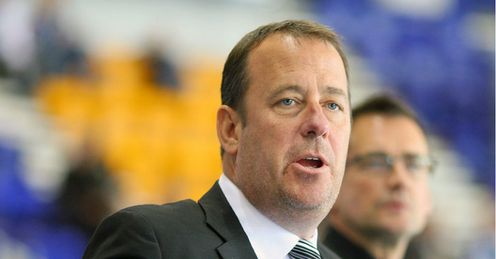 Falling gate revenue, the burdensome involvement in Hull and sponsorship issues manifested themselves in an uninspired and uninspiring roster of hockey players that limped through the season. The Blaze finished almost as close to the Stingrays in seventh place as they did to the Giants on top. What looked like a blip in 2010-11, when the Blaze drifted beneath Braehead was becoming a trend. Belfast, Sheffield and Nottingham had created a three team top tier in the Elite League, whilst Cardiff and Braehead had caught up with the franchise that long reigned as number one.
Thompson exited last season with a clean slate. The Stingrays were passed on and Tony Hand was now the coach of Team GB. The sick feeling in Thompson's stomach as he walked into the Nottingham Arena for play-off finals weekend without a horse in the race was gone too. It was over.
The most important thing for Thompson to establish in the summer of 2012 was intrigue. Provide fans with a storyline to follow. Give them hope and excitement. Another roster composed of players with ECHL ceilings, bored Elite League veterans with more interest in golf, out of shape Dutch league castoffs, ageing Brits and skaters named Woo-Sang and Frantisek wouldn't cut the mustard. Season tickets had to be sold. Instead of recruiting a roster that was evenly balanced, Coventry had to go the other way. Sign some top tier stars and fill the other roster spots with whatever you could.
Rebirth
The Blaze needed a new generation of players that would sell tickets all over the country. Players that would dominate conversations in Crosby's, The Castle and The Crown. Characters for the fan base to rally around. A fresh outlook was needed. Now it was time for rebirth and regeneration.
Enter Mike Danton, the ideal representation of rebirth. Come on down Benn Olson, a good old-fashioned enforcer if there was one. And make yourselves at home Greg and Brad Leeb.
Three potential MVPs and a possible heavyweight champ. Shea Guthrie, the standout from 2011-12, returns to provide the sizzle, while Mike Egener and Gerome Giudice add the steak.
Sprinkle in a couple of reliable EIHLers like Jerramie Domish and Peter Hirsch, combined with a core of young Brits to lead the new generation of home-grown talent and a couple more imports to be named and now there's optimism and hope.
The Blaze have youth, speed and toughness. Last year no team in the league feared playing them. There was nobody to worry about beyond Guthrie and Owen Fussey. Nobody who frightened you. Bryan Jurynec? Just a cardboard cut-out middle of the road grinder. Nobody who you paid to see. Robert Farmer, Greg Owen and Weaver were in the top six in team scoring. Now the Blaze have a roster that's box office, a top unit that could be scary good and several players worth the price of admission. It's a complete 180 from last season.
Coventry have been smart in how they have restructured their wage cap: Sign blue chip players that sell tickets and save money on paperboy Brits who can develop under a coach who doesn't have to worry about his B team on Humberside. Losing Jonathan Weaver to the Panthers was a blessing in disguise, if not a desired outcome all along.
Providing the paperwork comes through, Danton will be the figurehead, and in marketing him the Blaze have much to learn from Belfast and how Theo Fleury was used. Or perhaps underused. Giants GM Todd Kelman admits that Belfast could have utilised Fleury in more creative ways to sell hockey and sell merchandise. Coventry have jumped right in, marketing their first game with the "Cometh the hour, Cometh the man" slogan alongside a picture of Danton.
Danton might not walk in and be the best player in the league, but he's already the most talked about. And even if it's been eight years since the NHL, his tools maybe rusty but they're still in the bag. Danton's story provides an aura that can be sold. Without his incredible tale, he's a more rugged version of Ben Simon. Now he's set to become the defining character of the new season.
There's no Brad Voth any longer; the league has a vacancy in the character department. Danton can fill it. And fill seats while he's at it.
Thompson's coaching of Danton will not just be based on pure hockey terms either. At least it shouldn't be. There is money to be made in how Danton plays.
Trash talker
In the games against the big three, when Thompson needs to shut down the opposition's top line, Danton will be called upon to target a certain player and get him off his game. But in the games against Fife and Edinburgh, Danton will be openly encouraged to forget his defensive responsibilities and rack up point after point instead. Those are the games with difficult ticket sales; those are the games when Danton will be given free roam to boost his scoring numbers. And if Danton's way down the scoring charts because he's become too focused on knocking someone else off their game then the Blaze will be missing out.
Danton won't be discouraged from being a larger than life trash talker on the ice or having the occasional scrap. Olson will do most of the dirty work, but Danton will get his share. He's not going to be put on a pedestal and worshipped at the face-off circle like Fleury was. Opponents won't be queuing up for an autographed puck.
It's rare that players make the jump straight from the DEL to the EIHL and Coventry have two in the Leeb brothers. There will probably not be a better number one powerplay in the country as the Blaze roll out that kind of talent. Coventry's crunch time five will be as good as it gets. At even strength, Thompson can spread his young Brits out across three lines to provide some balance, accelerating their development at the same time.
There is now reason for genuine excitement in the Skydome. And the Blaze have captured the imagination of not only Coventry but of the rest of the league too. It's been awhile since they did that.
The team will still have to deliver in September, but right now Thompson is winning the fight.