In the space of a few hours on Thursday I sat in front of the two ends of the rugby spectrum.
Early on Thursday morning I was opposite Phil Vickery, one of the most lovely, down to earth, modest and magnanimous people in the sport, a true gent.
It has been a difficult few weeks for the "raging bull". A month ago he was all set to sign a new contract at Wasps, then he was hit with a bout of shingles before his latest neck injury finally forced him to retire.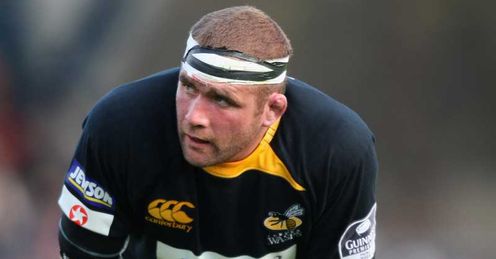 He knows that after four career threatening injuries he was lucky to play on as long as he did, he knew the day would come when he would have to give it all up, but it hasn't stopped him from staying awake at night remembering all his favourite memories from his 15 year career and the people that played a part along the way. 
Vickery won a World Cup, a European Cup and the Premiership. "How do you think people will remember you?" I asked him.
The soundbites coming out from both parties were encouraging. Henson looked fit and well and even a few shades less orange than of late. Brendan Venter has been impressed with his natural ability but 18 months is a long time to be out of the game. The move is a gamble, a big one.
Gail Davis
Quotes of the week
"As a guy done well, who tried his best, who loved playing for his country, honest, not too flashy, just a normal bloke." 
An hour later and a few miles up the M1 I was sat at Saracens' training ground waiting for Gavin Henson. I wonder if I ask him the same question on his retirement what his answers might be! 
None of the above I suspect. The sound bites coming out from both parties were encouraging, Henson looked fit and well and even a few shades less orange than of late.
Brendan Venter has been impressed with his natural ability but 18 months is a long time to be out of the game. The move is a gamble, a big one.
More than a PR stunt
When I asked Brendan about how the deal came about he said it was the Chief Executive Edward Griffiths' idea. Interesting, he is a genius when it comes to PR and there has been wall-to-wall coverage over the last week, so if that is the measure then the signing has been a huge success.
You just hope it is more than a publicity stunt. At least Henson's initiation went well, when I say well, he got the thumbs up for effort although you have to wonder what he's been doing with his Strictly training time if that is the best worm he can do (see video) it was stunningly bad! 
On that evidence he might be playing for Saracens earlier than expected. Surely there can't be any worse movers than that in the reality show!
Thursday's trip to see Vickery was my third to Wasps' training ground this week.
On Monday it was for heart testing. Poor old Ben Broster was in the wrong place at the wrong time and before he knew it he was down to his shorts and having wires attached to every part of his body whilst cameras filmed his every heartbeat.
All elite Premiership players will now be offered heart testing. It's a joint initiative between the Premiership and the RFU backed by the charity CRY - Cardiac Risk in the Young.
Twelve people under the age of 40 die every week from cardiac abnormalities and we have seen the high-profile devastating deaths of Phil O'Donnell and Marc Vivien Foe over the past few years so it's good to see some preventative action from the governing bodies.
Apologies
On Tuesday at the training ground there was some brutal honesty and serious apologies from Shaun Edwards and Wasps captain Tom Rees.
They still looked slightly in shock following that hammering from Northampton on Sunday. The Saints were exceptional, their pack utterly dominant and the performances of Soane Tongau'hui and Courtney Lawes would have sent fear into forwards up and down the country.
Even you suspect if Wasps played that game tomorrow, correcting their mistakes - and there were a number - the result may well have been similar. You fear for Newcastle this weekend. Even without a number of their England stars Northampton will be looking to push on again this weekend at Franklin's Garden.
Wasps have to go to Leeds, a side that did the double over them last season, and put in a very big performance. They are already adrift of where they want to be and injuries are beginning to mount up, especially in the forwards where Leeds will be strong.
Finally this week, it was good to see rugby embracing the NFL. It was interesting to see that Northampton decided to train alongside the 49ers and even more interesting to see that a number of the Harlequins players opted to work out alongside the cheerleaders.
Ugo Monye, what on earth were you doing with those gold pompoms?
Comments (1)
Lewis Hatton says...
firstly can i start by saying what an absoloubt ledged of the game Phil Vickery has and allways will be! there are very few players with that sort of commitment, heart and desire a true club man and a player who has given evrything to the red rose of england. phils massive strength of character was not more evedent than in the second test for the lions, where in the first he was caught out by a more powerfull so called 'beast', however Vickery went away worked tirelessly on his technique and when he enterd the field was ready to re pay the embarassment and helped the lions scrum partly destroy one of the best scrums in world rugby demolishing teh young beast. Now Henson? what english premiership fans want to watch are exciting players i agree but also exciting players with the desire to play rugby that attempts to match phils. Henson has no desire, no fight and loyalty to none other than himself he proved that over the last 18 months choosing tv programmes over getting fit and playing for the ospreys. it is clearly a PR stunt to sell tickets and shirts and i hope the people in the fez hats see through this. i am sure the academy system that gave us Andy goode could have given another young talent the chance to start! something that would benefit the game far more than giving Hensone ego another boost! and him yet another chance, how many can one player have when so many do not even get one?
Posted 08:04 30th October 2010