Being nippy on the baize only gets you so far in the World Snooker Shoot-Out, you also need to be able to think on your feet.
That latter trait is one 2012 champion Barry Hawkins has in droves and it was his astute snooker brain that led him to this year's title.
Potting, break building and dashing around the table can be important, but a key component is also the ability to put a ball safe, play a clever shot and run down the clock when you're in the lead.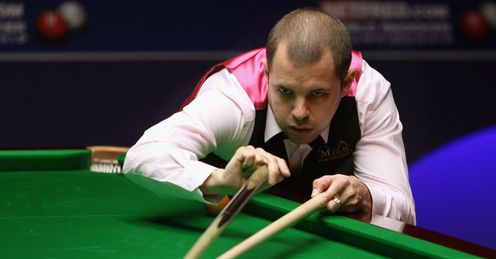 Barry did that excellently during the three days, making consistent 30-40 breaks to strangle his opponents and prevent them from getting into frames.
He was cueing well, too - as his 90 break against Fergal O'Brien showed - and that mix of form and intelligence served him well.
Proof that being canny is more important than being quick was also emphasised by the run of Dave Harold, who made it to the semi-finals.
A key component is the ability to put a ball safe, play a clever shot and run down the clock when you're in the lead. Barry did that excellently during the three days.
Neal Foulds
Quotes of the week
He was slow on the actual shot, often cueing when the shot-clock was below five seconds, but he always seemed to have a clear idea of what shot he was playing.
There was a belief when this tournament was devised that to be successful you would have to be an all-out potter in the mould of Mark Allen.
Our 2011 champion Nigel Bond and this year's winner Hawkins have proved that is a fallacy.
Class
Graeme Dott was the runner-up in Blackpool.
It was nice to see a former world champion make the final to prove that class does tell and that the Shoot-Out is not a lottery.
The Scot is really enjoying his snooker again after a troubled period, in which his manager/ father-in-law passed away. He barely won a match a few seasons back and fell outside the top 32 in the rankings.
However, he made the Crucible final again in 2010 and second place here shows he can adapt to snooker's different formats. He will take great confidence from his performance and will now be looking for another successful World Championship campaign.
The 2012 Shoot-Out was full of memorable moments, including Alfie Burden's first-round victory over Ben Woollaston.
Woollaston had compiled a 45-0 lead, before Burden came to the table with just three minutes to go. Burden - a former youth footballer with Arsenal - was then faced with a really difficult long red but he knocked that in, swept home some more balls, before slowing down to make sure he potted the colours. It was a stunning finish.
However, the moment of the tournament was undoubtedly Martin Gould's magnificent 135 break against Jamie Jones; it was one of the best centuries I've seen in my life.
The event was once again a resounding success; the fans in attendance loved every minute of it and so did people at home, judging by the e-mails and Tweets I've received.
Many of those messages were from people who aren't regular snooker followers and it's great to see a new audience being attracted to the game.
I'm already looking forward to the 2013 Shoot-Out. Is a 147 too much to ask for...