A month or so ago I visited the Academia Sanchez-Casal in Barcelona and gained an insight into how Spain treats its juniors and develops them into top-ranked tennis players.
One of the things that struck me most was the emphasis placed on evolution: young players would practice, play tournaments, and then go and practice some more to improve their weaknesses.
The philosophy - which is the same throughout Spain - was all about hitting balls and competing.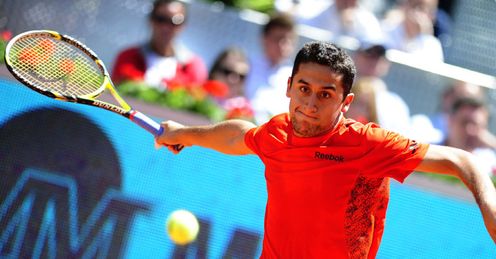 The teaching wasn't over-complicated (much of it was focused on the legs in terms of movement and position when hitting the shots) and it made the game enjoyable.
As a result, the sport attracted a larger number of youngsters and that in turn increased Spain's chances of producing better players.
Motivated
It's hard to deny that this system is working when three of the four semi-finalists at the Madrid Masters and 12 of the world's top 100 players are Spanish.
I still have my doubts as to whether Almagro can make that next step up because I felt he threw in the towel very easily.
Barry Cowan
Quotes of the week
LIVE ON SKY SPORTS
Davis Cup quarter-final
France v Spain
12pm, July 9, Sky Sports 4
Yes, the weather in Spain is more conducive to tennis than here in the UK but ours is much better than Russia and they have four players in the top 100!
Rather the difference lies in the club structure in Spain where, unlike here, there is an emphasis on performing well in tournaments. Players become more motivated because they feel themselves improving and can climb up the competitive ladder.
If you have a system that is simply trying to produce someone who is as good as Rafa Nadal then I think you are always going to come up short. But when you have one that produces several like David Ferrer, that's when you know you are on the right track.
Although tennis is an individual sport it is not seen as a selfish one in Spain - at least that's the vibe I've picked up when I've been around the Davis Cup champions. There is a strong team ethos which means they all want to help each other and bring each other on.
Belief
As usual they'll be spoilt for choice when July's quarter-final against France rolls around - and when you consider that Nicolas Almagro, who reached the semis in Madrid, was their eighth-ranked player you get an idea of just how strong they are.
Almagro is a great ball-striker and always has been but, although he took the first set off Rafa, I was disappointed with his overall performance in the semi-final.
I still have my doubts as to whether he can make that next step up because I felt he threw in the towel very easily at the start of the third set.
I'd probably put him in exactly the same type of bracket as I did Fernando Verdasco a couple of years ago. Both can hit great shots on their day but can they win when they are not playing their best?
Verdasco learnt to do that but can Almagro? I'm not so sure which is why the next year will be big for him. Will last week be a flash in the pan or will he be able to kick on from that? Only time will tell.
Rafa was very bad in that first set against Almagro - it was as bad a performance on clay as I've seen from him in possibly two years. Turning that match around boosted his confidence and self-belief ahead of the final against Roger Federer.
Although World No 1 Federer moved and served very well during the week I was a little surprised at how he seemed to doubt himself at the start of the match and during the tie-break in the second set.
When he beat Nadal last year in Madrid he did so because he had 100 percent belief in what he needed to do. Apart from the tie-break he played unbelievable tennis in the second set.
As I see things at present I can't see him beating Nadal should both reach the French Open final.
Barry answers your questions...
Got a question for Barry? Then send it in here or use the feedback form below, and then look out for his answer next week.
H-ANDY DISPLAY?

Alright Barry - another Masters, another early exit for Murray - all-in-all another disappointment! How on earth can Andy call it 'a positive week'? Phil, Brighton
BARRY REPLIES: Phil, Andy lost to David Ferrer in the quarter-finals! It's worth bearing in mind that he's never beaten anyone as high in the rankings as Ferrer on clay before you get too critical of him. I thought he played great tennis in that match but he got down on himself mentally too early. He was questioning himself after even his second service game which is such a difference to the mindset he had at the Australian Open. Playing Ferrer is tough enough as it is without making yourself another opponent. Andy can have a good French if he sorts that side of things out because I felt that was one of the best matches he's played on clay in terms of his movement and acceleration through his ground shots.
Comments (3)
Michael Biggs says...
I am a tennis coach in the UK and ALWAYS worried if I am doing the right thing. At my club we have alot of children on sponge balls.....i think they are on sponge way to much. we had an LTA talent spotter down. she was more bvothered by the tiniest of technique than the fact that the children were hardly moving much on such a small court and the fact that the children should have been on at least red ball for some time. i employ a lot of Sanchez 'Spanish Drills' on my sessions and they seem to be frowned upon by my colleagues. In the 'successful' countries do the juniors start on different coloured balls? Petchey said yesterday that he would do away with them. Children are kept on a certain ball because of age and not ability! It's all so frustrating! Any more info about the succesful countries would be great. I would leave my name but I know what the LTA are like!!!! Regards
Posted 13:26 11th June 2010
Barry King says...
Andy is of course under a lot of pressure being the only decent British player. The spanish have so many good ones that they maybe escape the limelight. I do hope he has the balls to win a grand slam, he has the talent, he just needs the self belief. Mind you clay is probably a no hoper. I think he has more chance at Flushing Meadow or Melbourne..
Posted 21:33 21st May 2010
Alessandro Tinho says...
Hi Barry, I actually have a sister aged 15 who trains and goes to school in Sanchez-Casal. It seemed to me that the importance of playing tournaments on a regular basis, whether you win or lose, is vital to progressing as a player. Do you think the fact that playing tournaments at a young age, regularly, develops a maturity in a player far better than hitting countless balls in practice?
Posted 11:40 18th May 2010