Die-hard Rafael Nadal fans say that the four-time French Open champion has only lost on clay in the last two years when he's been less than 100 per cent fit.
Ask them about last year's third-round defeat at Roland Garros to Robin Soderling and they'll rightly say Rafa had knee problems - far more serious than most of us imagined, in fact.
Mention his 2009 loss to Roger Federer in Madrid and they'll point out the Spaniard was drained after a tough semi-final against Novak Djokovic.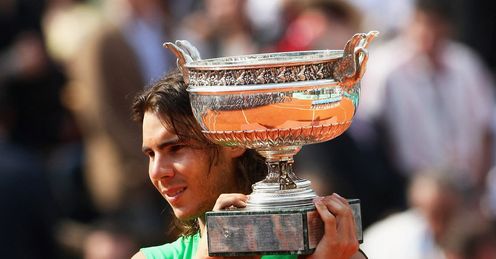 And what of Juan Carlos Ferrero's victory in Rome in 2008? Quick as a flash you'll be reminded of that blister.
It's tough to counter those arguments simply because history shows that Nadal is as close to unbeatable on clay as these things get.
While it's true that anything can happen in Grand Slams (Rafa could wake up one morning with a cold having slept well or be forced to play on consecutive days by rain) if things do go to plan I can't see anyone denying him a fifth French Open title over the next fortnight.
History shows that Nadal is as close to unbeatable on clay as these things get.
Barry Cowan
Quotes of the week
I include Roger Federer on that list even though for the first time in his career he is returning to Roland Garros as defending champion. The Swiss' defeat to Nadal in the Madrid Masters final has only confirmed that view in my mind.
People always talk about Rafa's fitness but for me his shots are his biggest attribute - they put opponents under so much pressure.
Sometimes improving your game on one surface has a negative effect on how you play on another but the way Rafa has evolved as a player on hard, faster surfaces has actually helped his game on clay. He's more dangerous on clay now than he was two years ago.
The only guys who might beat him now are those who can come in with a big game and a great serve who, on their day, can stifle Rafa's game - like a Robin Soderling, Federer or even an Ernests Gulbis.
John Isner showed a glimpse of what might be possible in Madrid when he gave Rafa one of his toughest matches of recent times.
Unbelievable
As someone who is enjoying an unbelievable period in his career, Fernando Verdasco will go to Roland Garros expecting to do really, really well.
Sometimes that pressure brings the best out of a player, sometimes it heralds the worst. When he made the Australian Open semi-final out of the blue - there was no pressure on him so he could have a swing. Now he needs to take the next step as a player, both mentally and physically.
David Ferrer is a notch down from Verdasco for me as things stand even though he has had a sensational clay-court season so far. I do wonder if he has another gear change. That is so important if you are going to do well in a Grand Slam; that is what enables the best players to perform even better.
Home fans will have high hopes for Jo-Wilfried Tsonga even though things have been up and down for him of late. Injury forced him to miss last week's tournament but he played fairly well in Monte Carlo where he beat Nicolas Almagro before losing to Juan Carlos Ferrero in three.
Like Gael Monfils (who I'm still waiting to step up to the next level after reaching the semi-finals and quarter-finals of the French Open in 2008 and 2009 respectively), Tsonga is more than capable of having a great run simply because French players have a passion to perform in front of their home crowd.
In the past
And what of Andy Murray? Well, if you compare his game to the level it was at in the Australian Open then he's still behind. But that disappointment is firmly in the past now and he played much better in Madrid last week.
He needs to realise that one of the reasons he played great tennis in Melbourne was because his sole focus was on the job in hand - not anything external. As well as he performed in Madrid, I felt he wasn't as relaxed as he needed to be. You get very few chances against the top guys so you have to take them when they come.
Can he make the semi-finals in Paris? Yes. Do I expect him to? No. We won't see his best tennis until Wimbledon and the American hard-court summer.
It is a shame Juan Martin del Potro and Nikolay Davydenko will not be in Paris due to injury. I think the tour is missing them as a whole because they proved at last year's World Tour Finals that it isn't always about Roger and Rafa, and Andy and Novak.
I was really looking forward to seeing them both step it up this year. The important thing, particularly for Del Potro, is to come back 100 per cent fit.
He's still very young and I don't think his wrist injury will affect him long-term if it is treated properly. If he returns at 75 or 80 per cent then he'll find it tough to get back up to the top because he'll lose some of that self-belief that singles out champions from the rest.
Barry answers your questions...
Got a question for Barry? Then send it in here or use the feedback form below, and then look out for his answer next week.
AU REVOIR?

Hi Barry, I'm really looking forward to the French Open but I'm wondering if this is the last one I'll see at Roland Garros. I keep hearing rumours that the tournament may be moved. Is this true? Mark, Epsom
BARRY REPLIES: It would be a real shame if they moved, Mark, it really would be. The French has an atmosphere all of its own - somewhere between the hustle and bustle of New York, the fervour of Melbourne and the traditions of Wimbledon. It has a touch of class, a certain je ne sais quoi about it, if you will. Doubt still surrounds whether they will be able to build a new stadium in Roland Garros or move the event to Versailles. The current thinking is that the tournament will stay put but there's no doubt that some of the other Grand Slams have been able to develop their facilities because they, unlike Roland Garros, have the room to do it.
Comments (5)
Adam Whiteley says...
well barry, theres your answer mate, yes he will get it back.
Posted 18:50 6th June 2010
Henry Murdock says...
hi barry, what"s gone wrong with ana ivanovic she seems to be getting worst,was she lucky, and now it ran, out or is it pressure.and she is not strong enough. its so disappointed not seeing her in the later rounds.
Posted 22:32 29th May 2010
Harry Willetts says...
this is the time for andy murray to come out of the shadows of both federer and nadal, he is obviously the best british player we have had since fred perry, i don't think he will win the french open but he will certainly go close at wimbledon in the next couple of years.
Posted 14:40 28th May 2010
Fadel Abu al-saud says...
hi Barry , i can speak simple english so am sorry for some mistakes you may find in my question .. i want to ask you about Muray do't you think his for-hand is very weak espically for a player of the first class of this game ?
Posted 06:56 25th May 2010
Matthew Melling says...
Hi Barry, Having just seen the draw ive noticed my favourite player (Lleyton Hewitt) will play Nadal for the 5th consecutive year at the French Open!. The previous time to that he played at Roland Garros he played Gaston Gaudio (The eventual champion) hes been really unlucky with draws at the 2nd grand slam of the year. My question is - Do you think Lleyton Hewitt can achieve much more in Tennis? ive followed his career closely since 2003 and i saw him peak at the end of 2004/Beginning of 2005 where he reached The Australian Open Final.. at this point he announced he was getting married and had a child on the way - for me this was the turned point as previously Tennis had been everything in his life. I wonder if Nadal could fall away like Hewitt did at a similar age with them having a similar approach to the game and id even include Murray in this category!
Posted 17:17 21st May 2010