Rafael Nadal's fifth French Open title is rich reward for a year of hard work.
It is an epic achievement by anyone's standards but Sunday's victory must have tasted even sweeter for the Spaniard given his injury and personal problems of the last 12 months.
Winning that first Grand Slam is always the most difficult for any player simply because you don't know if you can do it.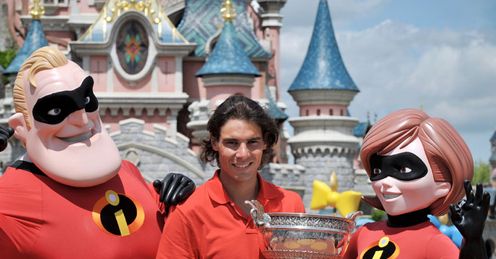 But when you win the first one (especially at the age of 19 as Rafa did) you must think 'I'm going to win more, many more' and, indeed, Rafa did claiming five more between then and the 2009 Australian Open.
But in the period that followed - during which his parents divorced and he suffered from knee tendonitis - I'm sure there were dark times when he wondered if he would add to that tally.
By winning at Roland Garros, he'll feel that he has now regained HIS title and in his own mind he'll feel unbeatable.
Barry Cowan
Quotes of the week
During that period there were people criticising him left, right and centre but I always believed Rafa would come good again.
I felt he wasn't playing badly last year and he's carried that momentum into 2010 and built on it, playing great tennis for the first five-and-a-bit months of the season.
By winning at Roland Garros, he'll feel that he has now regained HIS title and in his own mind he'll feel unbeatable. Once Rafa and Roger Federer get on a roll and are high on confidence they are incredibly tough to stop.
Stronger
That's why Rafa has generally done well at Wimbledon - because he goes from the claycourt season onto the grass having won tons of matches.
He'll be even more intent on winning this summer after pulling out as defending champion last year due to injury, but it will be tough because the big-hitters have really emerged at SW19 over the last couple of years.
Robin Soderling is a classic case of that; as regular readers will know, I thought before the French Open that the Swede had a very strong chance of winning Wimbledon this year.
After losing in the French Open final for the second successive year he'll have to dust himself down - literally - but I think he will come back stronger and be a massive threat.
Soderling played some great stuff in the first set of Sunday's Final and did well at the start of the second but paid the price for missing a couple of back hands down the line.
In contrast, Soderling's victory over Federer was the standout game of the tournament for me - I thought we saw some unbelievable tennis. I felt Federer played a great match, which shows just how much quality Soderling possesses.
Generally when Federer raises his level other players, with the exception of Nadal, aren't able to respond but Soderling did this time and that bears testament to how far he has come in the last 12 months.
Tomas Berdych also stepped up to the plate, blitzing Mikhail Youzhny to reach his first Grand Slam semi-final; the next step for him is to reach a final, which I believe is possible.
I don't see the Czech as the type of player who will get to a final and win at the first time of asking - I feel he might have to get a couple of experiences first before coming out on top; he has improved his game a lot but there is still plenty to do before he is capable of challenging the best in the biggest games.
Barry answers your questions...
Got a question for Barry? Then send it in here or use the feedback form below, and then look out for his answer next week.
Hi Barry, as much as a like watching Rafa the story of the French for me was Francesca Schiavone winning the women's title. What did you think of her achievement and isn't it great to see someone apart from the Williams sisters win for once?! Sarah, Feltham
BARRY REPLIES: Hi Sarah, I think Francesca's victory gives hope to every player who is hovering between 20-30 in the rankings that if you hang around you never know if you'll get your lucky break. She had luck on her side in the sense that some of her opponents retired or couldn't handle the pressure but that's not to take anything away from her. It was a phenomenal achievement to come through and have the bottle to win. I'm sure deep down she didn't expect to win it at the beginning of the tournament but she took her chance.
Personally, I love to see players dominate in any sport because it raises the bar and challenges rivals to stand up and be counted. Tiger Woods did just that in golf and Federer has done the same in tennis - he's raised the level in the men's game out of sight. He's been responsible for fostering a new era in the men's game and Nadal's responded.
What the women's game really needs now are two players who can consistently challenge the Williams sisters for the top honours and improve the standard of play still further.
Comments (7)
Jason Whelan says...
I think there are two main issues here. 1. The clay-court season is much longer than the grass court one and I think that most of the 14 wins for Nadal are on clay whereas Federer has always favoured grass. I think he won a Junior at Wimbledon, unless I am mistaken. 2. As has been pointed out, Nadal had tendinitis.The physical effort that he puts in is huge. The fact that he suffered serious injury shows the effort required to beat Federer. Without a doubt, Federer is the technically superior player, but Nadal is more physical and fitter. That was how he beat Federer at Wimbledon. The fact that apart from one Wimbledon, Nadal has won all of his 7 Slams on Clay whereas Federer has one all four Slamsnat some stage or another says it all too. Federer would have 3 or 4 Roland Garros titles by now only for one player. While that one player happens to be Nadal, that is not the point. Finally, it is not that Federer is past his best, but that the rest have caught up is the problem. He, alone, has raised the bar for men's tennis and Nadal can win 15 Roland Garros titles and he still wont be as technically sound a player as Federer.
Posted 15:33 17th June 2010
Adam Whiteley says...
brian hamill, not for the first time have you miss understood what point i or anyone els for that matter was making, not once did i or anyone els say nadal is a greater player than federer, as in overall achivements in the game of tennis, then of course federer thumps nadal in that respect, but head to head, nadal is the better player, he has a 14-7 winning record, has beaten fed on all the surfaces in majors, a feat in wich fed does not boast against nadal, and to say feds achivements will never be surpassed in our lifetime are a joke, nadal already has 7 slams to his name, and he is only 24, he will catch fed.
Posted 17:02 15th June 2010
Adam Whiteley says...
brian hamill, how can you say federer is past his peak? nadal has had the beating of federer since 2005, and has beaten him 14 times to feds 7, and this is over the last 5 years, federe has not beaten nadal at the fence yet, and the facts spek for themselfs, how can you say federe is the better player witha loosing record? and how can you say nadal has reached absolute peak at just 24????? im sorry mate, but your wrong.
Posted 09:01 14th June 2010
Brian Hamill says...
Unlike the other guys who have posted here, I think Federer is well clear of Nadal with regard to who is the greater player. Nadal is unquestionably the better clay-court player, but to say he is the greater player overall on that basis is like saying Gustavo Kuerten is a greater player than Pete Sampras because Kuerten won multiple French Opens and Sampras won none. The widespread perception of who is the better player is also skewed a little, because Federer has been past his prime for a couple of years now, whereas Nadal has reached the absolute peak of his powers. The only way to measure greatness is by achievements, and the Roger Federer of the mid-2000s proved to be the greatest player ever by racking up a list of accomplishments which put Nadal firmly in the shade. Federer was the most consistent and complete player the sport has ever seen, and his majors record will remain unsurpassed in our lifetime.
Posted 15:50 11th June 2010
Ifeanyi Araraume says...
Nadal just edges federer as well as other players,would have been difficult for anyother player to come back like he did considering the problems of 09,let's not forget that he still managed to make it to the semi final of the us open but for the raw power of del potro he would have been in the final where I think he would have beaten federer(because federe doesn't have answer for him)I think he will win at sw19 this year because right now he's on a roll and I don't see fed regaining the number one ranking again.
Posted 07:38 10th June 2010
Adam Whiteley says...
i think when it comes down to the bits and pieces, nadal just edges federer for me, federer had never faced anyone in slams before like nadal, who has a passion for every single shot he plays, never mind passion for the game, until nadal come along, guys were sometimes all too easily rolling over to the brilliance of fed, i mean he raised the bar, no one had seen shots like fed was able to pull of before, the angles were rediculus, but if you watch a replay of fed v nadal games, you will see that for the majority of there games, and thats a winning record of 14-7 to nadal by the way, nadal gets in to feds head, he disheartens fed like no other player mannaged to do before hand, not to mention he bullies the poor guy off the court, and i think because of this, fed will always struggle against nadal, so in a way fed is getting a taste of his own medicine, mentally telling other guys you dont stand a chance against me. nadal has now beaten fed on all the surfaces in slams (hard, clay and grass) lets not forget fed hasnt beaten nadal at the french yet (though he has beaten him on clay, just not in a major), but nadal has beaten fed at wimbledon, nadal is always mentally telling federer all the time with the shots he hits, im better than you, and federer just seems to crumble under disbeleif that he does not have the tools to undo nadal consistantly like he could other guys, but i now think its great at the emergance of soderling at grand slam level, knocking out nadal and fed in consecutive years, especially on clay, because it offers other guys hope.
Posted 08:15 9th June 2010
Adam Docherty says...
Hi Barry, you mentioned in your article that Nadal won his first grand slam at the tender age of 19 and he'd been winning top level events for years before that. Do you think that because of the depth in the mens game we might not see another player so young winning big tournaments? Is the transition from being a great junior to great senior becoming increasingly difficult?
Posted 11:33 8th June 2010