Throughout Wimbledon Sky Sports tennis expert Barry Cowan will be on hand to answer your questions on all aspects of the Championship - from on-court duels to off-grass issues.
Perhaps you have a query about a particular player or coach, want to share a particular Wimbledon memory or simply want to get Barry's take on a wide matter in the men's or women's game.
Whatever your question Barry, a former British tennis player who memorably went shot-for-shot with 'Pistol' Pete Sampras at Wimbledon 2001, will do his best to answer it.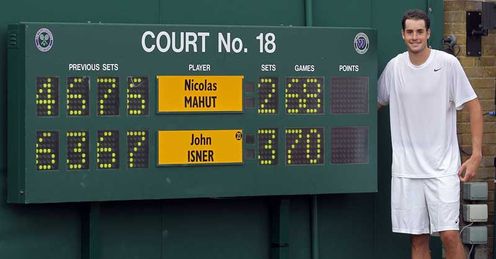 So don't delay; with the Championships in full swing you can send your question in right now for Barry's consideration.
Click here to email your question, send your question to skysportsclub@bskyb.com, with 'Barry Cowan' in the subject field, or fill out the feedback form below...
FIFTH AMENDMENT
Hi Barry, what a simply amazing match that was between Isner and Mahut. I was glued throughout and don't know where the last week has gone! Now it's finally over I can't believe that people are calling for a fifth-set tie-break to be introduced! If we had one then none of that drama would never have happened. Surely records are there to be broken otherwise what is the point? I'd be interested to find out where you stand on this one mate. Graham, Croydon
BARRY REPLIES: Graham, if people are calling for a fifth-set tie-break then that's their loss quite frankly. It would disappoint me hugely if, having seen history rewritten and witnessed an epic contest that is unlikely to ever happen again, that people only focus on the negative side of things. Let's not go health and safety mad otherwise what's next? Are you going to put a time limit on matches - say two hours, or three hours? No, let's recognise that this match was an exception and an incredibly gripping one at that; let's celebrate the positive.
I'm a fan of having a long fifth set in the Grand Slams; tour events are different because players more often than not have to play the next day. Part of doing well in a Grand Slam is finding a way to negotiate your early-round matches with the minimum of fuss; if you don't you simply make life harder for yourself and pay for it later on.
Not only did this match showcase the amazing fitness of our professionals but the fact that it involved two less familiar names in was John Isner and Nicolas Mahut will hopefully have grabbed the attention of plenty of people who don't normally watch tennis. Theirs is an incredible achievement - players and ex-players alike are struggling to comprehend what they've achieved, both physically and mentally. Spare a particular thought for Mahut because not only did he lose but he was the one who had to serve to stay in the match throughout - and that must have been exhausting.
OVER THE TOP
Morning, a bit of a technical question for you if that's ok? I've seen plenty of players attempt to play a lob shot during this year's Wimbledon but very few succeed. I don't know if this is normal or not or if there are any stats that show why this is but I wondered if it is unusual and whether it's something you've noticed? I wondered if some of the players have not adapted to playing outdoors - not that it's very windy. Any who, can you give me your top three tips for playing a lob as I'd like to do much better than the pros! Sam
BARRY REPLIES: Sam, it's not something I've noticed to be honest although it is true that it can be more difficult to control the ball the hotter it gets because it flies through the air more quickly. A lob is generally a feel shot, an instinctive shot rather than a driven forehand from the back of the court laden with top-spin so there is instantly more margin for error.
The best piece of advice I can give you when playing a lob shot is to watch the ball. It's almost like trying to hole a three-foot putt in golf. So many players strike the ball towards the hole and then lift their head to see if it's gone in. It's the same in tennis - I can't overestimate the importance of keeping your head down because that will help you finish the shot with a full and flowing follow-through.
ROYAL APPOINTMENT
Hi Barry, wondered if you could tell me why the Queen doesn't visit Wimbledon more often? Melanie, Cheam
BARRY REPLIES: It was great to see the Queen at Wimbledon - it's been far too long since her last visit - and she brought a genuine sense of occasion to Centre Court. Although she is invited every year, the fact she can't make each and every Championships makes it all the more special when she does. I'm told she was planning to come last year for the final if Andy Murray made it through. Imagine that - Andy winning and receiving the trophy from the Queen! Could it get much better?
COURTING CONTROVERSY
Hi Barry, who decides who gets to play on Centre Court? Serena Williams was on court two on Thursday - unbelievable?! They should be forced to explain themselves because she's won the title three times and deserves to be treated much better. Juliet, Leamington
BARRY REPLIES: There are many different factors to consider when scheduling the Order of Play these days, Juliet, not least the demands of foreign TV companies and an assessment of how many times each player has appeared on Centre or No 1 court.
The basic rule, though, is that there are always two men's matches and one women's match on those two courts per day which instantly cuts down the number of options available. The organisers won't allow Serena Williams to play every match on centre because that simply isn't fair on the other top-seeded players and because they want to stage a competitive match for the paying spectators.
Let's use Thursday's play as an example. Serena smashed Anna Chakvetadze 6-0, 6-1 in 48 minutes on court No 2 in a match that wasn't much of a contest while third seed Caroline Wozniacki played on Centre Court and Maria Sharapova, a former champion, took to No 1. To me that was very sensible planning.
As a player you've got to take the rough with the smooth - something Jelena Jankovic failed to do back in 2008 when she played on Court No 18 despite being seeded second. She famously threw a paddy saying she practically needed a helicopter to get to her match, which didn't reflect well on her. Overall, I think the organisers do a good job given the limitations they have to work with.
RAFA IN CREDIT
Rafa is really worrying me, Barry, - I've got a lot of money riding on him! He looked really out of sorts before he had to pick up his game against Haase. He didn't seem to be putting as much spin on the ball as he normally does either. I hope he hasn't got wrist problems like Del Potro?! Jonno
BARRY REPLIES: Jonno, I thought it was a fantastic match and that Rafa played some great tennis. We have to remember that just because he is No 2 Rafa doesn't have a divine right to win. At times Haase closed his eyes and was hitting winners - there was nothing Rafa could do about it. Sometimes I feel we don't give enough credit to a player who takes a set of a top player; instead of suggesting Rafa wasn't playing well we should give plenty of credit to Robin who really stepped up his game on Centre. The same goes for Ilija Bozoljac, who played a career match against Roger Federer in the second round.
But the beauty of a Grand Slam is that you have to win three sets which demands incredible consistency - something Rafa has in spades.
He looked great physically and mentally to me - he brings an incredible amount of energy to the court and the crowd feed off that. If he tried to put as much spin on the ball on grass as he does on a clay court then he will get eaten alive. Instead, he's learnt to play further up the court and flatten his shots; he's taking the ball earlier, which helps him to use his opponent's pace and strike the ball over the net at a lower angle.
Comments (6)
Panos Antonopoulos says...
Hi Barry, Poor Marray lost his chance once again to lift up a grand slam trophy.Who to blame for his unacceptable performance against Nadal?Ofcourse not himself.The people who train him,who advise him and people who support him,they are to blame. Marray undoubtedly has the best hits on the planet but still there is no grand slam visible in the horizon.How is that? He has to take up yoga lessons to obtain balance,Thai chi lessons to obtain dicipline and ballet lessons to obtain equilibrium.The above lessons will help him to change his bad mentality, awkward behavior,clumsiness and eventually he will be transformed into a graceful,obedient good looking,hihgly talented tennis player with the first grand slam waiting for him just around the corner. In order however not to have a repeat of Tim's history it is urgent that someone speaks to him and especially to his advisors about this new training session that he has to follow in order to achieve his target. Thanks for the hospitality Panos (coach of basketball teams for years)
Posted 15:22 10th July 2010
Chris Lee says...
Dear Barry Order finally prevailed with both the ladies' and men's world number one winning their respective titles. But this Wimbledon will surely be remembered as the one where history is made in the Isner/Mahut marathon first round match. Although I agree that the format should not be changed (ie no tie break in the fifth set) I do feel that the organizers should look at how the playing field could be made more level under such unusual circumstances. I mean, look at poor Mahut having to fight back to hold his serve in the fifth set 69 times for 6 hours, finally succumbing in the last game. I wonder if Isner could have lasted that many games had their positions been reversed! One of the ways to do that would be perhaps to look at changing the order of serve, say every 12 (or 24) games, the same player to serve on the 12/13th (24/25th) games so that the other player don't have to be serving to stay in the set the entire last set. Or any other way to ensure the other player faces the same pressure? Chris
Posted 13:44 7th July 2010
Murray Fan says...
hello barry ... can you give me your verdict on nadal vs murray at wimbledon semi-final ... in my opinion, on terms of physique, speed, shot selection and passion i think it could be possibly the greatest semi-final that will ever be played at wimbledon, by far the two best tennis player on the planet this year and federer should retire afterall hes worth at least 30 million pound, he has nothing else to achieve. let me hear what you think of berdych chances also . hes playing vs djokovic. i honestly think berdych can take him in four sets
Posted 20:16 30th June 2010
Adam Whiteley says...
Abigail Matsika, i think barry is referring to the seeds, rafa is number 2 seed, world ranking he is number 1, its just wimbledon trying to hang on to there superstar, they dont like change at wimbledon in terms of who is who, so they will keep roger the top dog for as long as they can
Posted 08:04 30th June 2010
Matt Leaton says...
Abigail, Rafa is currently seeded 2nd at Wimbledon this year which is why Barry referred to him as such. Besides being seeded 2nd is hardly not being given credit, that's still great.
Posted 18:56 29th June 2010
Abigail Matsika says...
Hi Barry on your top reply you said Rafa is number 2 he is no 1 .please give him credit . he is my number one he just gives young kids inspiration to play tennis as he is passionate about his game and he brings tennis to a different level.
Posted 20:55 28th June 2010