Novak Djokovic is a man right at the top of his game, but winning the Australian Open might not prove to be his highlight of 2011.
There is a lot more to come from him. Although I tipped Roger Federer to emerge as the champion in Melbourne, I had written previously that Djokovic would win a Grand Slam this year and I now believe he will be challenging to become world number one within the next 12 months.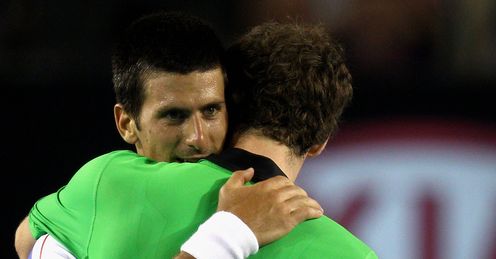 I certainly expect him to respond far better to his second Grand Slam win than he did to his first. When he won the Australian Open three years ago he wasn't emotionally prepared to cope with the pressure that followed, both internal and external.
He was criticised for certain things, such as mimicking the other players, and I think his confidence was dented by that. I feel his personality is great for the tour and after several key experiences in the last 12 months he is now at ease with himself, in the same way that Federer and Nadal are. That emotional stability has enabled his performances to become increasingly consistent.
In his first two Grand Slam finals, he faced arguably the greatest player of all time in Federer and he could put the defeats down to experience. In Australia he was playing somebody who had only won one Grand Slam before, but Djokovic attacked the moment and Murray didn't.
Barry Cowan
Quotes of the week
LIVE ON SKY SPORTS
Abn Amro World Tournament
10am, Thu Feb 10, Sky Sports HD4
Watch online with
Sky Player
How to
remote record
I remember watching him in Dubai last February and even though he won the title he was all over the place mentally. His tennis was inconsistent and he was having problems on his serve and at that time, having monitored him over several months, I felt he'd struggle to ever win a Grand Slam again.
However, he has passed several tests since then; he beat Federer at the US Open and he experienced a huge high by winning the Davis Cup for Serbia. Those moments proved to himself and to everybody else that he could perform under pressure.
So there have been psychological improvements, but also physical ones. His movement around the court was outstanding on Sunday and he has earned the right to describe himself as the world's best mover on a hard court. Technically his serve has improved and I also feel his forehand is far superior to what it was six months ago.
It's for those reasons that I feel victory in Australia is just the start for him and I now envisage a three-horse race for the world number one spot for the rest of the season.
Frustrated
As for Andy Murray, he must be applauded for another tremendous effort. He is a phenomenal tennis player and he deserves enormous credit for reaching a third Grand Slam final.
However, I'm sure he will not leave Melbourne reflecting on a job well done. He had a great tournament, but he will be frustrated at falling short again. As much as the entire nation has placed expectation on his shoulders, there will be even more pressure coming from within.
He knows he can do more. He is a hugely talented tennis player, both in terms of his physical prowess and his ability to read the game, but the one thing that was very evident on Sunday - was he lacked the killer instinct from the word go.
If he had come out of the starting blocks in the same way as his opponent then he might have been able to apply more pressure. Personally, I don't think he would have won the match anyway because Djokovic's level was so high, but we'll never know.
From a very early stage in the match, I felt it was being played on Djokovic's terms and I think the Serb knew that. In a major final, when you're full of confidence, that's a lovely position to be in.
Murray is a cautious person by nature, but he has definitely improved in that department in the last 12 months. He has become increasingly aggressive in big matches, as we saw when he beat Nadal and Federer in Toronto last year. I also saw tremendous aggression from him in his defeat to Nadal in London in December and also against David Ferrer in the semi-final last week.
That aspect of his game is improving, but my concern is that as each Grand Slam final comes and goes, it will become more of a mental block for him.
Moment
In his first two Grand Slam finals, he faced arguably the greatest player of all time in Federer and he could put the defeats down to experience. In Australia he was playing somebody who had only won one Grand Slam before, but Djokovic attacked the moment and Murray didn't.
For me, he performed worse on Sunday than he had in either of his previous finals and although he will learn lessons, the mental hurdle might be that little bit higher next time.
To draw a parallel from another sport, Colin Montgomerie was forever backed to win major golf tournaments, but after missing out narrowly on several occasions his time passed and he never fulfilled his potential.
I'm not saying that will apply to Murray. I'm convinced he will get to more Grand Slam finals, but can't say I'm totally confident he will win one. At the moment I think it's 50-50. The law of averages suggests that if he keeps reaching finals then he will eventually make it over the line, but his performances to date suggest that may not be the case.
He needs to learn that he must take it into his own hands. He cannot expect an opponent to give him one and I just felt that was the case against Djokovic.
Murray is anything but a failure. He is an outstanding tennis player. But he needs to look at the reasons why he didn't win on Sunday. If he can learn those lessons then who knows what might happen further down the line?
Comments (5)
Jose Remedios says...
Murray has 2 problems. Firstly, it is a mental thing and he has to get a good coach who can sort that out. The second problem is his Mum. He is now 23 years old, it is time to cut the apron strings and stop leaning on her. How many of the pros drag their mother with them to all these tournaments? Not even the girls do that. A real Mummy's boy. Time to grow up.
Posted 16:32 1st February 2011
Debbie Grantham says...
i am a massive murray fan and i am so sure he will get a slam soon, how good was it to get in a second australian final, he is the best player we have had in years, and needs to be encouraged not slated by the media, they discuss me so negative, and the point about swearing in the paper today ,they all do. we just dont understand what they are saying in another language!!! in this country they are the villan or the hero, does he need to read everyone saying will he ever win one,!!
Posted 14:05 1st February 2011
Maria Neil says...
Having watched the entire Aus Open final, I have to say that Andy Murray's problem is not his Tennis, its his mental state.. I think he suffered from the "media" pressure as well has pressure from himself. and also the heat was a factor. He never had the upper hand.. He needs to address his aggressive attitude on court and not give our such a negative message to his opponent. Only when that changes, will he win a grand slam.
Posted 13:06 1st February 2011
Joe Green says...
Perhaps having his mum there isn't a good thing..? Maybe it's time to fly the nest. Also he does need to be more aggressive and less cautious. But in order to do so he needs to improve his volleying. But it's his serve which is the problem.. particularly the second serve. It's starting to look mechanical in the wind up. It's easy to read too. But to be fair. Noel, as he's now known, was brillaint in the last two matches he played. I predict him to topple Nadal on clay. I wish him Andy luck. though. He's worked hard.
Posted 12:57 1st February 2011
Tom Muir says...
I support Andy all the way but it was obvious from the start of the match and throughout the tournament that he needs to get more first serves in to win his service games more easily, and then everything else will follow. He would certainly benefit from a former grand-slam winner in his corner until he wins one. Roll on Wimbeldon
Posted 20:26 31st January 2011