Sport means so many things to me, to watch, to be involved with, to play but most importantly for what it has given to me in my life. I know from experience what 'sport' can do.
It gave me confidence, a belief that I was worth something, a focus, an inner strength, an escape, an outlet for emotions...I literally could go on and on. This doesn't just apply to me; I've seen time and time again how it can transform lives.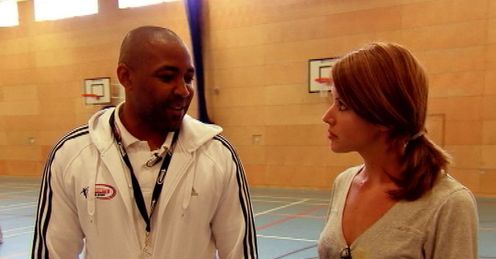 Since I was a teenager I have been working with kids through sport, it has always been an ingrained passion of mine. As soon as I was old enough, at 17 years old, I passed my play scheme qualifications and whilst I was studying I led an afterschool sports club in a deprived area of Sheffield, where I was brought up.
This is why I came up with the idea for the Special Report, 'Sport: Changing Lives', for Sky Sports News.
Schemes
This wasn't about finding the next Paula Radcliffe. This wasn't about finding the next Wayne Rooney. This was about showing that all kids irrespective of sporting talent can use sport in all aspects of their lives.
This wasn't about finding the next Paula Radcliffe. This wasn't about finding the next Wayne Rooney. This was about showing that all kids irrespective of sporting talent can use sport in all aspects of their lives.
Charlie Webster
Quotes of the week
Whether I'm running or boxing, it's my 'me' time, my escape and my release. It still even now helps with my confidence. If I don't do sport, I get pent up, fidget and can't concentrate. Kids need the same release and the same help with their self-esteem. Sport can give them that.
I have been into various schools and schemes this year. I focused on two for the Special Report.
The St Matthews project in Brixton, which uses football to help local children and young people to fulfil their potential and have a positive outlet in their lives, and an urban secondary school in Slough using the Sky Sports Living for Sport project.
Let's start with the St Matthews project. It has no facilities, just the local park, but it still has up to 50 kids from rival estates in the area at any one time and coaches that have started off as youngsters in the project working together.
In late February of this year, I arrived in the park about 45 minutes earlier than the session start time and already a handful of kids were waiting, eager to start and help set things up.
One young boy very politely introduced himself, welcoming me to the project, shaking my hand. He was 10 years old. Two hours later we were still there - three hours later we were still there; in fact we stayed until there was not a sign of daylight left. None of the kids wanted to go home.
Frustration
After several visits I gained a little bit of their trust and they started to open up about their lives and what St Matthews means to them.
One child told me it was his life, another said it stopped him from doing bad things, another that it helped him with his school work, another how it kept him away from the local gangs, another how it was the only good thing in his life and another a place where he didn't feel alone.
Again I could go on. I'm sure you're getting the picture. One boy told me of the kids where he lives throwing fireworks this included a boy aged just five years old. The project gave him somewhere to go and get away.
Recently one of the young people that came along to the project was shot and killed on the estate behind the park. He was NOT part of a gang but caught in the cross fire. His best mates both attended the football sessions on a regular basis and still do. The friend told me he was in bits over his best mate's death. The project helped them both with their grief, their anger, their frustration as well as their loneliness.
The St Matthews project is as simple as giving these youngsters somewhere to go and play football. It's the simplest thing but the simplest solutions seem for some reason to be missed.
'Football can take you away from a life of crime,' 'It keeps me off the streets,'
When you are told you will never amount to anything repeatedly, when you are told you are worthless, when you feel persistent rejection, when you are put in a bracket of 'no hopers' you start to believe what you are told and the belief in yourself gradually disappears. Sport can make you walk a little bit taller.
Breakthrough
So to Slough. I had a whole term with 14 kids aged 12-13 on the Living for Sport project.
I cannot begin to describe how significant the change was from the start of the term to the end. On my first visit, none of the kids would speak to each other let alone me, they gave no eye contact and there was not a single smile. The confidence of each one of the 14 was almost non-existent.
The following week I took them straight out of the classroom and into a gym to do a fun circuit session with the group, I added in a competitive team element and we had a breakthrough.
I slowly but surely started to gain their trust and the kids began to communicate. I even got the boys playing netball which they kicked up a massive fuss about. I couldn't get them off the court in the end as they were so engrossed in shooting practice.
One girl told me she hated school, she hated sport, she pretty much hated everything; after three weeks she was asking me about how to find a running club. I was completely disheartened when I found out there was a year's wait to join her nearest and only athletics club.
A 13-year-old boy heading in the wrong direction, not knowing how to deal with his anger, frustrations and life outside of school, close to being kicked out, his behaviour too much for school and home. He's now stopped fighting, is much happier in life and recently had a football trial at Marlow.
A girl aged 12, scared to speak out in class in case she gets things wrong, unhappy at school, feels like she can't do PE as she's not very good and too shy due to lack of confidence to take part in activities.
Seven weeks later she is competing in sports day in the triple jump which she has only just learnt, laughing and encouraging her new found friends and telling me, with a smile, how much more confident she is.
In the final week the 14 kids put on their own PE lesson for over 75 kids in the year group below them. Seven weeks previous they wouldn't even talk to each other let alone direct and encourage other children.
Again the simplest of things, giving the kids a sense of belonging, worth and achievement, a way to let off some steam and escape from whatever they need to escape from, encouragement and the strength to believe.
Sport gives that as well as discipline and focus which can teach discipline and focus in life. It only takes one person to show belief in a kid, that one bit of belief and encouragement can change a kid's life.
Find out more about the Sky Sports Living for Sport initiative by clicking here or by visiting the Facebook and Twitter pages.
If you've missed any of our previous episodes or want to watch again, you can find highlights of each programme at www.skysports.com/specialreport or the latest episode on Sky Anytime.