Energised, focused, positive, determined, confident, sharp...I could carry on with this list till at least the bottom of this page.
The list is how I feel after I've trained whatever sport it is I'm doing. I don't know about you but I get frustrated, stressed, struggle with confidence and self-esteem, get fed up and down. I'm sure I'm not the only one.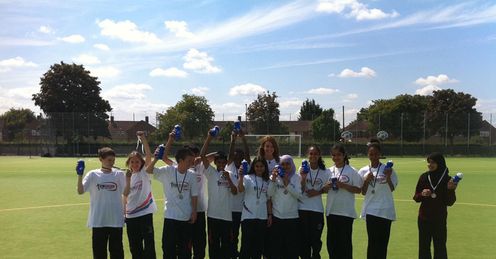 I've always used sport as my release, my outlet. When I was younger I had about as much self-esteem as I could fit in my little finger, and I have small fingers, but I was overwhelmed with pent up frustrations and emotions that sometimes felt like they were drowning me.
I discovered sport or sport discovered me; either way it guided me through a tough upbringing and made me who I am now. It continues to do so.
Worthless
Now the reason I'm pointing this out is I know what sport has done for me and I know what it feels like to feel lonely, lost, confused and pretty much worthless. You wouldn't believe how many young people feel exactly the same.
You tell me how young people are supposed to gain confidence when adults with life experience can't even do that? That brings me back around to the one thing that can actually change young people's lives dramatically. Sport.
Charlie Webster
Quotes of the week
The common theme across all kids I've worked with or come across - and I'm talking nationwide from all sorts of different backgrounds - is self-esteem. The same phrases come out of their mouths, 'I can't do that', 'I'll never be able to do that' and the most regular 'I'm not good enough.'
The pent-up aggression starts to come out and the self-protection builds its wall. Kids that walk around giving the impression they're all that, starting fights, throwing their weight around are actually the most insecure, under-confident kids; once you strip them down you see it's all just a front of survival.
You tell me how young people are supposed to channel this and gain confidence when adults with life experience can't even do that?
That brings me back around to the one thing that can actually change young people's lives dramatically. Sport.
Challenging
Recently I worked with a group of kids from Wexham School in Slough using the Sky Sports Living for Sport project and The St Matthews project in Brixton; the kids all very different but all exactly the same.
One 12-year-old girl was so scared of speaking up and giving her opinion in case she was wrong and got picked on, that she just sat quietly, didn't join in and looked at the floor; smiling was literally non-existent in her minimal expressions.
A 13-year-old boy was so challenging and aggressive that even his mum was giving up on him and was on the verge of kicking him out. He was nicknamed 'the firework.' Another 12-year-old girl hated everything - and I mean everything, home, school and just life as a whole.
Obviously these three kids would never amount to anything. Or at least that's what they believed. The only sporty one out of the three was the boy and he couldn't play football anymore as he'd been kicked off the team due to his behaviour.
Improved
At Wexham School, I worked with these three kids as well as nine others for six weeks, once a week. We simply played different sports and did different exercises. Simple, right?
However this simple act meant the group communicated, worked together, competed, released, achieved, focused, aspired, believed and had fun.
By the third week the girl who hated everything (this included sport too by the way), was asking me how I got where I am now and how to join a running club. After six weeks her grades improved dramatically and she threw herself into P.E and started running.
The under-confident first girl I mentioned, was contributing, joining in, smiling and telling me how she'd put her hand up in the classroom and contributed to a discussion. By the sixth week she was teaching a sports drill to six other 12-year-olds.
Now to the troublesome boy, and I'm going to use his own words: "I haven't had a fight since". His class work improved and on the sixth week he'd just been given a trial at Marlow FC.
These are just a few examples but they are most certainly not exclusive.
It still baffles me why sport is not a priority in education and the community. Sport is not about finding the next Wayne Rooney, the next Paula Radcliffe; they will automatically be found and more of them too, through giving everybody the chance to use sport to improve their lives.
Sport not only breaks down barriers, but it teaches you to overcome barriers which are inevitable in all walks of life. Sport engages disciplines and develops young people.
Sport improves communication, self-esteem issues and confidence. It has a unique ability to give focus, direction and connect individuals and communities.
It makes kids feel good about themselves and that to me is key to everything.
Find out more about the Sky Sports Living for Sport initiative by clicking here or by visiting the Facebook and Twitter pages.