Last Wednesday I was on air on Sky Sports News at 7pm with Jim White and our guest, Iain Dowie.
Although it may have seemed just a normal evening on the channel to our viewers, it was far from normal for me because seven young people aged 17-19 from the Brixton area - three females and four males - of varying backgrounds were with me.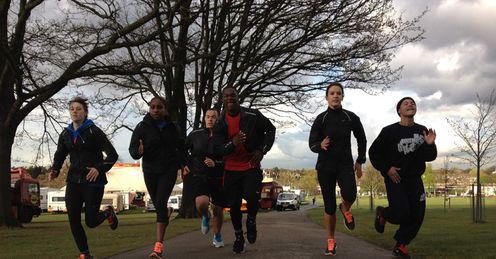 The seven form a group under Running For a Life (RFL) - a social initiative which I have set up to inspire young people through running. I am training them to take on a 48-hour endurance challenge which I have created uniquely for them.
As part of the project I wanted to give my group an inspiring unique behind-the-scenes experience of a live TV environment whilst I was on air. I love a challenge!
Running and sport changed that girl's life. It helped her cope with what were to become the toughest years of her life so far. That 11-year-old girl was me.
Charlie Webster
Quotes of the week
This was the outcome. Watch the video here.
So why have I set up Running For a Life and what exactly is it?
Back in 1994, in Sheffield, a running coach asked an 11-year-old to go and train after seeing her race for her school in a local competition.
That same 11-year-old didn't think she could run for toffee; in fact she had very little belief in herself in anything she did whether it involved running or not! Her confidence was almost non-existent and her attitude was one of battling along in a lonely world.
She was gobsmacked to be spoken to by the coach - never mind asked!
That moment was a deciding factor in which way this girl's life would go.
Running and sport changed that girl's life. It helped her cope with what were to become the toughest years of her life so far.
That 11-year-old girl was me.
For that reason I've always had a fire burning deep inside me that never dies down and most likely never will: the burning fire to give young people what I was given; a tool to help myself, to find out who I was, to develop confidence and a release to be who I wanted to be irrespective of my background.
An inspired young person who is hungry to make a change and who believes in himself or herself, is a powerful force to be reckoned with.
I would many of you to get involved. Why not make a change in your own life and help others along the way?
Funny
'Running For a Life's' 48-hour endurance challenge will take place on June 8-10 in London.
Come and join in a section of our challenge whether it's the Duathlon, the Boris bike, the stair climb or the Circle Line half marathon.
The SUP is solely for team RFL I'm afraid, but watching should be pretty funny as I'm sure some of us aren't going to stay dry!
If your trainers don't fancy the trip then put your shoes on and cheer us at the finish line. Think what a difference that would make to the seven youths achieving the challenge of a lifetime. Sign up on our Facebook page.
'Running For a Life' will soon become an official charity. However, for the 48-hour endurance challenge in June we are raising money for the local community.
I believe sport can change lives, I know sport can change lives; that's why we are raising money for the Brixton charity, the St Matthew's Project.
The Project engages with over 100 young people every week and aims to overcome estate rivalries and hostilities. It has developed over 50 FA qualified coaches, encourages and leads girls football in Lambeth and consistently provides free, fun football activities to young people living within one of the most deprived 15 per cent SOAs in the country.
Check out our Facebook page www.facebook.com/runningforalife - keep checking back for updates and please 'Like' our page.
'Impossible is just a big word thrown around by small men who find it easier to live in the world they've been given than to explore the power they have to change it.' Just like my childhood hero Muhammed Ali I believe that "Impossible is potential. Impossible is temporary. Impossible is nothing."
What do you believe?