Well Fabio Capello paid the price, didn't he? It's as simple as that.
As soon as I saw the team I thought he'd picked the wrong goalkeeper in Robert Green, I really did. That's not being wise after the event either.
I don't know what the extent of David James' injury is or was, but would it have really stopped him saving that shot from Clint Dempsey? And even if James wasn't fit, I haven't seen Joe Hart make too many mistakes this season.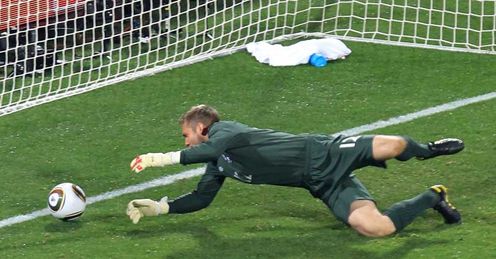 Merson's Marks - click here for his player ratings
Then again, I'm worried about all of England's keepers and always have been. All three of them play for teams where they are going to get 10 to 15 shots a game to deal with; they are used to being kept busy but what happens when, like last night, they have one or two shots in an entire game?
I don't care how poor Algeria or Slovenia are, they will just be thinking 'shoot, shoot, shoot' whenever they can. I feel sorry for Robert Green, but we can't run that risk again.
Paul Merson
Quotes of the week
What happened against USA was an absolute joke. I see people this morning saying Capello has to stick with Green... but how can he? As players you can't go out and play knowing your goalie could drop a clanger at any moment. And I don't care how poor Algeria or Slovenia are, they will just be thinking 'shoot, shoot, shoot' whenever they can. I feel sorry for Robert Green, but we can't run that risk again.
Forget that talk of Green redeeming himself as well, with that save from Jozy Altidore; how did he redeem himself? By not getting beat at his near post? That's his job. That's why he's there. Goalies are there to make saves - and vital saves - just as centre-forwards are there to score goals. Take that basic function away and I'm sorry, it's not good enough.
Which brings me nicely on to Emile Heskey. Yes, he did well and he was probably England's best player, but we are not going to win the World Cup with him up front. That chance when he was through one-on-one he should've scored, just rolled or slotted it past Tim Howard. Not just put his boot through it to make sure it was on target.
Missing
Every time opposition defenders see him on that England team-sheet, they will think they've had a right result. They know the other centre-half can squeeze up on Wayne Rooney and Heskey is not going to burn them for pace, or snap up a half-chance that comes his way. If it was Michael Owen, you wouldn't do that because he can be a one-chance-one-goal striker; with Heskey, you know he needs three or four. Defenders would fear Darren Bent more, believe me.
Rooney was also a problem for me, because he barely seemed to touch the ball. The same goes for Frank Lampard. To be fair to the USA, they did a job on England and deserve credit for that, but the players we have should be able to deal with that. If Rooney can't get on the ball against USA, what chance has he got against Spain or Brazil?
You can't accuse Rooney of not looking for it, but it's the others around him. Capello should be telling them the first thing they do when they get the ball is look for him. He is our No 10, the man that makes things happen, and we should always try to go through him. If he's not on, then give it to someone else.
Lampard is another one that apart from that one shot, didn't do anything. This is a world-class midfielder we are talking about here and for me, no other player in world football could have done what he has at Chelsea over the last five years. But for England, he goes missing. If we don't play to his strengths, then I don't see what he does.
Missed
People have been telling me it worked between him and Gerrard in the middle but I disagree. Gerrard did really well and that goal was special but the sooner Gareth Barry comes back the better.
As for the rest of it, well why Joe Cole wasn't in there is beyond me. Everyone could see he is the man for England from the moment he came on against Japan and made things happen. I think Milner could do a job against Brazil, when it comes to stopping someone like Maicon or Dani Alves bombing on, but he's solid at best and I am not sure what else he brings to the side.
Mind you, I have no idea why Shaun Wright-Phillips replaced him, either. Capello loves pace, we can see that, but I'm sorry; you need more than pace at this level - you need a bit of craft, a bit of guile. That chance he had summed it all up. He should have been looking to bend it in the far corner, not just get it on target. If he'd have missed, we'd all have understood what he was trying to do.
Bringing him on was a strange decision from Capello. Then again, there were a lot of strange things from the manager that we haven't seen before to be fair to him. It was almost as if was saying 'this is my way'. Fair enough, but it reminded me a bit of Arsene Wenger at Arsenal. Everyone knew for years he needed a centre-half, but he refused to buy one, because he will only do it 'his way'.
We all know the keepers were dodgy, we all know Ledley King's fitness is a worry, we all know Joe Cole is our best bet down the left and we all know that Lampard and Gerrard never really do that well together. I suppose now at least Capello knows exactly what it's like to be an England manager.
Bottled
Yes, USA are the strongest side we'll play in the group, but going 1-0 up after five minutes we should have buried them. Yet somehow England always manage to fall over themselves when it's there for the taking. I sat there before the game genuinely thinking we would win this quite easily because not one of those American players would get anywhere near our team. In fact with the exception of maybe Landon Donovan, we could pick another squad of 23 and I don't think they would get in that either.
We could've and should've won by five, but at the end of the day had Altidore not bottled out of that header or panicked with that second-half chance, we could have just as easily lost.
Now here we are, one fluke and some bad finishing away from going out of the World Cup. It sounds dramatic, but that's the reality. Another game like that and we could be coming home before the knockout stages.
All that 'at least we didn't lose' is a load of rubbish as well and if anyone is sat in the team hotel this morning giving off that vibe, I would seriously be worried. That's OK if you are USA or Algeria and your aim is to get out of the group.
But we are talking about England winning the World Cup here. And if Capello doesn't change his keeper, pick Joe Cole and possibly even Michael Dawson next time, that ain't going to happen.
ROBERT
GREEN
I'm sorry but I can't give him a mark, I really can't. That for me was unforgivable. And if he "redeemed himself" by not getting beat at his near post, then we're in trouble. I'm not being horrible, but he can't play against Algeria.
0
GLEN
JOHNSON
I'm not sure what he did to be honest. He's great at bombing forward but when he does that it leaves us exposed at the back. He put a couple of decent balls in, but nothing to write home about.
6
ASHLEY
COLE
I think the Americans did a job on him. They made sure he didn't get forward and set out their team shape to do that, but at this level you really should be able to come up with something to get round that.
6
JOHN
TERRY
Didn't do anything wrong and even for the goal, you would be happy as a defender letting Dempsey shoot from there, you really would. He was reliable as always and if he gets injured then it could be curtains for England.
7
LEDLEY
KING
I know it was only 45 minutes, but he didn't do badly. I am a huge fan of Ledley's but don't forget, his knee has gone and he played some big, big games for Spurs at the end of the season - and they have clearly taken their toll.
6
STEVEN
GERRARD
One of the few success stories for England and just the sort of performance you want from your captain first up. That finish was world-class, it really was. Had Lionel Messi scored it, we'd be talking about it for days.
8
FRANK
LAMPARD
Disappointing again. I can barely remember him doing a thing, other than that one shot. If Capello is going to stick with him, then England need to find a way of playing to his strengths - or he'll just be anonymous.
5
JAMES
MILNER
Booked, ill, injured, take your pick! I don't know why he was on the left of midfield to start with. He will do a good containing job down the left against better sides, but this was USA. I can't see that he offers much at this level.
4
AARON
LENNON
Seemed to get into some great positions but the final ball didn't quite come off. He ripped his full-back the first time, so what does he do when he gets it again? Knocks it back to Johnson. Still takes the easy way out too often.
6
EMILE
HESKEY
Probably England's best player. Held the ball up, got it out wide and won everything in the air. But you are a centre-forward, you need to score goals. That chance he hit straight at Tim Howard showed us what we all knew.
8
WAYNE
ROONEY
The lad is top-drawer, but was clearly squeezed out of the game. He did a couple of decent things, but this is a player we are touting to be the best in the world here. He's always going to suffer because we expect so much.
5
SUBSTITUTES
SHAUN
WRIGHT-PHILLIPS
I was surprised when he came on. His pace will tear up defences in the bottom half of the Premier League, but you need more than that to win a World Cup. The chance he wasted said it all: not enough guile.
4
JAMIE
CARRAGHER
Put some good tackles in, as always, but got exposed for pace by Altidore. He'd be better in a game against a top side where we have to be compact, organised and defend. But when we're controlling games? Not for me.
6
PETER
CROUCH
He'll have been gutted not to have started - and I can understand why. He didn't get enough time to make any impact but I would play him next up, just because his goals record is better than Heskey's.
5
Do you agree with Merse? Let us know by filling in the feedback form below...
Comments (169)
Carl Choke (Arsenal fan) says...
Paul Merson speaks the truth
Posted 14:57 22nd June 2010
Kevin Cole (Liverpool fan) says...
england has got a good squad they have got class in terry a.cole gerrad lampard rooney,and all of them have vast of experience playing at a high level.for long time..,players that u need to win a world cup..its just that u need to get the best out of them...we have a good starting eleven,,,y lampard and gerrad cant play together they are both world class..if xavi and iniesta can..they sud get the right formation ,,wat abt playing a 4 2 3 1,, james jhonson carra terry cole. barry gerrad or(lampard) lennon lampard or (gerrad) cole rooney we have barry who will be able to control the midfield defensively,,tricky winger in joe cole who can open defences,,n support rooney,,he often come with goals...we have pace n tricks in lennon and rooney is by far one of the best strikers in the world he is a class act (coming from a liverpool fan) his fighting spirit and hunger for goal,,gerrard n lampard goal scoring ability as well.from distance or close range both of them have got class n good finishing,,n we sud used john terry arial ability from coners as wel,,to knick some vital goals...i hope capello,,use these players strengths to the fullest n get the best out them,,,come on england,,,show the world its our time......
Posted 11:27 17th June 2010
Martin Baker (Manchester City fan) says...
i think tim howard would easily get in the england squad also i think onyewu would definately get in. also i'd have bocanegra as back up rather than warnock!!! sometimes it seems the english fans and media try to ruin the team before any final outcome. italy drew, brazil scraped past north korea, spain lost, argentina just managed to get past a team ranked outside the top 20. u.s.a are only ranked 6 places below us, yet we seem to think we have a devine right to beat them well. i think we need to reassess where we really stand right now in world football, and realise we maybe ain't as good as we think we are, understand a place in the last 8 is the most we should hope for being ranked 8th any more is a bonus
Posted 10:26 17th June 2010
Tom Evans (Aston Villa fan) says...
I agree with Merse on most of his points here. Green should be dropped, SWP shouldn't play at all, Cole is our best left winger, Barry should be put right back in and Lampard never plays well for England. The one point I disagree on is Emile Heskey. Heskey was woeful for Villa this year, but for England something just clicks. He reminds me of Darius Vassell, terrible for us at times but awesome when he put that white shirt on. Emile brings the best out of Rooney, his link up play is terrific and his pure size and strength bullies space for other players. He is never going to be prolific, but the effort he puts in makes space for Rooney. The vast majority of Rooney's goals in qualifying came when Emile was up front with him, so Heskey has to start. He can even score when falling over and kicking the ball against his other leg and it flying in (against Blackburn, watch the replay carefully, its a classic) so a 1 on 1 chance is a little too easy for him I think. Emile, just play better for Villa please.
Posted 10:01 17th June 2010
Jordan Jerram (Chelsea fan) says...
I think England should drop Robert Green and pot Joe Hart in goal. Green should not make these mistakes like he did and i think the capitan should go back to John Terry.
Posted 09:07 17th June 2010
Frank Longley (Derby County fan) says...
pretty well agree with Merse on most things....NO GREEN,MILNER,KING,LENNON,WRIGHT-PHILIPS, AND NO HESKEY !!!!!!!! Bring back James, give posititions to Dawson,Defoe, Crouch, J Cole, and Carrick. and play them in their proper places
Posted 07:36 17th June 2010
David Beer (Manchester United fan) says...
Well to start USA had the better keeper on the day.I would much rather see Howard in our goal than green. we played the wrong keeper.full stop. James should have started purely for his experience. Hart will get his chance after this world cup unfortunately for him. I'm still shocked at Reading that there is someone in the world that thinks Rooney is no better than crouch! Even crouches mum would laugh at that concept!!rooney simply needs to get the ball given to him. The problem was the wing positions and lack of bodies around heskey.Lennon has no idea when to cross or when to shoot or when to pass ,nor does wright-Phillips. Saying that they weren't given the ball enough to do anything of substance. We should start with joe cole instead of them anyway.he is someone with genuine football ability. Not someone who can only run quickly and swing a foot. heskey will end up setting up goals from his overall play but he relies on the other players to finish for him. Without Barry playing we lacked gerrards and lampards qualities in the final third. A problem if heskey starts and a holding player is gerrard or lampard. They still didn't look right playing there together. I would try playing only one of them if we have two up front in order to have two wingers. or have gerrard pushed upfont with Rooney. That way they don't end up filling the same positions and getting in each others way.
Posted 01:48 17th June 2010
Steve Burke (Manchester United fan) says...
As i pointed out before a ball was kicked this is by far the worst England panel in history.The legacy of Wimbledon will live on when Engerland are about.Why not pay Sam Allerdice a hugh wage,he would play same shocking football.The whole world wants attractive football so lets hope your packing your bags and let the top teams play.
Posted 21:26 16th June 2010
Roger Raymond (Arsenal fan) says...
What is Capello playing at, with his mind games? He should have renamed Rob Green straightaway after that fumble or said otherwise but to let the players including Rob to linger in the uncertainty of who's going to play is inhumane. He's the worst coach we've ever chosen to manage England and the sooner we get rid of him and his mysterious Italian Godfather's approach to dealing with our lads. Serves us right for not picking an Englishman (Terry Venables) as our coach and who would have understood better the psyche of our players. Name your team Capello, at least 24 hrs before any match and let's get on with winning instead of trying to be some sort of intellectual football guru which you plainly are not. Sadly, I believe that we will not get past the first round and all that flag waving and patriotism will be for nothing.
Posted 14:08 16th June 2010
Barry Mercer (Bolton Wanderers fan) says...
I cant help thinking that Kevin Davis (Bolton Wanderers) should have been given a few chances earlier. He would have been a valuable addition. His ability to win the ball in the air and lay off to others is just what England need.
Posted 08:15 16th June 2010
Jack Herbert (Manchester United fan) says...
I think that we did ok against USA but i had hopes we would keep a clean sheet + that we would've scored more, i agree with Merson on Heskey's rating as he done amazing but couldn't finish however when ever i hear Heskey "Can't score, Won't Score" not for England anyway. The formation I think we sould play 4-5-1, Rooney loves playing on his own and we can see his change of determination when he does, Gerrard just be Rooney, Lennon and Wright Phillips wingers, that leaves Lampard and Carick or Lampard and Barry.
Posted 07:44 16th June 2010
Scott Hall (Manchester United fan) says...
I have an idea, maybe after we exit the cup- whenever that is (hope they go far, but not counting on it) we could send all of our keepers to a training camp with the USA keepers. The USA might not create many talented field players minus dempsey, donovan, mcbride, harks (all good enough to play in the EPL) but The Yanks are known for producing quality keepers -howard,friedel,hahnamann, guzan, keller and even meola was pretty decent in his day. All of these keepers played in the EPL on respected teams except meola. Maybe the goal tending position should be a position that managers start grooming yougsters to play and bring them up so we can have quality in the goal again. And really, the USA played a great game. The heart and work ehtic blew away England. The USA are better then everyone thinks. They haev come a long way since 1990 when they fielded a team of college allstars.. GO ENGLAND!!!!
Posted 00:25 16th June 2010
Roy Green (Arsenal fan) says...
Why is it that every and I do mean every football fan know heskey is a waist of time in front of goal.and the England manager cannot see that .? if you want a big lump up front then pick someone that is capable of scoring the odd goal. or at least a sitter like the one heskey missed
Posted 23:07 15th June 2010
George Wester (West Ham United fan) says...
Although I'm a west ham fan, rob green should not be dropped as players like Heskey miss every time he plays, 3 goals I think this season!! Where's darren bent? Grreeen is still englands best and even if he did make a blunder, with the players we have we should be able to pick our game up and get on with it. And also Dempsey and donovan in England squad, NO WAY!!
Posted 22:14 15th June 2010
John Rooney (Wolverhampton Wanderers fan) says...
The usual knee-jerk reaction, I see. Yes, it was a bad mistake but if the England front line can only put one past a country that barely takes the game seriously then they have far bigger problems than Robert Green to worry about. England will still qualify but will come up short, as always, when they meet a team of any real quality and there are at least half-a-dozen of those in the tournament. Get your money on an Argentina v Spain final!
Posted 21:41 15th June 2010
Bill West ham (West Ham United fan) says...
No wonder you a pundit not a manager, Green has to start against algeria. He is better at this current time, than hart and ames, not saying hart wont be our best keeper in the next tournement. To quote you 'You should play the best goalie and that's David James in my opinion. If he makes a mistake he will not hide' So Green made his mistake and didnt Hide. If green wasnt to start against algeria what message does that send out to everyone else in the sqaud? I hope green starts and proves you wrong.
Posted 18:21 15th June 2010
Bradley Thompson (West Bromwich Albion fan) says...
Evan Halnon, "What is it with you English that make you think you're so superior to every other team? There was never a chance that the US would lose by five". M8 theres always a chance you could have lost by 5. Lets face it the england side would probably win the premier league and the yank team would struggle to stay up. Teams like wigan get spanked by 8-0 week in week out. Also what is it wiv all the press making out that rooney is the bees knees, in my opinion hes no better than crouch. I havnt read no goal to game ratio or anything like that but im pretty sure that most other england strikers have one better than rooney. About 4 times when england were breaking out of defence rooney was standing on the wing leaving heskey on his own. We need a player wiv a goalscoring mind. i personnaly believe kevin phillips despite his age would score vital goals, i dont think there is is one striker in england exept maybe tevez better in the 18 yard area at finding the net. Why not give players like phillips or kevin davies a chance. we cant keep playing players like heskey and consistently finishing in the quarter finals, why not take risks capello if we go out in the group stage then so be it but at the end of the day evry 4 years its the same old kind of players bottlin it when the pressure is. Another thing i fell sorry for green because he shouldnt have been there in the first place, david james for me is the best keeper in the premier league when the pressure is off and i feel if he knew that even if he was to make a mistake he would still be NO1 then we would get the best out of him. i mean he rarely made makes mistakes for pompey last year.
Posted 17:04 15th June 2010
Lee The mackem (Sunderland fan) says...
Just on the keeper situation. I am a Red and White, but why dose Newcastle's Steve Harper never got a call up.......oh sorry, thats right...he plays for a club north of Manchester....sorry folks, my bad. Oh, and Bent should be there, but North of Manchester and all that. COME ON ENGLAND
Posted 13:51 15th June 2010
Sam Capps (Tottenham Hotspur fan) says...
The England team should be HART, JOHNSON, A COLE, TERRY, DAWSON, at the back, BARRY in front of them LENNON and J COLE on the wings GERRARD and LAMPARD in the middle just behind wingers and ROONEY upfront alone subs. This a very attack minded format and can defend faster as well. 4-1-4-1 and England should win. SUBS.... JAMES, DEFOE, CARRAGHER, CARRICK, UPSON, CROUCH.
Posted 13:48 15th June 2010
Fred Mokena (Liverpool fan) says...
In reality,that is, none of the American's can get in our team except Donovan and maybe demdsey for heskey, who it turns out was one of our best for the night.how about in goal,don't you think that Tim Howard is better than our bunch of baggage?Fredo
Posted 12:42 15th June 2010