That was the worst performance I can remember from an England team.
We were playing Algeria, a team who were slaughtered by the Republic of Ireland just three weeks ago, and yet England could barely even muster a shot. I didn't get off my seat once in 90 minutes.
If somebody had said to me before the game that it would be a 0-0 draw and we wouldn't look like scoring a goal then I'd have laughed at them. Sometimes you have an unlucky 0-0 when you have 30 shots and don't score - that happens in football - but the Algeria goalkeeper hardly had a thing to do.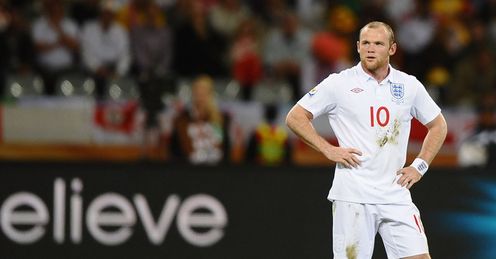 You've got to look at everybody after a game like that. The players have got to look at their performances, but I do think the manager made some very, very strange decisions:
1. The wrong substitute
Shaun Wright-Phillips was very poor against the USA, so how did he get on the pitch again? How can you look beyond Joe Cole? International football's not all about sheer pace, you need to have some guile and someone who can put the ball through the eye of a needle. England were a much better team when he came on against Japan - why can't Capello see it?
2. Defensive approach
Italian football is very different to English football, it's more defensive and that's why he why he left it so late to put Peter Crouch on. In the end I think Fabio Capello was more worried about Algeria scoring. It's almost as if Capello thought: 'We can't get any worse on Wednesday. Let's take the draw and hope to go through by beating Slovenia'.
3. Leaving it late
Apparently David James was told he was playing five minutes before he got on the coach. That's just rubbish. You want to know the day before. You want to think about it in bed the night before and be able to prepare yourself properly. We were told well in advance when I was at the World Cup in 1998.
Also, if Capello came out on Monday morning and announced his team for Wednesday, that would send a message to the other team. That would put the fear through them. I just can't understand why he wants to keep it top secret.
4. The wrong formation
People are keeping the ball too easily against us. We've got to go to a 4-5-1 with Steven Gerrard behind Wayne Rooney and Joe Cole on the left. Our best two players - Gerrard and Rooney - both played out of position on the left wing at some point against Algeria. How can that happen? We've got to put them in their best position.
5. Too much fear
Not once did I see an England player having a go at another player on Friday night. They look absolutely petrified. I watched them in training on Sky Sports News World Cup Report and I didn't see anybody smiling. That's got to come down to Capello.
Wayne's woe
Also, Wayne Rooney will wake up on Saturday morning and wonder what he was doing criticising the England fans in front of the cameras.
He must realise these fans pay a lot of money to go and watch the World Cup - and they can expect more than they got against Algeria.
If you don't perform, then the time comes when you're going to get booed. If the fans cheer them off then the players will think they're not doing too badly.
I'd be shocked if he doesn't apologise for that very quickly.
I'm a big fan of Rooney, but we need to remember that his purple patch came a long time ago now. It was more than two months ago when all those goals were flying in - and two months is a long time in football.
He doesn't look fit to me. I've not seen him play as badly as he has in the last two games and he's 100 times better than he's been showing.
But of course I'd still start him in the next game because we have to score to stay in the World Cup.
What happens next?
The only good thing that happened on Friday was that the USA drew with Slovenia. That means if we win on Wednesday we'll probably end up winning the group - and if we win our group, it looks like quite a comfortable passage to the semis.
I'm Mr Positive. Last week I was tipping England to win 3-0, but I can't sit here and tell you we're going to win on Wednesday.
I know football and you can't turn it on and off like a tap. Capello has to change the formation and we have to score early. If we don't score in the first 20 minutes I'll really start worrying.
When your confidence is low it's hard to perform. I still think we'll qualify... but it won't be a walk in the park.
DAVID
JAMES
He didn't do anything wrong. There was one dodgy punch, but apart from that he did well, held onto everything and kept a clean sheet. He has to start in the next game, but he needs to be careful with some of his comments about the manager in the press.
7
GLEN
JOHNSON
Everybody will target him because he's not a great defender, but I think he did alright against Algeria. He was steady and I don't think you can criticise the defenders too much because they did their job.
6
ASHLEY
COLE
I still think he's the best left-back in the world and I've got no worries about him. Steven Gerrard didn't give him a lot of protection, but he didn't exactly get roasted.
7
JOHN
TERRY
Despite a couple of dodgy back-passes I think he did well. He gave the ball simple every time he got it and I think he did his job, quietly and without any fuss. That's what he's there for.
7
JAMIE
CARRAGHER
England didn't look like letting in a goal, but Jamie got booked and now we've got to play Matthew Upson in the next game. I'll give him a slightly lower mark for getting that yellow card.
6
GARETH
BARRY
It was his first game back after injury and it's hard to play as a holding man in a 4-4-2. That position only really works in a 4-5-1. But he didn't do anything wrong and he'll play again on Wednesday.
6
STEVEN
GERRARD
I think he's the best player England have got, better than Rooney, so I think he needs to be played in his best position. He naturally comes inside because he doesn't want to play on the left, but he didn't reach his standards. He had two opportunities to shoot and passed both times. He's better than that.
5
FRANK
LAMPARD
He had one good shot and made the goalkeeper make the only good save of the match. But I think Frank's been very poor in the last two games for his standard of football. I barely heard his name on the commentary.
4
AARON
LENNON
I didn't know he was playing. I can't recall him beating the defender too many times and I wonder how many more chances he'll get. If David Beckham - the best crosser in the world - had been fit then we'd be through by now.
5
EMILE
HESKEY
I thought he was one of the better players against the USA, but I he was poor against Algeria. He didn't hold the ball up and did the best of his work on the edge of our own box. What was he going back there for?
5
WAYNE
ROONEY
I've got to give him a low mark because he is nowhere near the high standards he has set. We're relying on him and we can't win the World Cup if he plays like that. I can't understand how he's played two such bad games in succession. I don't know if he's fit - he wasn't even chasing back at the end of the game.
3
SUBSTITUTES
SHAUN
WRIGHT-PHILLIPS
For me, he didn't do anything. I look back on the game and I cannot remember him doing anything. We should have put Joe Cole on instead.
3
JERMAIN
DEFOE
He made a couple of good runs and had shot over the bar. His movement was good so I'll give him five.
5
PETER
CROUCH
He just wasn't on long enough. He didn't have time on the pitch and he should have come on earlier.
4
Do you agree with Merse? Let us know by filling in the feedback form below...
Comments (314)
Peter Adams (Watford fan) says...
Just a quick comment in response to Ryan Camm (Arsenal fan) says... I think you got to go with 4-4-3 it would give good balance to the whole of the team???????????????? Posted 13:05 21st June 2010 Ryan i am sure if Capello or indeed any manager could get away with fielding 11 outfield players then they would and i agree it would definately give the team more balance and a huge advantage lol Typical Gooner :o)
Posted 14:06 22nd June 2010
Richard Dunlop (Wolfsburg fan) says...
i think if england play the way they did in the first two matches they should can their name to the Three Pussycats instead of the three Lions .very disappointing.
Posted 13:59 22nd June 2010
Colin Nowell (Manchester United fan) says...
rooney can only do his job if the pathetic midfield do theirs and get the ball forward quickly and not sideways or backwards it seems they can only pass the ball the way they are facing and they are not facing the opposition for most of the game making rooney come deeper and deeper for the ball.
Posted 13:58 22nd June 2010
Mark Chessman (Fulham fan) says...
will everyone on the stevie g legend band wagon pull their heads out their backsides for a mo and face facts ,hes been dump all season for liverpool and not much better for england.the last game england played well (croatia away) he didnt even play ,just handed in another england sick note. even after all this tho you ,still have to play him up top with rooney ,lardy and barry in the middle and the rest will pick itself .We need goals and unfortunatly heskey never has nor will be the supplier. Come on england!!!
Posted 22:51 21st June 2010
David Storey (Newcastle United fan) says...
England cannot play to thier potential in tournements.....Simple as that. Its got nothing to do with the formation, exact players on the pitch, long seasons etc. Its their state of mind. They have recently been playing teams whos players would not get into the premier league and most of them not even into the championship. They are the underdogs and have a mindset which allows them to play to thier potential. England will never get far in a tournament until this issue is resolved. Winning in 1966 was on home soil and so many teams have done that as it brings the best out of players. The most major part of their training should be with a sport shrink. Need I remind all about our failures in penalty shoot-outs....We would crumble for sure in this tournament if we got that far. The Germans on the other hand are masters at these..... They think differently. Maybe part of the problem is because we have a team of stars, we expect too much from them, especially in the press. I recall last world cup the german people saying they had the worst team for many years...and we all know what happened there. Our only hope now is we get some luck early in the next game and get a goal. This will open Slovinia and we will likely score again..........
Posted 22:06 21st June 2010
Ian Gallagher (Tottenham Hotspur fan) says...
I think Rooneys attitude has stunk during the last two England matches. If the manager wants to continue with 4-4-2 then he must use two forwards who know eachother (Defoe & Crouch) also bring in Joe Cole to balance the two sides up with lennon on the right with Gerrard/Lampard in the middle. Then the same back four except Dawson to replace Carrager.
Posted 20:47 21st June 2010
Rose Rose (Brentford fan) says...
I think most of the players in the England squad win major trophies , why bother with another one when they could be on a beach somewhere on a holiay which will probalby cost more that the average fan earns in 1 year. Pick some players who are hungry for victory from other top clubs I reckon you see an improvment on our pampered players out there. They should just come out and apologise to the fans, not Rooneys half hearted apology. I love England and always support them in all sport, but I hope they loose Wednesday , then I would not have to look at their sulky faces any more
Posted 18:16 21st June 2010
Tom Hallford (Coventry City fan) says...
If capello wants to stick to 442 I personally think he should drop heskey and woo shock horror Rooney and play Defoe and crouch. Why does everyone ride so much on Rooney, if any other player put the performance he had in the last two matches they would be dropped straight away and Heskey, well why is he even in the team. Come on sort it out.
Posted 16:59 21st June 2010
Youyou Youyou (Sunderland fan) says...
In theory , you are all expert in Football. Stop barking and give some Credit to ALGERIA who outplayed England. They played like Brazilians. England drew because Algeria were AWSOME. England were lucky to get a draw out of it. Stop barking !!!!!!!! VIVA ALGERIA
Posted 14:37 21st June 2010
Ryan Camm (Arsenal fan) says...
I think you got to go with 4-4-3 it would give good balance to the whole of the team. how can you put the best player by a mile on the leaft and play heskey.
Posted 13:05 21st June 2010
Brian Hamill (Celtic fan) says...
Does anyone else think that this World Cup may be proof that Wayne Rooney is not the world's elite calibre player he is so often promoted as? I have rarely seen an international forward perform so dreadfully for two games running against thoroughly mediocre opposition. Even if the service is not good and the team is not cohesive, a world-class forward should still be able to produce one slalom run or one incisive attempt on goal, at least. It's not as if he has been face with the Cannavaros and the Lucios so far, he hasn't. I see no evidence to suggest that Rooney is on par with guys like Messi and Ronaldo.
Posted 12:12 21st June 2010
Ian Smith (Tottenham Hotspur fan) says...
Lets stop knocking the manager. This is supposed to be our "golden generation" and yet 2 managers with proven records for winning tropheys around europe (and the wally with the brolly) cant make them into a team. Lets be honest and admit that we have no world class players, just a couple of descent players in Gerrard, Lampard and Rooney. They have all listened to the hype of the media and think they are world class when they are anything but!! Please come home now and stop embarrasing us all.
Posted 11:47 21st June 2010
Terry Deegan (Derby County fan) says...
Don"t be a muppet..put yer money on Slovenia it"s the only way you will be a winner with England !!
Posted 11:20 21st June 2010
Chris Smith (Manchester City fan) says...
Only one good thing came from the result against algeria and that was post game when Capello let the players share a solitary beer and have a 'team' disscussion on what has been going wrong. Hopefully now they will become a team. I have no doubt Capello is a world class club manager and has bought a well needed level of discpline to England, but now, he needs to let them be a team, treat them like winners and play to their strengths. If he doesnt then another world cup wasted and I dont think you can entirely blame the players. If they are unhappy then they will not play well.
Posted 10:56 21st June 2010
Malcolm Nicholas (Tottenham Hotspur fan) says...
This World Cup is becoming a really open affair, with so many surprises. However, the most surprising thing about England is that, like France, we appear to be turning into the Netherlands team from Euro 96. The worst thing about Friday's game was that it looked like the England players didn't want to get involved. If Wayne Rooney is so brilliant why doesn't he do more for the team when things are going wrong? What has happened to Steve Gerrard? And what gives John Terry the right to do what he has done? Rooney plays well at Man Utd because he knows the ball will always come to him at some point or another. Steve Gerrard, as Captain, should be made to watch Beckham's performance against Greece in the final qualifying match in 2001, and his own in the 2005 Champion's Leagure Final. I would send John Terry home for being an agitator who still thinks he should be captain and team spokesperson. I might be biased but Tottenham owe a lot this season to Defoe, Crouch, Dawson and Lennon. When they're fit, they are good lads. Capello should allow them all a chance in this game. We have nothing to lose. Sir Bobby Robson gambled in 1986 and brought in Gary Lineker against Poland. In one spell he ripped Poland apart and scared them. They never recovered. England won 3-0. Nuff said...
Posted 10:29 21st June 2010
Jake Mayo (Chelsea fan) says...
Seems the whole country knows it and i also agree 4-5-1 is the only formation to go with. We must drop Heskey and bring in Joe Cole...!! Think its time we all bite the bullet and give the armband back to JT.We need his leadership on field which also frees Gerrard to concentrate on doing his stuff up front with Ronney. James-Cole- Terry (c) -Dawson-Johnson-Cole-Barry-Lampard-Gerrard-Lennon-Rooney.
Posted 10:22 21st June 2010
David Edgar (West Ham United fan) says...
The whole country sees it is 4-5-1 with Cole in and Gerard pushed forward so lets hope Capello knows that and this is why he blocked a clear the air meeting ie not necessary and possibly destructive. As to the lack of spirit it seems players have been bored and become tense. Rightly, nobody wanted the WAGS and all that goes with that but perhaps that backlash has gone too far the other way. Rooney's form is a mystery - frustration perhaps. I think he is carrying an injury and if so there will be no improvement possible and that is a hard fact. Better to drop him and play someone fit than live in hope and go out of the World Cup. Finally - Aaron Lennon get your finger out! You took Walcott's place now show us all what you can do instead of pussying around.
Posted 10:17 21st June 2010
Anthony Woodall (Birmingham City fan) says...
For once, I more or less completely agree with Merson on this. The team were absolutely atrocious on Friday. As was said, the worst performance I've ever seen from England. There's no point getting on the players backs now but the fans after the game had every right to boo them off the pitch and I hope Rooney does as he should and apologises for his little tantrum at the end of the game. Capello needs to play 4-5-1 now, as so much is riding on one game. Not just our progression to the knock-out stages but the players belief that they can do it. With Joe Cole on the left, Aaron Lennon on the right, Barry holding, Lampard and Gerrard bombing forward from central MF and Rooney up top I don't think there is a team in the tournament that wouldn't fear us. Come on Capello, you've got one more roll of the dice! If England went out playing this way and giving it a good go I could handle it, but to go out without ever playing our strongest team would be heart-breaking.
Posted 09:51 21st June 2010
Matthew Baker (Southampton fan) says...
I totally agree with Paul's comments and in particular the shape of the team. I find it strange that Joe Cole has not had anytime on the pitch based on the problems we have faced during the last 2 games. I also find it dissapointing that Capello has not been prepared to change the shape during the games (these type of decisions identify the great managers and the avareage managers) I would change the formation of the team to 4-5-1 with Rooney up front, Gerrard sat behind him and Joe Cole on the left. However I would not officially name the team too early. I would let the player know well in advance but why let the opposition know. I am still confident that we will qualify as winners of the group. If we can put in a good performance and score 2 or 3 goals in our last group game it will give the team the confidence they are lacking and the support they so desperately need. Once in the knock out stages its a totally different game and beleive me no country will want to meet England, our defence is pretty solid and we all know the capabilities of our attack when playing well. We are still very much in this tournement, the team just need to beleive in themselves and the supporters need to beleive in their team.
Posted 09:10 21st June 2010
Geoff Wright (Tottenham Hotspur fan) says...
True we were awful but let's remember we are not the only Country struggling..In my opinion the whole thing comes down to a distinct lack of passion pulling on the white shirt,not ability.. We lack an Ince, Butcher or Robson kind of player..The nearest we have to that is Michael Dawson..The passion,committment and desire he shows week in week out is what is needed..Play him, Joe Cole & Defoe..We need a spark & some passion and hunger. How can we continue to play Heskey just to suit Rooney ??..We need to score GOALS.. Let's get behind the team and hopefully Wednesday will see us qualify for the last 16 & after that you never know..
Posted 09:06 21st June 2010