Friday, July 2nd
What a day it turned out to be! First of all we arrived in Port Elizabeth by private jet for a game that certainly lived up to the style.
For the first half it all looked like it was going to plan really and if youd've heard the Brazilian commentators near us jabbering away very happily at the break, you would've thought they were already in the semi-finals. After all when Brazil lead at half-time in a World Cup game, they just don't lose, do they?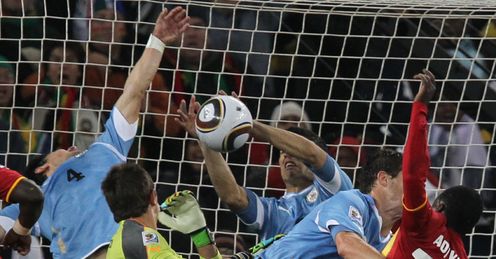 Well, it all turned on a flick of fortune off the head of Felipe Melo and from then on, Holland seized the moment. FIFA have given the goal to Wesley Sneijder - after all, his free-kick was on target - who then added the winner with a very rare header.
Then came Melo's sending off and while we had all been expecting a strong Brazilian comeback, it just never materialised. In the end you had to be impressed with the way they left the field in such a dignified matter though, even if they were upset at the red card.
It has led to several of my Dutch colleagues, many of whom were around for the Total Football of the 1970's and had rightly put Johann Cruyff and co on a pedestal, to have a rethink and realise that perhaps in Sneijder, Arjen Robben and Robin van Persie they have a set of players who can go on and even surpass that side.
It is not so much Total Football, but it certainly is Tireless Football and the performances of Dirk Kuyt have epitomised that. I think we are all seeing what Liverpool fans see week in, week out; he may play poorly one week and better the next but one thing that never changes is his attitude and his workrate - and that has summed up this Holland side for me.
It was also a wonderful day for Andre Ooijer. Here is a player without a club, who celebrates his 36th birthday on the day of the final, yet was thrust into a game against Brazil at the last minute. We, or rather my co-commentator Efan Ekoku, noticed Joris Mathijsen struggling in the warm-up and such was the confusion, Johnny Heitinga even went over to Bert van Marwijk to find out who he would be playing alongside in the centre of defence!
In the end, wearing number 13 on his back, Ooijer emerged from the tunnel and once they had come to terms with the early confusion that gave Robinho his goal, Holland went through and Brazil were heading out of South Africa on a private jet of their own.
We were supposed to fly back to Cape Town at 10.20pm after the game, but one of the joys of such luxury travel meant that a few phone calls to air traffic control and our slot was moved forward. In we jumped, slammed the doors and lo and behold we were back at the hotel having only missed the first 10 minutes of Ghana-Uruguay.
I was actually sat watching it in bed and in all my years in football, I can't think of such a dramatic and controversial end to a game. You all know what happened but what you might not be aware of is the absolute outcry out here against Luis Suarez.
Even this morning (Monday), one of the main Johannesburg papers is running the headline 'You cheat' and there is complete and utter indignation from an entire continent. Personally, I think what Suarez did is something most of us would've done in the same situation and the thing to remember here, is that it was dealt with by the laws of the game. He has received his one-match ban so for people, Suarez included, to liken it to Diego Maradona (more of him later) and the Hand of God is a little over the top.
I think the Germany goalkeeper Manuel Neuer is more guilty of cheating because he deliberately deceived the officials by gathering Frank Lampard's shot after it had crossed the line - and has since admitted afterwards that he knew it was over. You can understand Africa's indignation, but I think the only thing Suarez did wrong was celebrate the way he did when poor Asamoah Gyan missed that kick. I think his coach, Oscar Tabarez, should've sent him down the tunnel and told him to celebrate in the dressing room. The celebrations haven't helped matters out here, but believe me this will run and run!
Saturday, July 3rd
The giant bathtub in Cape Town was positively overflowing as we arrived - after a live chat on Sky Sports News with Nick Collins - to see Germany and Argentina do battle. And again, I don't think anyone expected what was to come.
Within three minutes Argentina had been Mullered. I know this is a phrase we are all familiar with in England, but my American colleagues had never heard of it, so maybe having used it during the England game, I will go down as coining a whole new expression across the pond!
I have been trying to find the origins of this - to no avail - and if I am to go down in American linguistic history I really should know, so if you can help, please fill in the feedback form below!
It was certainly a fitting phrase for the game, though. I have now covered three of Germany's five games at these finals and they have scored four in all of them - and that is on the back of the last time I saw the same players, beating England in last summer's European Under-21 Championship final, when they also scored four.
It is an amazing sequence and there have been amazing performances: Bastian Schweinsteiger gets better with every game, we all know about Mesut Ozil and the other youngsters, but what about Miroslav Klose? He couldn't buy a goal, or even a game, in the Bundesliga and here he is level with the great Gerd Muller with 14 finals goals, just one behind Ronaldo.
Maradona of course will forever be associated with the World Cup, but I do think it highlighted his inexperience as a coach because he had no answer, no change of plan, when his side started getting overrun. Before the game, it was all about El Diego as he strutted around the pitch in 'look at me' fashion, being interviewed behind the goal and going up to every one of his players to talk to them in the most dramatic way. You can't help but watch him, but as someone that was there in the Azteca Stadium in 1986, I have to say there was some satisfaction seeing him lose a World Cup quarter-final!
Leonardo DiCaprio was also in attendance and I am led to believe his mother is German, but he has also been spotted in our hotel lobby and having relayed this news back to the Tyler household, I now have another World Cup mission to undertake. Both of my children have degrees in drama and they have told me to track Leo down and tell him he is simply the best actor on earth! So that's Robben Island, Ruud Krol and now Leonardo DiCaprio on my things to do list and time is running out. I guess it's a case of Catch Me If You Can!
We then watched the first part of Spain v Paraguay at the airport before boarding a plane that included World Cup legend Lothar Matthaus. Of course we were blissfully unaware of the drama going on and although the pilot told us it was 1-0 as soon as we landed, we had no idea about the penalty. Or the retake. Or the saved one at the other end!
We should've known David Villa was the man that got the goal but you wouldn't have thought Oscar Cardozo would've missed his given the nerves of steel he showed in the shoot-out against Japan.
Sunday, July 4th
Today was arguably the footballing highlight of the World Cup! Grant Best, one-time Sky Sports, now at ESPN, had arranged a shoot with five of our pundits to explain what a player actually goes through in a penalty shoot-out.
Ruud Gullit, Steve McManaman, Roberto Martinez, Alexi Lalas and John Harkes were all to walk from the halfway line, telling us what goes through their mind, talking about their techniques before trying to beat Shaka Hislop, who we had commandeered between the sticks.
It all went well but for me, it got even better when after the shoot, an impromptu eight-a-side game took place, with those very same players, a few crew members and yours truly. I was on the Martinez- Harkes team against McManaman, Gullit and Lalas and I am being completely objective when I tell you we were winning by a streak - until those dreaded words 'next goal wins'.
This was the cue for Ruud, who had been in goal after knee surgery, to come out on pitch and some 20 minutes later, up popped McManaman with the winner. The celebrations, led by Ruud, were akin to those that took place after Holland won Euro 88! We had been joking all game that he really needed a dreadlocked wig to look the proper part, but even though they don't train and perhaps find it harder to run, the professionals never lose that winning appetite!
In fact, one of the former pros, who shall remain nameless, actually whispered to me on the bus on the way home somewhat indignantly: "Martin, we really won that you know, we were at least three goals ahead!"
Regardless of the scoreline, it really was a thrill to be playing with such great names from the game - even if my old legs are paying the price today! I would say my role was plugging the gaps, although my crowning moment was nipping the ball (I use the sense loosely) past the great Gullit in goal and teeing up a nine-year-old from Soweto who was also on our side, to score from on the goal line!
We also used the Jabulani at altitude and I can honestly say I don't know what all the fuss is about! It is very, very light, but we soon mastered it, Shaka didn't have any problems with it and even John Harkes saved a penalty when they swapped places. The sight of an American crew member wearing a Michael Ballack Germany shirt and missing a penalty was surreal enough, but just to look round and be able to share a pitch with some great names is a memory that will live long.
You will see a promo coming up on skysports.com for the new season when Andy Gray, Jamie Redknapp et al, take on a bunch of children in a park game and although I kept a low profile in that match, I loved every minute of this game - right up to the well-earned vanilla milkshake at the end.
For the record it ended 8-6 to us, but of course as is the hard and fast rule, next goal won. And we somehow lost. So if Ghana and the whole of Africa feel cheated, if Paraguay are struggling to come to terms with their exit and Brazil are hurting, they should try losing a game when they actually scored two more than the opposition!
Comments (23)
David Huisman (Liverpool fan) says...
I think the biggest problem is the punishment , 1 game ban , it doesn't stop the player's from diving/handling the ball/ goalkeepers tripping strikers and all the other things that happen . What is the answer ? I really don't know but that would make a far better debate . The sending off did not help Ghana 1 bit neither did the pen , so he got away with murder , he has stolen ( once again ) what was rightfully the African continent place in the sun and that is the tragedy
Posted 08:30 8th July 2010
Dave Johnson (Blackpool fan) says...
Lets be serious about the SUAREZ incident.... He made absolutely no attempt to use a legal part of his body to block thet ball off the line... That is outright cheating in its most disgusting form!! The incident (like the Lampard goal that never was) has highlighted major floors in the laws of he game we all love so much... Suarez only did what he did because there was a possibility he would get away with it... THERE SHOULD BE NO WAY THAT CHEATING LIKE THAT CAN PAY OFF!! Even worse, he gets a 1 game ban meaning we will see him at this world cup again.. I also think its true to say that had that happened t i stronger force in national football, the whole ting would still be a bigger issue than it is today... which is also wrong!!! Does fair play only count with the big footballing nations of the world??
Posted 10:39 7th July 2010
Lyes Ferrat (Liverpool fan) says...
Suarez is a winner, how on earth people say he is a cheat i don't buy that he's done what all players do during football games witch is fight all the way to win.
Posted 18:12 6th July 2010
Martin Mcconville (Manchester United fan) says...
See Enguah (Liverpool fan) says... There was a whole lot of fury about henry's handball from the english media, but i do not find that same fury towards suarez. Is it a case of double standards? The big difference is Henry DIDN'T get send off or punished in any way.
Posted 17:45 6th July 2010
Christian Tachie-djan (Chelsea fan) says...
I strongly believe the Ghana - Uruguay game is a typical case of when Fifa has to review the rules of 'the beautiful game' which is turning ugly. A penalty goal should be awarded in such a case. I think the Ghanaians did themselves and the whole of Africa proud by getting to the quarter final stage a st better than what they chalked in the former edition staged in Germany - knock out stage. I believe they will make it to Brazil where they will surely get to the semis. (It is a prophecy and a soothsaying) I would also want to wish the Ghanaians better luck next time as Gyan was unlucky to have missed from the resultant penalty. The referee did what he had to do under the current fifa rules. We need change @ fifa.
Posted 16:23 6th July 2010
Man Untied (Manchester United fan) says...
get over it! so suarez handled the ball and prevented a goal, isnt that what goalkeepers do everytime they pull down a playing going past them and prevent a goal? i dont hear the same furore about that and if that would of happened would he still be cheating? no he would be trying to prevent a goalscoring chance. Just like Suarez, and any other footballer in the same position.
Posted 12:58 6th July 2010
Andre Valentine (Manchester United fan) says...
i think that 'mullered' is just a loose term for when something has been put through a muller, which is a tool used to grind and mix things like grain against a slab of stone. so if they were 'mullered', it means that they were totally ground to little pieces, as was the case with Argentina.
Posted 10:47 6th July 2010
Garry Paterson (Motherwell fan) says...
We need to avoid knee-jerk reactions. I was sad to see Ghana lose, and maybe a "penalty goal" would have been fair, but where do you draw the line if a player is 3 yds off the goal-line and the ball comes at an angle, maybe missing the post? Poor old ref that has to adjudge that one! I think that the "2 extra refs" trial from last yr's Europa League neeeds to come in now - it would also stop all of the jostling at free kicks/corners that is so annoying.
Posted 10:14 6th July 2010
Mark Bollands (Middlesbrough fan) says...
how is it classed as cheating? ghana got a penalty and suarez was sent off. that is the end of it. If the pen was scored would everyone be moaning. no they wouldnt. all people were doing is jumping on the ghana bandwagon coz they were the last african country left. And andy townsend etc are wrong is saying suarez's handball was as bad as maradonas hand of god. how? maradona didnt get sent off and his goal stood as a result of cheating. suarez handled and got sent off, and gave the opposition a OPPORTUNITY to score!!! and that basketball idea is just pathetic!
Posted 09:51 6th July 2010
Edwin Petersen (Manchester United fan) says...
I think what Suarez did was an utter slap in the face to FIFA's initiative of fair play. It was ,to be quite blunt, disgusting. I agree that he was punished in accordance with the laws of the game, however if this had happened to a "bigger" force in world football (point in case being the Hand of Maradonna) it would have caused an outrage and like the controversy with England's goal that never was, I can assure you that the furore would have been much bigger. To better put his actions into perspective, look at the scenario: Suarez and Muller (Germay) will miss their respective semifinal matches). Muller for an accidental handball which had absoluely no effect on the match result or the outcome of the tornament, and mind you taht he recived a yellow card only. However he will be missing the semi-finals. Suarez, will also ONL be missin the semi-finals for an act of "football terrorism". Although the laws have been enforced, i think that Suarez's actions (handball and idiotic celebration after the penalty miss) and his subsequent hero status backed up by his coach will long serve to remind us of how Uruguay cheated their way to a World Cup semi-final spot.
Posted 09:47 6th July 2010
Paul Harding (Aston Villa fan) says...
Great commentary and I am glad you are enjoying South Africa. Forget Leonardo DiCaprio, How about Charlize Theron. Although I think at this world cup there were definitely more "Oscar" contenders on the pitch than in the stands. I agree about awarding a "penalty goal" instead of a "penalty kick" It happens in rugby and other sports. You only have to work out the ratio of penalty misses at this tournament to realize that a penalty does not necessarily mean a goal
Posted 07:14 6th July 2010
Brad Mitchell (Manchester United fan) says...
Suarez clearly has no plans on ever returning to Africa after this World Cup, diving against SA in the group stages was bad enough, but now this... I also think I would've done the same in such a situation, however the celebration on the sidelines and his later comments to the press are where he crosses the line...
Posted 06:42 6th July 2010
Aaron Gandari (Barcelona fan) says...
I ask you all this: A 12 yr old watching his first world cup see's a player like Suarez do anything to gain an advantage for his team, what kind of message does this send out about our game? Mr Tyler you can say that most people would have done the same but if the attitude is win at all costs then players who dive and cheat the referee should not be condemned..
Posted 05:32 6th July 2010
Michael Murphy (Chelsea fan) says...
In Rugby if your "foul play" deliberately stops what would be a clear try its given as a penalty try even though no score was made. There is an argument for incidents like the 'Suarez' one for refs to say its a goal i.e. if he hadn't hand balled it, a goal would have been scored. I can see situations where its not so clear, the Harry Kewell incident for example. But the award of a 'Penalty Goal' would be much more equitable and may make players think twice about being sent off for no gain.
Posted 05:09 6th July 2010
Enzo Coppola (Liverpool fan) says...
I thoroughly enjoyed Martin Tyler's article about his comments of the world cup over the last few days. Although our national team (Bafana) did not feature too well from the 2nd round, as a South African I am very proud that there are so many luminaries in our country at the moment, enjoying themselves. Martin Tyler is by far the best tv commentator ever and long may his fantastic work continue! I totally agrre with his comments that the outrage by the local media here towards Luiz suarez is way over the top, and spear-headed by ignorant people! For my money, the Netherlands will defeat Germany in the final.
Posted 04:44 6th July 2010
Dennis Smedts (Arsenal fan) says...
Absolutely ridiculous that people call Suares a hero. Thierry Henry was slaughtered by you people for making a handball versus NI and Suares is now a hero. Please some explain to me why Henry is a cheat, and Suares is a hero when they both made handballs for their country. I'm waiting for someone to give me a proper answer.
Posted 21:14 5th July 2010
Terry Kelly (Manchester United fan) says...
Martin, Excellent column. I believe you will find that the word "mullered" comes from the prison slang of being beaten up badly or killed. In terms of football it would mean badly beaten but in other terms could mean destroyed as in "the fence was mullered when the car went through it". There are various explanations on the WWW. As for the World Cup and Suarez he got his punishment and the team got away with it. Gyan should of scored for Ghana......simple as that.....
Posted 21:03 5th July 2010
See Enguah (Liverpool fan) says...
There was a whole lot of fury about henry's handball from the english media, but i do not find that same fury towards suarez. Is it a case of double standards?
Posted 20:44 5th July 2010
Eric Doe (Liverpool fan) says...
As Suarez was dealt by the rules of the game so was maradona's hand of God, because by the rules the referee can not punish any player for an incident he did not see. To say that everyone would have done the same is cheap and insult to everyone's intellect, perhaps its OK to say that in times of desperation whatever you do to survive is OK even if it illigal and for self glorification as in this case.
Posted 17:31 5th July 2010
Alisher Alinem (Manchester United fan) says...
Dustin Duerson I would risk like Suares. He did it for his COUNTRY. I respect him, really! His risk has payed off for him. I hope every English player has the sam attitude as Suares. I was gutted when my team, England was eliminated by Germans and by the Officials.
Posted 15:38 5th July 2010