From watching Sky Sports News it's clear that England's tame exit from the World Cup has depressed the nation and there is plenty of sadness over here in South Africa as well.
The people here won't miss our team or our football but the England fans have been a huge hit.
It's unanimously agreed that England produced the best atmosphere at the four venues they visited and will be sorely missed. The players let them down and there's no doubt about England's player of the tournament: the fans.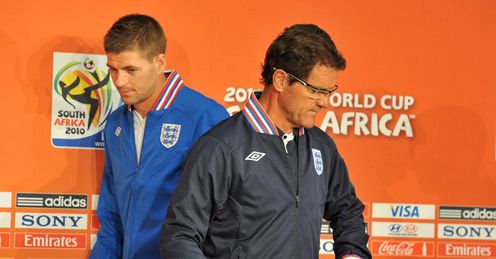 There are many reasons for England's demise, which have dominated the agenda on the World Cup Report this week. One standout explanation for me was the lack of fun and bounce in the squad.
We have been with the Ghana squad this week who have terrible training and hotel facilities compared to England but are having a ball and playing like a team. They let us in to watch training whenever we like. Can you imagine England doing that?
It can be no coincidence that happiness and relaxation has led to success. How many England players did you see smile before, during or after a game?
Ed Chamberlin
Quotes of the week
Diego Maradona is bonkers at times but his players clearly love him and are enjoying their football, Kaka is playing with a smile, while David Villa can't contain his excitement.
It can be no coincidence that happiness and relaxation has led to success. How many England players did you see smile before, during or after a game?
Our ante-post bet on the Netherlands at 12/1 is making me smile and the good news is that they have cruised through to the quarter-finals but the bad news is that they now face the mighty Brazil!
Remember you can see me live on the World Cup Report every day on Sky Sports News, follow my thoughts at www.twitter.com/skysports_ed and for more fun and games out here make sure you watch Sky Sports News Plus this week.
10/3 Netherlands, 11/5 Draw, 10/11 Brazil (Friday, 3pm, Port Elizabeth)
Brazil are looking as brilliant as ever and captured everyone's imagination once again at a World Cup. Should they be odds on though? I don't think so as the Netherlands look solid and I'm sure it will be a very tight game.
Evens Uruguay, 9/4 Draw, 3/1 Ghana (Friday, 7.30pm, Soccer City)
I'll be cheering on Ghana as it would be great for the tournament to have an African country in the semi-final. To think England thought they were under pressure - Ghana have the hopes of an entire continent on their shoulders!
5/4 Argentina, 21/10 Draw, 12/5 Germany (Saturday, 3pm, Cape Town)
I'm hoping to get to this game on Saturday and can't wait! It's a tough match to call as I sense neither side has been properly tested yet and flattered by some of their results. South Africa has fallen in love again with Maradona!
4/9 Spain, 3/1 Draw, 13/2 Paraguay (Saturday, 7.30pm, Ellis Park)
Hard to oppose Spain who look to be getting on a roll again after a slow start.
Comments (4)
Dennis Hillyard (Chelsea fan) says...
Much has been said about the fact that the more successful countries to date in the WC, appear to be playing with a great deal of freedom and expression that is also reflected in their pre match training etc. and there is a lot to support this argument. On the other hand and even at the qualifying stages, England always appeared to be playing as though they were afraid to make a singl mistake. The last time that England played with any style and expression was under Terry Venables and I include an away 4 - 1 trouncing of Holland. Venables was developing a really good squad and without exception all of the players loved to play for him while at the same time, he had always been the peoples choice rather than the FA's. Coming to the end of his contract he had the temerity to ask the FA for clarification as to his future as he had recevieved a number of huge offers both home and abroad. Naturally the FA always having the future of our national game as well as the fans at heart, SACKED HIM !!!!!!!! And we wonder why the English game at every level continues to luch from one disaster to another. There is a call to appoint 'real football' people at the FA. Unfortunately therin and if correct lies a major problem. The FA appoint their own members so I really cannot see this ever happening. After all and over the years Cloughie was a superb man manger, Malcolm Allison a brilliant and inventive coach, Tony Carr and Dario Gradi have continued to produce a bev of top class players for their respective clubs so what do they each have in common ? They were NEVER considered for a top England job !!!!!
Posted 19:23 2nd July 2010
Adrian Viles (Manchester United fan) says...
Boss has to go hes only in it for the money he did not care how far England went in world cup as long as he got payed. why dident he stop both of Englands central defenders from pushing forward so much in the 65minute and handing the game to Germany why were both central defenders in germany box as frank Lampard took direct free kick at goal there was no point in them being there the germans were licking there lips at England tactics and they got destroyed on the break,if a armchair fan can see this how come top England manager cannot?
Posted 00:15 2nd July 2010
Raj Sagoo (Liverpool fan) says...
I would like to make a comment about England football team. James in goal, defence Johnson, King, Terry, A.Cole, Midfielders on the right there is a choice, wright-phillips, lennon, walcott, beckham. Beckham when fit is first choice for me. Central midfield would be barry, and hargreaves/scholes. I would use lampard possibly for the qualifiers but not in a major tournament. He has plaed two world cups and not scored one goal. I would rather have hargreaves or scholes out retirement in there. Left midfield would be ashley young. I was thinking in the world cup why he was not there. I do not think he was even in the original squad of 30 players. Up front I would use gerrard in behind rooney.
Posted 21:52 30th June 2010
Bryan Griffith (Manchester United fan) says...
Capello needs to go, We need an English manager, The Under 21s should now become the national team. We should line up friendlies to assess the potential of our young players and work/coach them for the Euro games in 2012. and into the next world cup.If players dont represent the country just for the money lets put them on performance related pay when representing the country. Any of those who went to South Africa should have no automatic selection irrespective of status.
Posted 20:04 30th June 2010