Don't think for one second that this is an easy game for England. I have heard plenty of people saying 'oh, it's only America' this week, but I couldn't disagree more.
This is a side that has been to World Cups before, has plenty of players with Premier League experience and this is the side that beat Spain in the Confederations Cup this time last year.
They were also leading 2-0 against Brazil in the final and although they ended up losing 3-2, that should tell you that they will be anything but a pushover.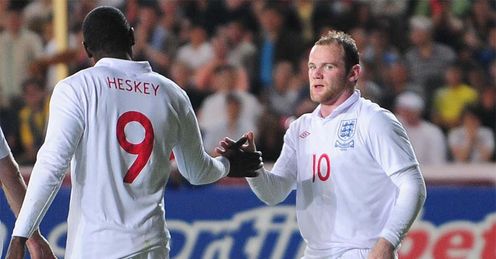 America are always a well-organised side, difficult to break down. And they have some genuinely decent players; Landon Donovan showed he can mix it with our players, Clint Dempsey is a tidy player I like and in goal, Tim Howard is one of the better in the Premier League.
This might be the game we all end up talking about, but it will be England's toughest in Group A. Of course, if they lose, it will really put the pressure on because in big tournaments all you are looking for in that first game is the three points.
Sometimes as a coach you have to take players' thoughts and feelings into account when picking your side - and Emile Heskey is Wayne Rooney's preferred striker partner.
Jamie Redknapp
Quotes of the week
I remember in Euro 96 we drew with Switzerland first up and before I'd even got in the dressing room, I remember thinking that immediately put us on the back foot. We all want to see England play well but this is the World Cup and all that matters is getting off to a winning start. There will be nerves of course, and it might not be pretty, but the players needn't care about that; you don't get any medals for playing beautiful football.
That is why Fabio Capello's selection is crucial and it will be interesting to see how he approaches this game. I was talking with my dad this week about what formation we would play and he actually said if it were him in charge, he would be aggressive, go with a 4-4-2 from the off and really try and get at USA. He thinks this game is there for the taking.
Dilemmas
That surprised me a bit, but on reflection he might have a point. And having opted for a 4-4-2 in the three warm-up games, you'd think that is the way Capello is going to go. He says he knows his starting XI, but it has not been at all straightforward for him, not at all - and there are still one or two major dilemmas, for me anyway.
For the first time I can remember England come into a World Cup without a clear number one. Think Gordon Banks, think Peter Shilton, think David Seaman; our keeper has usually picked himself. This time though, it could be one from three. Personally I would go for David James; he is the most talented keeper I have played with or against, although there is a concern about his concentration.
Playing for England you go long spells without doing anything and Jamo is someone who loves to be involved, so I think boredom becomes a problem. But it's the first game of a tournament and I would go with experience. There's no doubt Robert Green is good enough and Joe Hart is obviously the future, but I wonder what it would do either of them if they messed up in the opening game.
Bet on who you think will start against the USA
The back four pretty much picks itself. Glen Johnson will be the right-back - although I heave heard that Jamie Carragher has looked very good in training - then it's John Terry, Ledley King and Ashley Cole.
Different
With Gareth Barry being out, it has to be Steven Gerrard and Frank Lampard in the middle, but it will be interesting to see who gets those wide positions. I still think we would be better off with both Adam Johnson and Theo Walcott in the squad because they both offer something different; I just hope it's not a decision we end up regretting.
I would go with Aaron Lennon on the right and Joe Cole on the left. I know it's far from ideal - which is why I would have taken Johnson - but Joe has played there before and in his namesake Ashley, he has the best attacking left-back in the tournament behind him.
I am all right foot, but have actually played on that left-hand side for England myself and do remember being pretty lonely - so lonely I can't even remember who the full-back was behind me! If Joe does drift inside, he knows Ashley will be bombing down that touchline.
Then it's all about who plays up front. I wouldn't mind if Peter Crouch got the nod alongside Wayne Rooney and his goal record for England supports that. But sometimes as a coach you have to take players' thoughts and feelings into account when picking your side - and Emile Heskey is Wayne's preferred opponent.
Click here to see all Jamie's Red Hot tips
England want Rooney to get off to a good start in terms of goalscoring and I am sure the coach has spoken to him, and knows that he is probably more comfortable with Emile alongside him. You want your main men to hit the ground running and as a striker you want to get off the mark as quickly as possible. But above all, you want to finish that first game with three points on the board.
Jamie's judgement
England win - All that matters is the result here. The players will want to get this first game going and they will want to make sure they don't do anything silly. My dad might think it's best to attack the USA but I can't see Fabio Capello doing that; I wouldn't be surprised if England start off a little cautiously, then grow into the group and then hopefully the tournament. I do think the USA are tougher than people give them credit for and they are well-organised and know what they're doing. I don't think we're in for a goal-fest but I expect England to nick this, 2-1.
Jamie's gem
Steven Gerrard (England) - It's the opening game, a huge occasion so you really want your captain to show the way. I have been watching Stevie this week and like the way he's talking; he's cool, he looks ready for it and with those messages from the troops, you can just tell he knows what this means. He has sent the right message out, he has shown that passion and although people think he's surly and miserable, believe me that is not the case. And he also has genius in his feet.
Jamie Redknapp is part of Sky Bet's World Cup coverage. To get his predictions, tips and watch video clips click here.
Sky Bet are also giving their customers a loyalty bonus. To qualify simple bet £10 a day on 10 days between June 11th and July 12th and you will receive a £10 free bet. Click here for more.
Comments (28)
Derek Turner (Tottenham Hotspur fan) says...
Is it only me but isn't those loud and stupid horns being blown constantly ruining the watching of he games. How can you watch a game with the sound turned down. I'm afraid this will ruin the whole spectacle of the world cup as the fans of other coutries are being drowned out.
Posted 15:57 13th June 2010
Dj Voter (Fulham fan) says...
So we're calling Green BP over here......fantastic lad he is!
Posted 13:13 13th June 2010
Nigel Guest (Tottenham Hotspur fan) says...
Hi re- USA match 1stly Gerrard shud not b captain it shud b given back 2 Terry. Gerrard & Lampard do NOT play well 2gether - NEVER HAVE - Gerrard gets in the way of other players & his passing % is poor.. Errors always happen but in other teams the outfield players & strikers seem 2 score more goals. I think we shud av an English manager. Capello got all wrong with Milner (who cud av been sent off) & King. Why did he take Wharnock (6mins 4 his cap) & not Walcot. Why did the team not utilise the prower & strength on the flanks. In the end team passion is seriously laking. Nigel Guest
Posted 12:34 13th June 2010
Philip Boulton (Birmingham City fan) says...
Having now watched the england game and seen a lacklustre performance with a 1-1 scoreline which the u.s.a. deserved l would like to say how impressed with Wayne Rooney l was seeing him keep his temper in check and not being helped by the referee, booking Gerrard for playing the the ball with his foot ?? and doing nothing when Heskey headed the ball and got a knee in the face ?? .This is what happens when the ruling body F.I.F.A. shows it,s bias against anything English. All l say is it is going to be a hard slog but England will do it we will probably have every player booked due to interferancefrom the head of fifa but what the hell prove them wrong and WIN it.
Posted 11:56 13th June 2010
Dean Pinnington (Liverpool fan) says...
Yes Robert Green has failed us, but what concerned me beyond soft lad is that England's control of the ball was terrible. Technical inefficiencies have let us down on the biggest stage, Robert Green produced a school boy error by not positioning his body correctly, and Sean WP stood out for his inability to control the ball enough times so that we could build considered attacks. The passion is there, but the basics don't appear to be.
Posted 09:36 13th June 2010
Kevn Higginbottom (Arsenal fan) says...
Post game comments...spookily prophetic insight into the outcome Jamie! USA proved a formidable opponent, although England outplayed them. This game should be a good awakening for the next two. This tie may turn out to be a good thing. Sure hope so!
Posted 06:41 13th June 2010
England Suck (Manchester United fan) says...
when are you going to get it into your thick heads england are far from the best team in this tournament they do not have the very best players in the world if they did then why exactly is it that i struggle to name more than one maybe two englishmen to make anything of an impact in any other leage in the world?! you no it to be true! love you x
Posted 17:50 12th June 2010
Dave Larkman (Hull City fan) says...
Being a Hull City fan and a USA citizen, I have watched Altidore a lot yes he did not score many goals but he gave many a center back the run around including John Terry. He is as least as good as Heskey another non goal scorer.
Posted 17:46 12th June 2010
Anth Harrison (Sunderland fan) says...
The best defence is attack and England are are notorious for not being able to hold on to a 1-0. so i reckon the lads need to go out all guns blazing and show the rest of the world that we mean the biz. I´m living in Germany at the moment and alot of my German friends reckon we´re gonna do it this time and so do i and so should you!! C´MON ENGLAND!!!!!!!!!!!!!!!
Posted 15:24 12th June 2010
Bob Pearce (Liverpool fan) says...
It looks as if I will have to watch this World cup with the volume off, how the players can stand that bloody aweful noise is beyond me, It totally spoils the games
Posted 13:58 12th June 2010
Danny Jordan (Arsenal fan) says...
Lets hope we can enjoy the game without those annoying vuvuzelas horns which are killing the atmosphere. Fifa has to do something about it...
Posted 12:33 12th June 2010
H Thompson (Arsenal fan) says...
Lets be realistic and give USA the respect they deserve. They are a workmalike team, and Donovan and Dempsey are capable of moments of magic. However there are some seriously weak links. Onyewu, Spector, Altidore have all tried their hand at the Prem and look third rate. USA have a chance because they're well organised and they work hard, but man for man England totally outclass them. Capello has them well organised and they've been training at high altitude 15mins from the stadium for a full week. England should win by two goals.
Posted 11:48 12th June 2010
Kevin Bell (West Ham United fan) says...
I am in agreement with the attack minded 4-4-2 formation for the USA game. I am by no means saying that we should take the US lightly, as they have shown in the Fed Cup, but England are the better side with better players and a top notch coach! I predict England 2 USA 0, COME ON ENGLAND!!!!!!
Posted 11:45 12th June 2010
Joe Kesson (Manchester United fan) says...
I dont think is going to be an easy game but i believe we will win , we have some of the best players in the world at the momen , terry . gerrard , a cole , rooney so i think we can do it . We just need the boys to perform how they do against each other in the PL. this time ITS COMING HOME !!!!!
Posted 11:38 12th June 2010
Mick Buttery (Manchester United fan) says...
Jamie you mention heskey is rooneys preffered partner..is there a reason for this ,cos i would'nt partner him painting my house...he'd fall off the ladder..actually would make a good painter.he does something then stands back and admires it
Posted 11:09 12th June 2010
Mark Olmstead (Chelsea fan) says...
looking foward to a great match tommarow with no injuries for either team go yanks!
Posted 08:08 12th June 2010
Sam Rosado (Chelsea fan) says...
Seeing as how I can't sleep in anticipation of this match I wanted to see what they were saying across the pond. I'm glad to see the US getting those slivers of respect after the Confed run. But with that respect comes increased challenges as teams actually take you seriously in matches now. I have no doubt England will bring their all against us. Wishful thinking would have the US win 2-1. Realistically though, I agree with most of the commenters with a 2-2 draw. As far as how far the US will go. Again, wishful thinking would have the US reach 3rd place. Realistically I can see the US making it to the quarterfinals if we play at the top of our game without a moment of relaxation....
Posted 06:59 12th June 2010
Ben Godfrey (Leeds United fan) says...
Jamie. Im an american man and I think that we will beat you tomorrow. Landon Donovan has been outstanding for LA Galaxy and I think with Ledley King at the back, he has every chance to smash in a goal or two. 3-1 USA, Woop Woop
Posted 04:44 12th June 2010
Josh M (AFC Wimbledon fan) says...
USA!! I think the Yanks have a pretty good shot to get a point out of this.
Posted 04:25 12th June 2010
Matt Hollis (Manchester United fan) says...
The problem you mention Jamie, regarding Jamo's concentration, Hart and Green have also had to concentrate all game every game for their clubs, so what are their concentrations going to be like after long periods of inactivity. And to the rest of you guys, Capello is the manager, he knows what he's doing and is paid well to do so. Stop thinking you know better, none of you could lead Real Madrid to the La Liga title after long years on Barca dominance. That's exactly the kind of man I want in charge of my country, go Capello! COME ON YOU THREE LIONS!!!!
Posted 03:08 12th June 2010