A semi-final place would be more than both of these teams probably hoped for - but what an achievement it would be for Ghana.
I am delighted we've still got an African team in the tournament. I think it's great for football across the world and it's what taking the World Cup to so-called less obvious places as it were, is all about.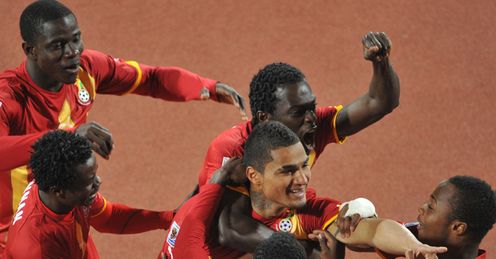 I think it's fair to say the other five have been found out a little, for one reason or another, but for me Ghana have got the balance right.
They do set themselves out to defend and like to play on the counter and it has worked well so far. And remember they have got this far without their talisman, their powerhouse, Michael Essien.
It's not like Germany losing Michael Ballack because Essien is a big, big player, their captain and their driving force. Had he been fit, you wonder just how far they might go. But give Milovan Rajevac credit, he has had adjusted his side very well.
I think it's fair to say the other five African sides have been found out a little, for one reason or another, but for me Ghana have got the balance right.
Jamie Redknapp
Quotes of the week
They play one man up front and they know how to do it. And in Asamoah Gyan they have a guy who knows what he's doing up there. He works hard, he works the whole line and as we saw against Germany, he knows where the goal is. The rest may be a little slow getting up there to support him, but those Uruguayan defenders will have their hands full.
Spectacular
But they are another side that sets themselves out not to concede first and then they pretty much let Diego Forlan and Oscar Suarez go and do their thing. And to be fair, it has worked.
Forlan always seems to be hit and miss in an extreme sense. He can blast one 30 yards over, then you see him put one in the top corner from 30 yards out. And Suarez scored plenty of goals in Holland, but then again so did Mateja Kezman.
I am sure one or two Premier League managers will have had a look at him and maybe been put off by that, but he's done himself proud in South Africa. He's got the flicks and lay-offs and as he showed against South Korea, he can get the tap-ins and the spectacular goals.
Bet on who will be the top scorer
Maybe Uruguay have the edge when it comes to that, but they are quite a young side and that might work against them in a big, big game like this.
Ghana might just have a bit more know-how where it matters. John Mensah and John Pantsil are vital to their defence, although they will miss the younger centre-back Jonathan.
And if he's fit, Kevin-Prince Boateng is a big player for them as well. I have spoken to my dad about him and I know he does have some regrets about letting him go early because this is a lad that has a good engine, two good feet and as we saw, can score a goal. If only he could find some confidence from somewhere!
Jamie's judgement
Ghana to qualify - I am not sure they are going to do it in 90 minutes and it might be that my heart's ruling my head a little here, but I would love to see them get through. They seem to be growing into this World Cup game-by-game and I do think they might have that extra bit of experience, which will help. I'm going for them to win, maybe even on penalties.
Jamie's Gem
Asamoah Gyan - He's already got three goals and you can tell he's enjoying himself. He knows what's expected of him in that lone role and he does it very well. He is big, strong, quick and can hold off defenders and if you give him half a yard, he'll have a dig at goal, don't worry about that.
Comments (4)
Dennis Osei gucci (Manchester United fan) says...
wow ok jamie i believe Ghana will win if we capture the midfield...where will forlan and suarez be if they dont get the ball.Ghana o Ghana baaabiara awu
Posted 15:42 1st July 2010
Carl Davies (Aston Villa fan) says...
I think this could be a case Jamie of ' the heart ruling the head' because i favour the South Americans to progress here. In my opinion Uruguay come into this match in much better form than Ghana, factor in the enormous pressure that might be felt by Ghana as the african continants only surviving team, and Forlan and co could take advantage. Against the USA i felt Ghana were defensivly unstable against average world cup players. The extra class in the Uruguay line up is noticable, although defensive rock Godin is out of the game. Lugano has cought my eye in central defence and there is nothing more i can add on Forlan and Suarez that can't have already be seen in their performances. 1-0 to Uruaguay for me and evens is a very tempting price.
Posted 14:24 1st July 2010
Tarun Lakhani (Manchester United fan) says...
Jamie, truly said about Ghana. i feel so much passion for the black stars, probably because i was born in ghana. They have already done the county and the continent proud. As much stress the being in the last eight might be, a whole continent is banking on them to progress, however it may be. I just hope they keep their heads on theirs shoulders and move up and down the field as a team. i just hope what happens in africa, stays in africa! Cheers!
Posted 11:48 1st July 2010
Craig Laing (Middlesbrough fan) says...
unfortunatly i have 2 dissagree with jamie on this 1 cant see anything but a uraquay victory
Posted 10:33 1st July 2010