The World Cup really starts to hot up now - and whenever these two meet it is usually something special.
Both Holland and Brazil have, so far, lived up to expecations and with all due respect to Ghana or Uruguay who play the winners of this, I think it's fair to say a place in the final is up for grabs here.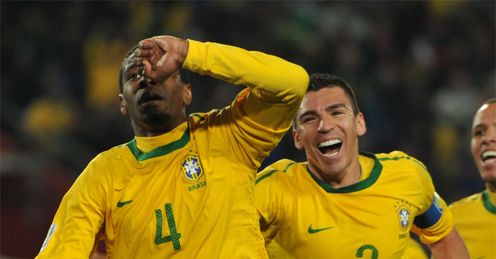 And to be fair, you wouldn't be disappointed if either of these sides got there, although I have to agree with the odds and say Brazil are the favourites.
They might not be what we are perhaps used to, but I have still enjoyed watching them. They are so efficient, so well-organised and they have the look of a Jose Mourinho side about them.
Brazil might not be what we are perhaps used to, but I have still enjoyed watching them. They are so efficient, so well-organised and they have the look of a Jose Mourinho side about them.
Jamie Redknapp
Quotes of the week
They still attack like Brazil have always done and with Kaka, Robinho, Luis Fabiano and if fit, Elano in there, you know they are capable of getting goals - and good goals at that. They still have expansive players, it's just that Dunga's priorities are a little different.
I also think another reason they might not have caught the eye is because Kaka has not been at his best. We were all looking at those special players coming into this tournament and as yet, he hasn't quite been as good as we all know he is.
It's not the first time we have seen a player leave AC Milan and struggle, but he has had an up-and-down season at Real Madrid and I think that was hanging over him coming to South Africa. Then of course, he got that freakish sending off against the Ivory Coast, so just hasn't had the chance to get going.
If he does - and he could at any minute - then it's hard to see beyond Brazil as winners. Robinho is playing like a man possessed, Fabiano is scoring goals and they are so, so solid at the back, it is hard to see how anyone is going to score more goals than them.
Lucio is in the form of his life, Juan looks solid alongside him and they have probably the best goalkeeper in the world in Julio Cesar. Stick two holding midfielders in front of them - something that started back in 1994 when Dunga himself was one of those two - and then let those front players go and work their magic and it looks like the perfect blend.
But I suppose if there is one side that has the players to pose them real problems, it is the Dutch.
They are going along very nicely so far. They are scoring goals and they are playing free-flowing football as well. We have had glimpses of the total football we all want to see, but a bit like Brazil, they are getting the job done.
The only thing we are waiting for is them to fall-out. I was joking with Ruud Gullit the other day that it's about this time that something goes wrong in their camp and it all falls apart! But so far, they look like a happy camp.
Wesley Sneijder has come bouncing into these finals off that back of that Champions League win, Arjen Robben is back from injury and has already showed what he is capable of, and I just love Robin van Persie, I really do. This is a player that can stand toe-to-toe with the best in the world, I really do think that.
Who will win the Golden Boot - Van Persie 50/1
He can glide past players, he can pick a pass and he can score goals. We haven't seen him at his best in front of goal yet in South Africa, but if he, Sneijder and Robben can click, they are perhaps the one side that have the attacking players to threaten Brazil.
The one worry for Holland is their backline - and going up against Brazil's it could well be the deciding factor here. The other day Slovakia got through them a little easy and although the keeper Maarten Stekelenburg is not the problem we were led to believe, I just don't fancy their defenders to cope with Brazil's flair players as well as their defence will deal with the Dutch.
And I do think that mentally, the Dutch will start on the back foot. They do not have the best record in big, big games and let's face it, when you see those yellow shirts and blue shorts, you can't help but be intimidated.
Jamie's Judgement
Brazil win - If the Dutch get into their stride and if that front three click then they do have the players to give Lucio and Juan a real headache and don't forget they've got Robben flying down that right against Michel Bastos who is a winger at Lyon. But I expect the Brazilians to do what they've done so far and keep it tight, then let those forward players go and do their thing. I'd back 2-1 here.
Jamie's Gem
Kaka - Like so many people I was really hoping we would see the very best of him in South Africa, but so far that hasn't happened. The sending off was just ridiculous, but there have been one or two signs of what we know he is capable of. If they can get him on the ball running at people and making those precise passes, then Brazil will be even more frightening. I'll go for 2.1
Comments (16)
Bob Singh (Southampton fan) says...
I think jamie got the thing about mourinho spot on and but brasil do it better than mourinho's teams. those of you who think brasil have changed their style, don't be surprised when you see a sixth star on the brasil shirt also those of you who say brasil's players haven't fired like kaka, imagine if he was on fire.
Posted 12:47 2nd July 2010
Akeem Olabanji (Arsenal fan) says...
Football is not mathematics where you will predicts very easily. I think Holland will surely beat d Brazilians 2day bcos they forwards in RVP and Arjen Robben. D scoreline 2-1 in favour of d Dutch.
Posted 12:43 2nd July 2010
Fadi Chalouhy (Chelsea fan) says...
as always brasil are over rated . what is wrong with you people . you call their deffence solid ? did you watch the goals they concided . the backline was asleep and RVP wont give them a second chance i back the dutch 3 0 clean win
Posted 08:10 2nd July 2010
Stevie C (Plymouth Argyle fan) says...
What a game we are going to see. I think Holland will win because their players are all coming good at the right time. In Scneijder, Robben and Van Persie - you have 3 players at the peak of their game and they have the ability to unlock any defence. Van Der Vaart also is a key for them. If holland can go 1-0 up, brazil will really come out at them and this will leave the door open - I see a score of 2-1 or 3-1 to Holland..... Who will then go on and beat Spain in the final
Posted 07:12 2nd July 2010
Bruce Mcclarron (Liverpool fan) says...
Brazil have the talent, the class and the depth of players...This team has the best mid-field, defence and goalkeeper in the world....Add to that Fabiano, Kaka and Robhino up front + Elano when he is fit (For the Final) and you also have a very lethal "Strike Force" for goals!! Dunga has been there - done that as a winning player (1994) so I'm sure he has a "Winning Strategy" to go all the way and lift the cup for a 6th time!! Prediction...Brazil winning 3-1 or 2-1!!
Posted 22:19 1st July 2010
Joe Duncan (Arsenal fan) says...
Holland will win as they have players which can unlock any defence plus everyone forgets that the Holland defence ain't that bad either.
Posted 22:06 1st July 2010
Austin Gold (Inter Milan fan) says...
You have all predicted fine, the one that caught my attention was the 2-1 to Brazil Jamie mentioned. However I am going to give benefit of doubt to the Orange by sticking to 1-1 Brazil might win there after.
Posted 21:33 1st July 2010
Usman Yacoob (Arsenal fan) says...
Jamie is right about the dutch but wrong to glorify Brazil, and lets face it, he was backing England so that is an indication not to go with his absolute tendencies. Brazil are good but hey respect the dutch more, they are a formidable force and lets let the match do the talking
Posted 21:22 1st July 2010
Bryan Lee (Manchester United fan) says...
Yes Jamie. Well said. Just like when u predicted that England will 100% beat Germany. Bravo!
Posted 20:44 1st July 2010
Alex Kyrios (Tottenham Hotspur fan) says...
The Dutch can best Brazil, sure, in the same sense that USA can beat Spain. It can happen; they have the talent. But will they? No way. Jamie's spot on.
Posted 20:41 1st July 2010
Steve B (Tottenham Hotspur fan) says...
Can't see it with the class in midfield and power up front Holland to win 2-0
Posted 19:45 1st July 2010
Ditchilla Produktionz (Arsenal fan) says...
For me those two are my two favourite teams but I like Brazil abit more because of their style of play and I like The Netherlands because Robin van Persie plays for them and he is a sik player. I think Brazil will win this match 4-2. I just hope van Persie scores their goals.
Posted 19:02 1st July 2010
Sandro Tetto (Chelsea fan) says...
Brazil will play a good footbal, Robinho will get the ball running and Kaka should play better. 3x1 Brasil Fabiano should score.
Posted 14:39 1st July 2010
Alex Harrison (Liverpool fan) says...
jamie's right, brazil are not normally known for their strong defence but lucio and juan have been huge at the back for them. looking at the stats on picklive, the full backs really get involved in their attacks and with some of the flair players they have I think Brazils waves of attack will prove too much for holland. the two sitting players for brazil will have to make sure they cover if the centre backs do get caught upfield and even lucio likes to take it up the pitch
Posted 14:23 1st July 2010
Harry Willetts (West Bromwich Albion fan) says...
this is too close to call ,although holland have not got the dutch masters skill and poise of the seveties they do have a solid unit and players like robben and sneiders who are good on the ball, i do think brazil will win but it could be in extra time, they have a striker who is lethal in fabiano, and he is the player the dutch should watch most.
Posted 11:51 1st July 2010
Yash Sookan (Manchester United fan) says...
I think the Dutch have the capabilities of putting one over the much fancied Brazilians. They seem to have a much more stability and solidness in the defense and midfield and although they have not always exhibited the "Total Football" and flamboyance that we so accustomed to, that isn't the necessary ingredients required to lift the cup. Brazil are the only team to attack with flair and style with such swagger that lifts that cup. I think the Dutch are taking a page from the great German and Italian teams of the past going in to this tournament. I hope they can deliver and fufill their prophecy of lifting the Cup. I think it is about time they shrug of the Brides Maids tag as the best team not have won the World Cup.
Posted 10:46 1st July 2010