I suppose there are two big questions going into this game: can Germany keep the momentum going? And do Spain start without Fernando Torres?
Starting with Germany, there is no doubt they are a team on a high at the moment. They will sit in that dressing room in Durban thinking they can beat anyone. Even the European champions.
They have so much momentum behind them, they all know what they're doing and are a young side full of confidence. A fair few of them came through the Under-21's together which helps and I can imagine that they are loving every minute of this World Cup; they must be having a real giggle.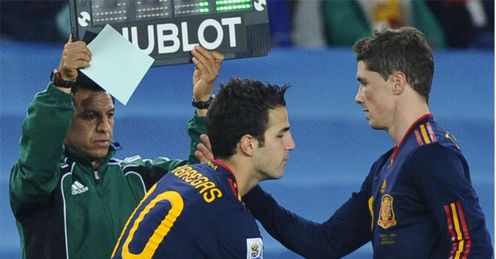 Of course Thomas Muller is suspended and will be a big, big loss, but there are so many positives in this German side, if anyone can deal with his absence, it's this them.
If Del Bosque thinks Torres is chasing it too much, almost trying too hard, then maybe it might be time not to start with him. I say that rather than leave him out, because it boils down to using him in a different way. I would make it quite clear that I was planning to use him for the last half-an-hour, maybe even for the second half.
Jamie Redknapp
Quotes of the week
They have Mesut Ozil to create and drop deep, Miroslav Klose leading the line wonderfully, Lukas Podolski playing well and in Bastian Schweinsteiger, they have a player who really could walk into any club side in the world right now.
His transformation from a winger to a proper central midfielder who can pick the ball up and dictate games has been incredible; he has really grown into that role and has such an authority about him, as we all saw against Argentina. I know I am a little biased but he really does remind me of Frank Lampard when he started to emerge as a world-class midfielder.
I have to say I thought Argentina were a bit of a shambles, but as well as a team high on confidence, they were up against a very astute young coach.
Joachim Loew has been a revelation at this World Cup and is clearly the perfect man for that young squad.
He seems to encourage them to attack as often and as quickly as they can and as we have seen in the two knockout games, he knows how to deal with the opposition and is tactically smart.
Klose and Villa both to score - 6/1
You hear his players saying he prepared them for this, worked on that and while some international teams don't need coaching as such, he realises this young side do - and they clearly love playing for him.
He reminds me a little of Jose Mourinho in that he is calm, smart and seems to be straight down the line. Win or lose here, I am sure we will be seeing a lot more of him.
Low will know there is no point going out there trying to out-pass Spain and he knows his side are probably going to see less of the football. But Germany are brilliant on the counter and if there is one side that can catch Spain out, it might well be them.
Impact
Now for the big debate in the Spanish camp... Fernando Torres.
A lot has been made of his form so far and I have to say, it does look like he is short of match fitness and sharpness. Of course you never want to leave out world-class strikers, but there has to be a time when Vicente del Bosque might have to - and this might be it.
If he thinks Torres is chasing it too much, almost trying too hard, then maybe it might be time not to start with him. I say that rather than leave him out, because it boils down to using him in a different way.
I would make it quite clear that I was planning to use him for the last half-an-hour, maybe even for the second half, after giving him a rest on the bench.
You don't leave players like Torres out, not in a World Cup semi-final, but you change the impact he can have on a game. Can you imagine Arne Friedrich and Per Mertesacker's reaction when, having dealt with everything for an hour, they see Torres coming off the bench? Only Del Bosque can make the decision, but that is what I would do if I were in his position.
Who will win the Golden Boot? Villa 4/5
It would of course mean David Villa moving into the middle, but you have to say they have looked a better side whenever that has happened. Getting Cesc Fabregas in behind him and moving Andres Iniesta out to the left might also free up a bit of room for Xavi as well.
I am hoping there is more to come from that Spain midfield because I don't think they have been at their best so far. Maybe we are so used to seeing Xavi and Iniesta at the very top of their game, but I don't think they have quite bit themselves and Xabi Alonso has been poor, as has Sergio Busquets. And without Marcos Senna in there they do look a little vulnerable defensively
It seems strange to say for a side in the semi-finals of the World Cup, but Spain as a whole have not really found their best form yet - except of course, one man.
Villa has to be the best player still in it and probably the player of the tournament. He just can't stop scoring, tap-ins or great goals, and Germany don't need me to tell them he is the one man they have to stop. The fact that Spain have scored six goals and he has got five of them says it all.
He is in a purple patch at just the right time you have to back him to score, although 43 goals in 63 international games suggests his career has been one long purple patch!
Jamie's Judgement
Spain win - This could be an absolute classic because Spain will keep possession but the one side that is set up to hit them on the counter attack is Germany. I am hoping we are going to see goals and an early one here, for either side, really could see it all go off. It's so hard to pick between the solidity and winning mentality of Spain and the sheer freedom and momentum of Germany, but I'll go with the European champions because I picked them at the start, by the odd goal. Maybe 2-1.
Jamie's Gem
David Villa - Who else can it be? There are some terrific players in the German side who have had terrific tournaments, but this lad is unstoppable right now. He must walk out onto that pitch thinking he is going to score and that alone makes him such a threat. What I like about him is he gets all sorts of goals as well and his movement, coming in from the left, suits the way Spain play to a tee. Just thinking about him lining up for Barcelona next season makes your mouth water!
Comments (14)
Clarence Anders (Liverpool fan) says...
Charles, u think Spain is boring??? Thats the reason the ENGLISH fail. They are too direct and utterly idealess. The spanish are about technicality and movement. What service do they need for Torres?? He plays in England and he is too used to the long balls and crosses. Am sorry to say, this is Espanyol and no such services will be available to him. You either choose to come deep and get the ball, or you read the play and your movement between the lines of defences. Without a player like Alonso or Xavi is the reason the English has failed to succeed. So grace up and salute the Spanish for their absolute genius of possession football.
Posted 21:35 7th July 2010
Naweed Khan (Fulham fan) says...
I Just Hope Spain play a little better tonight. The Game against Paraquay was very quiet until there was a spell of 2 penalties in 2 mins. I still feel that Spain will have the edge over Germany but Germany's counter attack is spot on so Spain will have to watch out for Bastian scwienchsteiger coz he is a very good player and he will make a difference tonight. Should be an interesting game!!! I will be cheering for Spain purely because they have world class players and they should win this!!
Posted 17:28 7th July 2010
Stuart Luff (Barcelona fan) says...
I don't agree with the comment that Busquets has been poor. He's there solely to break up the play then give the ball to Xavi or Iniesta. He's done that quite well. He's managed to keep Toure out of the Barça team and his good performances have continued in the World Cup.
Posted 16:32 7th July 2010
Charles Lewis (Manchester United fan) says...
I would hope that Germany win this one. Spain's style of play has been atrociously boring to watch. 4-5 central midfielders trying to walk the ball into the net for 70 minutes before David Villa gets 1 goal courtesy of a few rebounds is not something Spain should be proud off. Torres is playing badly because Spain's very good wingers are being left on the bench and so there is just no service for him. Germany will hold a deep line and play on the counter attack while the Spainish centre midfielders take turns trying to dribble the ball past the defence.
Posted 15:18 7th July 2010
Rene Williams (Liverpool fan) says...
Jamie i could not have said it better myself. I am really hoping that Fernando will score at some stage, i too believe he should not start tonight, rather him come on in the second half. Spain to win
Posted 15:14 7th July 2010
Harry Willetts (West Bromwich Albion fan) says...
the spain v.germany match is too close to call, the spanish are a solid team full of individuals who work for one another while the germans have individual players of world class about them players like ogil, schweinsteiger and podolskithere is however a weakness in the german back four with the left back boateng, he pushes to far up the pitch and keeps on getting caught out of position far too often,i think we could see extra time and penalties between these too tonight.
Posted 15:06 7th July 2010
Manu Sanchez (Atletico Madrid fan) says...
I hope my team win tonight. We respect Germany at all, they played the best football until today in this world cup, but i hope Spain show tonight the amazing football they have played last 2 years. Torres should play, he loves this matches under pressure, sometimes he looks disconnected, but this is the main characteristic of the great players, they only need one second to show their talent. Good luck for both teams ! I guess we are going to see the best match in this world cup.
Posted 14:47 7th July 2010
Edwin Bolaji (Real Madrid fan) says...
Spain 3 Germany 1
Posted 14:44 7th July 2010
Maxime Aznar (Real Madrid fan) says...
Hello Mr. Redknapp. My opinion on this Titans' clash is as follows: 1- Germany are a very... very good Footballing Squad. But they have trashed teams that don't have a good midfield. Sure you could say it is not the case for England, as England can count on terrific midfielders. But they did not deliver nor showed any solidity throughout the competition. Against Spain, Germany will get back to earth. Serbia forced them into reality because of this midfield strength. 2- As for Spain, things are completely different. So far, they have only faced teams that have given themselves the mandate to prevent Spain from playing. Switzerland proved how anti-football it could work. Honduras could only hope to prevent Spain from scoring too much. Chile tried to block the pitch. Portugal fielded 10 defenders with Ronaldo. Paraguay? They gave temselves the mandate to replace Italy as total Cadenaccio Kings. Hence, Germany is the first test in which Spain will probably be able to play its purest game - moving the ball around. As a Spain fan, I'm more confident facing Germany than facing Paraguay...
Posted 14:15 7th July 2010
Stephen Quinn (Liverpool fan) says...
Agree with most of that Jamie...However to claim Alonso has been poor is far wide of the mark. In a team that relies so heavily on a pass and move ethos, Alonso, along with David Villa (for more obvious reasons) has been Spain's top performer. What he does is keep the ball moving, allowing play to develop quickly in front of him, a point guard to the attacking pressure Spain apply, whilst also clever enough to know when a game can be slowed to suit Spain's defensive desires. He did it so effectively for Liverpool for so many years, dictating the tempo at which a game is played, that we struggled without that engine last season. It is no co-incidence that since his talents have been plied in his own country that he has become an ever present in the national side line-up, while the ever hyped Cesc Fabregas warms the bench. Why do you think Fabregas is so desperate to get back to his own country?
Posted 14:02 7th July 2010
Steve Cooper (West Ham United fan) says...
Spain will win. Yes Germany are brilliant on the counter attack but everything Germany are bringing forward is coming from the left starting from Schweinsteiger and then out to Podolski. If Del Bosque holds Ramos back it will stop Podolski and make Germany think of another way through the defence. On top of that Germany's midfield/attack have dominated all World Cup opponents, but they are coming up against a stronger defence and they have got by far the best central midfielders to get past too. Definately a game of Tactics but with Spains class through the side I think it will hold Germany up.
Posted 12:11 7th July 2010
Martin Jeremia (Newcastle United fan) says...
Absolutely Spain will shine.They will find their rhythm today ,Xavi and Iniesta have the brain to outdo Seb and Khadira and of course the supply to Klose and Podoski will be cut out and for the second time will see drought of goals for Low's boys.Cecs will start today hance Villa will have a lot of balls and of course goals!!
Posted 11:16 7th July 2010
James Walker (Barcelona fan) says...
Spain, Spain, Spain, The world of football would be empty without Spain. The players in this national team are all masters of the game, they play in the biggest teams in the world, they won the Euro cup against Germany, they are the most expensive team in this world cup, and above all.....they are hungry!. They want it so hard that we will see a breathtaking match between these two superpowers. If Torres comes in, he will score, why? because he feels comfortable in these situations, he is a star, he is one of the best. Spain have played at 70% so far. Against Germany we will see a machine of making football playing at full power. Can you imagine Spain playing at 100%?, they will because this is the only chance they have got. Spain is not dead yet. They will fight they way they know, using first touch, moving the ball quick and with style! They are the European Champions no by chance, they deserved. Guys, I know you love Germany, but don't underestimate the best team in the world right now. How this sound to you? Barcelona, Real Madrid, Valencia, Arsenal, Liverpool...................exactly! Germany are playing against these teams all at once, look at it this way and all your questions will be answered. Will Spain win? Yes
Posted 10:29 7th July 2010
Rod Mckenzie (Manchester United fan) says...
I really enjoyed reading this analysis(even though I hope Germany win) as it deals with all aspects of a match up worthy of being the final(in my home town!).Just one other thing Mueller,in addition to the 4 goals he scored made about half of Germany's others so that's a big pair of shoes to fill.The weather in Durban today is uncharacteristically grey, windy with rain possible - shouldn't bother these players though.Go Germany! - for a rerun of 1974!!
Posted 10:25 7th July 2010