It's just a few days until the World Cup kicks off - and our panel of experts are here to tell you exactly what you can expect in South Africa.
Here on skysports.com, we've brought together the studio stars of Soccer Saturday - Jeff Stelling, Matt Le Tissier, Paul Merson, Phil Thompson and Charlie Nicholas - to share their thoughts on football's showpiece tournament.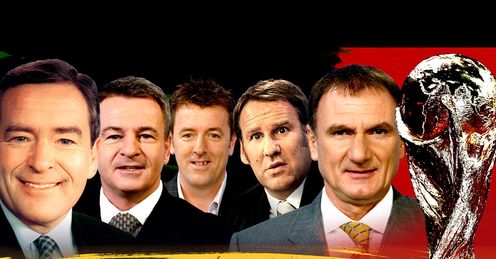 For the last fortnight, the gang have been debating some of the big World Cup talking points and giving you a flavour of what you can expect when the action kicks off.
And now we've asked them about the players to look out for. Who will prove to be the stars of the show? Who is in the running for the Golden Boot?
Our boys give you their tips....
skysports.com: The World Cup brings together the world's greatest footballers, but which players are you most looking forward to watching in South Africa?
MERSE: Someone will come out of nowhere and do something extraordinary. That's what I like about the World Cup. We see players in the Premier League or La Liga and we describe them as world class, but that's a phrase used very loosely. This is where you prove you're world class.
JEFF: Inevitably it's going to be the strikers who everyone is looking forward to seeing, so Fernando Torres, David Villa and Luis Fabiano are just some of the names.
MERSE: I hope Steven Gerrard turns up because for me he's one of the best players in world football. He hasn't played well this season - and that has been reflected in Liverpool's league position - so I just hope he peaks at the World Cup. If he does then England won't be a million miles away. He's top, top drawer.
CHARLIE: There's also Nilmar, a little striker from Brazil who I'm excited about and of course there's the usual suspects like Lionel Messi.
JEFF: Yes, I'd also like to see if Messi can do it at international level. It sounds ridiculous but his record for Argentina is nothing like his record at club level. I think everyone is excited to see if he can reproduce his form with Barcelona for his country.
MATT: It's got to be Messi. He's had such a phenomenal season at Barcelona and I'm hoping for the kid's sake that he can produce the same form for his country that he has for his club. He's not really that popular in Argentina, which is strange when you see him smashing in 40 goals for Barcelona. He took a decision to leave Argentina as a young player - and you can't look back and say that was the wrong decision - but the fans seem to hold that against him. Maybe if he has a good World Cup they'll take him to their hearts. A few goals will quickly change their minds.
MERSE: I like David Villa too. He's gone to Barcelona for £34million and I think that's a bargain. He's a £70million player because he doesn't stop scoring goals. And he scores any kind of goal too, not just ones inside the six-yard box. Maybe someone like Wesley Sneijder will come out and prove Real Madrid were wrong to get rid of him. I think him and Robin van Persie could absolutely rip it up.
CHARLIE: I'm also really looking forward to how Van Persie is going to get on. I really do think he's a star that has been constantly held back by bad injuries and I think he'll be a big star at the World Cup.
THOMMO: Merse and Charlie have picked van Persie? Can I go for Dirk Kuyt then? No, just kidding. I'm really looking forward to seeing Wayne Rooney. I think he's meant for the big stage and you've seen him do it in the big Champions League games as well. He's so hungry and has so much desire and at times he just plays like he's kid in the school yard. I know Messi does to a certain extent as well, but Rooney is different animal. He's only 24 but already has so much experience behind him and I'm really looking forward to seeing how he does.
JEFF: A fully fit Wayne Rooney on the world stage? From an England point of view that's something I'm really looking forward to seeing.
CHARLIE: I actually don't think this will be Rooney's World Cup. He's a great player and he's had a great season, but there's something about Fabio Capello's set-up that I don't think quite suits Rooney. I think England's stand-out player in terms of goals might turn out to be Frank Lampard.
skysports.com: So who are you tipping for the World Cup Golden Boot?
MATT: Sorry Charlie, but I'm going to go for Wayne Rooney. If you only look at his last eight internationals then he's only scored one goal, but let's not forget he scored nine in the eight games before that. The injury he got at the back end of the season meant he didn't quite play as many games as everybody else and that might make him a little bit fresher. Now he's had time to get over his injuries, he'll be fit and raring to go and I fancy him to be top goalscorer.
CHARLIE: Forget about Rooney. Frank Lampard is a cracking price to finish as top goalscorer for the competition and I'll certainly be having a look at him. Everybody's going for strikers like David Villa, Fernando Torres or Robin van Persie and they're all capable of goals. But you always tend to find - especially with England or Scotland - that the strikers are stifled and the midfield players will produce. I think Steven Gerrard and Lampard will step up to the mark, but Lampard's the type of guy who gets on the end of things when people are tired and make mistakes. I think Lampard is an absolutely bargain bet (66/1 on Sky Bet) - as he'll probably take all of England's penalties.
MERSE: Lampard? Rooney? I don't see that. I don't see us scoring four or five goals in a game - and you need a game like that if you're going to win the Golden Boot. I hope I'm wrong, but I don't think we'll get the top scorer with the way we play. I think Lampard's a good shout for top England goalscorer though.
THOMMO: Before his injury I fancied Didier Drogba, but Fernando Torres is another one who could do it if he is fully fit.
JEFF: For me it has to be David Villa. If you compare his and Fernando Torres' records at international level, Torres scores one goal in every three games approximately, while Villa scores two in three. He was also the Golden Boot winner at Euro 2008 and I think he's a class act.
MERSE: Get on Robin van Persie at 25/1 - and Charlie was right when he said he could be one of the players of the tournament. So many players are coming here after a long season and Van Persie's freshness could make such a difference. He'll have Wesley Sneijder playing behind him, who'll find him wherever he runs. He's used to having Cesc Fabregas supplying the bullets at Arsenal and Sneijder will do the same job for Holland. Plus Holland have it in them to bash someone 5-0.
Comments (11)
Gbangu Baba (Arsenal fan) says...
I think if Holland go far in the tounament Van Persie could be on top. But ha! the year is 4 Villa/spain
Posted 13:54 9th June 2010
Mark O riordan (Manchester Utd) (Manchester United fan) says...
For some strange reason I fancy the germans to win it. I know there defence is supposed to be weak but they have the discipline to beat anyone on the day. And with Klose they have a proven international scorer at big competitions. Brazil are too open, Maradona is too erratic so that counts argentina out, whil the dutch are lead upfront by van persie who will proably get injured after a game or two. I also believe even though the spanish do have a great team, they never perform on the world cup stage, which is a lot different to the european championships. The italians have had a good year domestically and i can see them getting to the final. The surprise team of the world cup for me will be serbia. strong defence wins world cups, see italy 2006.
Posted 12:44 9th June 2010
Gloria Ashley-sterling (Liverpool fan) says...
cant wait for the world cup to kick off and whilst i feel for Rio Ferdinand, Steve Gerrard is now the Captain but all i hear is comments by John Terry, i feel like he is undermining Gerrards role by all his comments, when will we hear from Gerrard himself, i know its team work, but fed up listening to John Terry and he chelsea clique, cmon steve give us some of your passion and good luck to all the team
Posted 12:06 9th June 2010
James Lawson (Liverpool fan) says...
can't believe no one mentioned Tevez/Milito depending who starts, although with the crazy junkie either could score a hat-trick in the first game and not play again he's so unpredictable cos he ain't got an igloo
Posted 11:21 9th June 2010
Lee Demain (Manchester United fan) says...
Not sure on Rooney Mat, he doesn't seem to be baggin much at itnernational level really, not like he does for us, I think Villa or if Messi turns up, Messi. You can't look past 42 goals for Barca. Villa, with Spain having an easy group could easily have 5 come the last 16. I think Fabiano's over rated Jeff and they've a hard group too, unles he bags 6 against North Korea ha, Merse, Van P is a shout at 25s but I told you my bet the other week at your sportsmans dinner at Ewood, Brazil to win it and Villa golden boot double, 55/1 ;)
Posted 09:31 9th June 2010
James Barlow (Manchester United fan) says...
Controversey has started already with players being injured the ball being compared to a ballon so will the World Cup be played in the right spirit since all the players will be mindful of the transfer window and wont want to get injured for next season.
Posted 08:46 9th June 2010
Gavin Moule (Liverpool fan) says...
im soo gutted i never listened to my mate when he got 40/1 on vam persie when he was recovering from his injury,now hes gloating as ill be lucky to get 16/1 now and hes got £40 each way on him
Posted 08:45 9th June 2010
Callum Plaskett (Liverpool fan) says...
I honestly believe that Peter Crouch is in for a shout for the golden boot. His goal scoaring record for enland is phenominal and with an on form Gerrard he will have world class deliveries from all over the pitch.
Posted 22:08 8th June 2010
Callum Plaskett (Liverpool fan) says...
I actually believe that peter crouch is in for a good shout. His goal scoring record for england is phenominal and with an on form gerrard, he will have great deliverance from all round the field.
Posted 22:06 8th June 2010
Darren Hunter (Liverpool fan) says...
I think there are the usual class acts like Torres, Villa, Rooney,Gerrard, i could go on all day but on this stage there are so many class players it's really hard to pick one individual out. There is always one player who is not expected to but shines at the world cup and i have to agree with merse i think Wesley Sneijder who was basically overlooked at real Madrid but has been fantastic for Inter this season and he could be a real star. I can't see further than spain for the cup so therefore it has to be Villa or Torres for the golden boot depending on who plays the most games as Vicente del Bosque doesn't tend to play them together.
Posted 21:35 8th June 2010
Michael Sims (Tottenham Hotspur fan) says...
spot on about top scorer jeff,spain in a weak group and villa has a fantastic strike rate for spain
Posted 19:36 8th June 2010