England's World Cup dreams ended in tatters - and here at skysports.com we've asked some of our top pundits to pick through the wreckage.
Our Soccer Saturday panel - Matt Le Tissier, Paul Merson, Phil Thompson, Charlie Nicholas and Alan McInally - have taken time to reflect on England's disappointing efforts in South Africa, which ended after a 4-1 humbling by Germany in the last 16.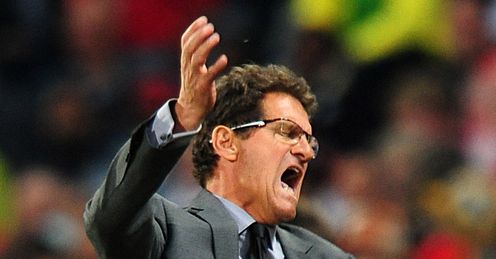 In the coming days, the panel will look at what the future holds for the national game, but first they are placing manager Fabio Capello under the spotlight.
The Italian guided England through a successful qualifying campaign, but England's poor performance at the World Cup, winning just one game and scoring just three goals, saw his future placed into doubt.
However, the FA have announced that Capello will remain in the job for the Euro 2012 qualifying campaign - but not all of our experts agree with the decision.
skysports.com: What did you make of Fabio Capello's performance as England manager in South Africa?
LE TISS: I think some of his team selections were very strange and this isn't with hindsight. I was a firm advocate of David James starting in goal and I thought it was very odd when he went with Robert Green instead. That decision cost us top spot in the group and obviously meant we had to meet Germany instead of Ghana in the second round. I know Ghana went on to beat the USA but I would've fancied our chances against them a bit better than against Germany. I think tactically I would've just liked to see him try a different formation when things weren't going particularly well in a game. I just felt he was a little bit inflexible.
MERSE: He made a mistake with the goalkeepers from the word go. You have to have a number one and I don't think that uncertainty helped anyone, especially Robert Green. And then when that goal goes in against the USA all of a sudden it's backfired. That put England on the back foot in a group that they had to win; it was almost impossible not to come top of that group, yet we managed it.
THOMMO: I agree. I think he did get a lot of things wrong. Right from the start he made the wrong decision over the goalkeepers. I think David James had proved during the season that he was the best goalkeeper and it was always going to be a tall order for Rob Green. He's not as vocal and I think the back four trusted James more than Green. The other mistake he made was at centre-back. I would have played Jamie Carragher, who has got far more experience than Matthew Upson, against Germany.
CHARLIE: He lacked understanding and lacked vision over how his top players perform and when I look at Capello I just think everything's too rigid. All the teams that have looked good at the World Cup such as Argentina and Brazil let their players be expressive in the last third of the pitch - and that doesn't mean they're not rigid defensively. Look at the Dutch who don't have holding midfield players, but have two pivotal midfield players who let the front four run free and have an impact on the game. Why can't England do the same?
McINALLY: I've been listening to all these people on the TV saying that 4-4-2 is out of date and quite frankly I've never heard so much garbage in my life! 4-4-2 is a great system providing you've got players that will play the system for you. In my opinion the best way to play 4-4-2 with England's players is to have Steven Gerrard playing behind Wayne Rooney, Joe Cole on the left, James Milner on the right, Frank Lampard in the middle and then whoever you want next to him. So although there was nothing wrong with the formation there was definitely something wrong with the way he used the players at his disposal.
THOMMO: He got it wrong in midfield as well, but I think Joe Cole would have started against Slovenia in the final group game if it wasn't for John Terry's outburst calling for him to be named in the team before to the game. And that probably would've meant he would've started against Germany as well. Whether it was out of stubbornness or because he didn't want to appear a weak manager, Capello was never going to pick Cole after Terry's press conference.
skysports.com: Do you think the FA should have made a clean break and replaced Capello as manager?
LE TISS: It is a tough question because he had such a good qualifying campaign. Everybody before the tournament was saying how great he was and I think based on the way we cruised to qualification he should get another crack at it really. He may have played in a few international knockout competitions as a player, but this was his first taste of it as a manager so he'll probably look back at it and think that there may have been things he could have done differently in terms of player boredom and that sort of thing and hopefully he'll learn from it.
McINALLY: I never agreed with the decision to give him the job in the first place. Not because he isn't a great manager which I think he is, but because I think an English manager should be in charge of England. But to sack him now and pay him £10million would have been the stupidest thing I've ever heard. You can't possibly sack him now. With a bit of luck he's learnt that with the players he has got maybe he should have been a bit more flexible. I also think he's probably good for some of the players whether they get along with him or not. The disciplinarian side of him is something that players at this level need.
LE TISS: Discipline is a good thing, but you can go over the top. You can startle people with discipline and it almost looked as though the team was startled when they took to the pitch. They lost their freedom of expression and maybe too much of that discipline off the pitch crept onto it.
MERSE: We're England, we should have an English manager. Albania should have an Albanian manager; it's just common sense. England were not impressive once in four games, not once. Look at how the Mexicans went out after us; they played with a bit of flair and invention and at least gave it a go. We never even came close to that. The trouble is I think we all got sort of carried away with Capello because of how bad Steve McClaren was.
CHARLIE: Agreed. I don't see why England should ever have a foreign manager. Berti Vogts came to Scotland with a great CV (if you've been the Germany manager you can't have anything else...), but when he came to our place he didn't know the players' best positions and didn't even know the players' names at times. When you've got the likes of Roy Hodgson and Harry Redknapp - to name but two - then why not get somebody who can associate themselves with the English players?
THOMMO: He has been a good manager but I think he has found it very hard to be a national coach and dealing with players who have to live in each others pockets. I think the way he handled the camp was probably a bit too strict. When you're away together you have to be a bit more flexible and I felt that with all the media hype his position had become untenable.
MERSE: I would have given it to Redknapp. People will think I am only saying it because I've played for him, but believe me every one of those players would want to play for him. Listen, these players don't need coaching, they're top-drawer players who know it all, but they do need belief and confidence - and Harry would give them that in buckets. Even though they are top drawer, players still lose confidence and need that; they need to play with the confidence that if they do give the ball away it won't be the end of the world, that they won't get the manager waving his arms around, elbowing Stuart Pearce off the bench. I think that is belittling.
CHARLIE: People say the future's bleak, but you don't need outstanding players in every department. You need two or three special players if you can create them - and the rest is about a system that is adaptable and changeable. England still have plenty of scope to build again, but I don't think that's with a foreigner. I really do think it's time an Englishman took over the reigns.
Comments (42)
Joe Wheway (Wolverhampton Wanderers fan) says...
People need to take a step back and look at the situation. I agree that the showing at the world cup was awful but its four games out of the managers fantastic career. I dont think he should have got the job in the first place (would have preffered an englinshman) but now he's here give him a propper chance and im sure he will turn things back to the form we showed in qualifying.
Posted 09:09 9th July 2010
John Threapleton (Portsmouth fan) says...
We have been saying the same old excuses since 1974,we are not producing world class players here. we have had english managers before,hoddle ,venables,keeganbut the man in charge cant make an ordinary player a great one. we need to start again,Teach kids to stop the ball,pass the ball,keep possession,stop kids playing competetive games in leagues at 8. get coaches to start picking and encouraging dribbling,good long and short passing,iwouldnt let ayouth team keeper kick aball always roll it out. I always see kids as young as10 training for fittnes,running! they should have the ball and play and have fun. Then maybe in 20 odd years we might end up with a chance,but i fear that prem teams will keep looking for 6ft footballers who can run all day, but cant play,messi wouldnt get a contract here,hed be to SMALL!
Posted 06:28 9th July 2010
Michael Cox (Liverpool fan) says...
Clueless Capello, are you blind? You would have dropped our only players who verge on class, plus our only 2 leaders in Gerrard and Terry? Yeah good call mate. Gerrard was the only one who showed any drive, invention or willingness to shoot. Capello got it wrong sticking him on the left to cater for Lampard, who regularly goes missing in England games. If Gerrard were behind Rooney, with Cole on the left i think it would have been a completely different world cup for us.
Posted 13:48 8th July 2010
Jack B (Arsenal fan) says...
My view is that regardless of the cost, Capello should be sacked. It's the FA's stupidity for changing his contract before a tournament, but i still think he should go for the following reasons. I think it's time that England adopted a similar system to the Dutch, playing 4,3,3 every game. Defending is important of course, but i think it would be better to begin to evolve an attacking style of play, so the team mentality should be, we'll out-score the opposition, regardless of how many they can score! To set out every match to put five in the net is far more positive than worrying through a game and ending up with five minutes to go leading by only one goal. We hype our team up for every tournament, it will always happen.. so why not have a positive 'we are the best attitude' throughout the England camp too? Can that be any worse than the rubbish we saw in this tournament? At least attacking football is entertaining! All Capello managed to deliver us was a bunch of confused - overly militarized, under-confident shells of the players we watch every week in the Premiership. I saw him in the middle of one match (on camera) talking with Stevie G, i'm telling you, i can lip read - and he said nothing of importance - and Gerrard just walked away confused! We need an English manager - and we need to think about the future of the national game now. It was commonly talked about during McClaren's farcical tenure, that Lampard and Gerrard couldn't play in the center together, but did anything change when Capello took over? Did Capello change anything at all? No. All the same faces in all the same places.. What we need is an English manager - and he needs to start playing some younger players. We need a change of formation. We need to adopt an attacking, positive mentality. Above all else - the manager needs to make selections on a players current form - not just basing selections on what club they play for, or past reputations.
Posted 17:26 6th July 2010
Tom Rabie (Manchester United fan) says...
Rooney was totally inefective. I blame to media for this as they build these players up to such an extent that it is nearly impossible for them to perform. It happened to Johnny Wilkinson, Kevin Petersen and to Andy Murray. Put less presure on the top players to perform and then they will. The top players are getting too long in the tooth. Build up the newer and younger generation for the future..
Posted 14:21 6th July 2010
Aron Rowe (Aston Villa fan) says...
FA are completly right to stick with fabio... a month ago he was god's gift to english football and everyone loved him. He has to take some of the blame he got some key decisions wrong but lets not forget it was the players on the pitch, that was an easy take for rob green and 9 times out of 10 he takes that, against algeria it was the players with no invention. Capello has a lot to answer for and he knows this but to somply blame capello or even to simply blame the players is too shallower explanation it runs deeper than that. The problem is massive and really we need a proper footballing man at the top of english football as rhw chairmen of the fa making the decisions NOT a businessmen. We need to look at other national teams and also look at ourselves we can not just blame what is a world class manager who lets not forget is at his 1st major international tournament... if he wins the 1st qualifyer his a hero again, people need to get a grip, i agree he shouldnt have had the job in the 1st place it should have been an english manager but this is ridiculous
Posted 15:51 5th July 2010
George Bizzle (Manchester United fan) says...
i cant believe im saying this but i agree with what George the liverpool fan is saying. England players think their bigger than the country and have this poor attitude but i don't think it's just England players, it's the society we live in. Before talking about tactics we must talk about the average players we have. Frank Lampard has got to be one of the most average midfielders iv'e ever known! he is hyped so much for what reason because he scores 20 goals a season for chelsea? lets not forget Chelsea is built around Lampard so obviously he will shine and getting on the end of Drogbas flick ons,scoring penaltys doesn't make you a great midfielder. sked Ancelotti who he would take Frank Lampard or Iniesta? Frank Lampard or Xavi? Lampard or Fabregas? Essien and Mikel do all the dog work for him to make him look like a so called top class player! he can't play in a 4-4-2 because when he does,he's awful! because no one will be doing his dog work for him. i'm a big fan of Steven gerrard, i think he is a world class player, head and shoulders above Lampard but yet we sacrifice him just to satisfy Lamps? it doesn't make sense to anyone who knows football. Gareth Barry is another average midfielder, he shined at Villa because they have average midfielders as well. When he's playing with the likes of De jong and a old Vieira they are stil head and shoulders above Barry quality wise. The middle of Englands midfield is useless,no movement,no creativity,no engine, no fire and it's sad to see it really is. If anyone knows about football nd how midfielders are classified as top midfielders you'll know Barry and Lampard are very average players.
Posted 15:19 5th July 2010
Alan Warner (Tottenham Hotspur fan) says...
Brazil have sacked coach & staff for quarter final defeat, whilst after arguably England's worst ever showing the FA allow Capello & co to continue! Coaching at all levels needs rethinking with emphasis on ball skills and thinking about what they do, not simply winning at any cost for our youngsters.
Posted 11:49 5th July 2010
Barry Thurgood (Tottenham Hotspur fan) says...
Capello made a far greater catalogue of mistakes than have been mentioned here. To recap : Formation inflexibility, not playing players in their best positions, not naming his goalkeeper early, not letting squad know the team early enough. However, there are other mistakes that deserve more than a quick mention: 1. Long period of altitude training and heavy training - this has been medically shown to severely tire players out . Note that the german players on average played more games last season than there English counterparts - the winter break is much needed, but that alone does not give the full picture. 2. Isolation from the tournament astmosphere - choice of a very remote training camp, away from the major centres didn't allow the players to get a feel for the tounament there were in. 3. Poor squad selection - with hindsight there were many problems - too old a squad, desperately selecting Caragher, asking Scoles to come back really demotes some of the players who helped england qualify so easily. Heskey, Wright Phillips, Carrick. No Johnson, No Walcott, No Huddlestone, No room for some of the youngsters to be blooded at a mjor tounament. Selecting players in the inital squad and not playing them in the friendlies - e.g. Dawson was always better than Upson, Parker deserved at least a run out, etc. I could carry on for quite a while here! 4. Poor substitutions in games - lots of them, but in the Germany game alone, Heskey for defoe and not subing Upson for King early were terrible judgement calls. Etc, Etc, Etc
Posted 09:11 5th July 2010
Stephen Higgs (Manchester United fan) says...
Unfortunately, the FA have given themselves no option but to stick with Capello due to the contract situation. I can only hope that he learns by the mistakes he made this time round. Don't subject the players to intense training after a long season, give them a break, allow them to be fresh going into the competition. Most importantly, the English players must ENJOY playing for their country. It seems its a huge burden for them at the moment and Capello must change this.
Posted 16:12 4th July 2010
Clueless Capello (Manchester United fan) says...
Terry, Lampard, Gerrard and Rooney should have all been dropped due to their lack of form but of course they are Undroppable Anyone with the slightest knowledge of football would have picked Dawson instead of Upson, and never played Heskey (especially when chasing a game and taking Defoe off)
Posted 14:02 4th July 2010
John Bergin (Charlton Athletic fan) says...
Everytime England fail which has been every tournament since 96, the manager gets slated, why? Maybe these players aint good enough, anybody thought about that? If capello who has managed top players for many years and consistently won major trophys over the years has failed then im going to put the blame on the players who have never performed at a major championship, NO BRAINER. Even when in qualifying the english players never look comfortable on the ball, passing is awful and the so called lesser nations who we did play against look at ease with passing and holding possesion, we just find a way to win and when it comes to the world cup, finding a way is not good enough because you will be found out. Alot of these players come through the u 21's and have never done anything at that level so why do we think that would continue at senior level? All of the englands players weaknesses get covered up at club level because they are playing with top foreign players. JOHN TERRY, everytime chelsea concede its mostly a john terry ball watching and his lack of pace leaves him exposed, not exactly world class, he can thank his lucky stars that he has carvallho to cover up his mistakes and we all know how average upson is. Ashley cole always performs for england and he gets booed, typical of our no nothing fans. LAMPARD, how can he be world class when his passing, movement and tackling are comical, yes he can score but other attributes are more important when playing in the centre for balance purposes. GERRARD, no creativity, looks busy without doing anything and always tries the hollywood ball and never seen it once come off. ROONEY, why does everyone get excited about him playing for england? his never performed. Everytime he gets the ball he loses it either through a bad pass or being tackled. Scoring goals against teams in the premiership does not make you world class. DEFOE, he cant even control the ball, enough said.
Posted 13:29 4th July 2010
Robert Davies-jones (Leicester City fan) says...
The experts talk about Green or James in goal, Carragher or Upson, Gerrard behind Rooney, Joe Cole on the left, the substitutions, 4-4-2, etc. They are missing the point. Hart is the best goalie, neither Carragher nor Upson had the speed needed to deal with the German fast breaks, Capello couldn't play Rooney up front by himself when he wasn't capable of keeping possession, Cole did little to justify all the hype, and Gerrard is not a team player (wants a free role). England were doomed to failure because the players were slow, and played without discipline and spirit. The Germans outplayed us, but the loss to them was ultimately due to Sunday league defending, for which James, Upson, Terry and Barry were to blame. The system is immaterial when elementary mistakes are made such as allowing a striker to score direct (from 12 yards!) from a goal kick (first goal), both centre halves leaving the penalty area undefended (2nd goal), and giving the ball away when very vulnerable to German counter attacks (last 2 goals). The sad fact is that our super stars, Rooney, Gerrard, Lampard, Terry, A. Cole either under-performed or are not so super after all. Off-the-field scandals (real and rumoured) and a divided camp also doomed the campaign. The FA should investigate Terry's role in all of this. The old baseball adage that it is easier to sack the manager than the players does not apply here because the FA, instead of linking pay to performance, made it very costly to fire Capello. Besides, many of the players need to go. it is time to start building a younger faster team without the off-field baggage, one where selection is based on performance rather than reputation.
Posted 12:17 4th July 2010
Ben M (Arsenal fan) says...
Tired players, wrong formations, whatever. For me what he got wrong was attitude and spirit. They looked scared and they looked like they didn'r want to be there. The remaining teams in the WC all have one thing in common, good team spirit. You don't see them holding press conferences announcing differences in the camp.
Posted 12:03 4th July 2010
Duncan Stevens (Rochdale fan) says...
Capello is'nt to blame totally, it's the likes of luney Rooney and co, the so called players who were hopeless..
Posted 10:16 4th July 2010
Paul Howarth (Preston North End fan) says...
Yes he made mistakes,but the common denominator for the last 20 years of failure has been the players. Every year the Premier is hyped up as well as our players. We have no world class players,to be classed as world class you have to perform on a world stage,not one of our players has ever done that. Every time we fail we always sack the manager and keep the players just to watch them fail again with a different manager,so this time sack the players and keep the manager.
Posted 09:48 4th July 2010
Jamie Ridgway (Newcastle United fan) says...
alll i can say is we build ourselves up too often although it isnt ourselves its people we know as representing our country that are not good enough and never will be not in my career anyway blaming the manager is a get out clause the players didnt perform simple as that
Posted 23:04 3rd July 2010
Alistair Whitehead (Sunderland fan) says...
Interesting the type of comments you will receive after the four nil hammering Argentina had by Germany. Part of our problem is English players inability to play in more than one position, kick the ball with both feet ,hardly shoot as well as head the ball properly. Not bad for an International earning £100k plus for a week. So for someone with all those limited skills and we assume can read the game , represents our country to win the World Cup !
Posted 17:28 3rd July 2010
David Naughton (Walsall fan) says...
I agree with Jim, too many foreign players in the Premier league, I hardly bother watching now. Look at all the transfer gossip - it's all about players coming in from overseas. The manager also chose a squad that was too old and lacked pace particularly at the centre of defence - you need a big centre half and a quick nippy one, as we had with Butcher and Des Walker. We were lacking a player who does all the hard work, like your Nobby Stiles type of player. I think I could have picked a team that didn't include any of the starting XI against Germany and some of the players from th Prem and not lost 4-1. Capello said he would pick players by form and not name, so why did he pick Heskey and not Zamora. Rooney was garbage the whole tournament and still got picked, why? I'd have definitely taken Gerrard off against Germany as he kept shooting every time he got near the goal and could hit a cows backside with a banjo. That was where Capello's failings were. He needs to get rid of James, Terry, Carragher, Upson, Ferdinand, Lampard, Gerrard, Heskey, Green, Wright-Phillips and mould a young team, knowing that we may as well write off the next euro championships and concentrate on Brazil 2014.
Posted 15:47 3rd July 2010
Matt Armstrong (Newcastle United fan) says...
To be honest I doubt roy or harry are better managers than capello. yes his tactics we to ridgid at time but I honestly feel more than anything the players let the fans down. No body really played to there potential. I hope he learns his lesson, plays people in their correct postion and also learns to drop players who arent playing very well, everybody needs to earn their place if gerrad is playing badly let another player have a crack at it, keep players hungary and give hope to others that they will be rewarded if they play well. Muller was right to many chief not enough indians, a job needs to be done then do it
Posted 14:55 3rd July 2010