The Premier League is back - and so is Soccer Saturday!
Jeff Stelling will be joined by regular guests Matt Le Tissier, Paul Merson, Phil Thompson and Charlie Nicholas throughout the season to talk you through the action, every Saturday afternoon on Sky Sports News.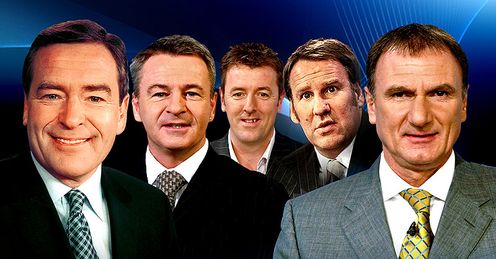 And ahead of the new Premier League campaign, skysports.com caught up with the fab five to get their thoughts on what lies in store.
Who will win the title? Will Man City finish in the top four? Who will be facing the drop? Which players will have the biggest impact on the season?
Never afraid to offer an opinion or two, the Soccer Saturday pundits gave us their predictions for the 2010/2011 season...
Champions
JEFF: Chelsea

It's a bit boring, but I'm going for Chelsea. They were scoring sevens and eights at the end of last season and Michael Essien is fit, so I think they'll be just as strong. I think Yossi Benayoun is a good replacement for Joe Cole and Michael Ballack was a peripheral figure anyway, so I don't think they're weaker. There's no African Nations Cup to disrupt them either and the only slight concern is that none of them are getting any younger. But there's another year or two in them yet.
CHARLIE: Chelsea

As it stands, Chelsea are my favourites as I just think they have the strongest squad. Manchester United have some injury problems to rectify this season and even though I fancy Arsenal, they need a goalkeeper and a centre-back. If they can do that it might put them ahead of Chelsea. But right now I can't look past Carlo Ancelotti's side.
MATT: Chelsea

I don't think anybody has strengthened their squad to the point where Chelsea are going to be deposed. I think Man City will get closer and I really like the look of Javier Hernandez at Manchester United, but I don't think he'll make enough of a difference to bridge the gap to Chelsea. If Chelsea were to lose Ashley Cole before the transfer window closes it would level the playing field, but at the moment I'm going for them.
PAUL: Chelsea

I think Chelsea will be too strong. I'd change my mind if Man City bought Didier Drogba before the transfer window closes, but right now I think they're the top side. Just look at last season, they scored seven goals in three games which would be phenomenal in the Albanian league, never mind the Premier League. Over the course of the season I expect them to come out on top.
PHIL: Chelsea

A bit like Carlo Ancelotti's AC Milan side, the Chelsea squad is ageing and it will need to be changed quite soon. But right now the players are all of a good age, a good physique and overall they are stronger than the other sides. There' are deficiencies in all the other squads, so I think Chelsea will come out on top.
Champions League spots
JEFF: Tottenham, Arsenal, Man Utd

It's more open than usual and I think Spurs could be a threat to everyone. They proved to themselves last season that they are capable of mixing it with the best and they have quality throughout the side, scoring goals and looking solid defensively. Plus they seemingly have money to strengthen when they need to. I also think Arsenal will be up there now Robin van Persie's fit and I'm sure Cesc Fabregas will perform. And obviously Manchester United as well. I think it will be the same top four as last season, but maybe not in the same order.
CHARLIE: Man Utd, Arsenal, Liverpool

I think Manchester United and Arsenal will be in there again, but I expect an exceptional battle for the other spot with Spurs, Liverpool and Manchester City all in the hunt. It's tough to pick one, but I'll go with Liverpool. I just sense momentum is swinging back in a positive way for them and I think Roy Hodgson is a very shrewd manager. He doesn't suffer fools gladly and will demand more from Gerrard, Torres and everybody else.
MATT: Man Utd, Man City, Arsenal

Manchester United will be very close to Chelsea again and I expect City to be quite close to United, but I still think it will take time for all of their new players to gel. Last season was a step in the right direction and they'll improve again this year. Then I think the fourth spot will be between Arsenal and Liverpool and if I had to pick one I'd go for the Gunners. I still think the lack of a top-class goalkeeper is holding them back from a title push.
PAUL: Arsenal, Man Utd, Liverpool

If Liverpool's three main players - Fernando Torres, Steven Gerrard and Joe Cole - can all stay fit I think they'll get back up there again. This is virtually the same team that nearly won the title two seasons ago, only with Cole in place of Xabi Alonso. They'll want to play for their manager and they haven't got the distraction of the Champions League this year. If United can keep their key players fit they'll do well because they've got some exciting youngsters coming through and I'd be shocked if Arsenal dropped out of the top four. They won't win it, but they're top-four material.
PHIL: Arsenal, Man Utd, Liverpool

I think the perceived 'Big Four' will return. Arsenal have forced Cesc Fabregas to stay, which I'm pleased about, but I wonder if he'll be 100 per cent committed before he leaves in 12 months time. Laurent Koscielny and Marouane Chamakh are good signings, but I still think they need a midfield enforcer. I also have question marks over Manchester United in central defence and I wonder how many games Giggs, Scholes and Neville will play. Also will Berbatov find his form and will Rooney score as many goals again? As for Liverpool, there will a freshness but we need to be luckier with injuries. After a change of manager, Torres and Gerrard committing their futures and the signing of Joe Cole, it could be a glorious summer. A new owner could change things dramatically, but we already have an extremely strong spine.
Fifth
JEFF: Man City

You've got to look at Man City again. They've had a miserable pre-season and I have concerns about the manager, but if he gets it right then there's no doubt they have the players. I still think things are too uncertain at Liverpool with the ownership and I'm not sure how fit Torres will be. I like Roy Hodgson and I think he'll do a good job, but I think they need to take a longer-term view than saying they need to be in the Champions League next season.
CHARLIE: Man City

We've seen the scenario before when teams sign a swamp of foreign players and they don't always gel. Also I look at last season and while Man City were good against the big teams, they sometimes had issues with some of the smaller sides. The rotation system seems to infuriate some of the players and I don't think Roberto Mancini knows who will be in his 25-man squad yet. I expect a few teething problems and that's why they could miss out on the top four.
MATT: Liverpool

If Torres and Gerrard stay fit then I don't see why Liverpool won't be right up in the mix. Roy Hodgson did a cracking job at Fulham and I think it's only right that he has got a big club. I think Spurs will be close again, but if they have any kind of run in the Champions League I think it could distract from their league form. I just think there's so many decent teams at the top that they may find it hard to finish fourth again.
PAUL: Man City

It's out of Man City and Tottenham, but I'll go for City because Spurs are have the Champions League to worry about. I'm not sure that City will crack the top four this year because they've bought top-heavy in midfield. Roberto Mancini seems to be buying whoever's available, rather than buying a team. I always thought they weren't great at the back and apart from Jerome Boateng they haven't strengthened there much - and I also think he's bought too many players who haven't played in the Premier League before. It's going to take time.
PHIL: Man City

We're already seeing how things could be fractious at Eastlands. Shay Given has said he won't be happy if he's not number one and Craig Bellamy has spoken his mind as well. This is all taking place before a ball is kicked! Trying to fit all those players into the side could take time and no matter how much you pay players you can't guarantee they will fit into a system. But I think they'll finish fifth. As for Spurs, they need to show they're not a one-season wonder and after recent events, I don't think you can look at Aston Villa!
Relegation
JEFF: Blackpool, West Brom, West Ham

Ian Holloway's a mate of mine and he worked miracles to get Blackpool up, but there's no way they can stay there. I feel West Brom will go with them; they've been up and down and they're not a spending club so I don't see them improving on the fortunes of the last few seasons. I think the other one could be a surprise and West Ham could go. They had a season-long struggle last year and I have been uninspired by all of their signings. And while Avram Grant was briefly the Chelsea manager, he couldn't save Portsmouth. I think he's still got to prove himself and I don't fancy them.
CHARLIE: Blackpool, Wolves, Wigan

Being totally frank, it would be a major surprise if Blackpool manage to stay up. That sounds harsh when they're on such a high, but let's face it, they're not going to spend money on big players and they will struggle. Then I expect seven or eight teams to be battling to avoid the other two spots. I think Wolves will find it tougher this year and need to score more goals. And I like Roberto Martinez's style of football, but I don't know if Wigan have enough to see them through. They could be scrapping for their lives again.
MATT: Blackpool, West Brom, Wigan

I will say Blackpool with a fair degree of confidence and I don't think West Brom have strengthened enough to make me believe they'll stay up again. However, I think the other promoted side Newcastle will be ok so I'll go for Wigan as the other side to go down. I think they have almost overachieved with what they've had in the last few seasons and there's only so long teams can do that.
PAUL: Blackpool, West Brom, Wigan

It would be a miracle if Blackpool stay up and I fear they could be rewriting a few records this season. They start the season with a load of away games and that gives them no chance. I think everyone will enjoy playing against West Brom, like they did against Reading when they went down, because they let you play. The final spot is hard to call and it's probably between Newcastle, West Ham, Wolves and Wigan. The expectation may be too high at Newcastle, I don't rate the West Ham manager and Wolves might be in trouble if Kevin Doyle gets injured, but if I'm pushed I'll go for Wigan. I think other teams will want to buy some of their players in January and they could be the ones.
PHIL: Blackpool, Wigan, West Brom

Blackpool will find it very difficult and I just hope Ian Holloway isn't sacked after six months. Billy Davies says managers who bring teams up need at least six months and I totally agree. I hope Holloway can enjoy it, but they will go down. I don't know if Wigan will be strong enough and maybe West Brom will be the other team. They've always been far too good for the Championship, but not good enough for the Premier League. They'll play good football, but until they are more solid at the back I expect them to yo-yo again.
Top scorer
JEFF: Jermain Defoe

You've got to look at guys who will play consistently and perhaps take penalties. I'm ruling Torres out on fitness grounds and I don't fancy Van Persie for similar reasons. That leaves it down to the usual suspects of Drogba, Rooney and maybe Defoe. On the basis that Spurs will score loads of goals I'll go for Defoe.
CHARLIE: Marouane Chamakh

I'll go for a dark horse in Chamakh because I expect him to really impress at Arsenal this year. He's a natural finisher and he's good in the air, I'm not saying he's a physical targetman but he attacks the ball very well. I've seen him in the Champions League and he looks very sharp; he could get sharper as the weeks go by. If he plays enough games and Arsenal create enough chances then he could get the tap-ins that and the poacher's goals that Arsenal have struggled to score. He could be a big star.
MATT: Fernando Torres

I don't think you can look beyond Didier Drogba, Wayne Rooney and Fernando Torres again. I'll go for Torres as long as he can stay fit for the season. I'm very pleased to see him stay in the Premier League because there's no doubt he's one of the best in the world in his position when he's fit. Apart from Gerrard, I don't see anyone in the Liverpool squad getting into double figures so Torres will be the majority goalscorer and he's a good bet for the Golden Boot.
PAUL: Robin van Persie

If he stays fit I think Robin van Persie will score a lorryload of goals because Arsenal create more chances than any other team - and that includes Chelsea. I think he struggled up front on his own at the World Cup because Holland didn't create too many chances, but if he avoids more injuries there's no reason why he won't score plenty this year.
PHIL: Didier Drogba

I still think he's got the passion and the drive to win, even though he's 32 now, you know he'll carry on scoring goals. If he is to win the Golden Boot, a lot will depend on his fitness because he's had a few injuries and that happens when you get a little bit older. If he can play in 30 Premier League games he'll be the leading goalscorer.
One to watch
JEFF: Ben Foster

I've not been salivating at any of the players that have come into the league. Javier Hernandez looks like he might be the business for Manchester United and I hope he is, but I'm going to put a slightly different slant in this... I reckon the best signing of the summer might be Ben Foster at Birmingham. He's not the player I'm most excited about watching but I think he could have a good season to force himself right back into the England reckoning.
CHARLIE: Jack Wilshere

A player I really want to see is Jack Wilshere. I saw him on loan at Bolton at the tail end of last season and now he's filled out physically and is a bit more muscular I think he'll have a bit more about him. He's getting close to becoming a big-time player for Arsenal and I think that will develop very encouragingly this season. I'm not surprised that England have put him in their squad.
MATT: Marouane Chamakh

There's been talk about him coming to the Premier League for a long time and I think Arsene Wenger was delighted to finally get him. He knows where the goal is, he's quick and strong and he's scored goals in the Champions League. If he can get off to a good start then I'm looking forward to seeing him at Arsenal this season because he's what the Gunners have been missing. Robin van Persie's fitness problems have seen them struggle in the forward department. I think he's a very good signing.
PAUL: Dimitar Berbatov

I think Berbatov could rip it up this year. This could finally be his season. You just have to listen to the way Sir Alex Ferguson has been talking him up in pre-season and that tells me he's going to play a lot more than he did last season. He looks like he's enjoying himself and he even had a smile on his face in an interview after the Community Shield. He hasn't started well at United, but I'm a big fan of his and I think he could have a big impact this year.
PHIL: Javier Hernandez

If he gets a good run in the team, I think this boy could be the one to watch. He's got this 'young Michael Owen' movement about him in the way he runs into space behind defenders and he has a natural goalscorer's instinct too. In the few games I've seen him play he looks really sharp around the box and he could be a fantastic signing. Also look out for Raheem Sterling at Liverpool, who came on in one of the pre-season games. He's full of skill and runs like the wind, but he's only 15 so this season might be too early for him. He's one for the future though.
Do you agree with the boys? Let us know by filling in the feedback form below...
Comments (97)
Joshua Rigby (Liverpool fan) says...
i think liverpool will have a much better season than lthe last one we had gerrard and torres out most of the time and we had no decent replacements torres can score goals (19 goals in 22 matches in pl) and gerrard is in brilliant recent form 3rd or fourth is a realistic finish for us
Posted 16:49 17th August 2010
Tylar Stewart (Blackpool fan) says...
Blackpool go down not a chance of it 4-0 victors over wigan i think wigan will come last 19th west brom 18th stoke my one to watch-berbatov champions manchester united top scorer drogba 5th arsenal champions league spots chelsea city spurs
Posted 12:16 17th August 2010
Canadawheeler Dublin ireland (Manchester United fan) says...
I am not sure how there is a great gap between Chelsea and Manu U. There were lots of ups and downs with referees'' calls all season. For example, if Drogba were correctly ruled off side, a game in which Chelsea outplayed Man U might have ended in a draw and Man U won by 2 points. Where such slight differences arise due to referees, there is little gap on paper between the teams. That being said, I think Essien will make Chelsea slight favourites but injuries will tell the difference again this season.
Posted 12:09 17th August 2010
Davey J (Liverpool fan) says...
I believe there will be major differences in the top 4 from the last season: 1. Chelsea 2. Liverpool 3. Arsenal 4. Everton I think Manchester United will show all the chinks this season of an ageing team. Their back 4 is not a settled one with Ferdinand becoming more and more like Ledley King. I can see Fergie chopping and changing too much with the kids and they will be shown up. Man City''s Mancini will have major problems with them trying to gel and the big personalities with ultimately cost him his job. Spurs for 5th place and Villa 6th. One to watch: Daniel Pacecho
Posted 12:53 16th August 2010
Rita Hillman (Manchester United fan) says...
I just attended the Man Umited v MLS allstars game in Houston. Born in manchester I''ve always been a United fan & never miss a televised game.United were awesom. I was just disappointed that Rooney & Nani weren''t there.I think Berbatov is great & should be given more playing time. Plan onbringing my 18yr old grandson, who is soccer[football] crazy to visit Old Trafford next year & hopefully see a game. Forget Chelsea, this is our year.
Posted 00:02 16th August 2010
Sam Connolly (Chelsea fan) says...
A lot of people are saying that Chelsea will be weaker because Deco, Ballack, Belletti, Carvalho and J. Cole have left. But last season, none of them really were regular starters- apart from maybe ballack. And between the lot of them, how many goals did they get? Roughley 12 in all comptetions. When they were there, everyone said "Oh, they''re too old, not the player they used to be..." etc.. And when they sell them, suddenly they''re weaker?! And they have brought in Benayoun and Ramires. I know that maybe one more midfielder and defender would be good- but the transfer window isn''t closed yet! And besides- everyone is also forgetting Bosingwa as to come back yet! I can''t remember any of their goals- aside from J. Cole''s at Old Trafford- last season, being a big decider. Chelsea looked great against West Brom- I know that they''re one of the teams tipped to go down- but still, not being at full fitness, and missing a couple of players as well. If the five players they sold had been Drogba, A. Cole, Lampard, Essien and Terry, then yes, there would have been big need for worry! But I don''t see a great reason why Chelsea can''t go on to the same success as last season!
Posted 20:19 15th August 2010
Graeme Da (Sunderland fan) says...
Hello There, Well the premiership is back, get in! The only thing is it''s time to have to try and put up with Jeff Stelling! His lack of football knowledge, poor jokes, pre-written script by someone else and his Andy Gray sound like, growling voice! I''ve tried to email about this before but never heard anything back. I''m not the only one who thinks like this, do we really have to put up with it? He was a little embarrassing yesterday when he started to sing when Hartlepool scored! Not too long before his singing quietened, not that I mind Hartlepool mind. The other pundits, I mean pundits must think what on earth is he going to come out with next. Thank you in anticipation of your reply, Best wishes Graeme
Posted 15:58 15th August 2010
Harry Groves (Manchester United fan) says...
Just what i expected, all 5 picked Chelsea to win the league. They''ve released one of their best players in Joe Cole and haven''t adequately replaced him. Not to mention their shocking pre-season form, losing their last 5 including the community shield. I''d like to say that Utd will win the league this season, but i think sooner or later we''ll crash and burn if the effing Glazers are owning us. Maybe we do have another season in us, but next season we''ll more than likely do a Liverpool. Man City have just made a horrible mistake in signing Balotelli, he''s a spoilt prick who as also made a bad decision in joining City. If he left Inter because he wasn''t getting enough first team football, why go to the club with probably, player by player, the best squad in the world? Adebayor, Tevez, Bellamy and Silva are all twice as good as him and he will be lucky to be on the fringes of the first team. Let''s just hope he turns his club and the rest of the country against him this time as well :). Arsenal have good players coming through, and Wenger has blended them all together brilliantly (unlike a certain Roberto Mancini has done), so don''t be surprised to see Arsenal win the league in the next 2 seasons. I''ll be hopeful and say: 1st. Man U. 2nd. Arsenal. 3rd. Chelsea. 4th. Spurs. 5th. (providing they stay injury free) Everton. 6th/7th. A race between City and Liverpool, with Liverpool probably taking 6th. What with Martin O''neil going and Young and Milner possibly following him out, i think Villa will be Pipped to 8th by either Fulham or Sunderland. Relegation: 20th. Wigan. 19th. Blackpool. 18th. Newcastle Top Scorer: Probably Drogba again, or perhaps Gerrard. Chicharito will be awesome too.
Posted 20:59 14th August 2010
Ian Austin (Chelsea fan) says...
Pre-season and Charity Shield left many causes for concern for any Blues fan with eyes and a brain! Sorry Carlo, you don''t convince me - Spit the Dog could have managed chelsea to the title last year, the squad was at its peak. That squad is now another year older, Cole/Ballack/Sir Percy/Deco/Beletti have been shorn, to be replaced by errrr... Benny, that''s it to date. Our world cup players look as though they''ve lost the will to live! Don''t scoff United; not until you''ve found 60 big ones in September. Man City - in two years, with another Manager, perhaps. Liverpool - please! A three man squad! So, and, hate to say it, the horrible Spurs, although Arsenal will probably pip them. United third. Which leaves me concerned, really concerned, with Everton and City scrapping with us for 4th spot! Don''y shoot the messenger.
Posted 12:47 14th August 2010
Peter E (Cardiff City fan) says...
@John the liverpool fan get realistic you still seem bitter after last seasons dissapointment but it will be a two horse race between man u and chelsea and arsenal will beat liverpool 3 goals two 1 in the first game
Posted 11:01 14th August 2010
Todd Brooks (Bournemouth fan) says...
I think Manchester United will win the Treble since 1999 and Chelsea to be runners up. I think Liverpool will get 4th spot and Everton 5th spot and i think Fulham,Wigan and West Brom will be going down
Posted 10:30 14th August 2010
Tony Parkes (Blackpool fan) says...
John Simonian, you no nothing about Blackpool do you, our midfield is our strongest asset with charlie Adam (not Adams), David Vaughan and kieth southern. Plus new mids Ludovic Sylvestre, Chris Basham, Elliot Grandin, and Malaury Martin. We are staying up- well done Robert Walker.
Posted 10:00 14th August 2010
Paul Murray (Newcastle United fan) says...
1.chelsea 2.man utd 3.man city 4.arsenal 5.liverpool 6.everton. blackpool,wiganand wolves to go down....
Posted 04:57 14th August 2010
Alan Sheppard (Sunderland fan) says...
if Darren Bent can produce the goal scoring form as of last season he will prove you all Wrong , after some very good signings thing are on the up for us this season
Posted 22:41 13th August 2010
Gill E (Blackpool fan) says...
So Blackpool may have a few surprises and we may go down but then stranger things have happened! , but the club has got it right to ensure longevity in the leagues, we are not going to bankrupt ourselves for one season or two, perhaps the premier league may take note and realise that football is no longer about great achievements like Blackpool did last season, but all about how much you can afford, the game of the super rich.. funny how the game of the common man has changed so much............ what would the great Stanley Matthews say???
Posted 22:20 13th August 2010
Jason J (Arsenal fan) says...
I think it will be close at the top this season between Arsenal, Man Utd and Chelsea but I think this can be our (arsenals) year. All we need is a good defender lets say Mertesaker or maybe get hangeland and then hopefully sign schwarzer and like everyones saying keep van persie fit then we can win it. Also I think that Chamakh will come out top scorer :)
Posted 21:00 13th August 2010
Ronan Coleman (Manchester City fan) says...
i really do love how jelous and worried the so called ''big clubs'' fans are getting. suddenly liverpool are contenders for the championship becasue joe cole has signed - a player who struggled to get in englands team for the world cup- whereas city have signed the likes of david silva and yaya toure who are established quality international players. lets face it city will challenge for the title and im very confident they can win it- starting with spurs on saturday
Posted 20:55 13th August 2010
Danny Woo (Wigan Athletic fan) says...
League could go either way, couple points in it between utd and chelsea with city and arsenal close. everton will be much better while villa much worse without o''neill. sunderland could also be a surprise with a fit team. whys no one tipping ncastle to go down, got no decent striker or manager. while wolves will struggle for goals, and i can see west brom being too weak at the back. blackpool down bottom. while wigan have a much better team and squad and i love it when were one of the favs to go down each year, still here people will be next year too.
Posted 20:49 13th August 2010
James Kenny (Chelsea fan) says...
hahaha liverpool win the league funniest thing ever go on google and look up the last team who finished 7th that went on and won the league the following season i fink liverpool will struggle for top 4 as much i loved joe cole he was benchwarming for chelsea last season im going for chelsea man utd arsenal man city top 4
Posted 20:44 13th August 2010
Anthony Shaw (Stoke City fan) says...
I''m surprised to see nobody tip Newcastle for the drop. They had a fantastic year last year but on paper they look weaker now than when they were last relegated. In fact, for the first time in a while, I think that all three promoted sides will go down although and Wigan will be the one''s sweating on the last game.
Posted 18:04 13th August 2010