I have to say I was absolutely staggered when I heard the news that Wayne Rooney wants out of Manchester United. I still am.
If there was ever a player in the Premier League who I thought we would see wearing the same shirt for the rest of his career, it was Rooney.
I hate badge kissing and he isn't a badge kisser. We see it all the time, players doing that and all the while we're well aware that as soon as the chance comes up they'll be off somewhere else - to kiss another badge.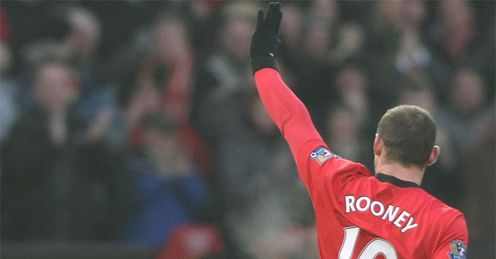 Wayne Rooney is not one of those. I thought he would be at Old Trafford for the rest of his career, I really did.
Normally when something as big as this comes up you hear something on the footballing grapevine, but I hadn't heard a thing. That made it a complete and utter shock and something I just can't work out.
We've all been left wondering what has happened. People will be saying Rooney is out of order, others will be pointing the finger at Sir Alex Ferguson, saying he is behind the times and cannot manage successfully in this era of huge contracts and player power.
I can see him ending up at Manchester City. With their funds, they can make a major statement, show they are a real force in world football. And not only that, they would be making another little bit of mischief with United but above all, getting the best player of his generation.
Jamie Redknapp
Quotes of the week
JAMIE'S RED HOT TIPS
Sky Sports football pundit Jamie Redknapp is part of Sky Bet's team throughout the football season. Each week Jamie will be highlighting the key talking points and also providing in-depth video analysis and also giving his own tips in 'Redknapp Reckons'.
To see Jamie's weekly Sky Bet blog,
click here
We don't know enough to comment on the first one, but if anybody thinks Ferguson is not up to the job anymore, they can think again. He would have been a successful manager 30 years ago and would be a successful manager in 30 years time.
We know all about the problems Rooney has had. And they have been going on for a good six months, ever since he got that ankle injury against Bayern Munich way back in March. Maybe he feels United as a club and Sir Alex could've done more for him.
Problem
Sometimes we all need an arm round us - he is no different to anyone else - but sometimes you also need to look at yourself and deal with things yourself.
I know there has been an issue with the contract and that can be the only thing I can think of that is behind this. As soon as there is the whiff of a problem, other clubs will have been onto Rooney's agent and both he and the player himself will be more than aware of what he can get elsewhere.
He could double his money at Manchester City, I am sure. The only other clubs that even come into the equation are Chelsea, Barcelona or Real Madrid.
Rooney is 9/4 with Sky Bet to join Manchester City
Do Barcelona need him and Lionel Messi in the same team? I know the prospect of joining up with Jose Mourinho and Cristiano Ronaldo sounds great, but if you think about it, Ronaldo leaving Old Trafford was really the making of Rooney.
Personally if I was offered the chance to go and play in Spain and learn another language and lifestyle I would jump at it, but I don't think Wayne is that kind of lad. He strikes me as a local boy, who is close to his family, which is why I thought he would be at United forever.
Miracle
I think he will stay in England, which is great for the Premier League. I would hate to see England's best player leave these shores, I really would. I genuinely hope he stays.
The problem he has is he is going to upset Manchester United fans if that is the case. As I say, only Chelsea and City could really afford him, maybe Tottenham or Liverpool if they came up with some minor financial miracle. Would he go to Liverpool though and risk upsetting even more people back on Merseyside?
He and his agent will know what clubs are interested. Manchester City could easily afford to pay him £250,000-a-week, the chance to at least double his money, I am sure.
What will Rooney's transfer fee be? Over £30.5m 5/6
I know people will turn round and say when you earn that much what does it matter, but you ask any man on the street what he would do and I am sure he wouldn't be able to give you a flat 'no, I'm staying put'. Maybe he thinks he is getting a raw deal at United, knowing what he can earn somewhere else.
Will Rooney play for Man United's first team again?
I can see him ending up at Manchester City. With their funds, they can make a major statement, show they are a real force in world football. And not only that, they would be making another little bit of mischief with United but above all, getting the best player of his generation.
You wouldn't have thought Rooney would go to United's rivals; but a week ago I wouldn't have thought he would ever leave Manchester United.
Comments (178)
Michael Turner (Hoffenheim fan) says...
how many of us would turn down the chance to double your wages doing the same thing you do now. none of us ! so lets get off his case. roy keane hit the nail on the head when he said look after number 1.
Posted 14:31 21st October 2010
Romario Da souza (Barcelona fan) says...
please God don''''t let this half shrek- half pig over rated player come to Barca.We don''''t need him,he won''''t fit in he has no SKILLS.To play in spain you have to have some skills,English players don''''t have skills ,it''''s genetic. He should stay in England where he is over hyped and always given the benefit of doubt by referees
Posted 14:30 21st October 2010
John Warmisham (Manchester United fan) says...
I am so angry about this. City have tapped him up-no question! I hate City with a passion but I have to admit that the Blue Moon is definitely rising. Utd remind me of the McGuinness, O''''Farrell era after Sir Matt left us. I can see us in decline and City in the ascendency for many years to come. I could weep, I really could! It''''s time for Fergie to walk, he''''s sold his soul to the Glazers and we''''re paying interest on it! I''''m off to FC Utd! City will win the league this year. Green & Gold til the club is sold! MUFC RIP. The Bard of Salford
Posted 13:38 21st October 2010
S H (Manchester United fan) says...
M S - you want to talk about a team in crisis look at the premiser league table and tell me who is currently 19th??? think before you speak mate
Posted 12:48 21st October 2010
Dale Osborne (Brighton and Hove Albion fan) says...
i thought Wayne would be Man Utd till the end of his career but that proves there are no loyal player anymore its all about the money now
Posted 12:45 21st October 2010
? ? (Manchester United fan) says...
M S... How ironic a Liverpool fan talking about a deteriorating squad. When Rooney leaves, The Red Knights will buy United and at least then the club will be owned by people who love the club. This is what happens when you give uneducated morons hundreds of thousands of pounds a week to ''''play a game'''' they become disillusioned and think they are Godlike! If it wasn''''t for football, Rooney would be sat on a council estate drinking his Tesco value lager. Football made him who he is and gave him his wealth. Why come out like he did, like all the rest and announce it to the world. If he wants to go then be it, tell the club first and then in January let Fergie offer him to clubs. He hasn''''t had a good game for United for months so it''''s not like he''''s been playing anyway. Go to City and keep looking over your shoulder, there are idiots out there who will go one step further and do something to you for going there.
Posted 12:02 21st October 2010
Michael Strauss (Manchester United fan) says...
Laura Bailey - Lets face it, you probably dont have a clue about the game. Johnson to outshine Rooney? I''''ve never heard anything so stupid. Typicall comment from a bitter City fan. Lets face it all you City fans, you would do anything to get Rooney at your club. All this nonsense about "we dont need him, we''''v got Tevez." Yes ok, you dont need one of the best players in the world?!! If the question was asked this time last year, your answers would be different. No matter what happens, you will never become as big as Manchester United, you would love to...but will never happen. Come back when you have 11 Premier League titles and 3 European Cups.. 34 years!!!
Posted 11:53 21st October 2010
Steve Wright (Chelsea fan) says...
he''''s never been prolific and although a talent,he''''s never scored more then 20 goals in a season on a regular basis.and if you cant do that at united with the chances they create your never gonna be top draw.something lampards done 6 years running.he''''s burnt his bridges and like mentioned man city ........to close to home and still memories are there..as is the money or chelsea and his england collegues....spains out as he''''s never crafted the english language properly not alone the spanish.and both madrid and barcelona are skint,hense no fagregas 3 months back
Posted 10:59 21st October 2010
Paul Carver (Manchester United fan) says...
i started to notice last season a change in rooney''''s attitude, admittedly he stepped up after ronaldo''''s departure, but i think he started to believe his own hype to much. he just seemed to get more arrogant on & off the pitch, to say he''''s worried about winning trophies & where the clubs going, is an insult & pathetic, united lost the title by a point, having won it the last 3 seasons beforehand. man utd have always won trophies & signed top players, admittedly i do think we could get rid off a few players, who in my own opinion arnt man utd players. this is a player who''''s form over the last few months has been very poor for england & utd .so why doesnt wayne (i want to stay at utd for life, a few months ago) rooney really come out & tell us the REAL truth why he wants to leave.
Posted 10:15 21st October 2010
H D (Chelsea fan) says...
I really really want Chelsea to do everything we can to sign Wayne Rooney, he''''s the perfect replacement for an aging Drogba, I can''''t imagine what Drogba and Rooney could do together, it would be epic.
Posted 09:00 21st October 2010
Jon Varsamos (Hartlepool United fan) says...
Which ever team Wayne decides to play for in the future, there is now going to be a lot more attention from the press. He needs to now do the right thing for himself and his family if he wants this mess to dye down and allow him to do what he his good at and play football. I''''m sure Mr Wadsworth would love to have a chat and lets not forget what ever anybody thinks of wayne, he is still one of Englands best footballers.
Posted 08:40 21st October 2010
Ravi Hingrajia (Manchester United fan) says...
Even though i dont respect footballers who cheat i.e. JT and ROONEY, both their situations were different. Chelsea have a billionaire owner... Utd have debts!! ''''I want a transfer and wage cap introduced so all these great clubs in the EPL can develop youth especially English and maybe in my lifetime I will see England win the European championship or i''''m dreaming of that World Cup''''
Posted 02:44 21st October 2010
Grant Gee (Manchester United fan) says...
I am a United fan and to be honest i am behind Sir Alex 100%. Rooney now thinks that he is bigger than the club and not one player in any team is that. He says the current squad is not good enough and has no ambition. Ask yourself this Rooney, have you played better than any one United player this season, i think not. Look at your own performances first before you talk about your team mates. If it were my decision i would put him in the reserves until his contract runs out and wait for him to apologise to his team mates, club and more importantly the fans.. World Class player, just look at the last 4 months and tell me he is a world class player, no England fan likes him after his outburst at the world cup but that again was because of his own performances... Sir Alex over the past 20 years has made some shock decisions but he is still at the club and still winning trophies.... Everytime a star leaves, a new one is born, Rooney only became a star when Ronaldo left... Nani is starting to improve and so is Berbatov.........So i say rot in the reserves or go anywhere you want, UNITED dont need you......
Posted 02:22 21st October 2010
Andy Grant (Arsenal fan) says...
It does not matter who ends up signing Rooney. The fact is that this idea that man utd is not ambitious enough goes to show that his desire to leave is motivated by money. whoever offers him the most "ambition" i.e off the scale wages, will get him. Its a shame that football has come to this but maybe it isn''''t a surprise - remember "once a blue always a blue". The kissing of the man utd badge almost at every opportunity is the same thing and it vindicates the lack of loyalty shown by money hungry "stars".
Posted 02:22 21st October 2010
Stuart Quinnett (Liverpool fan) says...
As a liverpool fan i have to say i would love rooney to play for us, even if he is a blue. but this isnt my point i feel sorry for sir fergie as he has groomed him into a better player than if he had stayed at everton, it is good that everton will get a percentage of any sale as they developed him as a kid and deserve that money! but my main point is if he goes city and gets paid half a mil of quarter of a mil a week, he will be one of numerous players that are highly paid, what happens in 2012 when the new regulation comes into that clubs have to be self sufficant, with citys wage bill of over paid players they wont met that, even if they are prem champs or champ league champs, they dont have the turnover in the international market to be so! City can win a title or two, but when reality hits and they have to not offer ridiculas wages to players were will they be? the same as utd, liverpool, chelsea and arsenal!
Posted 00:53 21st October 2010
Ewan Maciver (Arsenal fan) says...
I don''''t think people are understanding what Jamie meant by a ''''badge kisser''''. Yes Rooney has kissed the badge many many times over the years, but what Jamie meant is that Rooney is not the type of player who has moved between clubs regularly and pledged his loyalty to a new badge over and over again eg. Ballamy. I agree that he has done it with Everton, but at that time they could never have expected to keep a talent like Rooney, shame he didnt come through in the current Everton squad.
Posted 00:22 21st October 2010
Ryan Ludick (Liverpool fan) says...
You mancs are living in a dream world......when Rooney reaches 12 months left on his current contract, he can buy himself out of the remaining year of the contract for 5mil....so you are dreaming if you think anyone will pay anything more than that.....guess what.....you getting NOTHING for him......uurrrmmm sorry...you getting 5 mil....minus 25% to Everton. We''''ll give you Babel for the remaining 3.75 mil.
Posted 23:07 20th October 2010
Tim O''sullivan (Leeds United fan) says...
all you utd fans who just want to abuse rooney cause he has realisedu are in debt, losing most of ur best players to age, have no chance of adding quality players and cant compete with the spending power of city, chelsea and even arsenalif they wanted to spend, all this talk of everything utd have done for rooney, he dragged u to 2nd place last yr on his own, the form hes in now and the fact he wants to go u may get 25m for him which after paying everton their cut the rest will go off debt, i hope he leaves and has a successfulcareer, fergie will be gone soon along with giggs, scholes and vandersar, well c how well the great man utd do wit no team no fergie and no money, good luck wit that
Posted 22:47 20th October 2010
Sean Mellors (Manchester United fan) says...
MS from liverpool, How can we fail to disagree with you?? After all you seen this happen at Anfield!! you have the experience in reliving the history channel every day of you life, so telling us as UTD fans how its going to be HA. The thing is yeah we are cash strapped yeah yeah we are a depleating squad, but lets not forget this has been seen coming for the last three years, but rather than squander cash and make the situation worse like liverpool did with Rafa, we have invested heavily in our youth and signed where we have had to, Im sure it was Alan Hanson who said you will never win anything with Kids was it not? oh yeah he is a liverpool fans also, he was wrong and so are you, please keep your unfounded petty comments to yourself and hide back under that rock as your your club is still in a very precaroius position. As for Rooney never forget that utd have done this since the PL began three seasons of champs, fizz out for a season or two then bang back where they belong, SAF was born to win, that wont stop for long.
Posted 22:25 20th October 2010
Faisal Hussain (Manchester United fan) says...
Anyone else feel a bit of deja vu here? I can see the Leeds Utd decline suddenly happening to Man U in the not too distant future....
Posted 22:14 20th October 2010