As another footballing year comes to a close the Premier League table has never been tighter.
Just three points separate the top four, five points the bottom five and in between, the remaining 11 clubs are stuck in the middle seven points apart and able to go either way.
Sky Sports' Jamie Redknapp has been giving skysports.com and SkyBet his tips throughout the season so far, so before the crucial Christmas period, we asked him to assess how each club has done, who has shone and more importantly, what's needed in 2011...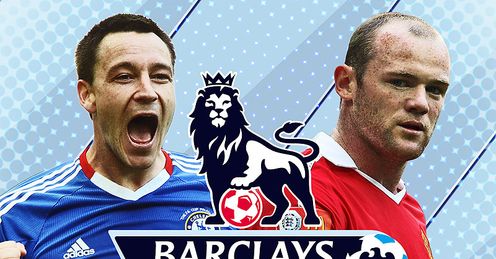 Scroll down to see what he makes of YOUR club...
Manchester United
HALF-TERM REPORT: They're still unbeaten but I am sure Sir Alex Ferguson wouldn't quite know how! They've not played nearly as well as he'd like, but they have dug themselves out of some bad situations and never know when they're beaten. They are keeping clean sheets as well which is a big help, because I thought they might struggle at the back at the start of the season and did wonder if Rio Ferdinand was coming to the end of his time. Clearly not. They're top, they usually have a great second half of the season, so they have to be my favourites.
Back United to win the title at 5/4 with Sky Bet
STAR MAN: Nemanja Vidic - Like I say, I had my doubts about that United back four, but not when this lad plays. He's been made captain and has responded with some sensational displays. Paul Scholes started off really well, but Vidic has come on strong and when he plays, they are so hard to beat.
NEW YEAR'S NEED: If I'd have told you we'd be sat here at Christmas talking about Wayne Rooney not scoring in open play since March, you'd have called me an idiot! It has to happen sooner or later, he's too good a player for that to continue - and then United will really be up and running.
Arsenal
HALF-TERM REPORT: It's been an up and down start, pretty difficult to assess really. But they have been top, are right in touch so they will be in contention for sure. While all the other clubs continue to falter they will always be in with a shout and maybe going out of the Champions League if it happens, will be a blessing in disguise. They have had some very poor results like losing to West Brom at home and being pegged back from two-up against Tottenham, so they need to get rid of those if they are going to do anything.
Arsenal to beat Chelsea on Monday 6/4 with Sky Bet
STAR MAN: Samir Nasri - He's been a revelation, especially with Cesc Fabregas struggling for fitness, and has really been their dominant force. He's come to terms with the Premier League now, he's not only created plenty, he's added some big, big goals as well.
NEW YEAR'S NEED: They need to sort things out at the back. Thomas Vermaelen is out for another month which is a big blow and while I think Marouanne Chamakh has given them another dimension up front, I am not sure about the new lads in the centre of defence.
Manchester City
HALF-TERM REPORT: I've heard so many people say that home defeat by Everton was typical Man City, but the fact of the matter is they could have been sat top going into Christmas. The whole Carlos Tevez affair has not helped in the slightest and Mario Balotelli is still an enigma but pound-for-pound they have the best squad in the Premier League - and they are likely to add to that in January. Roberto Mancini has got it wrong on a couple of occasions, especially at home, when you have so many good players, never mind the funds for more, you have to expect them to be right in the mix.
STAR MAN: Carlos Tevez - He's been their top man and their pantomime villain, really. I don't like to see what he (and Wayne Rooney) have done and I have no idea why he did it. But you do know that Tevez guarantees you 100 per cent every game, and you cannot deny he has been their inspiration so far.
Tevez to be the Premier League top scorer, 4/1 with Sky Bet
NEW YEAR'S NEED: Jo clearly isn't good enough, Emmanuel Adebayor looks like he wants out and Roque Santa Cruz's face doesn't fit, so I would expect them to go and get another centre-forward in the transfer window. They have the funds to do it and they need to have more back-up because if Tevez gets injured you worry where the goals will come from.
Chelsea
HALF-TERM REPORT: It's been like the X-Factor at Stamford Bridge at times; they've had malaria, people are being kicked out and all they are missing is that number one spot at Christmas. I keep saying it but players are the ones that make a difference and they have had to play spells without Michael Essien, John Terry, Didier Drogba and Frank Lampard - and I don't care how good you are, any side is going to suffer. There were signs against Spurs that it is coming together and they will still be there or thereabouts.
STAR MAN: Florent Malouda - He may have gone off the boil, like the side as a whole, but he was on fire at the start of the season. The goals have dried up a bit, but he was scoring so freely, he was always going to level off sooner or later.
NEW YEAR'S NEED: They need Frank Lampard fit and playing. He gets you 20 goals a season from midfield which tells you how important he is, but he is also part of that strong spine. If he comes back and finds his form straight away I expect them to have a massive back-end to the season.
Forecast: Chelsea to win the title and United to finish second, 11/4 with Sky Bet
Tottenham Hotspur
HALF-TERM REPORT: It's been a good start in the league and a great start in the Champions League - although you did wonder how they would balance the two, particularly when they lost at home to Wigan. They have still had the odd wobbly result which has stopped them being top, but then plenty of others could say that. Rafael van der Vaart has been a great signing and you only need to ask my dad how good Luka Modric has been, but I also do like the fact that they have proved they can cope without Ledley King.
STAR MAN: Gareth Bale - He's had a great start to the season and believe me, there is still more to come. He's an incredible talent; he's strong, he's got pace, he scores goals, he's a great crosser of the ball, he's got the lot. A superstar in the making.
NEW YEAR'S NEED: The Champions League is great and there's every chance they can beat AC Milan, but they have to finish in that top four again just to prove they are no flash in the pan. Everton did it once and fell away, but if Spurs can do it back-to-back, it will be massive.
Spurs to qualify against AC Milan, 10/11 with Sky Bet
Sunderland
HALF-TERM REPORT: A great start! Steve Bruce has assembled the best team they've had in the Premier League, better than the one that had Kevin Phillips and Niall Quinn up front. I'm pleased for Bruce; he has spent some money but he's brought in Asamoah Gyan and Danny Welbeck and from just having Darren Bent up front, they now practically play with three strikers - and it's working well. Nedum Onuoha has been another great loan signing and although they had that shocking Newcastle result, they have bounced back well.
STAR MAN: Lee Cattermole - He is a bit of a loose cannon, but he's the important one in that midfield, the driving force. I like his mentality because he doesn't care for reputations, he just gets stuck in and does his job. Jordan Henderson may have got the England call, but the captain is the one that makes his side tick.
NEW YEAR'S NEED: Even now I think a top 10 finish would be OK, but I see no reason why they can't push for the Europa League. What they need to avoid is the sort of horror run they went on over Christmas and into New Year last season - and I think they will.
Back Sunderland to finish in the top six, 9/2 with Sky Bet
Bolton Wanderers
HALF-TERM REPORT: I thought Owen Coyle would do well, but no way did I think he would do this well! He got into a bit of trouble for leaving Burnley but it's turned out to be the right decision and I like what he's doing. Yes, Bolton play more football now but he's realised he has one of the best battering rams in the Premier League in Kevin Davies, and knows there are times when they have to use it. It's a nice balance to have and they mix it up well and he seems to be bringing the best out of plenty of players.
STAR MAN: Stuart Holden - He may not get many headlines, but he just goes about his business week in, week out and is one of those flourishing under Coyle. He's started to weigh in with a couple of goals as well and looks like being the latest American import to catch the eye.
NEW YEAR'S NEED: I would put them in that group alongside Sunderland, where a top 10 finish would be a success - and probably the target - but there's no reason they can't push on further than that. As long as they don't get ridiculous delusions of grandeur like Blackburn, I am sure they can do just that.
Bolton to finish in the top six, 11/2 with Sky Bet
Newcastle United
HALF-TERM REPORT: It just shows you what a strange game football is that we are now talking about Alan Pardew's Newcastle and not Chris Hughton's. Chris did a great job there and I have to say I did think they would go straight back down when I saw the side that was coming up. They have some strong characters in the squad like Joey Barton, Kevin Nolan and Steven Taylor but Hughton seemed to get them all pulling the same way and the challenge for Pardew is to keep that going.
STAR MAN: Andy Carroll - He left the Championship a boy and has become a man in the Premier League. He's more than just an aerial threat as well, he gets goals with his left foot, right foot, inside the box and outside the box. He's a top, top player who could play for any side in this league - even the very best.
Jamie thinks Andy Carroll's a value bet to finish as Premier League top scorer, 10/1 with Sky Bet
NEW YEAR'S NEED: They need Pardew to carry on where Hughton left off, simple as that. That means keeping the squad together, keeping the fans at St James' Park on side and generally making sure the club is making headlines on the field. A top-half finish would be brilliant, but staying in the Premier League will be enough.
Liverpool
HALF-TERM REPORT: Back in August when we had just seen them get beaten at Man City, Robbie Fowler - who was working for us on Sky Sports that day - turned to me and said the Leeds team he got relegated with was better than Liverpool. They have picked up since then and it doesn't look like they're going to go down, but they're not going to finish top four either. Roy Hodgson will probably be glad events at other clubs have taken them off the back pages, but he's a top manager who just needs to get his own players.
STAR MAN: Steven Gerrard - It always is isn't it? And the fact that he has had a quiet season by his own standards pretty much sums up Liverpool's season so far really. They need him to get better because Fernando Torres looks like he just doesn't want to be there.
NEW YEAR'S NEED: Hodgson just needs to be able to get his own players in and I hope funds are made available in the window. At the moment, too many are leftovers from Rafa Benitez - and too many of them are just not good enough to be at Liverpool Football Club, I'm afraid.
Liverpool are 5/1 with Sky Bet to finish in the top four
Blackpool
HALF-TERM REPORT: Absolutely brilliant! Different class! I can't speak highly enough of them - or the other two promoted clubs, as it goes. Ian Holloway has been a breath of fresh air and the way they play football reflects that; they just go to attack sides, which is so refreshing. They're also pleasing on the eye and in Charlie Adam, they have a real playmaker, although it is unfair to single any individual out really. Their away record is sensational and you just hope they keep playing without fear.
STAR MAN: All of them - You can't single any one player out really. DJ Campbell, Gary Taylor-Fletcher, the keeper Matt Gilks, every one of them has done everything you could ask of them. They are a team in every sense and I am sure that is part of their success so far.
NEW YEAR'S NEED: They have to avoid the Hull factor, because so far they have reminded me of them, and we all know how badly they tailed off towards the end of their first season. That will be Holloway's team talk for the remainder of the campaign, but as long as they keep playing without fear, I think they'll be alright.
Blackpool to stay up, 4/11 with Sky Bet
West Bromwich Albion
HALF-TERM REPORT: I think it's the first time in Premier League history the three promoted sides are in the top 11 at this stage of the season and although they might not have got the headlines, West Brom have done just as well as the others. I am delighted for Roberto Di Matteo because he deserves it after having to give up playing so early and it's no surprise to see his team work hard and pass the football well, because that's what he did as a player. What I like best is the way that after that five-game run without a win, they bounced back and beat Everton away - there are going to be tough times for new sides, but it's the way they react that counts.
STAR MAN: Chris Brunt - Peter Odemwingie has done well when he's fit but Brunt has stood out. We always knew he had a great left foot and set-piece delivery is so important in the Premier League, but his all-round game seems to have improved. He's got a couple of goals and it would be good if he could add to that.
Chris Brunt to score first against Bolton, 11/1 with Sky Bet
NEW YEAR'S NEED: Complacency is the biggest threat because in this league every single mistake you make will get punished. Roberto will know that better than anyone and the last thing West Brom want to do is to go straight back down again, so he will take nothing for granted. Because of that, even 17th place would be a success.
Blackburn Rovers
HALF-TERM REPORT: Only time will tell whether the new owners are right to give Steve Kean the job. It was wrong to sack Sam Allardyce, but it's not Kean's fault, it's just something we see when people come into clubs with ideas way above their station. There was nothing wrong under Big Sam, Blackburn might not have played the prettiest football but it works and everyone knows what they are doing. Morten Gamst Pedersen seems to be back to his old self as well, which always helps a side that relies so heavily on set pieces. I would have said they were safe, but after what's happened, I'm not sure anymore.
STAR MAN: Ryan Nelsen/Chris Samba - These two are so important to Blackburn so the fact the Samba has handed in a transfer request shows you the massive gamble they have taken getting rid of Allardyce. But Nelsen is their leader; he's a no-nonsense defender and is probably their most consistent player, too.
NEW YEAR'S NEED: Kean needs to get the players on-side as quickly as possible and make sure the change does not affect them. There have been one or two rumblings already but the sooner he can settle in, the better. I don't think he is going to be able to change their brand of football overnight - but if he has to, that could cause problems.
Blackburn to be relegated, 11/2 with Sky Bet
Stoke City
HALF-TERM REPORT: They had a horror start didn't they, but have picked up and are now looking like the Stoke we know. That run of three wins against Birmingham, Liverpool and West Brom did them the world of good, but also shows how close this league is - and Tony Pulis knows that. They have had some really bad luck and knowing Tony as I do, I do think he had a point, because he is not really one for whingeing for the sake of it. Ricardo Fuller and Kenwyne Jones have shown what they can do in flashes and Stoke have probably mixed their football up more than they get credit for. And even if you do know those throws are coming into your box at 100mph, it's another thing stopping them!
STAR MAN: Matthew Etherington - One of their most consistent players last season and he has carried on this season. His delivery from the left is important but also running at defenders and stretching back fours does create space. Maybe he should get more goals, but that's probably being over-critical.
NEW YEAR'S NEED: A midfield driving force. It was no surprise to see them in the hunt for Scott Parker because they could move on to the next level if they had a proper player to get hold of the ball and also add that extra bit of creativity in the middle of the park.
Jamie's backing a draw in Stoke's clash with Blackburn, 12/5 with Sky Bet
Everton
HALF-TERM REPORT: It's become a typical Everton season, really; slow start, injury problems and in a false position. They say the table never lies, but they have too many good players and too good a manager to stay in the bottom half. The win at Manchester City showed what they are all about; this is a team full of men, proper players and they will dig in and start climbing that table. A lack of goals has been their biggest problem and it seems every combination David Moyes has tried up front just doesn't work - and it's not as if they don't create chances either.
STAR MAN: Tim Cahill - While the strikers are still struggling for goals he has been the mainstay as always. I still don't know how he times those runs so well or climbs so high for those headers, but he is still impossible to stop. Losing him to the Asia Cup will be a massive blow.
NEW YEAR'S NEED: A goalscorer has to be the priority in January. Louis Saha does well but never puts a run of games together, the Yak is not getting any younger and Jermaine Beckford has just not worked out. When Cahill goes away it could become a real problem for them.
Everton top six finish, 7/2 with Sky Bet
Aston Villa
HALF-TERM REPORT: It was a shocking start with Martin O'Neill walking out and it was always going to set them back. Gerard Houllier has come in and he seems to be doing what he did at Liverpool - ruffling a few feathers, especially among the senior players. He is very good at working with young players, almost like a school teacher, and Marc Albrighton, Barry Bannan and Ciaran Clark have all done well. But at Liverpool he had young Steven Gerrard and Michael Owen to work with and I don't see them at Villa. It's not been the best of seasons so far and they really need to start picking up points to settle the place down.
STAR MAN: Stuart Downing - Just shades it from Albrighton for me. He gets a lot of stick, probably because of his England performances, but he has looked good this season. He seems to be getting forward more and weighing in with more goals than usual - important ones too.
NEW YEAR'S NEED: It will be interesting to see what funds - if any - Randy Lerner makes available because like any new manager, Gerard needs to be able to bring his own players in. But the one thing he cannot afford to do it be too aggressive in his changes, because that could easily tip the balance against him.
Aston Villa 11/2 to finish in the top six with Sky Bet
Birmingham City
HALF-TERM REPORT: They probably punched above their weight last season, so maybe this was to be expected second time around. But they are still hard to beat and if they do lose, it always seems to be by the odd goal, which shows they are not a mile away from last season. Their home form - beating Chelsea is a great example - is still good and St Andrews really is a tough place to go and play, although they have perhaps drawn too many. Alex McLeish likes his experienced players and the spine of the side is very, very solid, which makes them such a hard side to get the better of.
STAR MAN: Barry Ferguson - One of those experienced players that are so important to Birmingham. He's playing deeper and deeper these days, but does a great job in the middle of the park - and he has a lovely habit of passing the ball to his own players.
NEW YEAR'S NEED: A young Kevin Phillips! Nikola Zigic hasn't really come off, Cameron Jerome works hard but is never prolific and if you look at all the narrow defeats and draws, it's not hard to see where Birmingham could really improve. They do get in good positions but 17 goals in 17 games before Christmas tells its own story.
Birmingham are 1/5 on to stay in the Premier League with Sky Bet
Fulham
HALF-TERM REPORT: They've had a difficult first half to the season. It was always going to be tough for Mark Hughes, taking over from a manager who had massively over-achieved last season, getting to the Europa League final and still picking up good league wins in the process. But then losing Bobby Zamora made it even tougher and without him they have drawn too many games they might have won with their main man in the side. Without him goals and wins have been hard to come by, but Hughes knows what he's doing and won't panic.
STAR MAN: Clint Dempsey - He's a good player and without Zamora his goals have been vital. Like all Fulham players he is neat and has a good football brain, but can also finish as well and score with his head or both feet. A great season so far, just when his team needed him.
NEW YEAR'S NEED: Bobby Zamora! If they can get him back in February you would be much more confident of them climbing the table. Andy Johnson is playing again, but sides like Fulham need their big players every week. Maybe Hughes can bring a striker in on loan, or a swap, but they need someone to stick the ball in the net.
Fulham are 7/2 with Sky Bet to be relegated this season
Wigan Athletic
HALF-TERM REPORT: I really feared for Wigan before the season and when they lost to 4-0 to Blackpool and 6-0 to Chelsea in the first two weeks, I couldn't see them staying up. But they haven't done as badly as that start suggested and you have to give Roberto Martinez credit because they do play football and they do attack teams. Winning at White Hart Lane was probably the highlight, not just because it is their only away win so far! I am not surprised they are in the bottom three and they and their young manager have it all to do.
STAR MAN: Charles N'Zogbia - He's always linked with a move away from the club, but the games I have seen him play, he has looked their best player. If they can't keep hold of him in January, maybe they can get £7-8million and bring in a couple of players, or if he stays and keeps them up and then they let him go, he'll have done his job another way.
NEW YEAR'S NEED: It's hard because Wigan will always be a rugby league town, but they really need to get support behind them at home. The JJB hardly fills you with fear and for sides struggling, winning your home games is always the first place to start. If they are going to stay in the Premier League, they'll need to sort that out.
Wigan are 8/11 with Sky Bet to be relegated this season
Wolverhampton Wanderers
HALF-TERM REPORT: They spent a fair bit of money in the summer, so I am surprised they are in the position they are. I think they expected more from Steven Fletcher, but he has only started five games, so that needs to be looked at. Sylvan Ebanks-Blake and Kevin Doyle always work hard and for me Doyle is still their leading man, but so far they have struggled for goals between them. They have also taken over from Stoke as the Premier League's unluckiest team but they have not been getting played off the park and will always give Mick McCarthy everything - and that's never a bad place to start.
STAR MAN: Matt Jarvis - He's a player I like, a lot. The Wolves fans think he's good enough for England and I have to say I have been impressed every time I see him. They have struggled for goals, but he is the one player that has been creating chances for them.
NEW YEAR'S NEED: A bit of luck wouldn't go amiss. They have lost - and to be fair won - games by the odd goal all season and I do think if they'd had a bit more good fortune the results would've been different. Their form at Molineux will also be important if they are to get out of it.
Wolves are 4/5 with Sky Bet to stay up this season
West Ham United
HALF-TERM REPORT: It's difficult to know where to start really! It has been a miserable season so far, although lately there have been one or two encouraging signs. When I saw them get beat 3-0 at Liverpool I thought they were dead and buried but at least they are not miles adrift. They have made too many individual mistakes at the back and the fact that Carlton Cole has not really reproduced the form we know he's capable of, has meant it's been a struggle at the other end. Much depends on January now because they need to get new players in and we still don't know if Avram Grant will be in charge by then. Managers who have done a much better job than him have already been sacked.
STAR MAN: Scott Parker - They are not far off a one-man team, he is that important to them. There will always be talk of him leaving but there's no way they can let that happen - it would upset the fans and consign them to relegation. He has been worth half their points, at least, on his own.
Scott Parker to join Spurs in the transfer window, 5/4 with Sky Bet
NEW YEAR'S NEED: Down the years, even going back to my dad's day, West Ham have always had someone creative, someone to pull the strings. Parker does a brilliant job, but he can't do it all, and although they are never going to get another Trevor Brooking if they can get someone to add that spark, they might just survive.
Comments (86)
Geoff Foster (Tottenham Hotspur fan) says...
With regards to the whole Liverpool/ Roy Hodgson debate, I dont quite understand what Liverpool fans expect. When Rafa left the club, they were already under performing. All Roy has done is inherited poor players (alot of them not good enough to wear the Liverpool shirt.) He has had very little time to put his stamp on the team. He needs time and money to make things right. Sacking him is not the answer. Liverpool fans seem very quick to blame others. If its not the owners, it must be the manager. Patience is very difficult in football but sometimes it is needed in order to make things right - you just have to look at how well Spurs are doing now after years in the premiership of under performing.
Posted 11:55 31st December 2010
Trevor Busby (West Ham United fan) says...
Ive been a westham fan all my life and its all a bit frustrating watching the hammers they just dont cut it,they need to get a run of results and they just arent doing it. I really cant see them getting out of bottom 3 sad to say they are going to be playing championship football next season,i hope they can survive due to debt there in.
Posted 07:37 31st December 2010
Stein Roller (Liverpool fan) says...
I must say I'm surprised over Jamies Hodgson verdict. Personally I was very sceptical when L'pool signed him up in the summer. I belive he is a good manager, and he absolutely did a very good job at Fulham. Being the manager of LFC is however a very different thing. In my book Rafa is one of the best managers around and when you sack someone like him the idea behind it all must be to have someone better? Now, who have ever said that Hodgson is a better manager than Rafa? What are the factors behind deciding Hodgson is the best manager for L'pool? He is old, he has sometimes delivered results as he did with Switzerland and Fulham, but mostly he has been average. He plays non-attractive football. He brought us Konchesky and Poulsen, and they have no place in a club like L'pool. Thes stars at the club looks like manic depressive people. And almost every player are underperforming week after week and the desire to win is nowhere. Even at home against Wolves, trailing 0-1, we create nothing and look at the passion of Wolves compared to L'pool... I respect Redknap a lot, but this has nothing to do with Hodgson needing his own players(more like Konch and Poulsen?). The players he disposes today are far better than most teams in the PL. Lets put it the other way around. Can anyone name one impressive thing Hodgson has done since becoming manager of L'pool? The closest I can get is a decent first half against Chelsea!
Posted 01:28 31st December 2010
Kayleigh K (Manchester United fan) says...
How stupid are you Liverpool fans?? It was Rafa that left Liverpool in this mess with a very poor squad of players and then I see banners in the stands saying "come home Rafa"!!! I feel sorry for Roy Hodgson, he obviously didn't appreicate just how bad things at Liverpool were when he took over.
Posted 18:17 30th December 2010
Dan M (Tottenham Hotspur fan) says...
To all liverpool fans be careful what you wish for, Roy Hodgeson is a fantastic manager he will turn it around in the end he will buy T Bramble, C Cole, and even Ian Rush will make a come back and you can Win the bottom of the league. COYS
Posted 16:06 30th December 2010
Matt Lampey (Tottenham Hotspur fan) says...
With so many people stating the obvious (liverpools best players are gerrard and torres or rooney needs to score more) it time fans think outside the box ... right in saying every team are having a average season and the likes of spurs, blackpool and even man u have taken advantage of that. Man u havent lost yet ... fact there in the top two best defensive team in the world when all fit ... but chelsea are going to come back hammer and tongs and arsenal are getting better but chamack ... ?? doesnt add anything to arsenal ... nothing! liverpool still will end on a higher note but Roy is going to stabilise them and by next year when they win silverware again this will all be forgotten hes a veteran manager and needs players with the same mentality ... Harry redknapp is a veteran too and brought that to spurs we are winning games we used to draw now, and VDV is turning us to a top european team ... Man U to win league ... obviously West Ham to go down ... been 3 years in the waiting!
Posted 15:24 30th December 2010
Ben Higgins (Crystal Palace fan) says...
Liverpool are average so how do they expect to get big money signings? I don't know why the fans are moaning so much at Hodgson, it is a thankless task taking on the job. I think Mourinho would struggle to be honest with the team Benitez left behind and it also does not help the fans cannot get behind the team or manager. Why is even your main stars not even playing well? Torres, Gerrard? Not because of the manager but the factthe fans are on their back after a first poor touch! So Liverpool if you think you can get to the dizzy heights you once were have a think about this thread.
Posted 14:49 30th December 2010
Kev Hoy (Liverpool fan) says...
To Adan and Damien, yes i appreciate where Roy took Fulham too and from, but the fact that he almost got Blackburn relegated he has taken over a team, which yes in all honesty was average at best but he has added players like Konchesky, Poulsen, Meirelless plus he already had Cole and Jovanavic coming in then you see him constantly linked with top strikers such as Carlton Cole and defenders like Huth and you tell me he is a top manager not a chance. these players may be good enough for Fulham but not Liverpool as for his formation if he has players better equipped to play a 451 with 2 holdin midfielders rather than your favourable 442 then play your best hand until you get the players you want and change your system then. Would Liverpool have lost at home to Wolves and Blackpool under a top manager i very much doubt it not to mention getting humiliated by Northampton being well beaten by Stoke, Spurs, Newcastle, Everton Man City Man U 8 league defeats before New year is embarassing. Rafa Benitez time had come to an end but lets not forget what he did for our club 2 champion league finals 2nd in the league. But unfortunatly i think we are on a very slippery slope, hopefully Hodgson will prove me wrong but i fear we are going backwards and he needs to stop speaking down towards us fans. WE are Liverpool, WE have expectations and if his do not match ours then its time to go back to a club where survival is good enough.
Posted 12:47 30th December 2010
Gerard Dornan (Liverpool fan) says...
Jamie, Roy Hodgson a Top Manager; what planet are you living on mate?? He has consistently been rubbish at all EPL clubs except Fulham and I think that was a bit of fluke! Always admired you as a footballer, terrific feet great playing brain but you should have quit while you were ahead and left it there when you 'retired' from football. As for the constant moaning about Rafa Benitez; you're beginning to sound as xenophobic as Andy Gray; if Benitez was still at Anfield he'd be getting slaughtered about Liverpool's play, position etc etc. come on a bit of 'fair play' journalism -if it can be called that!
Posted 09:37 30th December 2010
Trevor Benton (West Ham United fan) says...
Sidwell will bring nothing to the table! Noble is much better than him and Der Hammer will be back Feb so dont change the midfield too Much if your going to bring a midfielder in get O'Hara from the Yids he'll give you 100% and can score main issues at Upton Park is our Defence and Strike force their not good enough and to make things worse we never have a settled defence all these changes each game doesnt do us any good. We have to keep Parker he shows everyone what a great player he is week in week out. We need a flare manager too someone with passion and doesnt just stand there looking like Mr Dead! Di Canio and Dicks for coaching rolls they'll bring back the passion to West Ham!!!!
Posted 07:27 30th December 2010
Martin Changchun (Manchester United fan) says...
I predict that Sir Alex Ferguson will get the sack - Avram Grant will be his replacement. Ray Wilkins becomes number 2 at Man City and they take the title, with Spurs, Bolton and Blackpool coming, 2nd, 3rd and 4th. Man City beat Man Utd 7-6 with Berbatov getting all 6 of Man Utd's goals - no luck, eh! Owen Coyle twins Bolton and Burnley and manages both clubs - Burnley get promoted. The new England manager is announced as Rafa Benitez with Big Sam and his number 2. Lee Cattermole doesn't get booked in 2011. West Ham decide they don't need a manager and easily escape relegation. Wenger goes anti-English and sells all his English players - all 4 of them and sign Davie Weir from Glasgow Rangers to strengthen his defence. Chelsea have no money to buy new players so Ancelotti decides he should ask the ones he has got to start playing instead. Gareth Bale moves to Swansea who get promoted with Cardiff. Fellaini gets a haircut. Beckham and Ronaldo sign for Blackpool, with Messi and Iniesta signing for Sunderland. Liverpool get relegated - no ignore that one it might just happen.
Posted 02:13 30th December 2010
Aaron Gudgeon (Liverpool fan) says...
I pray that either in January or the end of season, we steer well clear of signing Carlton Cole ! The man is average at absolute best and I'm stunned he makes the West Ham bench let alone gets a run out. He is vastly over rated and has only ever scored a brace of goals in a game once in his career !! He is not up to the grade, just like Konchesky, Poluson, Lucas, Maxi, Joe Cole, Fabio Aurellio and so on and on and on in our poor squad. We must buy a real mix of genuine pedigree plus young players aged 17-20 who have real potential. The only type of signings that will get us going in the right direction are players like Karim Benzema, Carlos Tevez, Davide Santon, Adam Johnson, Nilmar, Charles Nzogbia, Lassarna Diarra, Mathieu Flamini, Gary Cahill, Alex Ox-Chamberlain, Ricky Van Wolfswinkel, Louis Suarez, Fabio Grosso, Diego Forlan, Sergio Aguero, Bojan Kirjik, Daniel Sturridge, Mario Gomez, Thomas Muller, Sebastian Sweinsteiger, Ola Toivanen, Wesley Sniejder, Ronaldinho and Giuseppe Rossi.
Posted 00:27 30th December 2010
Paul Oreilly (Liverpool fan) says...
I think Roy should be given more time and some money to spend in the transfer window.We need a good striker and two defenders.He also needs to get rid of players like Babel and Poulsen Also joe cole needs to work harder to win over the Kop faithful
Posted 00:01 30th December 2010
Zahir Kaleem (Liverpool fan) says...
Redknap¿s bias in comments shines like a full moon in the dark sky. Rafa was dismissed for getting 7th position after getting 2nd in the previous year. Since he left, we signed Jova, Wilson, Joe Cole, Shelvey, Poulsen, Konchesky, Miereles, Jones while only Masch left. First Roy complained of too many players. Aqua, Ayala, etc were sent out on loan; a number of promising youngster sold¿ 2 of them included in the Kon horror deal. Now suddenly he is complaining the squad is too small. You are the same expert who last year reminded viewers in your analysis of our defeat to mancs that we beat them in the previous year because Alonso was "spraying the ball all over the park". The fact was Alonso was not even playing, not on the bench either. Anyone who still supports Roy is either a phony expert or thoroughly dishonest!
Posted 23:12 29th December 2010
John Walsh (Blackpool fan) says...
So Blackpool are only doing well because other teams are struggling, someone else reckons one of the mid table teams will go dowm. Of course it's Blackpool. When we got promoted at Wembley after being favourites to go down at the start of the season, how proud was I. There are far too many teams and supporters who are terrified of Blackpool because they are the most honest club in the league. No spending money they haven't got and a team that fights for each other. I for one can't wait for the new financial rules to come in and see how the so called big clubs manage. Sea Sea Seasiders. Jamie thanks for your constant support, it shows at least one pundit knows what he's talking about.
Posted 20:37 29th December 2010
Mark Ruth (Southampton fan) says...
Just a couple of views from a Saints supporter. United to win Rooney will kick on and with Berbatoz will become a formidable duo. Arsenal or Spurs to finish 2nd, Chelsea 4th. Liverpool to finish in the top six. I believe managers need at least six months in a job and because of Liverpools lack of funds I see Hodgson doing what he did best by buying a couple of players on the cheap. Blackpool (Hopefully) to stay up. Wolves Wigan Birmingham to go down, and Saints back in the Premiership 2012-2013 season
Posted 18:56 29th December 2010
Adan Downing (Liverpool fan) says...
Kev Hoy, i think you'll find that Jamie is suggesting that Hodgson has not put his own stamp on the team. The fact that Mark Hughes and Fulham are fourth from bottom is if anything reinforcing the point that Jamie is making. Every manager has their own way of managing a team, they have a formation that they like to use and a preferance for players that fit into there formation and style. Hodgson clearly prefers a 4-4-2, whereas the squad he was left (Which although was clearly lacking in any real quality in depth) was built around a 4-5-1 formation with two holding players. Roy is a quality manager and in his defence with the budget he had he assembled a very good Fulham which he was able to giude to a Euro Cup Final. I really feel that fans need to be patient and allow a rebuilding process. We are investing in a lot of quality youth players instead of goin for a quick fix approach....remember Leeds.......???
Posted 15:56 29th December 2010
Sarah Woodcock (Liverpool fan) says...
Wow jamie I have to say in general the whole premier league is looking quite pathetic. I mean 2 seasons age it was the best in the world, now we're sacking managers a few months into the season and ruining the teams chances of getting mid table. As for liverpool I just think that roy needs to do something quick because the owners may be saying that they are long term but he is clearly not. Why on earth did he buy Konchesky? I mean in the game against tottenham he practically gave away the 2 goals that lead to our loss. The team is in complete and utter shambles. Gerrard is without a doubt our best player out there along with Reina, Carragher and torres. Plus why are people saying torres doesn't want to be here? Noones asked him if he wants to leave and tbh we haven't really been giving him the right balls. Gerrard used to slide a diagonal pass to his feet now we're just plonking it over his head or kicking it forwards and saying 'Go get that'! wht good is gonna come from losing the ball?
Posted 12:00 29th December 2010
Damon Herbert (Liverpool fan) says...
If you look up Roy in the dictionary, it says BORING. Roy's defensive minded football has killed the will of the players. I hate to say it, but just look at Nando....he looks like he would rather be anywhere else. Konchesky and Poulsen need to go. Java hasnt been given any type of opportunity. Bring back Aquilani, sign Adam Johnson and a quality striker, possibly a new manager. LFC will finish in the top half......barely
Posted 03:21 29th December 2010
David Longworth (Bolton Wanderers fan) says...
With regards to the title race i think its going to be another season before we see a champion other than man utd or chelsea. City have the squad but other than tevez they have no real goalscorer, balotelli will step up however and if they bring in Dzeko they will mount a better challenge. Tottenham need a world class striker, they have good players everywhere else but lack any real top international performers, a frontman could sort that. Arsenal should be in serious contention, they need a game breaking midfielder, khedira would have been perfect and if they lose fabregas in the summer, they will take a step backward.
Posted 01:41 29th December 2010