I think that's it for Arsenal's title hopes. For me, Chelsea are now the biggest threats to Manchester United.
It's still United's to lose of course and they are still odds-on to win it and rightly so. But if anyone is going to stop them, it is Chelsea.
The key word at this stage of the season is momentum and that is what they have. I know they are on the same number of points as Arsenal and both still have to play United, but I can only see Carlo Ancelotti's men catching the leaders.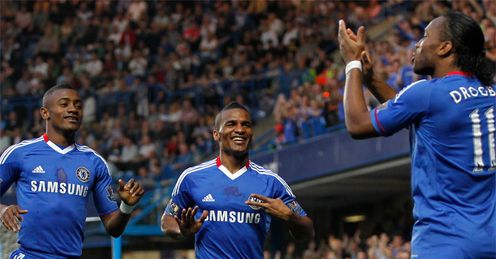 Two weeks ago they had no chance. A few weeks before that we were worried about them making the top four and not so long ago it was in such doubt they had to go and spend £75million to make sure they did not drop out of the Champions League.
The big difference is that Carlo Ancelotti has gone back to 4-3-3. That is their best formation and when things aren't going well you always go back to your tried and trusted.
I really do think Chelsea can win the six games they have got left. I do think they will need to do that but of that top three, they are most likely to.
Jamie Redknapp
Quotes of the week
They played it against West Brom and despatched them no problem at all, played it against Birmingham and did the same; Florent Malouda and Salomon Kalou came back in and are scoring goals again.
Yes, the pressure has probably been off Chelsea for a couple of weeks now and that has helped. But what it has proved is that players make formations, formations don't make players.
Frank Lampard is better in a three-man midfield, Malouda is better in a three up front, and with the four-man midfield you just wonder whether Frank and Michael Essien lack that little bit of guile to break teams down.
If Ancelotti sticks with that system, I really do think Chelsea can win the six games they have got left. I do think they will need to do that but of that top three, they are most likely.
People will point out they've got to go to Old Trafford, but they went there last year at this stage and got the win - and there are already some parallels to the way they ended last season.
After they went out of the Champions League to Inter, they drew at Blackburn straight after but then went on that incredible run. I really can see them doing something similar in the final six games.
Gutless
Had Arsenal won at White Hart Lane on Wednesday night, you could have made a case for them doing the same, but I just can't see them doing that now. And I've got to be honest and say I feel sorry for Arsene Wenger and his side.
I know people will point to him being a bad loser and the fact that they blew a 4-0 lead at Newcastle, threw away two points against Liverpool and lost a 3-1 lead at Tottenham and I can understand why some people are losing sympathy; but I'm not.
To go anywhere, be it the leaders or the bottom club, in the Premier League and get a result is some achievement; you need characters, you need leaders. Arsenal this season have the best away record in the league, so you cannot tell me they do not have character in that side, you cannot tell me they are gutless.
People have been caning them for weeks but sometimes you just don't have any luck and nerves just kick in now and then - no matter who you are.
It'll be of little consolation right now, but of the three managers at the top of the table right now, I would be happier being in Arsene Wenger's shoes looking ahead to next season.
I know he made a mistake at Tottenham, but in Wojciech Szczesny they have found a proper keeper, they have Tomas Vermaelen to come back and everyone else is young enough to go again.
Pivotal
Chelsea have a decent back four and keeper but will probably have some big changes to make elsewhere. United need a new goalkeeper, I am not sure how long Rio Ferdinand can keep going and they certainly cannot rely on Ryan Giggs and Paul Scholes for much longer, so they have some serious rebuilding to do.
Even now, you fear for them if they lose Wayne Rooney between now and the end of the season. The Everton game this weekend is massive and will be pivotal; Everton are in form, having nothing to lose and we will have to see how United react to going out of the FA Cup to Man City.
Yes, they should beat Everton, but they have got the first leg of Champions League semi-final with Schalke on Tuesday and that might well have a bearing on the side Sir Alex Ferguson sends out. Will he do what he did against West Ham and leave some of his big players on the bench?
If United win, those odds will get even shorter, but if they lose or draw, then Chelsea will really start to believe they could pull it off.
It is a long shot but given the season we are having - at either end of the table - I don't think you can rule it out yet.
Comments (35)
Kelvin Okoro (Chelsea fan) says...
Chelsea FC still strongly in contention for the title... The lead in d table is just 6points behind Man U.. Man U STILL has Chelsea and Arsenal to contend with plus the fact dat they have got lots of game comin up concurrently both champions league and premiership... Chelsea re back at d peak of their game and will crush any club dat comes close.... In d last two games against Man City and Newcastle,Man U had poor results loosing to City and drawin NewC. This is d beginning of doom for dem.... CHELSEA FC RE COMING FROM BEHIND TO GRAB THE CUP.... MAN U,SO SO SORRY U GUYS HAVE JUST LET D CUP. SLEEP FROM UR SLEEVES. ARSENAL NO HOPE FOR U GUYS...U SHULD START PLANNING FOR NEXT SEASON.... BLUES TILL DEATH............
Posted 15:04 22nd April 2011
John White (Manchester United fan) says...
Very good write up and I generaly agree. Although I think Man U are starting to falter and am worried that they will probably lose games to Chelsea and Arsenal. If that does happen. I actually think its Arsenal who will win the league as it is likely to come down to goal difference and I beleive that they are the team most likely to get some good scorelines in the run in.
Posted 10:59 22nd April 2011
Stuart Mcdermott (Liverpool fan) says...
Jamie, superb article as always! I have to say that, as always, you're spot on. Arsenal have no momentum going into the last 5 games and i can't see them getting the results they need to topple United's lead. United know they only have to draw their games against Chelsea and Arsenal, which is a comfortabale situation to be in, and although i shouldn't say it being a Liverpool fan...i hope United do win the title this season as despite their lack of quality, they have been the most consistent performers all season. United haven't been able to call on their 'big game' player Darren Flecther for 2 months now, and had he been playing instead of Gibson or Carrick over that period, they would've already won the title. I look forward to next season when Liverpool are back competing in the top 6 and we have an even more topsy turvy season to watch as supporters
Posted 09:28 22nd April 2011
Andrew Cockburn (Sunderland fan) says...
Its still theoretically possible for either Chelsea or Arsenal to overhaul Manchester and take the PL crown this season. But realistically speaking, assuming United did slip up, I think Chelsea are the more likely of the two, for they have been on a consistent winning run of late, whereas Arsenal have tended to draw too many games. Of course you also need to add to the equation, the fact that United have still to meet both The Gunners and The Blues early next month, two clashes which are obviously pivotal regarding the final destination of this season's PL title. The conclusion to the 2010/11 PL title battle should be certainly be interesting.
Posted 09:28 22nd April 2011
Reno Diamonte (Manchester United fan) says...
Firstly, Arsenal had their own share of luck in some games, Jamie you just cannot say they were unlucky. In actually fact I thought they were very lucky against Tottenham. And poor Wenger.!! What a sight he has become to watch on the touchline. Chelsea, (with all the due respect to the last two teams they beat), weren't against top teams. Sure they won the games and that is all you can do, but for them to get all excited in winning the title, I think they are hoping and praying, for a miracle. United can still afford a couple of blibs...in fact even if United lose against Arsenal and Chelsea, they still could win the title providing they win the other three games. On the other hand, as we all know, both Arsenal and Chelsea need to win all their games. So, even with a draw against United both teams will not stand a chance. And why is it such a big deal because Man Utd have got so many games left to play.? Isn't that what every team dreams of.? To be playing in the semi-finals of all competitions.!! In my opinion, United will draw against Arsenal and will beat Chelsea at OT.
Posted 09:20 22nd April 2011
Lee Bouzida (Chelsea fan) says...
Hi Jamie, yes I 100% agree with you. Chelsea do not just have the momentum now but they have the ability, leadership and experience to take them to the end now, if they do win, it would surely be one of the most unexpected victories in history. The season has been so up and down, but once again, Arsenal have failed to capitalize on anything towards this end of the season which is a great let down for all the expectant Arsenal fans. But anyway, COME ON YOU BLUES! xD
Posted 01:52 22nd April 2011
Joe Flynn (Chelsea fan) says...
Fasae, it's fairly obvious why Jamie thinks Chelsea are the more likely to tilt the balance. Whilst Arsenal, in fairness, are every bit as good on their day as Chelsea, we have the momentum. We have won 5 of our last 6 games, compared to Arsenals 5 draws out of 6. In the final run-in, the men are separated from the boys, and Arsenal just don't have the mental toughness or the desire to win that Chelsea do. Out of Arsenal's starting 11, how many have a Premier League winners medal...? Chelsea's players know what it feels like to lift that trophy and will be going hell for leather to push United all the way. As Jamie said, the pivotal match last season was Chelsea vs Utd at Old Trafford, we came out on the top there and went on to win the league from a spookily similar situation to this season. United showed at St. James that they too can struggle at times, and Chelsea know just how to capitalize on that, Arsenal don't. For all the talent they have, they don't have the grit to fight harder when their backs against the wall. Chelsea will beat Utd at old Trafford, Arsenal WILL beat them at The Emirates, but by then, gooners, it'll only help us win the league. If they drop points at Everton, and the form we're in, Sir Alex may get the toilet roll ready, cos it'll be squeaky bum time at Old Trafford!
Posted 01:41 22nd April 2011
Alan Tse (Manchester United fan) says...
Yes, I agress Chelsea got a great chance to catch us up in terms of there form and their formation as Jamie mentioned, 4-3-3. However, I would think Arsenal has better chance than Chelsea, look at their fixtures in the coming 6 weeks. Arsenal will be facing weaker teams (no offense). But Chelsea have to face Everton, New Castle and Spurs, much more tougher than Arsenal. For us, Man Utd, if we can get 3 points from those 2 games (v Arsenal and Chelsea games), even 2 draws (2 points), we get go all the way to lift the 19th league title for sure.
Posted 01:23 22nd April 2011
Zain Khan (Chelsea fan) says...
hi Jamie. Great article. As a chelsea fan, it would be cheap to say were going to win, but with the run we are on, maybe just maybe we can. ive stuck with chelsea during the good moments in the season and utterly disastrous moments, and I think it's good to have aspirations. With that draw at blackburn last season, I was shellshocked and thought no chance of winning. But chelsea didn't lose hope and won the title. So god forbid anything wrong happens and we win. By the way, could people leave Torres alone, give him time and he will score... eventually. Thanks Jamie
Posted 23:51 21st April 2011
Andy Jones (Manchester United fan) says...
The bookies are hardly ever wrong, and so is Sir Alex. There was a banner recently, aimed at Liverpool fans. It said, "In '94 you said, come back when you've won 18, well here we are sat on your perch!" Oh how sweet it will be!
Posted 22:24 21st April 2011
Nathan Smith (Chelsea fan) says...
Fasae..it is you who is being un-objective. Yes; I admit Arsenal could still win the title but you've got to look at whats happened in recent seasons and think! We are more likely to catch them and tbh I think there will be plenty of points dropped inbetween now and the end of the season for all 3 teams and I dont think we have to win all 6 games to win the title.
Posted 20:53 21st April 2011
Mike Smith (Manchester United fan) says...
Sorry To Disappoint You Arsenal And Chelsea Fans But The League Is Done, Finished! ..United Will Beat Chelsea At Old Trafford And Then Go To The Emirates And Once Again Give Them A Footballing Lesson, The Last 2 Years We've Gone There Its Been Embarrassing For The Gooners.. 19th Record Title Coming! And of All The Teams To Hand It To Us, It Was LIVERPOOL When They Nicked A Point At Arsenal! Great Article As Always Jamie! Huge Fan :)
Posted 20:13 21st April 2011
Martin James (Chelsea fan) says...
Fasae Victor, what your missing is the fact that arsenal are habitual chockers, this is not the first season they have fallen short if anything it is a surprise they have lasted this long as its usually around xmas they fall. If anything i am surprised people thought it was between man u and arsenal for so long all it needed was for chelsea to play like everyone knows they can and we would be right back in the title race, in fact if it wasn't for our bad run which was totally unexpected neither you or man u would have a chance.
Posted 19:10 21st April 2011
Georgie Roberts (Manchester United fan) says...
It still Uniteds to lose but its slowly getting to the end of the season, I think Chelsea and Arsenal both have a good chance of taking it off us, I will be an interesting end to the season if united drop anymore points, its still a 3 horse race
Posted 19:04 21st April 2011
Lawrence Beatt (Manchester United fan) says...
I personally think that Chelsea do not have the quality or belief to finish above Arsenal or Manchester United. I think that the commotion surrounding when Torres will score his first goal is hanging over Chelsea. I also believe that Chelsea do not have the fans did pull them over the finish line. I could have read a book in the stadium last time I was there.
Posted 18:29 21st April 2011
Tony Johnson (Arsenal fan) says...
im a arsenal a die hard arsneal n the turth of the matter is we not rubbish but we not great for the last 6 years i watched so many promiseing season turn into nightmares the facts r van perise is our only gd forward and he cant do everything on his own we need another centre bk vermaelen n djourou step up up but we need way better cover then squillaci who is shockly poor for someone with his career clichy gd but he no evra or cole n makes way to many mistakes fabrages isnt a leader and to be honest i think he sold be sold n we should buy two midfeilders we his same quilites denlsion bendtner charmkh n rosicky r not gd enough for arsenal i dont understand why rosicky got to start in the final n against barca at the new camp why would you start someone who been playing so poor for the last two seasons in such a big match n as for the goalkeepers this what i see when i look at them one keeper who dont speak english (Fabianski) another keeper who is just useless and has costs us so much in the last three years (almunia) and a keeper who is promiseing but still needs time (szczesny) if wenger get a keepers buy one soild centre back sell or keep fabarges he still need to nuy one more midfelder sell denlsion bendtner charmkh rosicky buy a goal scoreing forward like a darren bent a gary linker someone who stays up front with experience in big games make vermaelen captain if he full fitfor next season because he the real leader of the team buy a expienced keeper and we win more then the title we could finally win the champion league ARSENAL TILL I DIE
Posted 18:11 21st April 2011
Simon Doyle (Manchester United fan) says...
Chelsea have to play spurs and newcastle at home as well as a trip to goodison on the final day and of course the match at Old Trafford and yet you think they are most likely to win their remaining games? Do me a favour Jamie and shut it. Stop making such biased columns in favour of your overrated cousin Frank and look at the real picture. Do you think with 5 games to go and a 6 point lead that the greatest manager of all time is going to 'crumble'? If there was any team and manager in the world you wanted to close out the league with that lead it would be United and Sir Alex. Chelsea are a shadow of there former selves and need a re-vamp this summer. Also you talk about how fantastic Arsenal's kid's are and how they look good for the future, while United's youth team are in the FA cup youth final and our reserves(which are mostly players between 18 and 21) are closing in on the reserve league again, plus the fact that Rooney, Hernandez, Nani, Valencia, Evans, Anderson, Smalling, Welbeck, Macheda and the Da Silva twins are all between the ages of 20 to 25. Grow up and start giving United(the best english team over the last 20 years) due credit.
Posted 18:10 21st April 2011
Mike Galvin (Luton Town fan) says...
I'll second Fasae Victor's first point - Jamie's articles are always a good read. Smashing bloke who just talks sense, and isn't afraid to have an opinion, no matter who gets a bit ruffled. I don't subscribe to the idea that Wenger can't build a winning team anymore (i.e. Prem/Champions League) due to over-reliance on young, flair players and a reluctance to throw money around on players with big reputations. Arsenal have been excellent this season and there's such a fine line between success and failure at the very top. I think pre-season many would have predicted it would be the Gunners who's top 4 position would most be in jeopardy, so they've over-achieved in a way and to my mind would fully deserve to get 2nd. Man Utd have been the best team in England this year, no question, and I'm delighted to have had a bet on them for the title just a few short weeks ago at 7/4, which will prove a steal, I'm sure. As for Chelsea, the machine faltered a bit this year, but it's still one hell of a machine, and you can't write them off when they have a chance. If they pip Arsenal for 2nd they can only have deserved it, despite a lot of negative press this season - every punter and every pundit loves to have a pop at the incumbent champs if they don't maintain their standards - in whatever sport you like. Can't see Man Utd dropping that many points though, but as for Chelsea going unbeaten from here, it's certainly not beyond them. Winning the title this season would surely rank as their best ever achievement! Head says no, heart says it ain't gonna happen - but it could still be very close!
Posted 17:45 21st April 2011
Robert Gaunt (Manchester United fan) says...
I don't think this is true coz utd can win the title for difient and stop cheslea wining the double like they always saying it's always 1 thing after another a team like cheslea says they're gonna win it but they're not utd can get a few awesome fast players and stop cheslea
Posted 17:39 21st April 2011
Toba Gyan (Sunderland fan) says...
I dont know why u like to hype chelsea all the time jamie, let no one make any mistake about it, only one team is winning this trophy now, and thats man utd. Every year the end of the season comes along and there are twists and turns until a team finally wins it, and everyone goes "ya they were always goin to win it". Last year it was chelsea. They lost to spurs after utd had won at man city, then pundits go there'll still be twists and turns cos they had to go to liverpool. Chelsea went there and won. This year its united, they still have to play arsenal and chelsea, for some reason everyone thinks they will lose both, and they wont, infact i will not be surprised if it ends up as two draws. that gives united the title I believe. because they can win all their other games, starting with everton this saturday.
Posted 17:35 21st April 2011