What a game this is going to be! This is one of those games that anyone who loves football will find a way of watching. We have been really lucky this week with some great games and this one will really end it on a high.
I think the neutrals would love Chelsea to win, while Sir Alex and his boys will just want to wrap the title up - get it done and dusted so they can rest some players and focus on the Champions League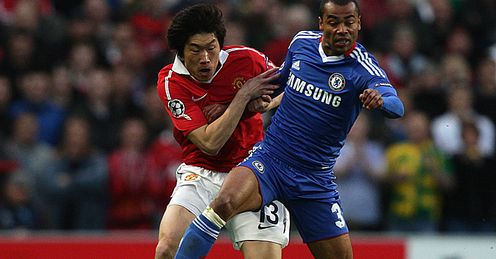 If United win on Sunday then I think we can pretty much give them the trophy. If Chelsea win then you'd have to say United will still be in it because they have Blackburn away and then host Blackpool at Old Trafford.
Jamie's backing a draw at between United and Chelsea at 23/10 with Sky Bet
In a way United have two bites at the cherry but Chelsea just have one, so Sunday is going to be a very big game for Carlo Ancelotti.
Jamie Redknapp
Quotes of the week
LIVE ON SKY SPORTS
Wolves v West Brom
11.30am, Sun, Sky Sports HD1
Stoke City v Arsenal
2pm, Sun, Sky Sports HD1
Man Utd v Chelsea
4pm, Sun, Sky Sports HD1
Final game also on Sky 3D
Watch online with
Sky Player
How to
remote record
At this stage you are always looking at where your goals could come from and you would prefer to have United's run-in, especially if it comes down to goal difference. Chelsea have Newcastle at home but then they go to Everton which is going to be a very tough game for them.
In a way United, have two bites at the cherry but Chelsea just have one - so Sunday is going to be a very big game for Carlo Ancelotti.
It has been a very strange season and impossible for anyone to try to predict. The form that Chelsea were in a couple of months ago was terrible; to be honest, at one stage I didn't think they would finish in the top four.
But they have stepped up and as much as Fernando Torres has not really been a success for them, his arrival has coincided with their league form dramatically improving. I think he perhaps has given everyone a bit of a lift and their bench has really improved - which has helped Ancelotti and his options.
Instead of having a bench full of young kids, he now has a bench full of men that can come on and affect a game like they did on Saturday when Salomon Kalou scored the winning goal against Tottenham.
Chelsea's dilemma
I still think Ancelotti has a real dilemma with Torres though. No matter how you dress it up he has obviously had a terrible time since arriving at Stamford Bridge.
However, his presence at the club has got Didier Drogba riled and ready and he has certainly picked up his form of late - he seems to have realised that he needs to pull his finger out as well.
In a game like this you have to pick the 11 players who you believe can win you the title; you cannot worry about people's feelings at this stage of the season. You have to deal with what is best for the team and if that is having Drogba up front and Kalou and Florent Malouda as your front three then you have to do that. I really expect him to go that way, although it is going to be a tough call.
Jamie thinks the match could end in a 2-2 draw - 16/1 with Sky Bet
It seems absolutely incredible to me that there is even talk of Ancelotti and his job at Chelsea. This guy won the double last year! I know they are searching for European glory, which is the Holy Grail for Roman Abramovich, but I am sorry, it is not as easy as that.
If he does not win the Premier League this year should he get the sack? Absolutely not in my opinion. However, I am not sure what the message is from the club, he does not seem to have received any support from the club so I really don't know.
Playing it safe
As for United, the defence and goalkeeper pick themselves. Ji-Sung Park always has success in these big games so I can imagine him and Antonio Valencia playing in the wide areas.
Then I see Ryan Giggs and Michael Carrick in the heart of midfield with Wayne Rooney playing as a second-striker-come-extra-midfielder behind Javier Hernandez.
Where Sir Alex has a dilemma is if he goes and plays Rooney up front on his own and tries to pack the midfield. Then he is almost saying to his players: "We are going to sit back and go for a draw here."
By playing Hernandez and Rooney he is saying they have enough good players to beat Chelsea and that influences their mindset instead of sitting back and waiting for something to happen. Chelsea will be hoping that United will sit back and wait for the draw, but if they don't then that is really dangerous.
In United's favour is their very impressive home record which certainly gives them the edge.
Jamie thinks United will win the title - 2/9 with Sky Bet
I am still backing United to take the title because I have been saying that all along and surely they will not blow it at this stage? But the facts are that United could end up with nothing this season and Chelsea could smuggle the trophy out of Old Trafford.
This game has certainly come as a surprise - I really expected the engravers to have already have nailed United's name on the trophy but luckily for us there have been twists and turns all season and I would not be surprised if we see a couple more!
Comments (35)
Tariq Ali (Chelsea fan) says...
I think Chelsea will win at old trafford, unless ref does united a favor. After that I think united has better chance of scoring more goals than us in next matches.
Posted 16:30 7th May 2011
Naomi Colclough (Chelsea fan) says...
To be honest, regardless of what happens on Sunday i'm proud of Chelsea, to come back at this point of the season after our awful run shows unbelievable character, and the fact that if we hadn't had that run Man utd would've been left for dust, so for their fans to start blaming it on two lucky decisions that went our way against Tottenham makes me laugh, nothing they haven't been doing all season, vidic, handball??? springs to mind. They should've had it wrapped up by now so game on, it's yours to lose ............... COME ON YOU BLUES!!!!
Posted 14:18 7th May 2011
Sanjay Shenoy (Chelsea fan) says...
great article jamie!!always a great read.keep up the good work. i keep my fingers crossed. only thing i will say at this point of time is that chelsea knows that if they want to win they gotta work towards that................
Posted 13:33 7th May 2011
Harry Undercover (Manchester United fan) says...
i reckon we can beat chelsa anyday but we might have to build up if we've gonna beat barcelona. Come on rooney and you fergie
Posted 12:26 7th May 2011
John Maher (Chelsea fan) says...
Football has been the winner this season as nobody has dictated the league and makes for a great sunday,chels could still nick it fingers crossed but if not hats off to man u for sticking at it ,so come on chelsea good luck and go for it,
Posted 12:21 7th May 2011
Iain Sproule (Tottenham Hotspur fan) says...
Its a huge one for United. Chelsea, despite a bizzare game against us, have put in the legwork to get back into the race. Utd should have this one in the bag already. And it could be a huge double blow. Its not like they can lose the league and go "oh we have the CL final" - its Barcelona, not Basingstoke theyre up against. They could end up losing both league and CL final in spectacular fashion. All we can hope for is a great game tomorrow and no controversy.
Posted 10:53 7th May 2011
B Reasonable (West Bromwich Albion fan) says...
Good article - on the button. It could go either way, with Man U having a slight advantage. I hope it doesn't come down to a dodgy refereeing decision, and that whoever wins, it's fair and square. I fear that someone will be sent off (could be Luiz, Rooney, Vidic or Drogba, they're all headbangers) to ruin the game and leave a sour taste.
Posted 10:32 7th May 2011
Mathew Hibbert (Chelsea fan) says...
if we win on sunday then we would have to make sure we score as many goals as possible in last 2 games
Posted 09:39 7th May 2011
Ahmed Mohamed (Manchester United fan) says...
i believe man utd will win this tittle
Posted 08:28 7th May 2011
Melvin Arnold (Manchester United fan) says...
i will be happy with a draw its going to be tuf but ill say 1.1 rooney and drogba scoring i really belive utd will win champions league final revenge will be so so sweet common utd tittle?
Posted 08:12 7th May 2011
Mathew Aconley (Liverpool fan) says...
Fletcher will definitely be playing, probably in place of Giggs. Ferguson always picks the dogs against the top clubs. Fletcher and Park scrapping away 1-0 United I'm afraid.
Posted 19:01 6th May 2011
Emmanuel Emma (Chelsea fan) says...
Hmmn, am obviously tongue-tied and expectant. Jamie, you are point-on. Many upsets still abound. I think Chelsea is looking beyond the United game should they consider the run-ins. C'mon Chels, the sky's blue.
Posted 18:15 6th May 2011
Liffa Chitseko (Chelsea fan) says...
I think chelsea have come a long way to reach this far,they were almost written off some 2 months ago,they were on 5th position,they have managed to topple others.why not manu.go chelsea.
Posted 17:53 6th May 2011
Paul H (Chelsea fan) says...
Whatever happens on Sunday and beyond I just hope that the game is won fairly with no controversy. If Man U beat us fair and square then they deserve the title. From where we were in March I'm already thrilled with where we are now. If, however, we pull it off on Sunday then I'd hope that Fergie doesn't begrudge us taking three points away as he never seems to give any credit to teams that beat Man U. Knowing Chelsea though I can see us winning at Old Trafford and then blowing it at Goodison on the last day! Go on you Blues. Good article Jamie.
Posted 17:51 6th May 2011
Amelia Harrison (Chelsea fan) says...
i enjoyed reading this, and its a good analysis! im going to be watching the blues try and grasp the title, odds are 2/1 on chelsea and 11/8 on united, so fingers,toes,arms,hair and ears are crossed for chelsea. weve won the past 5 games and past 3 games in the prem of united, haway chels!!
Posted 17:26 6th May 2011
Chibuzor Arihilam (Arsenal fan) says...
Jamie as usual a great article. Refreshing all the time reading your articles. Cheers mate!
Posted 17:15 6th May 2011
Thomas Addoah (Chelsea fan) says...
Jimie has done a very superb analysis of the game and I agree to the fact that man u are favourite because a draw will even do for them and "WEB" in the middle. But being a blue fan and looking at where we are coming, Carlo and his boys will do everything possible win because the league title is the only hope left and this game seems to be decider. Hence there nothing but win. Go chelsea go.
Posted 17:11 6th May 2011
Krishnayan Gupta (Chelsea fan) says...
hi jamie,i think chelsea will win 2-1 if not the man u's 12th man the referee helps them by sending luiz off coz they know he's the manchester slayer...
Posted 16:30 6th May 2011
Nicol Subramoney (Stoke City fan) says...
Fair comment,Jamie.It was a real pity that injuries forced you out of the game but having said that,your analysis of the games is a joy to read.I have yet to read any bias in your comments.Very,very good.Keep up the good work.
Posted 16:25 6th May 2011
Vik Deen (Manchester United fan) says...
how has it come to this? no disrespect to chelsea and arsenal but we shud of had this title wrapped up weeks ago. and chelsea were out until a bizzare fixture against tottenham. anything but a loss in this next fixture shud see us through the most unconvincing title race of all time. i see us getting the result we need a win or a draw unless chelsea's run of fortunate refereeing decisions continues in which case they have a gud chance.
Posted 16:05 6th May 2011