If Manchester City win on Sunday against Liverpool, I think we can officially say they are the real deal.
Anfield is such a difficult place to go to in big games. The intensity, the noise and the pressure away teams come under is like nowhere else.
People will point to Sunderland, Swansea and Norwich who have all come away with a point from there this season, but when the players and the fans are up for it like they usually are in these types of matches, it's not easy.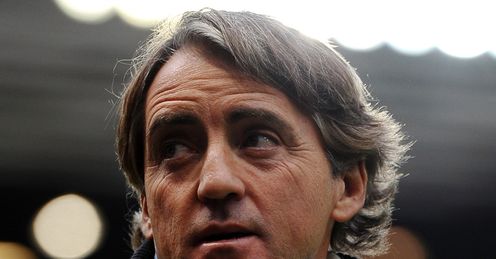 City had a really disappointing result in Naples and when you've had a disappointing result you can't wait to get it out of your system. But it doesn't get any harder than a trip to Anfield.
They'll still have the memories of last year when they were completely outplayed and outfought by Liverpool and ended up losing 3-0. That will have hurt Roberto Mancini and I imagine the players will still be smarting too.
He's passed every test thrown at him this season and he has got everything - from the Carlos Tevez saga to rotating the team - spot on. There were a lot of people questioning him at the start of the season and wondering if he was too negative - he's answered all those questions superbly.
Jamie Redknapp
Quotes of the week
LIVE ON SKY SPORTS
Super Sunday
Swansea v Aston Villa
1pm, Sun, Sky Sports HD1
Liverpool v Man City
3.30pm, Sun, SKy Sports HD1
Watch on the move with
Sky Go
How to
remote record
He has so many options, though. I can see Sergio Aguero coming back into the team along with Micah Richards and Gael Clichy in the full-back positions. They were all left out of the starting line-up on Tuesday night, but they give City a more attacking option.
He opted to play Pablo Zabaleta at right-back in the week and I remember him doing that against Tottenham earlier in the season to mark Gareth Bale. I think Mancini looks at him as a better option defensively and he obviously went to Naples wanting to keep it tight.
But I don't think he realised that Napoli would sit back as much as they did and that's when you're looking for your two full-backs to be really progressive. Clichy and Richards have been playing as out and out wide men of late, and I can definitely see Richards starting on Sunday.
Factors
It's set up for a great game because there are so many factors to consider. Liverpool are coming off the back of a great result against Chelsea, but their home form hasn't been great. They need to get that sorted and if they do they are serious contenders for fourth place this season and that will be an amazing effort for Kenny Dalglish.
Then there are a number of intriguing individual battles, including Luis Suarez up against Vincent Kompany. And, of course, who will play alongside Suarez for Liverpool?
The team Kenny picked against Chelsea did brilliantly, but maybe he will look back to last year when Andy Carroll absolutely destroyed City and got himself a couple of goals. Managers do tend to look at these things, so I wouldn't be surprised if he started.
Kenny also has a decision to make at the back. Daniel Agger and Martin Skrtel were fantastic in the centre of defence and that means Jamie Carragher might have to bide his time on the bench for a little bit longer.
Jamie's an unbelievable player, we all know that and, of course, he will get back into the side. But after a result like Liverpool had against Chelsea and the performances by Agger and Skrtel, it's hard to change it, and Jamie will be fully aware of that.
They've had good results away from home this season playing a more counter attacking style, but they will look at this game as a chance to get three points. And what a statement that would be; to beat Chelsea and Manchester City in back-to-back games.
Fashion
I do think it will be a very tight game, though, and I can see this playing out in a similar fashion to Manchester United's trip to Anfield earlier in the season when they drew 1-1.
City are a very intelligent side - especially in the Premier League. They keep the ball fantastically well and have some of the world's best footballers at their disposal, and they've been exceptional this season.
But all eyes will be on Roberto Mancini to see if and how he changes things after a poor result.
He's passed every test thrown at him this season and he has got everything - from the Carlos Tevez saga to rotating the team - spot on. There were a lot of people questioning him at the start of the season and wondering if he was too negative - he's answered all those questions superbly.
But this will be another stern examination because he will not want to lose two matches on the bounce, and he definitely won't want to let Manchester United back into the title race.
At the start of the season he would have looked at all the fixtures and I reckon he would have taken a point at Anfield, because that would be one point better than last season.
If he gets it, it will be another test passed.
Comments (4)
Shahid Afzal (Liverpool fan) says...
Well said Mark..City are favourites for the title whether they win or lose..they are the only team that has been consistent from the 'big' teams..and rather city than united any day! But I think we will edge it today..its about time we won a game at Anfield and I think this game has come at the right time. Carroll should start and Bellamy on the left instead.
Posted 14:38 27th November 2011
Chris Anders (Liverpool fan) says...
Not being funny but Mike Bassett would put a decent side together with the money he's had. What we should be looking at is how big a loss a club must write off each year to do what they are doing. Other teams must either sit back and watch or run up massive debts in order to compete. How can this be good for English football.
Posted 13:41 27th November 2011
Ian Mulligan (Manchester City fan) says...
well said mark
Posted 12:53 27th November 2011
Mark Garrett (Manchester City fan) says...
Jamie you are again hyping this game as another acid test over whether City will be title contenders this season - why? The same was said when we went to Tottenham and United this season and we won resoundingly at both of those grounds. I will be very happy with a point but if we lose then it will be our first defeat in the league this season. Hardly a cause for concern as Liverpool are a good side. It's a big game tomorrow but lets stop overplaying every City game against one of the top 6 as an acid test - it isn't. We are a very good side and are contenders for the league, however, I do believe there are lots of twists and turns to come and do not think we will remain on top all the way through between now and May.
Posted 11:13 26th November 2011