When the fans of a football club turn on you as a manager, your position inevitably becomes untenable.
Steve Bruce was a warrior as a player and a really decent guy, so it's disappointing to see him get sacked. But he has had time to build his own team and unfortunately it just hasn't worked out for him. Two wins in 15 games at home in 2011 just isn't good enough.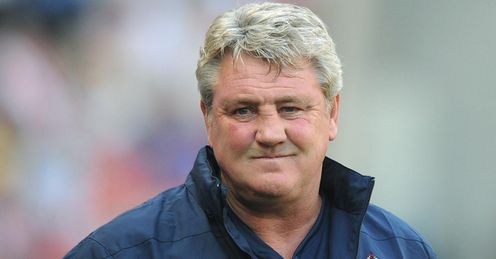 I don't know Ellis Short but he seems to be quite a reasonable chairman. In fact, we're more than three months into the season before the first sacking so maybe everyone's showing a bit more common sense. But it gets to a stage sometimes where - with the transfer window just around the corner - owners think if they don't make a change now, they'll end up in a relegation battle.
The most important thing for Sunderland now is to get in a high-profile manager because they are a big club.
Jamie Redknapp
Quotes of the week
LIVE ON SKY SPORTS
Newcastle v Chelsea

12pm, Sat, Sky Sports HD2
Wolves v Sunderland

3pm, Sun, Sky Sports HD1
Watch on the move with
Sky Go
How to
remote record
Jamie's backing Wolves to beat Sunderland 2-1 - 17/2
At the moment there are two outstanding candidates for the Sunderland job; Mark Hughes and Martin O'Neill. But there are a lot more managers in jobs right now who are under pressure. So what happens if Steve Kean gets sacked tomorrow and Mark Hughes takes the job? You've got one less available manager to pick from. It's all hypothetical, of course, but that is how chairmen and the guys making decisions at the top have to think.
Losing players like Darren Bent, Danny Welbeck and Asamoah Gyan hasn't helped Steve's cause, but he has had a lot of money to spend and it just hasn't gelled.
If Bent was still there I think they would be in a better position because there problems have been in attack. Stephane Sessegnon hasn't been in the goals and Connor Wickham - who I think will be a good player - has been unlucky with injuries. Goals have really been hard to come and that is the problem.
High-profile
The most important thing for Sunderland now is to get in a high-profile manager because they are a big club. I've always enjoyed going up to the Stadium of Light. As a player you can feel when you're playing against a big club and that's definitely the case up there.
The crowd always get behind the team and that part of the world is a football hotbed, so they do deserve success, but it's important they get the right man now. And if it were to be Mark Hughes or Martin O'Neill, I certainly wouldn't be complaining as a Sunderland fan.
The first job of whoever goes in will be to lift the confidence of the players, because that is such an important part of football. You look at Chelsea at the moment and they are a classic example of a team playing without any confidence - and it shows.
Jamie is backing Newcastle v Chelsea to end in a draw - 12/5
Theoretically you should be playing every home game full of confidence because the crowd are behind you. But if you're playing in front of your fans feeling like they're against you; believe me it's so, so difficult.
I had it at different times in my career, including at Liverpool. It's not a case of the crowd turning on you, but you just felt like you had 20 minutes to do something or you'll start hearing the moans and the groans. Certain players can handle that, but others can't.
So they will need to work on that confidence and a new manager will bring that. There will probably be players who were out of the equation with Steve Bruce, but who will have an opportunity now, as well. Everyone starts on a level playing field.
Pressure
And that level playing field starts on Sunday against Wolves where there's another manager under pressure. I'll be at the game working on Super Sunday and you get the impression all the focus will be on Mick McCarthy now.
Like Steve, he's had time to build his own team and has spent a decent amount of money in the transfer market. They stayed up by the skin of their teeth last year and I'm sure the owners will want a better season.
He'll be hoping that Sunderland haven't appointed a new manager by Sunday because that would lift the players' confidence. I don't know why they always give an extra 10 or 20 per cent whenever someone new comes in, but that's just the way football is.
Sections of the fans at Molineux have voiced their dissatisfaction at results this season, too and I feared for Mick when he hit back at them because when you start to fight back that usually means the end. But to be fair to Wolves fans, it was only a minority I think, and they've come back and picked up a couple of decent results since then.
Poor
They were poor against Chelsea last week, though and that game should have lifted a few of the clouds hovering over Stamford Bridge and Andre Villas-Boas... but then they went and lost to Liverpool in the Carling Cup.
There's no doubt Villas-Boas is under pressure but, unlike Steve Bruce and Mick McCarthy, he hasn't had the chance to build his own team. I've always believed that if you're going to sack a manager, you should at least have given him time to buy some players and given them time to gel.
He hasn't been helped by the fact that Fernando Torres is having a complete nightmare at the moment, but there is no way he is going to build confidence without playing, either. He looked to me like he was starting to find a bit of form and then he got left out before the Liverpool game and I thought 'what are you trying to do to him?'
Cash in
It's very difficult for a manager to say to a player 'you're going to start the next 10 games no matter what' but I think that's what he needs. I can't see him turning his Chelsea career around without that, and it really wouldn't surprise me if Chelsea decided to cash in on him this summer and sell him to a club with big money like Malaga.
Jamie thinks Chris Samba will score anytime against Swansea - 5/1
It's another test for Villas-Boas and it will be interesting to see how it handles it, but he's got to deal with a tough trip to Newcastle first. They're unbeaten at home this season and they will be absolutely flying after drawing with Manchester United last weekend.
It's the kind of game that could be a season changer for Chelsea, if they win, and that would ease a lot of pressure off Villas-Boas. Unfortunately for him and Chelsea, I can't see Newcastle getting beat here.
Click on the video to see Jamie's preview and preditction for Saturday's game.
Comments (7)
Dave Robson (Sunderland fan) says...
Totally right Jamie,our home form for the past 12 months not just this season is woeful.SB didn't know how to change it.As for goalscorers leaving the club did you not know that we've scored the same amount of goals this season as we did at this time last season with the forwards mentioned earlier.SB had brought in all of his own players & one thing is for sure, SB was too loyal & far to close to these players.He really needed to have a bit of a nasty streak.Unfortunatly for him he is too nice,it was a bit out of order the abuse he was getting but thats the name of the game.SB was a really good genuine man so its a shame it didn't work out for himm, but it never happened for him at SAFC so the owner was right to let him go.Now lets hope MON can turn things around,he is just about everyone's first choice up here.
Posted 13:14 3rd December 2011
Anthony Fletcher (Sunderland fan) says...
Steve has had time and money to buid his own team, no matter how many people outside of Sunderland see it differently, they we're not the one's going to the games and seeing poor defencive formations, 'at home' and substitutions to change the game with only a few minutes to go!! One man up front, usually a midfielder sometimes an actual forward.. Then bringing another forward on and putting him on the left wing!!! Steve Bruce is a good man and a decent bloke, I wish him all the best for the future, but we needed a change, it's as simple as that. I agree that stability is the key to a decent side, but so is balance, we had neither, we couldn't attack a free lunch under Bruce.
Posted 08:49 3rd December 2011
Ray Clarke (Sunderland fan) says...
I too agree with jamie i had a great deal of respect for steve bruce .I just feel he signed too many players and didnt have a clue who his best team was, every week the team would change sunderland fans were left confused as to who would play where. The tactical side of his game was simply none existent when going behind in games very often he was found wanting to sign conner wickam for the future when you havent got a proven striker at the club is in my opinion madness. steve had the time, money, and full support of everyone at the club its just a shame he didnt have the nous to deliver what sunderland fans deserve.I. have heard prem managers saying he needed more time all i can say is they havent seen first hand the totally desperate football for the last three months. As a hardened sunderland fan used to seeing poor teams struggle it would be stupid to ignore bruces short commings he had to be replaced and at least with the january transfer market looming the new manager will have a chance to sort a striker and get the best out of the players
Posted 21:55 2nd December 2011
Brendan Cosgrave (Aston Villa fan) says...
I disagree with that ! Building a team from scatch takes more than half a season, I even took the great Martin O'Neill 2 year to put Villa back on the map and I beg Sunderland fans to be patience him him because he will turn them into a top 6 team on a regular basis!
Posted 21:19 2nd December 2011
Gavin Fogg (Sunderland fan) says...
I'm over the whole 'he was a Geordie and that was held against him' crap that other pundits are throwing around. that is complete and utter cods-wallop. Bruce had the supporter's backing, wouldn't wanting him to fail result in Sunderland relegated ?. Infact i think alot of supporters even respected that Bruce being from the North East understood the club and fan base better than most. I'm also over the time factor. 2.5 years isn't enough ? you can't use this current season alone. Bruce's previous transfer dealings led to having to sign 11 players during the summer. If he didn't want to have to deal with that kind of problem then he shouldn't have relied on loan players all last season. I have no bad feelings against him, and it was time for a change to give a new manager time to see what the current squad offers and a chance to make a couple informed changes in January.
Posted 21:16 2nd December 2011
Darren Birch (Liverpool fan) says...
I fear for Sunderland fans now because SB should of had more time. He's suffered serious setbacks with his Strikers departing unexpectedly and he's bought alot of new players who still haven't gelled or performed yet. SB would of turned it around and got Sunderland up there. You sack so many managers then moan at being relegated. Keep hold of one for a while and give the club some stability
Posted 10:53 2nd December 2011
Andrew Cockburn (Sunderland fan) says...
I agree with Jamie, for SB had been at Sunderland for two-and-a-half years, and in that time, was given a fairly substantial transfer budget, with which to shape his own side. That being the case, I thinks its fair to say that the fans had a right to expect a better return for investment so to speak, but unfortunately, things just haven't worked out that way. Indeed, looking at SB's overall record in his time at the SOL, I think its fair to say that he's maybe been out of his depth a little, and this year's home record to date of just three League wins, plus an embarrassing FA Cup exit at the hands of Notts County, is just not really acceptable for a club of Sunderland's stature. A pity, but after all, football is a results-based business, and hopefully a new man at the helm will help Sunderland get back on track.
Posted 21:01 1st December 2011